Odaiba (or Daiba, for short) is a popular entertainment and shopping area frequented by tourists and locals. Originally a man-made island for military purposes, the area has transformed into a futuristic-looking entertainment and leisure spot. There are tons of things to do here, including magnificent views, and excellent places to visit. Fancy a date out? We've put together a list of top 10 romantic things to do on a date in Odaiba.
teamLab Borderless
A trip to Odaiba isn't complete without visiting the super popular teamLab Borderless, next to the also popular teamLab Planets. Don't let the long lines stop you, though — it's just another indicator that the place is popular among visitors of all ages, especially as a date. We swear the wait is worth it. This unprecedented digital art museum exhibits various installations that will leave you in awe, including The Infinite Crystal Universe and the Forest of Resonating Lamps. Each installation changes in color, shape, and moves freely, allowing you to interact with them anytime. There's genuinely no place to enjoy digital art like this!
Hours of Operation:
11:00 AM – 7:00 PM

Address:
〒135-0064 Tokyo, Koto City, Aomi, 1 Chome−3−8
Palette Town Ferris Wheel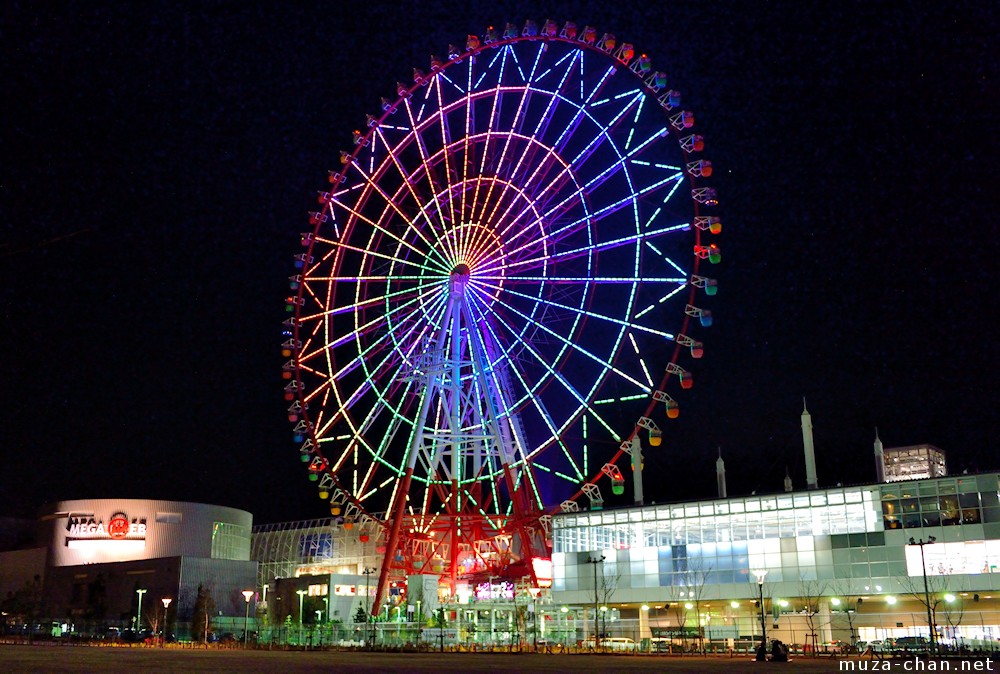 Challenge yourself and go on a heart-racing ride with your significant other in Palette Town's Ferris wheel. It is one of Japan's highest, boasting 115 meters in the sky. On a beautiful sunny day, you can get the most breathtaking view of Odaiba while at night, you can see the glittering lights of the cityscape twinkle. The Ferris wheel itself lights up at night according to the current season. Talk about a perfect date activity!
Hours of Operation:
Opens 10:00 AM – 11:00 PM

Address:
〒135-0064 Tokyo, Koto City, Aomi, 1 Chome−3−8
Oedo Onsen Monogatari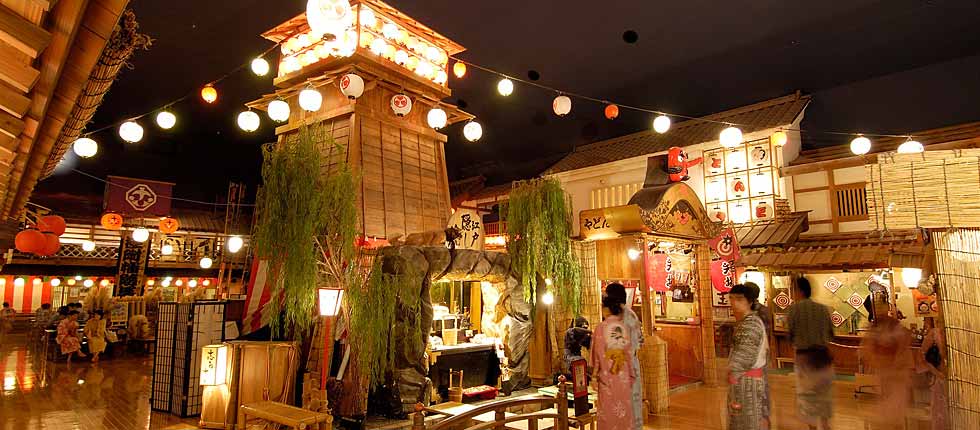 When summer comes, soak yourself in the fresh hot spring waters of Oedo Onsen Monogatari. This indoor hot spring amusement facility is inspired by the Edo era, giving you the chance to relax in a fun and historical atmosphere. The hot spring water is pumped from 1,400 meters below the ground, and there are 13 different types of baths that you can choose from. There is also a footbath that you and your partner can enjoy together. Finally, a Japanese garden spanning 50 meters long is the facility's main draw; it also happens to be the most extensive garden in Tokyo.
Hours of Operation:
Opens 11:00 AM – 9:00 AM (Overnight)

Address:
1 Chome-3-10 Aomi, Koto City, Tokyo 135-0064
Venus Fort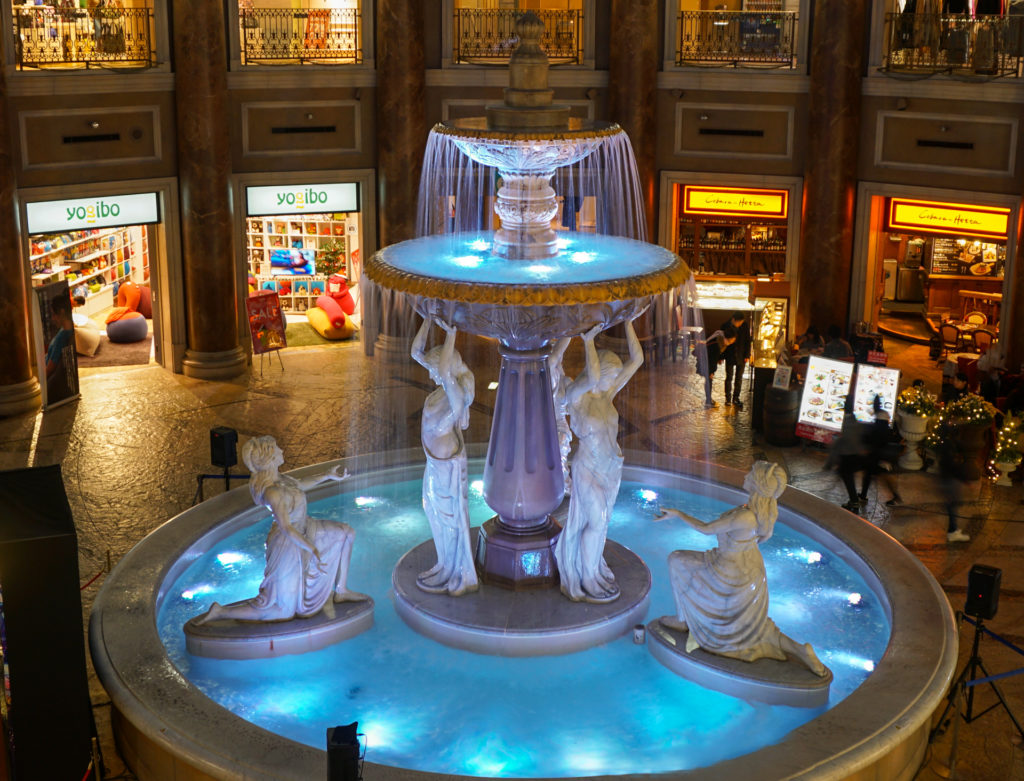 Shop until you drop at Venus Fort. The interiors and design of this shopping facility are inspired by the architecture of Medieval Europe. As you walk along the shops, you'll feel like you're walking on the streets of Rome. Featuring an indoor sky that changes color, there are tons of shops to browse through. The interiors make for fantastic couple-worthy shots! And if you start to get hungry, there are plenty of food options for you to enjoy too.
Hours of Operation:
Opens 11:00 AM – 9:00 PM

Address:
1 Chome-3-15 Aomi, Koto City, Tokyo 135-0064

Website:
www.venusfort.co.jp
Miraikan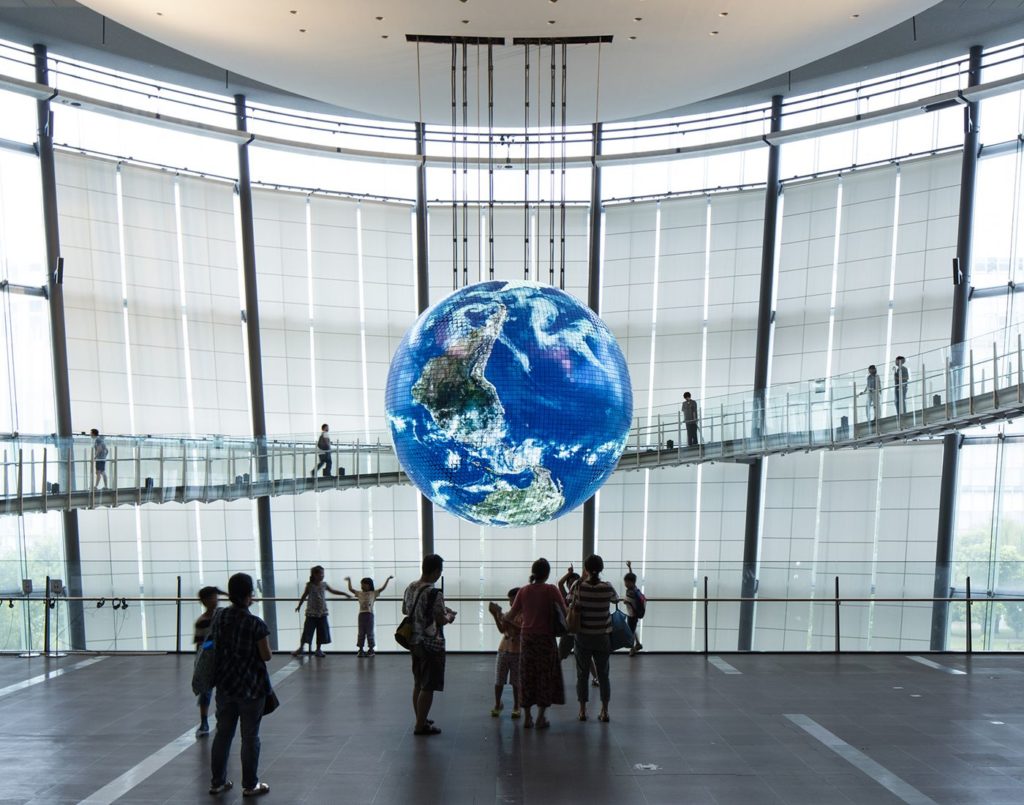 A fun date is also an educational date! So why not spend some of your time at the National Museum of Emerging Science and Innovation or as it's also known, Miraikan. Here, you can learn and look at different state-of-the-art exhibitions. It is home to Japan's famous robots! Visiting the museum deepens your understanding of science, the universe, and the future. The entire facility is vast, spanning different colors, so there's bound to be an exhibit that will appeal to you and, most importantly, one that you can learn from and take the knowledge back home.
Hours of Operation:
Opens 11:00 AM – 5:00 PM

Address:
2 Chome-3-6 Aomi, Koto City, Tokyo 135-0064

Website:
www.miraikan.jst.go.jp/en/
Bridge of Dreams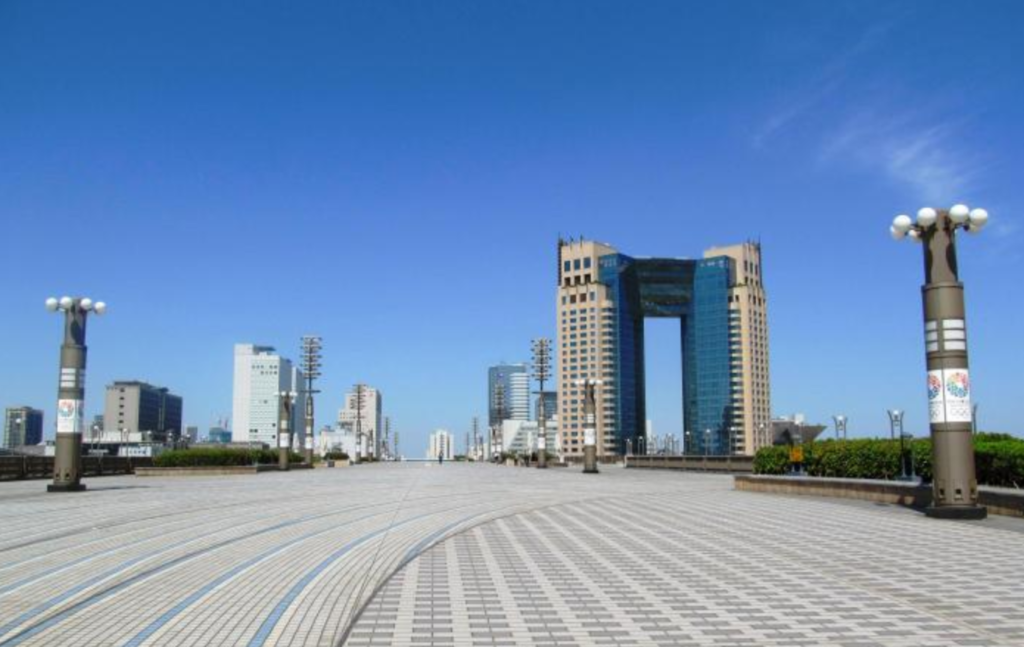 Stroll along a beautiful pedestrian bridge called Yume no Hashi, which literally translates to the "bridge of dreams." This 60-meter-long bridge connects Oumi and Ariake, and it is lit up by stunning illuminations. Because of its ultra-vibrant colors, the bridge is a well-known photo spot. From the bridge, facing the promenade, you can get a nice view of Palette Town's Ferris wheel — a perfect background to your photo.
Hours of Operation:
24 Hours

Address:
1 Chome-4 Aomi, Koto City, Tokyo 135-0064
Odaiba Beach Park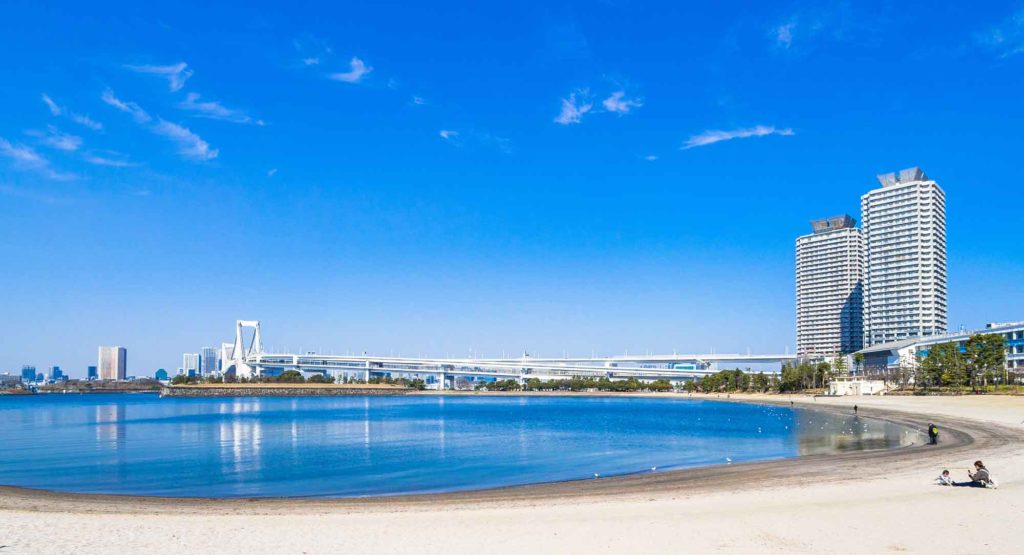 If you're looking for a place to sit down and relax, the Odaiba Beach Park is the way to go. This 800-meter-long beach is connected to a park providing you the best atmosphere to enjoy and soak in the summer season — a sandy beach and a lot of lush greenery. After dipping your feet in the water, maybe you want to have a pleasant stroll to unwind. Just a stone's throw away is the Shiokaze Park and Higashi Yashio Park.
Hours of Operation:
Open 24 Hours

Address:
1 Chome-4 Daiba, Minato City, Tokyo 135-0091
Statue of Liberty (Symbol Promenade Park)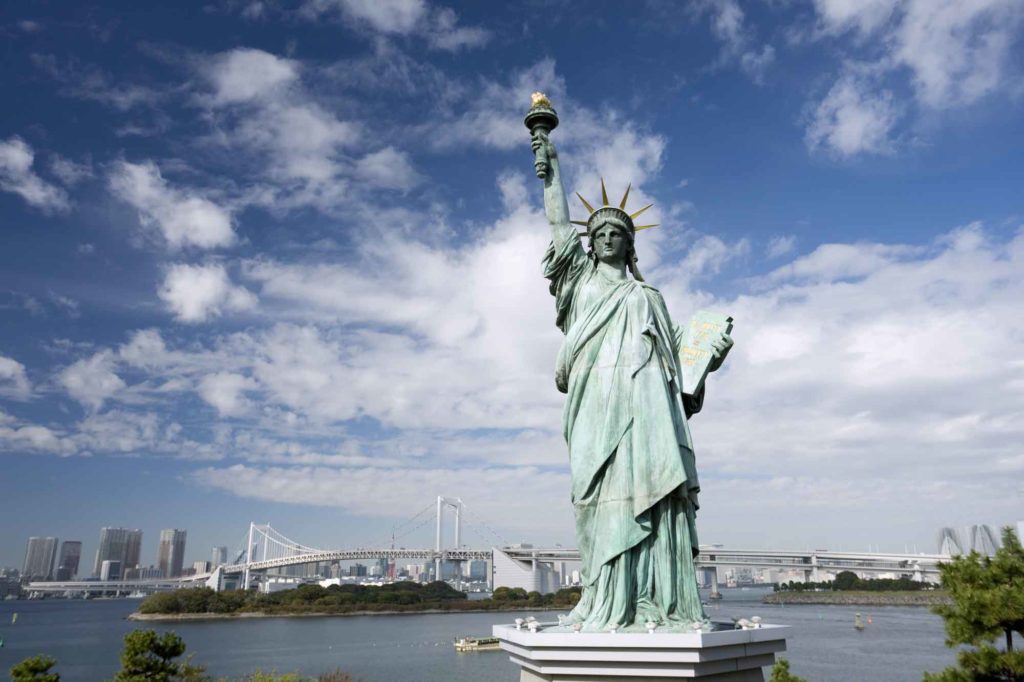 There's no need to fly all the way to the US to get a glimpse of the Statue of Liberty because you have it right here in Odaiba (albeit a miniature version of it). To commemorate the friendship between Japan & France, a French Statue of Liberty was placed in Odaiba from April 1998 to January 1999. Many locals loved the statue that they wanted to have one of their own. So a replica statue was created with permission from the city of Paris. The present replica statue is just like its original counterpart, and it makes for a fun photo opportunity. Snapping a photo with the figure is an excellent way to commemorate your date in Odaiba.
Hours of Operation:
Open 24 Hours

Address:
〒135-0091 Tokyo, Minato City, Daiba, 1 Chome−4
DECKS Tokyo Beach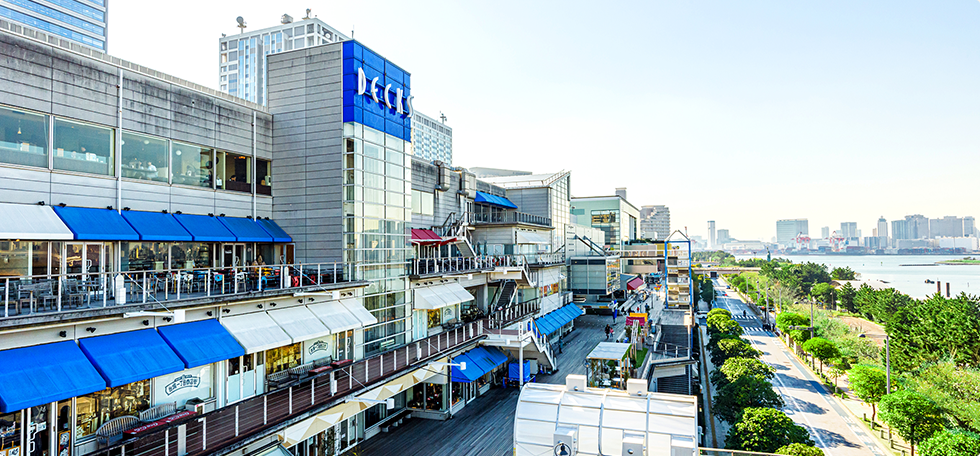 Odaiba is well-known for the number of large shopping complexes in the area. Another one that's good to visit is the DECKS Tokyo Beach. This urban shopping mall has everything you need from various shopping options, restaurants, gourmet dining, and entertainment facilities. The mall is home to the Tokyo Art Trick Eye Museum and the Odaiba Takoyaki Museum, both of which are places to spend your date after walking around in the shopping mall.
Hours of Operation:
Opens 11:00 AM – 9:00 PM

Address:
1 Chome-6-1 Daiba, Minato City, Tokyo 135-0091

Website:
www.odaiba-decks.com
Rainbow Bridge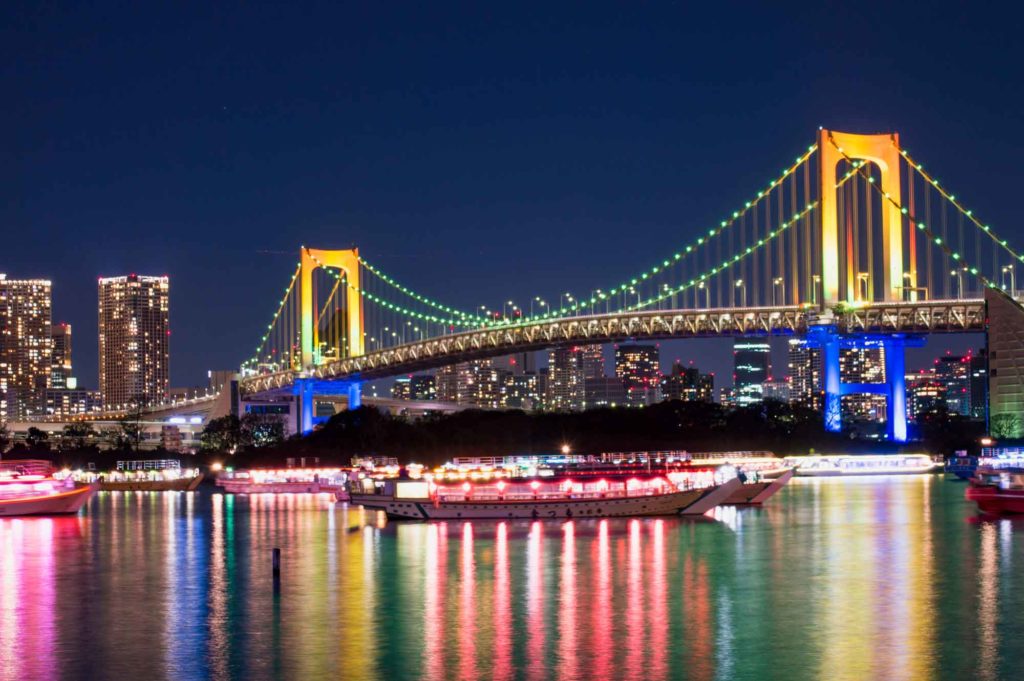 Perhaps one of the most iconic symbols of Tokyo, Rainbow Bridge, is definitely a sight. With its vibrant illuminations and dazzling colors, a date overlooking the bridge would be perfect. You can also see amazing views of Tokyo from the Rainbow Bridge promenade pedestrian walkway with Tokyo Tower in the distance. End your spectacular date in Odaiba with a photo of the Tokyo cityscape in the background.
Hours of Operation:
Open 24 Hours

Address:
Minato City, Tokyo 105-0000
---
And there we have it, 10 things to do in Odaiba! From shopping malls to parks to even an onsen with an Edo era theme. There are undoubtedly many different ways to enjoy a date in Odaiba. Or multiple dates, even!