Catching a buzz in Tokyo is easy with the hundreds of izakayas (informal bar), Tachinomi (standing bars) Yokocho (drinking alleys) to the rare but quintessentially Japanese host bars. And what better way to follow up an evening of boozing than some fantastic drunk food at one of the hundreds of amazing Tokyo restaurants. Whether it be gluttonous ramen, soba, oily Chinese food, or even Sushi, there is much to discover in an inebriated state. 
Discover the best Tokyo Restaurants perfect for after a long night of drinks, available after the bars close! 
1. Jomon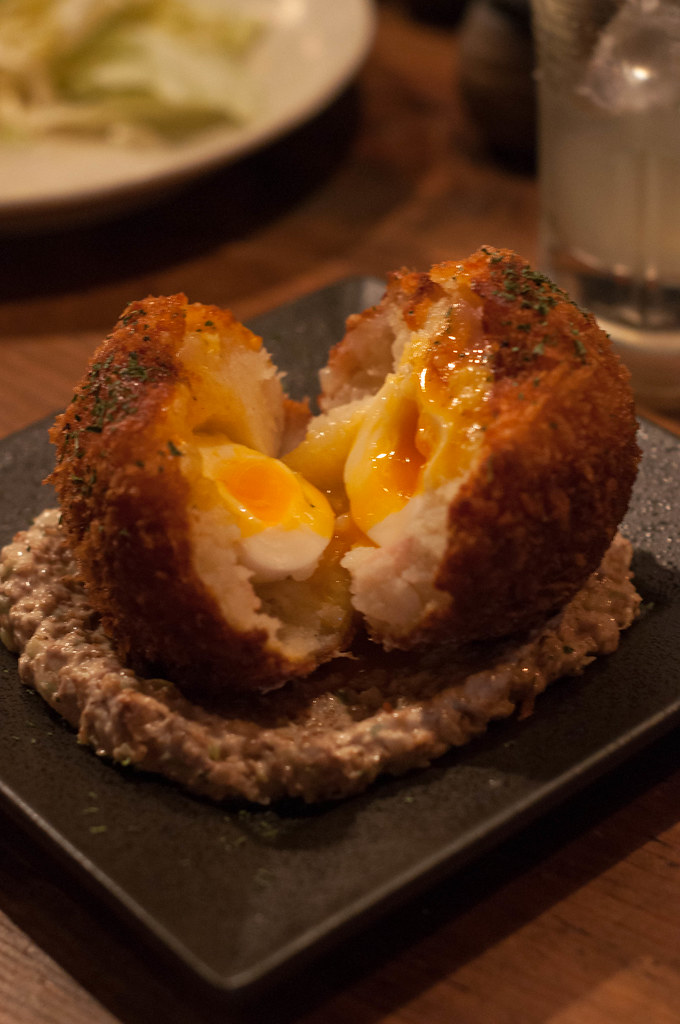 This Hatata-style Yakitori restaurant might try to romance you with its skewers, the star here is the Potato Croquette with a boiled egg on the inside. 
While Jomon might not be an ideal all-nighter as it closes at 11 pm every day except Friday and Saturday, it is a perfect spot for a pre-party drinks. The Roppongi branch has an English-speaking staff being in a touristy area. They also have branches in Shibuya, Kichijoji, and Mizonokuchi with other sister outlets like Meatman, Bistro Birdman, Goryonsan, and Teyandei.
12:15 am in Roppongi
URL: https://teyandei.com/
Price Range: $$$
2. Gonpachi – Nishiazabu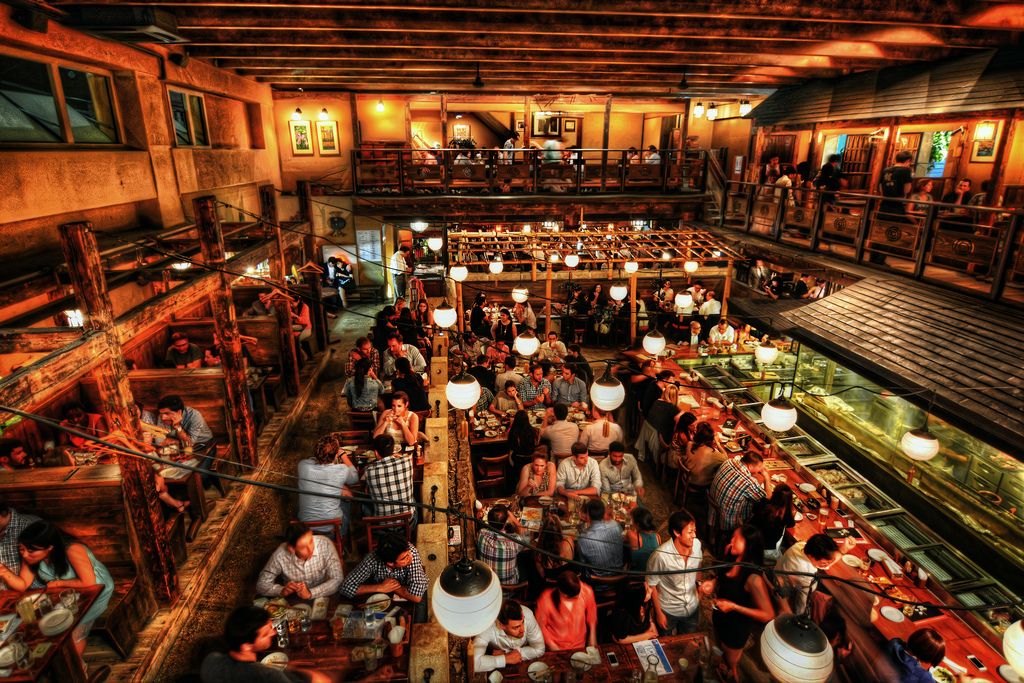 No introduction is needed for this international friendly Tokyo restaurant, which was the inspiration for the Kill Bill blockbuster. Ten minutes from Tokyo Metro Roppongi, Gonpachi is known for catering to foreigners, with English speaking staff, and a menu that covers a little bit of everything – Tempura, Karaage, simmered pork belly, skewers along with Vegan and Halal options. 
Gonpachi closes at 3.30 am every day of the week great for enjoying some tasty cocktails with your meal. Locations found around the city in Odaiba, Shibuya, Asakusa, and Nishiazabu.
1:30 am In Roppongi
URL: https://gonpachi.jp/nishi-azabu/
Price Range: $$
3. Chinese – Café Eight- Roppongi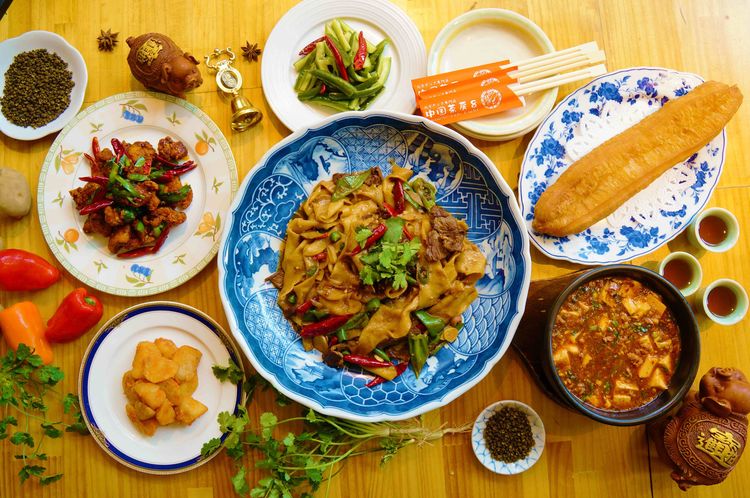 Cafe Eight is a classic post-party feasting spot for many DJs, promoters and night workers. With its incredibly vast chinese menu, and overtly sexual interior, Cafe Eight is a must for those craving a heavy meal at 6am.
Order up some steamed dumplings, Sichuan stir-fried crunch bomb, hot-pots, and Cantonese style fried rice to soak up the copious amount of liquor. If you are feeling adventurous, try the Jellyfish Salad, Stewed Pork Tongue, Preserved Eggs, Fried Scorpion, Deep-Fried Silkworm, and Stewed Giant Shark Fin, and of course the noteworthy Pecking Duck.
Also located in Shinjuku, Akasaka, Ebisu, Aoyama, Azabu-Juban, and Roppongi.
24 hours in Roppongi 
URL: http://www.roppongi8.jp/
Price Range: $
4. Kushikatsu Dengana Shinjuku Kabukicho Shop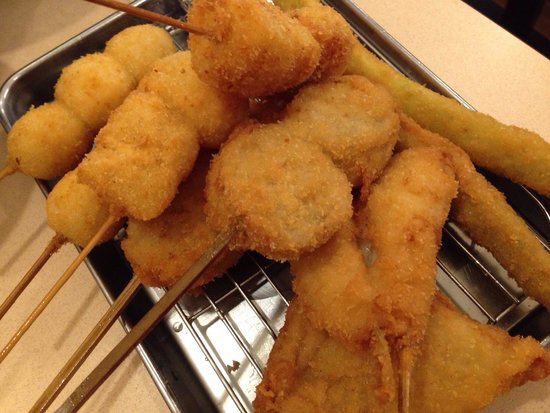 Broke the bank buying bottles impressing the ladies? For a fraction of the cost, skewers of deep-fried meat and seasonal vegetables can be yours at Kushikatsu Dengana.
This Kushiage style restaurant fries everything they see – Oreo cookies and cream (yum!) cheese, garlic, asparagus, eggs, pork, beef, chicken, and seafood. No prior bookings required, open till 5 am, drop in and order by a set or single item off the menu. Deep-fried bites with dipping sauce, crunchy, cheap and comforting.
Closes: 2:05 am in Kabukicho (Shinjuku)
URL: https://stores.dengana.jp/%E6%9D%B1%E4%BA%AC%E9%83%BD/%E6%96%B0%E5%AE%BF%E5%8C%BA/%E6%96%B0%E5%AE%BF3-3-9.html
Price Range: $
5. Sugoi Niboshi Ramen Nagi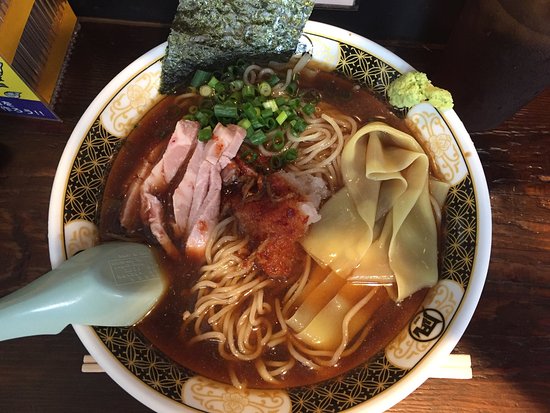 The food that sustains many of us during rainy days, those winter months, and the wee hours of the morning – a hot bowl of Ramen has of absorbing up all that shochu.
Sugoi Niboshi Ramen unique ramen simmers dried sardines over 12 hours for a flavorful ramen broth. Each bowl features curly wide noodles in their unique broth with slices of pork, nori seaweed, and a soft-boiled egg.
Ramen Nagi is open 24 hours a day.
Open 24 hours in Golden Gai (Shinjuku)
URL: http://www.n-nagi.com/
Price Range: $$
6. Yakiniku Gen-Chan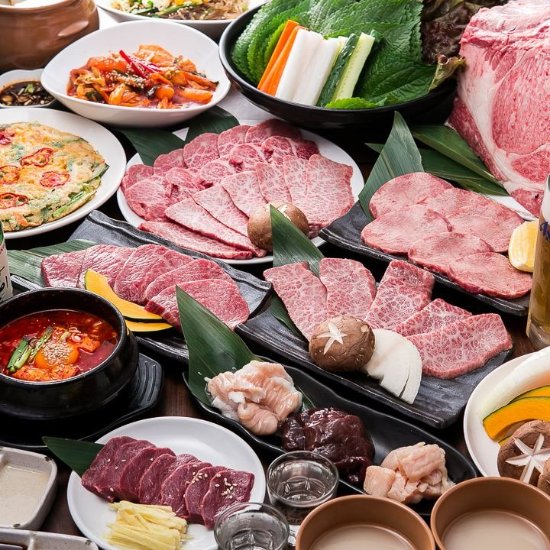 A real effort at fending off tomorrow's hangover could be by feasting on large amounts of grilled meat.
It is well known that barbeque meats and alcohol have a mutually joyous partnership, but this Yakiniku-style Tokyo restaurant takes it up a notch by offering A4-Grade meat. Around 70 dishes to choose from – the smoky charcoal grills are a favorite amongst locals after or along with drinks. The restaurant also offers all you can eat courses and all you can drink plans if you decide to keep the party going.
Open 24 hours in Shinjuku
URL: https://tabelog.com/en/tokyo/A1304/A130401/13040389/
Price Range: $$
7. Kakekomi Gyoza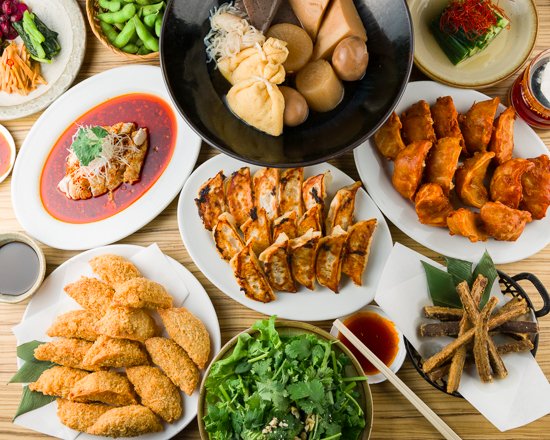 For serious Gyoza, indulge in Kakekomi Gyoza'st four types of Gyozas – pan-fried, deep-fried, simmered in Chinese broth, or made in a seafood broth. Eat here or do a take-away.
24 hours Shinjuku
URL: https://www.kakekomi-gyoza.com/
Price Range: $$
8. Crispy chicken n' tomato
Nothing does the trick like this Korean fried chicken after a few too many drinks- munch on the mandatory Kochu mayo chicken (chili pepper mayonnaise chicken), make it to go, or order up on UBER EATS. The menu features the most popular Korean Friend Chicken flavors, including Cheese Powder Chicken to Black Ario Chicken (Soya garlic version) to the Hot Mara Chicken.
Closes 10:30 pm in Azabujuban
URL: http://crispychicken.jp/
Price Range: $$
9. Sushi Zanmai 
Nothing quite beats 5am Sushi, especially when it is as fresh as it is at Sushi Zanmai. Order up Tuna tartar Sushi, Sashimi, Unagi Sushi, Sea urchin Sushi, Salmon Roe Sushi rolls – and be impressed by the massive selection. Be sure to order up one of their miso bowls and be amazed at its huge size.
Sushi Zanmai, a legend of the Sushi game with 42 branches in Tokyo alone, it is a must stop before or after-party.  
Open 24 hours in Shibuya
URL: http://honyaku.j-server.com/LUCSUSHIZA/cdata/lucsushiza0_jaen.html
Price Range: $
10. Yaichi-Yakiniku 
Are you craving some serious beef with your buzz? Then check Yakiniku Yaichi, a true meat lovers paradise. Enjoy fine cuts of sirloin beef with a raw egg dozed over the top and Niniku Harame (tender beef loin with grated garlic). Open until 4 am every day except on Sunday; it follows a 2 am closure. 
Closes: 1:00 am in Asakusa
URL: https://yakiniku-yaichi.com/
Price Range: $$
11. Hyungboo-Akasaka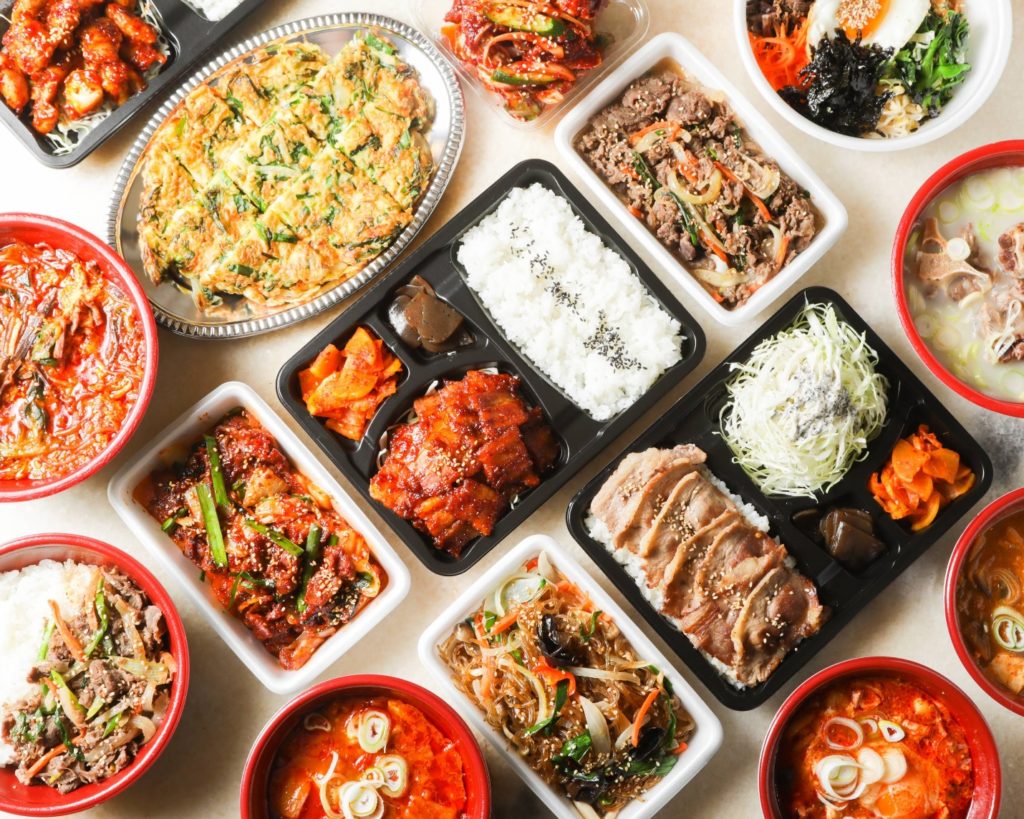 Strolling on the streets of Seoul after a night of drinking and feasting on the local delicacies might be a farfetched dream. But it is entirely possible to get a Gamjatang (Korean bone marrow stew), a Budae jjigae (tangy sausage stew), or be in the comfort of a Bibimbap and Chijimi in Tokyo. A well-celebrated spot among k-pop fans, Hyungboo is a fantastic korean option, and its open 24 hours. 
Open 24 Hours in Akasaka
URL: http://www.hyungboo.com/
Price Range: $$
12. Nobosemon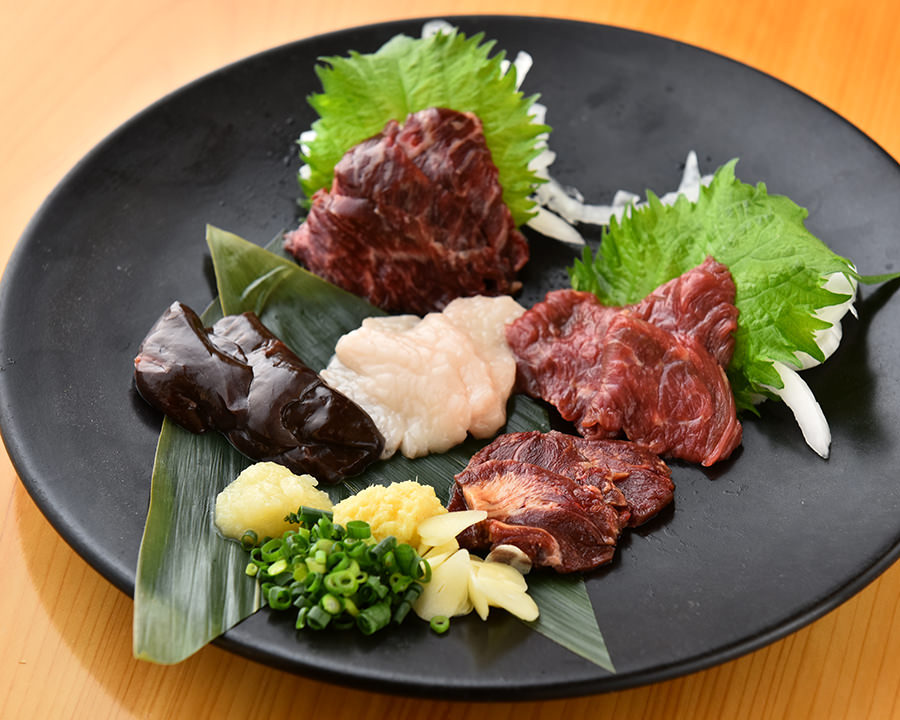 Nobosemon is an izakaya with assorted grilled skewers, sashimi, and tempuras, but if the spirit is of exploration for the night, try the horse meat sashimi for one of the more scandalous meats options at Nobosemon. Monday to Saturday open till 5 am and Sunday till 11 pm.
Closes 2:15 am in Ginza
Price Range: $$
URL: https://tabelog.com/en/tokyo/A1301/A130101/13117806/
---
While there is a relatively slim chance of landing a lousy meal in Tokyo, what is understated, and we do believe is that life is too short for a boring meal irrespective of the time. Happy eating and drinking and eating.