With Christmas 2022 around the corner, it is high time to start planning out your festivities in and around Tokyo. As the weather gets colder and the days get shorter, Tokyo is starting to light up and several events are popping up all over the city to celebrate the winter season.
In Japan, Christmas is very much a holiday for couples, making it the perfect time to take your significant other somewhere special.
From the cultural quirks like the KFC Christmas chicken (AKA, one of the greatest marketing campaigns in modern history), to the Japanese affinity with large-scale light shows called "illuminations". Illuminations are often open to the public and themed around a concept, Japan offers a great range of experiences and activities to enjoy in the winter months.
Here at Tokyo Night Owl, we have compiled a range of Christmas date ideas in Tokyo that get our mark of quality of approval.
5 Christmas Date Ideas in Tokyo
1. Join the party at the Yomiuriland Illuminations
Combine a dazzling light show with a trip to the amusement park. At night, Yomiuriland lights up in vivid color, there are water and light shows throughout the night that are guaranteed to make lasting memories for you and your significant other.
¥5,800 per adult for a day pass, but if you want to come just for the show and the illuminations, come in after 15:00 to get a ticket for ¥2,900 per adult.
Where 4015-1 Yanokuchi, Inagi City, Tokyo, 〒206-8725
When October 20th- End of the year
Opening Hours 9:30-21:00
URL https://www.yomiuriland.com/jewellumination/
---
2. German wurst and beers galore at the Tokyo Christmas Market
In the scenic Hibiya park, the German-backed authentic Christmas market will start on December 10th.
The hot mulled wine and a delectable selection of delicious German sausages will take you back to your childhood with nostalgic tastes and smells from a Christmas-like back at home.
With international travel being as hard as it is this year, taking your partner to this Christmas market would be a fitting alternative. Visitors pay ¥1000 and you receive a commemorative souvenir mug when you book with the kkday link, here.
Due to corona restrictions, please be sure to book your two-hour slot before going so as not to risk being turned away. As mentioned this event will be in league with many German public bodies, including the German chamber of commerce, so you can bet that the food is going to be great!
Where 1-6 Hibiya Park, Chiyoda-ku, Tokyo 100-0012
When December 9th- December 25th
URL https://tokyochristmas.net/outline/
---
3. Luxuriate on these Christmas goodies at Andaz Tokyo
As the weather gets colder, people get very lethargic and just go somewhere warm and eat seasonal foods. Andaz Tokyo has got you covered on this front with a traditional, Christmas themed and afternoon tea plan.
From reindeer pastries to snowman tarts, there is a range of festive treats you and your partner can enjoy whilst you overlook the sprawling city of Tokyo during the peak of the "illumination" festivities. You can get a beautiful shot of the Tokyo Tower from the Andaz window which is an unmissable photo opportunity.
Check out the light-up schedule to get the perfect shot, at the moment, every hour on the Tokyo Tower will sparkle with intensity (think Eiffel tower on new Year) for 20 seconds at a time.
At ¥6,490, you are getting quality delectables in a five-star hotel with one of the best views Japan has to offer, an unforgettable treat for any loved one.
Where Toranomon Hills Mori Tower, 1-23-4 Toranomon, Minato-ku, Tokyo
When December 1st- December 25th
Opening Hours 13:00- 15:00, 15:30- 17:30
URL https://www.andaztokyo.jp/restaurants/en/news/detail/559/
---
4. Get nostalgic at the Yokohama Redbrick Warehouse Christmas Market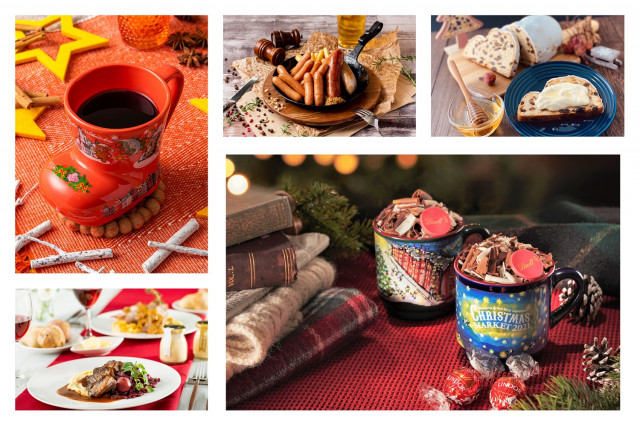 It's hard to not know about this event if you've been in Japan for any length of time. The Redbrick Warehouse Christmas market is a staple of Japanese Christmas.
Enjoy traditional Christmas market foods with your loved one, take them on a nighttime cruise just three minutes away from the market, take a picture with the enormous Christmas tree, or skate in the ice rink. There is plenty to do and see and is well worth the trip.
The Yokohama market has some great cocoa and gluhwein for you to try in their characteristically Christmassy souvenir mugs as seen above.
Christmas ocean cruise, a Christmas market, gorgeous luxury hotels, craft beer, and American-style barbecue grill a stone's throw away, this is an event you can make a very special night out of.
Where ​1-1 Shinko,Naka-ku,Yokohama
When November 25 – December 25
Opening Hours 11:00-21:00 (~22:00 from December 11)
URL https://www.yokohama-akarenga.jp/christmas/
---
5. Be bedazzled at Enoshima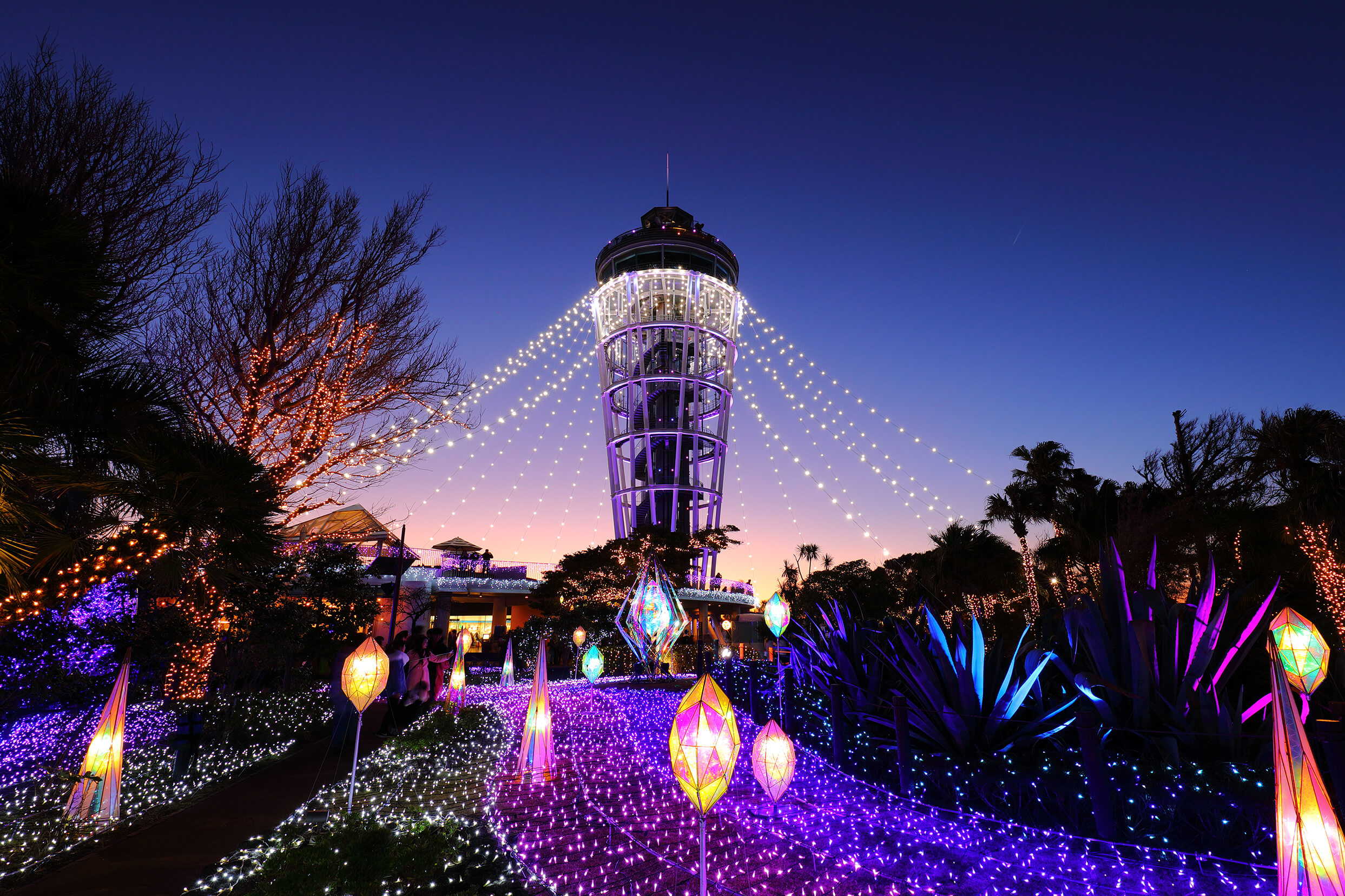 Off the coast of Kamakura, Kanagawa is the beautiful island of Enoshima, the home of the famous Enoshima winter illuminations. Japan is absolutely covered in fairy lights at this time of year, but this one is justifiably renowned for the sheer scale and range of spectacles on offer.
Slowly walk through the traditional temple town, intertwined with neon-purple patterns and collages, chandeliers, and carol singers.
Don't miss out on some chances to snap some timeless pictures of you and your partner as you travel up the mountain and to the top of the island tower. Gaze back on the twinkling lights of Kamakura at Christmas and the luminescent trail you just strolled through at your feet.
Where Fujisawa, Kanagawa 251-0036
When November 23 to February 28
Opening Hours 17:00-20:00 Weekdays, 17:00-21:00 Weekends
URL https://enoshima-seacandle.com/event/shonannohoseki/
---
A few other ideas…
There is never a dull moment when it comes to wintertime in Japan. If you want to see the snow, check out Tohoku, or even the ice festival in Hokkaido, finding something for you and your partner is profoundly easy and a lot of fun.
If none of our lists satiated your curiosity, check out the local events on your local ward website, or follow the event section of your favorite media outlet.
For those who don't have anyone to go on a date with this Christmas, check out some of the social and dating events going on at FRON or Meetup.
The season is a great time to meet new people and find some very unforgettable romantic events for you and your partner.
If you need more Christmas date ideas in Tokyo, check out our other article on great dating spots here.