Do you need to spice up your dating life? Or are you a hopeless romantic looking for some luck in your romantic endeavors? Or maybe you just want a happy and longlasting marriage?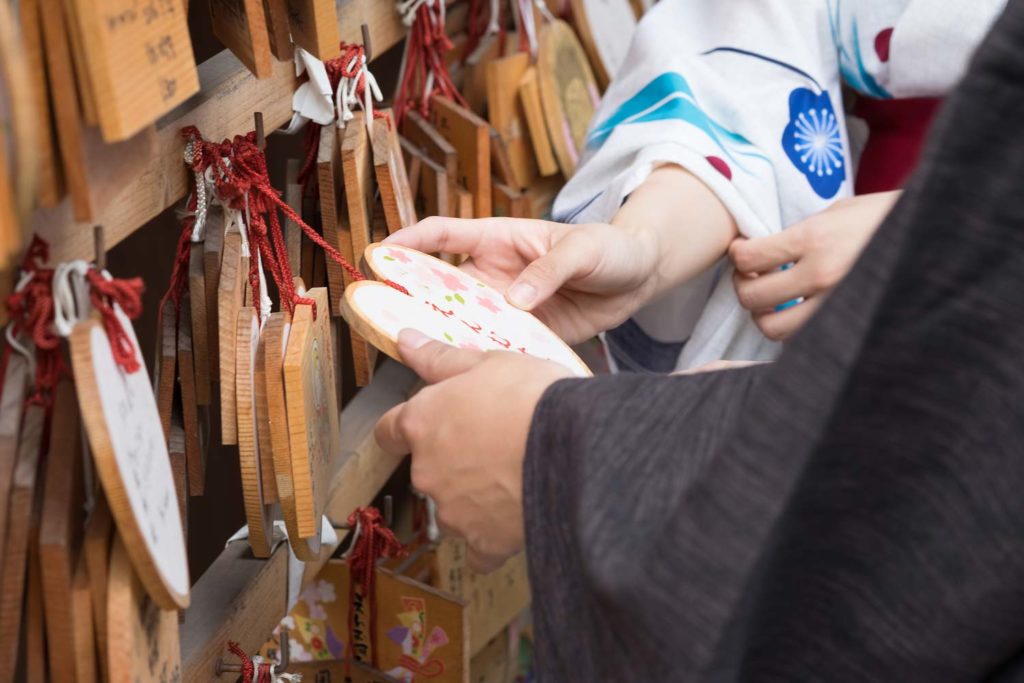 In this article, we've put together a list of love shrines and holy places to visit in Japan, which can hopefully help you in the romance department, whether you're single, in a relationship, or happily married.
8 Love Shrines In Japan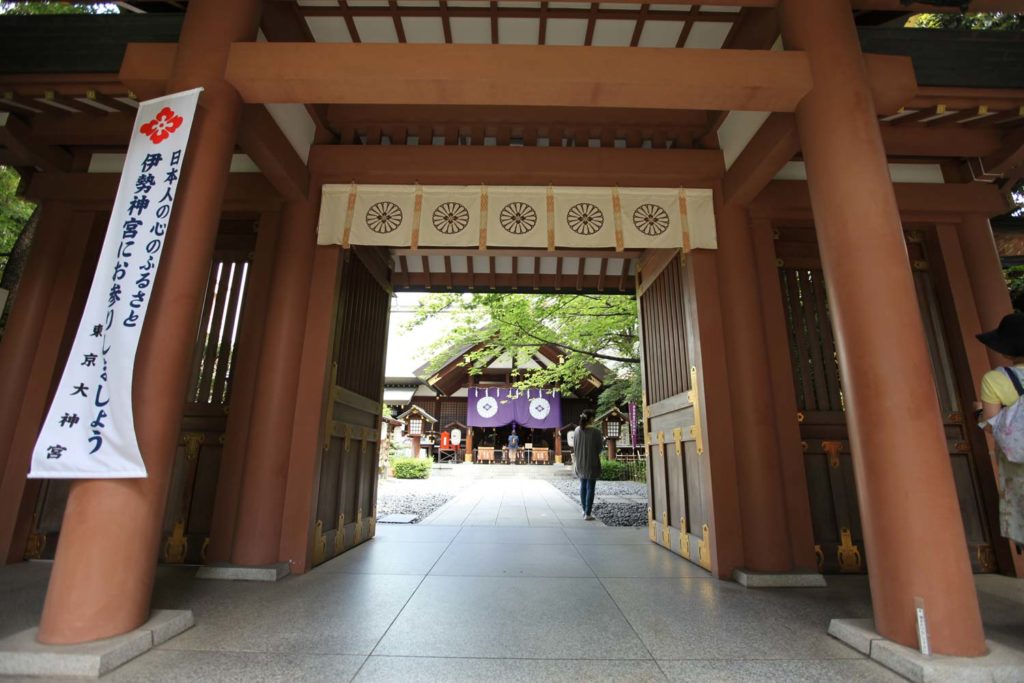 Tokyo Daijingu (Tokyo)
Daijinju is a significant shrine in the capital as it is Tokyo's branch of the Ise Grand Shrine in Mie Prefecture, the most sacred and holiest shrine in all of Japan. Tokyo Daijingu is located in Chiyoda Ward, and the same deities enshrined in the Grand Shrine are here, including the sun goddess, Amaterasu, and god of agriculture, Toyouke-Omikami.
The shrine is a well-known place for wedding ceremonies and frequent by married couples wishing for a blessed married life. Widely known as the place where the Shinto wedding ceremony originated.
Since the shrine is easily accessible within Tokyo, no matter your life status, you can definitely visit the shrine for more blessings on your love life.
Learn More: Tokyo Daijingu Homepage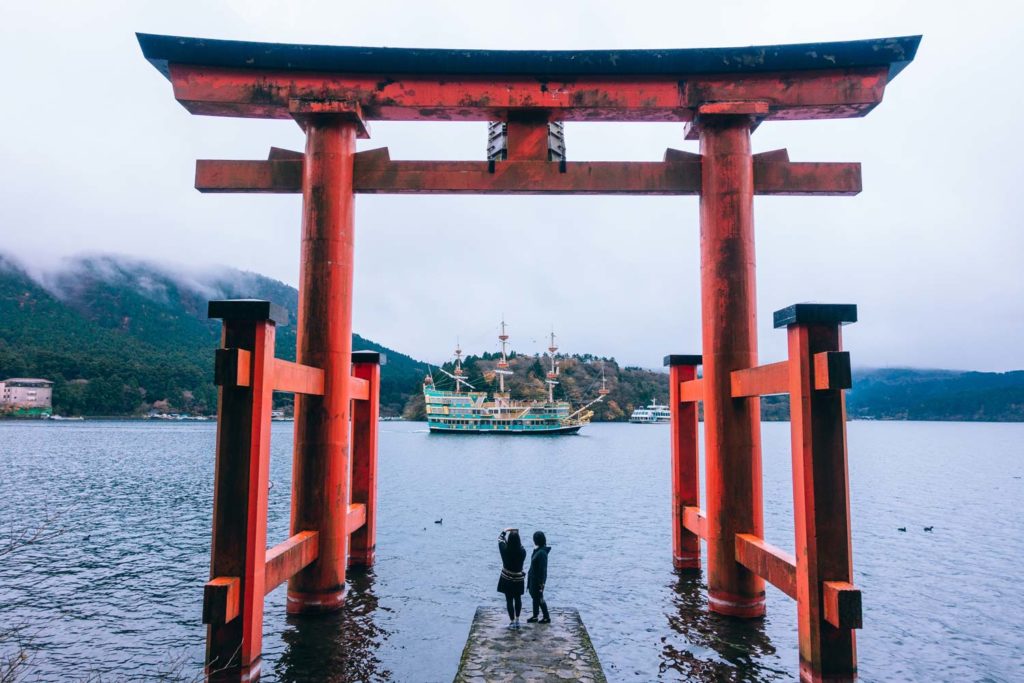 Hakone Shrine (Hakone, Kanagawa)
Located in Hakone, Kanagawa Prefecture, Hakone Shrine is one of the must-visit sights in Hakone. Known for its picturesque, lakeside location, the shrine is dedicated to the deity of love.
The giant torii gate standing on Lake Ashi is popular among tourists. It is such a popular photo spot that the line leading up to the shrine is always packed. But the shrine is still worth a visit for those who want more luck in their pursuit of love. In fact, the water sold at the shrine will supposedly grant you blessings in love if you drink it.
Learn More: Hakone Shrine Homepage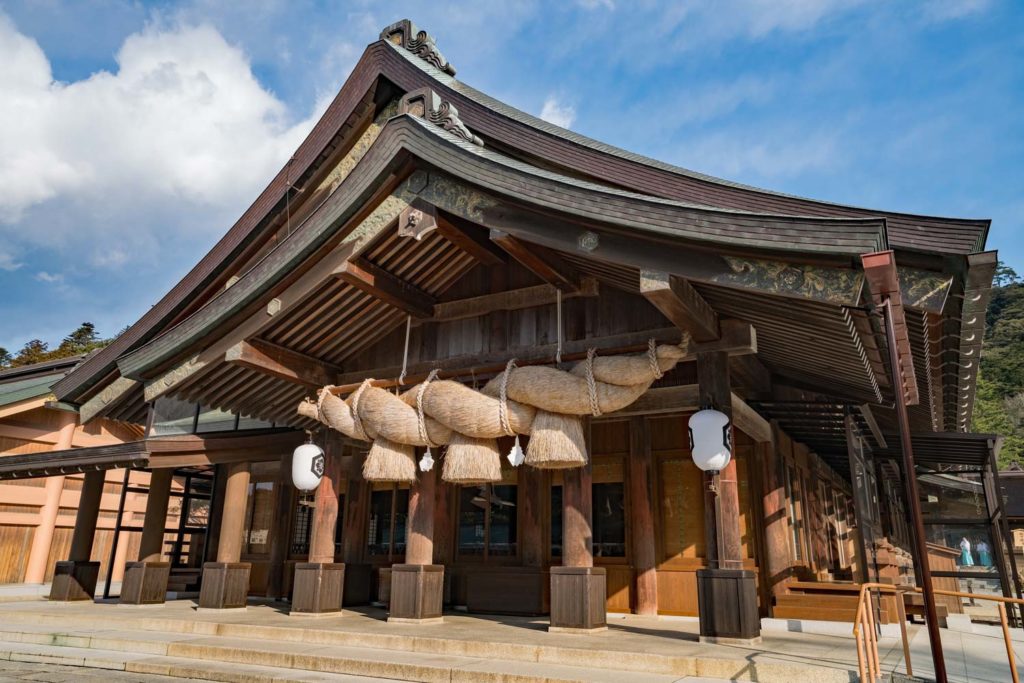 Izumo-Taisha Grand Shrine (Izumo, Shimane)
Izumo-Taisha Grand Shrine is one of the ultimate love shrines in Japan for all lovers or those seeking help with their love life. The shrine is dedicated to all things relationship, whether it's love, business, family, or friendship.
Located in Izumo, Shimane, it is one of Japan's oldest shrine, having existed since the early 700s. If you're not so lucky in the romance department, visiting the shrine is still a must as it is supposed to heal you from the pains of heartbreak.
While the usual practice of praying at a shrine involves clapping twice and bowing twice, at this shrine, it's slightly different. You clap four times instead—two for you and two for your partner (or potential partner).
Learn More: Izumo Taisha Shrine Homepage
Imado Shrine (Asakusa, Tokyo)
Imado Shrine is famous among romantics because the shrine is dedicated to a couple—Izanagi and Izanami, the deity-couple central in the Japanese creation myth, proving their status as the ultimate power couple. For those who wish to have a strong and longlasting marriage, Imado Shrine is also a great choice to hold wedding ceremonies.
Other than being a place to pray for love, the shrine is also one of the places where maneki-neko (the cat figurine you often see in restaurants and shops) is believed to have originated, the other being Gotokuji in Setagaya.
Learn More: Imado Shrine Homepage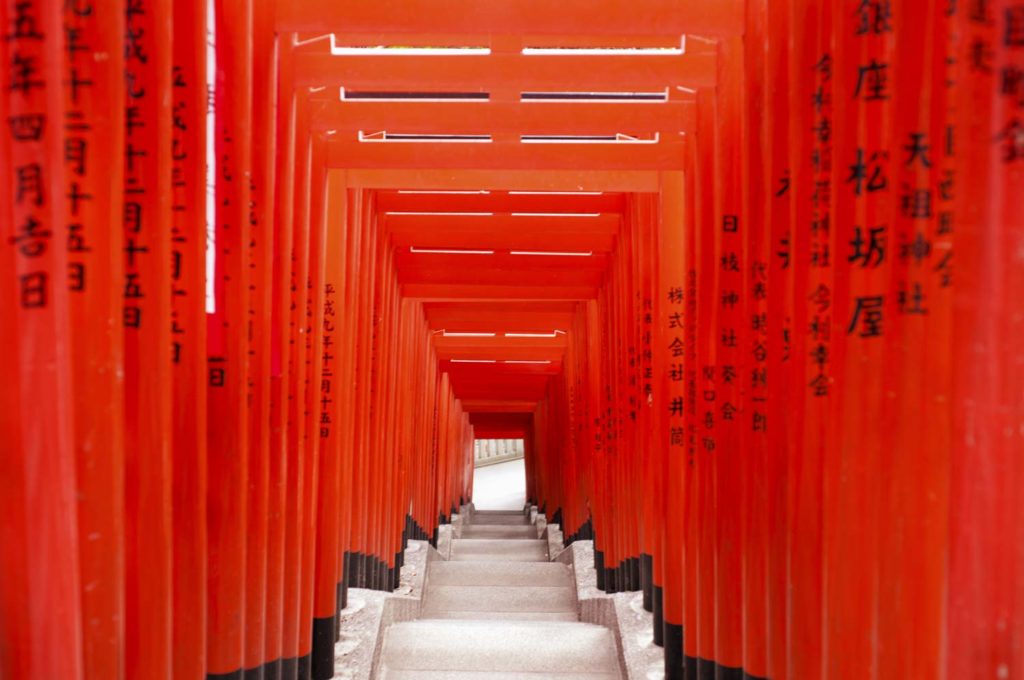 Hie Shrine (Tokyo)
In Nagatacho, Chiyoda Ward, Hie Shrine's main trait is its depiction of a monkey on the main grounds. The Japanese character for the animal is read as "en" and when another character is added, the meaning can be changed to "relationship or connection between people." Eventually, the shrine became known as a place where couples could pray for more blessings on their love life.
Other than being a love shrine, Hie Shrine is also famous for its red torii gates that resembles the famous Fushimi-Inari Taisha Shrine in Kyoto. If you want a Tokyo version of the much-visited shrine, Hie Shrine is a great alternative.
Learn More: Hie Shrine Homepage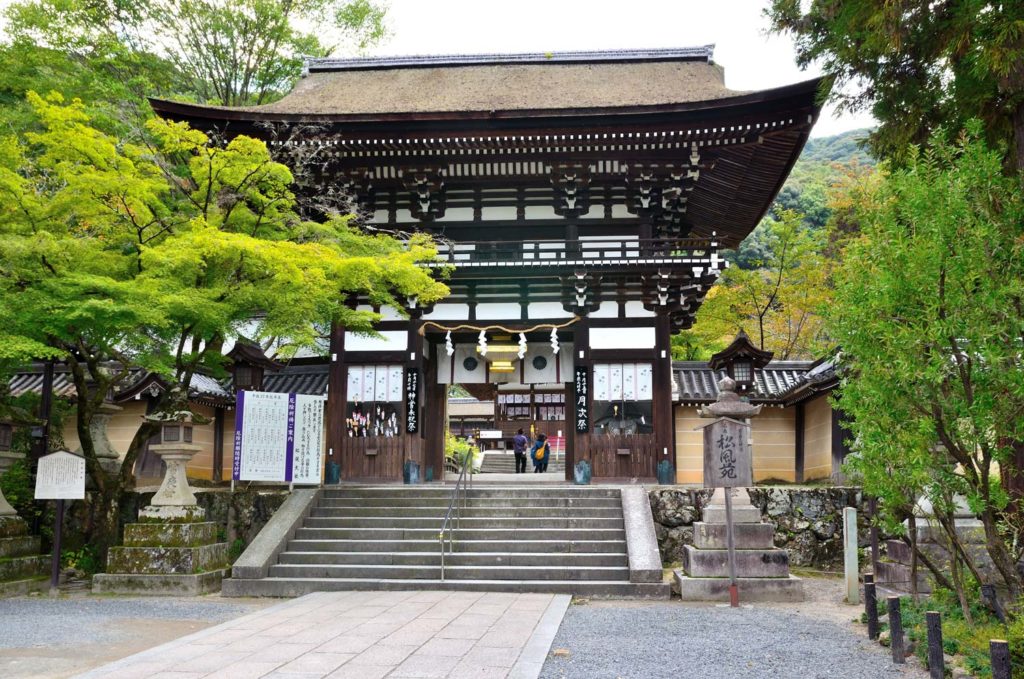 Matsunoo Taisha Shrine (Kyoto)
Matsunoo Taisha Shrine is one of Kyoto's oldest shrine alongside Kamigamo Shrine and Shimogamo Shrine. The shrine is famous for the waters within its grounds which enshrine the deity of sake (Japanese rice wine).
What makes this shrine a place of blessing for lovers is the 350-year-old pair of intertwined pine trees that marks the marriage spot. The two interlocked trees symbolize marital union and romantic fulfillment—a perfect place to bless those with romantic pursuits.
But that's not all. Along the shrine grounds, there are also various statues for good luck including that of a turtle and a pair of goldfish.
Learn More: Matsunoo Taisha Shrine Homepage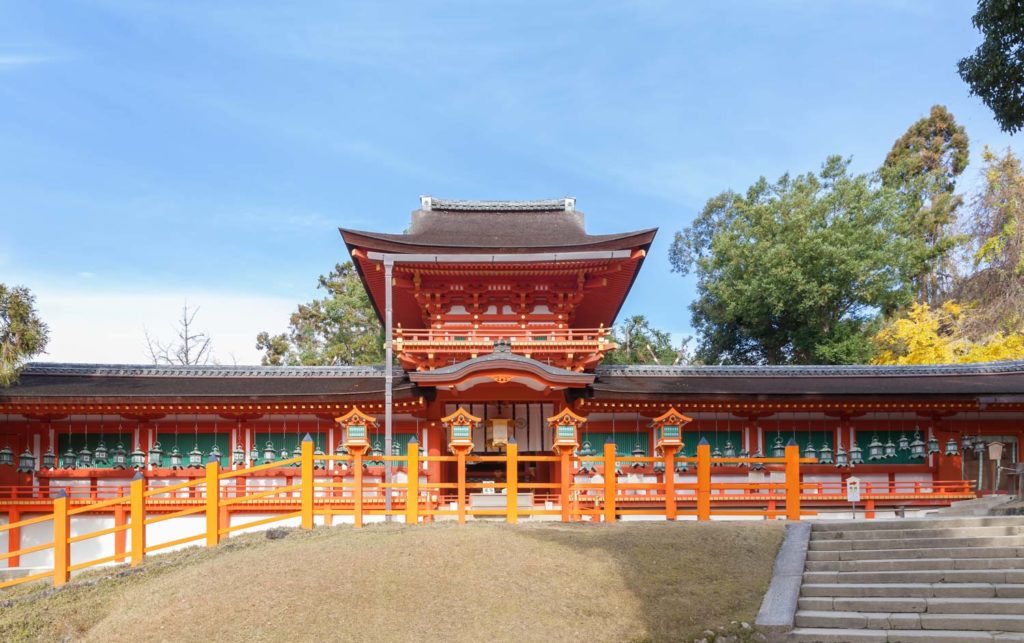 Kasugataisha Shrine (Nara)
In Nara lies Kasugataisha Shrine, a love shrine and a designated as a World Heritage site in Japan. It is believed to have existed 1300 years ago. Within the shrine grounds, there is a subsequent shrine called Meoto Daikokusha, the sole shrine in all of Japan dedicated to wedded deities.
The deities are believed to bless those who come with happiness in marriage, or to those looking for a partner. The belief comes from the myth of Okuninushi-no-mikoto and Suserihime-no-mikoto, whose own story and relationship went through and eventually overcome difficult challenges.
For extra insurance that your prayers will come true, many suggest to write your wishes on the pink and white heart-shaped wooden plaques, said to belong to Suserihime-no-mikoto.
Learn More: Kasugataisha Shrine Homepage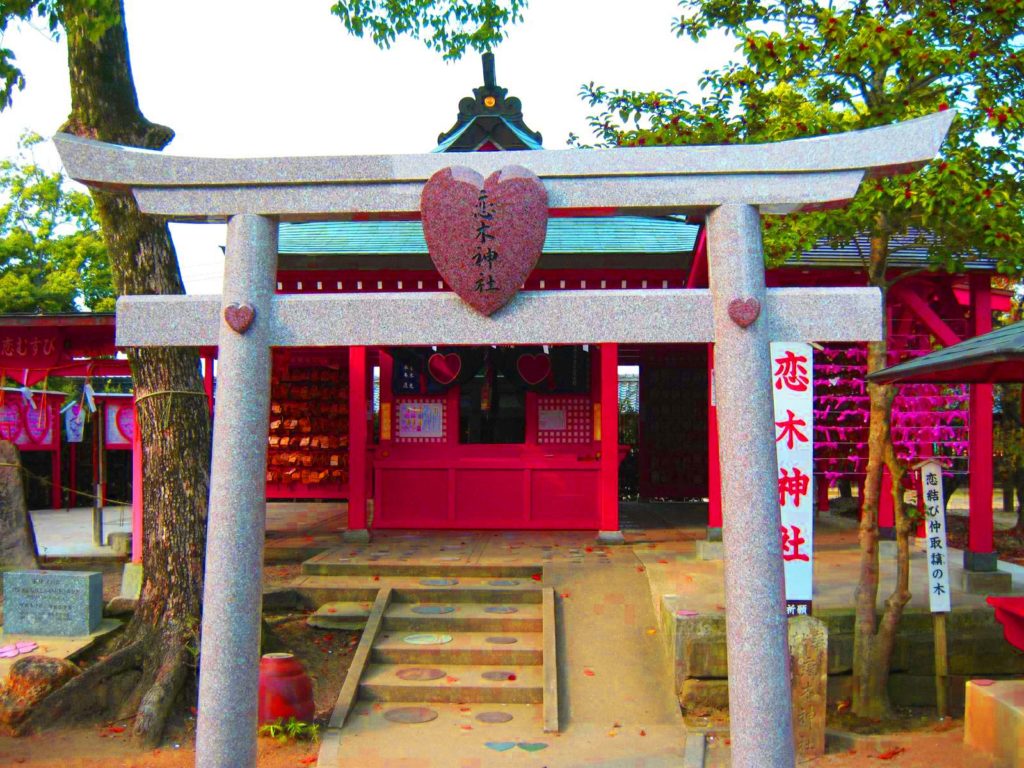 Koinoki Shrine (Fukuoka)
Koinoki Shrine in Fukuoka Prefecture might be the most obvious shrines in Japan dedicated to love on this list. It is covered in shades of pink and red and also heart-shaped decorations—something that also makes it stand out among the other love shrines.
Built-in 1266, Koinoki Shrine is the only shrine in Japan that is home to Koi-no-Mikoto or the god of love. Thus, the shrine is famous among young people, married couples, or hopeless romantics. Here, they can pray for a good match or hold wedding ceremonies.
For extra added luck in love, don't forget to rub the Hina dolls. If you already have a partner, rub both dolls. For those looking for a male partner, rub the left and vice versa. Don't skip on snapping some photos at the shrine as it is plastered with cute hearts.
Learn More: Koinoki Shrine Homepage
---
And there you have it! Whether you're a hopeless romantic, in a long-term relationship, or happily married, visiting one of these love shrines in Japan will definitely spice up and bless you in the romance department. Each shrine is unique, beautiful, and worth a visit!