Japanese whiskey – once an oxymoron, but nowadays as natural a phrase as 'Irish whiskey.' Reaping international awards for quality, Japanese whiskey is getting wide recognition globally, and people scramble to buy some Nikka or Suntory's Hibiki, especially if passing through a Japanese airport. And when in Japan, getting yourself to a bar to sip on the stuff is even better.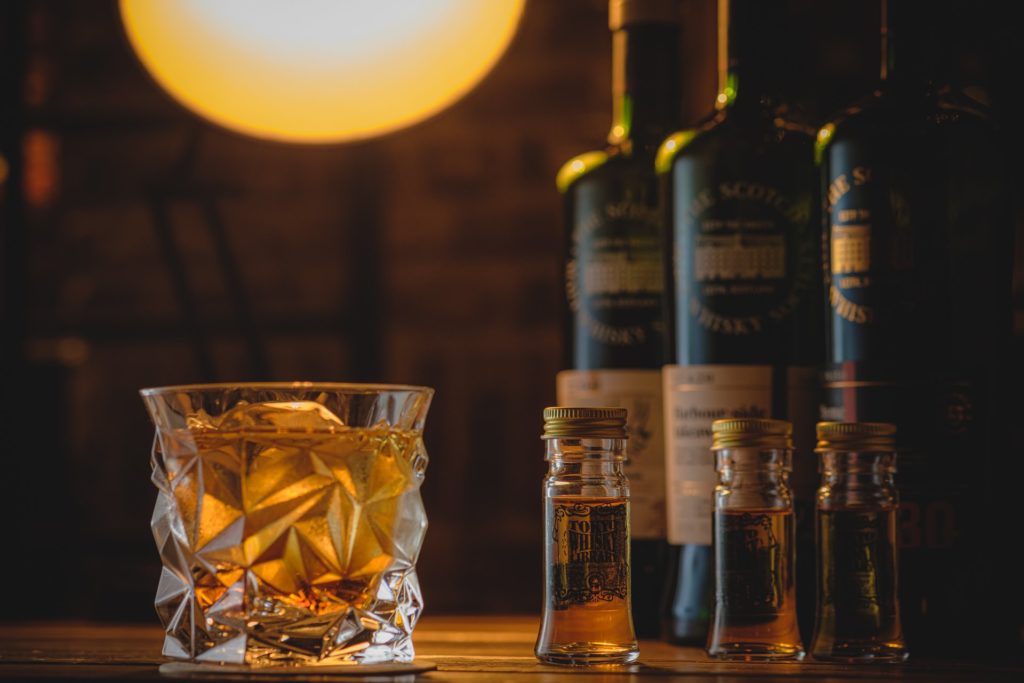 But instead of randomly popping in the first drinking hole, you can go to a specialized bar for a deeper cultural experience. By all means, don't give up knocking back highballs (whiskey and water mix) entirely, but do also check out these amazing places to drink whiskey.
Amazing Places to Drink Whiskey in Tokyo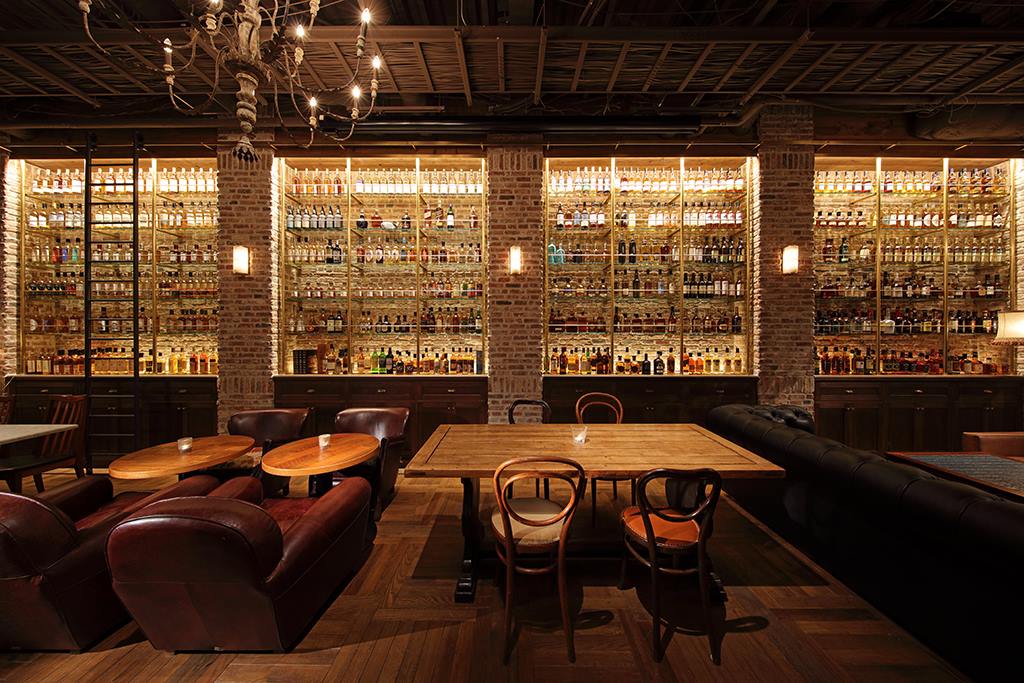 The Whisky Library – Omotesando
This name enough is inviting to any whiskey enthusiast that finds themselves in Tokyo. Shelves packed with bottles, it really is a liquid library you can browse by drinking any of the 1200 bottles of different whiskey.
Their menu boasts pages and pages of Japanese whiskey, followed by great whiskey from around the globe, rounded by a few special bottles of aged and rare stuff. You can pair those with food, as well as try signature cocktails to mix it up a little if you will.
Finally, the vibe of the place is exactly what you would want from a whiskey bar – comfy sofas and booths, warm and earthy tones, brick and wood in the design. Like any library, it's expected you'll make yourself comfortable and spend some time in.
Address: Minamiaoyama santakiarakyoukai 2F, 5-5-24, Minamiaoyama, Minato-ku, Tokyo, 107-0062, Japan
Working hours:
Mon.-Fri. 18:00~27:00(Last order 26:00)
Sat. 15:00~27:00(Last order 26:00)
Sun. 15:00~24:00(Last order 23:00)
Website: http://www.tokyo-whisky-library.com/en/index.html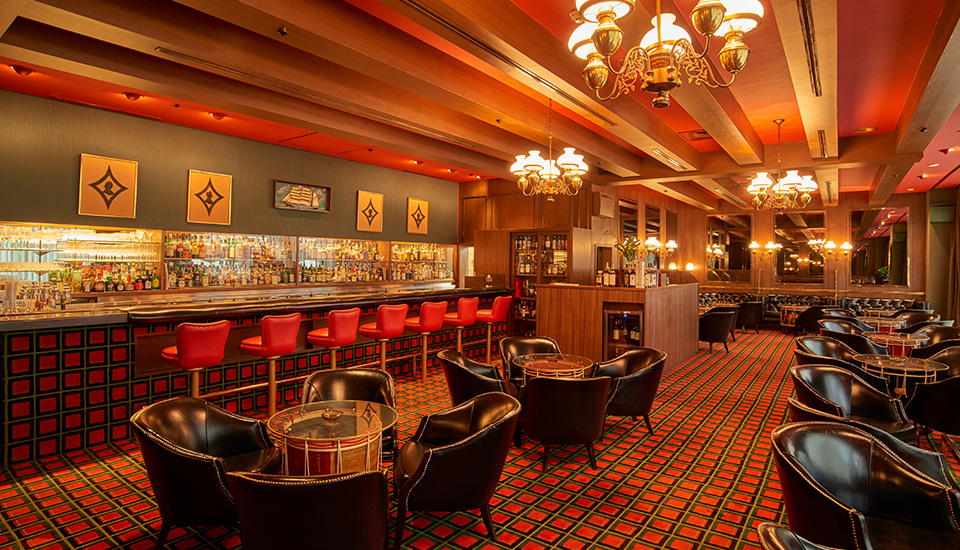 Bar Highlander – in hotel Okura, in Kamiyacho
Highlander is a prime example of Japan paying homage to different cultures – they usually do it very well and to the finest detail. This homage to Scotland is a whiskey bar, part of the legendary Okura hotel in Kamiyacho, Tokyo.
The bar is also called The Lobby Bar is located in the South Wing of hotel Okura, first floor. Designed by renowned British designer Baron Kenilworth, the Highlander bar has a tartan carpet and tables fashioned from Scottish marching drums. The whiskey they stock is not only Scottish, but they also have about 20 domestic options among the 200 varieties of whiskey. And in addition, they have some original blends and vintage reserves for true connoisseurs.
Address: Hotel Okura South Wing 1F, 2-10-4 Toranomon, Minato-ku Tokyo
Working hours: 15:00 – 22:00
Website: https://theokuratokyo.jp/en/southwing/restaurant/bar_highlander/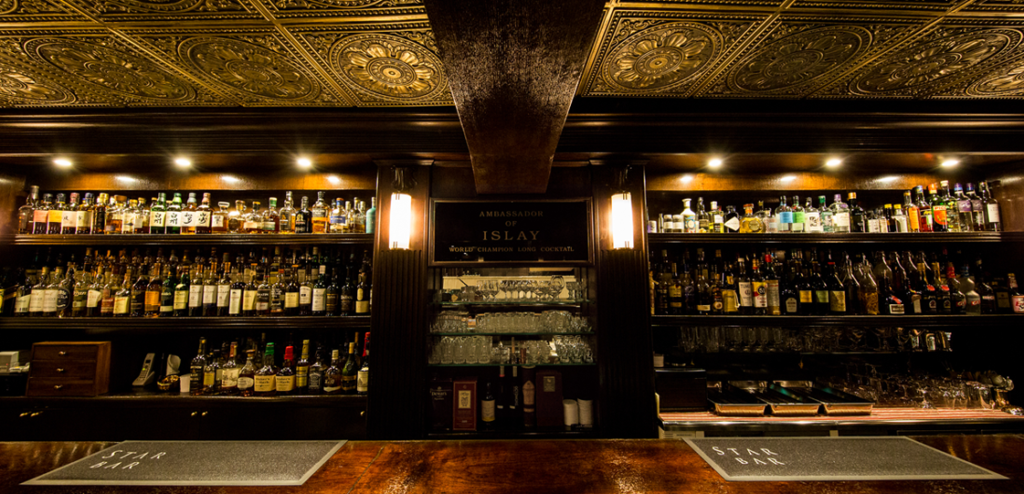 Star Bar – Ginza
Whiskey and Ginza go well together. This classy Tokyo district is where modern culture in Tokyo took root, and whiskey is imported culture in Japan. Among the many excellent bars, Star Bar shines extra brightly.
The bartenders sport the classy, elegant black-and-white uniform and mix amazing concoctions based on your personal tastes. Yes, as is customary in most specialized classic bars in Japan, there is no menu, so the bartenders work their magic after learning your preferences.
The Star Bar is known to have rare whiskey, poured on even rarer ice – their signature 'ninja-ice' that is almost invisible and doesn't water down your drink. Their premium drinks and service are enjoyed in a vintage-style intimate space with leather sofas and a Victorian ceiling.
After all that, it should come as a no surprise that the owner, Hisashi Kishi, is an award-winning bartender legend!
Address: Sankosha Building B1F 1-5-13 Ginza 104-0061 Chūō-Ku
Working hours: 5 pm to 12 am, daily
Website: http://www.starbar.jp/star-bar-ginza/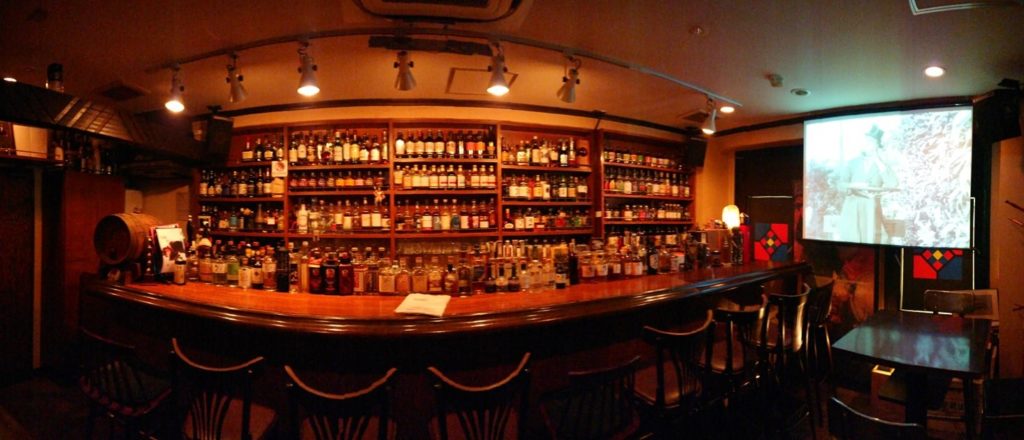 Zoetrope – Nishi Shinjuku
A blend of whiskey and movies, the Zoeotrope is a passion of its owner Atsushi, a film buff and former videogame designer. That's why you can drink whiskey and watch classic American movies on a big screen here.
Small, a bit of a walk from Shinjuku, in a quiet backstreet, unassumingly hidden on the 3rd floor of a nondescript building, Zoetrope is truly a hidden gem of a bar. It has an intimate atmosphere, tasting sets, and the owner/bartender is up for some banter in English on most nights.
But it's not just the bar's quirkiness that got it on our list. Their whiskey selection holds its own well compared to any high-end bar. They even have rare bottles of Japanese whiskey that is not on the market anymore!
Address: 3F Gaia bldg. 4, 7-10-14 Nishi-Shinjuku, Shinjuku-ku, Tokyo, 160-0023
Working hours: 5 pm-0:15 am
Closed Sunday and national holiday
Bonus entry: Whisky Distilleries
Here's a suggestion for those whiskey otaku among us – just go straight to the source. The Suntory Whiskey distillery is in Osaka, but there are few closer to Tokyo too. 
Ichiro's Malt whiskey distillery is close to Tokyo, in neighboring Chichibu, Saitama. In Japan, respectable whiskey bars stock their award-winning product, explaining why they are rarer in shops – there's not enough to go around!
The small distillery is very popular, but sadly to focus on work, they open the bar to the public only once a year. The CHICHIBU WHISKEY MATSURI is a whiskey festival held at the Chichibu Station Product Promotion Center and the Chichibu Shrine every February. As part of it, visitors can apply for tickets to visit the distillery too.
Another close distillery in Tokyo is near Mount Fuji in Shizuoka. Kirin's Fuji-Gotemba distillery is just a few minutes' drive from Kawaguchiko station. They have fun and educational distillery tours with whiskey tasting, of course. 
Suntory's Hakushu distillery is just 2 hours by limited express from Shinjuku to the sleepy Yamanashi prefecture. It was opened to let Suntory experiment on other whiskey varieties, and it did not disappoint. This is also known as 'the green distillery,' as it's deep within a forest, yet still a 15min drive from Kobuchizawa station. They also have a museum and a bar.
Remember to make a reservation before going.
---
This is just a small list of our recommendations and by no means a complete one. Tokyo is famous for having a lot of everything and exceptional service wherever you go.
Start with these amazing whiskey places, whether you're out in Shinjuku, Ginza, Omotesando, or Kamiyacho, but feel free to explore and discover a new whiskey bar or distillery on your own!
Drink responsibly!