Updated August 2020
With language barriers, competition, and a lack of cultural knowledge, DJing in Tokyo can come across as a daunting, if not impossible, task. And while it isn't easy, don't believe the hype: it's much more simple than your expectations may lead you to believe.
Almost every local and international DJ I've met (outside of international high-end headliners) have followed the same basic essential steps to securing their first gigs and beyond. Follow the steps close enough, and you may even land your first gig before you step foot off the plane.
Step 1: Know Your Tools

The standard Tokyo club gear, in most major clubs (Vision, Ageha, Asia, Womb, etc.) are CDJ 2000 Nexus. Mixers on the main floor will most likely be a DJM 2000 or, at the very least, a DJM 900. Some of the smaller clubs/bars that have a few floors may carry lower end CDJs or mixers: 1000s or 800s (Aoyama Hachi, Trump Room, etc.). However, Pioneer is, by and large, the standard.
However, given EDM's popularity, countless members of youth and career men/women are also getting into DJing via controllers. You will often see them struggling to set up in the 15 minutes before your set ends. I used to be one of these people as well until I realized the ease of USBs (this one, in particular, is one of the best reviewed for CDJs/writing speed) and rekordbox.
If you want equipment of your own- or would at least like to try it out- I would recommend Power DJs in Shibuya (as pictured above).
If you want to practice mixing on club equipment, you can go to Studio Noah Shibuya and Studio Noah Shinjuku. You can choose your own equipment. The cheaper the equipment (CDJ 1000s): the cheaper the price. The one near Tokyu Hands in Shibuya has CDJ 2000s that you can rent.
Finally, if a controller is more your thing, there is a large variety available online within Japan. My personal favorite is this one– I used this model for years before deciding to go with USBs.
Step 2: Online and "Physical" Presence
If you don't have one already, you need to create an online identity for your DJ persona. A well designed and thought-out Instagram page is critical for landing your first gigs in Tokyo.
On top of this, it pays to have an account with iFlyer. iFlyer is where all of Tokyo (and Japan's) dance music events are posted. By having a presence on there, you can not only find events to enjoy, but you can also find gigs. The creator of every event is listed, and you can check every day by selecting your genre of choice.
Iflyer is one of the most undervalued tools (even though it's been around for years) and you can get ahead of the game before you even arrive in the city. In addition to this, we'd also recommend gaining emails from your fans by linking to your DJ page and newsletter (SumoMe has great tips to help you in this regard).
With both routes, a business card makes an impactful statement of professionalism. In Japan, business cards (called "meishi") are the cultural standard. You will be surprised how much your credibility skyrockets with such a simple piece of paper. We highly recommend Mojo Print to create some for yourself. They are Osaka based but provide quality cards with English support and fast turnaround/shipping within 24- 48 hours (they also print flyers of all shapes and sizes).
Step 3: Find the Right People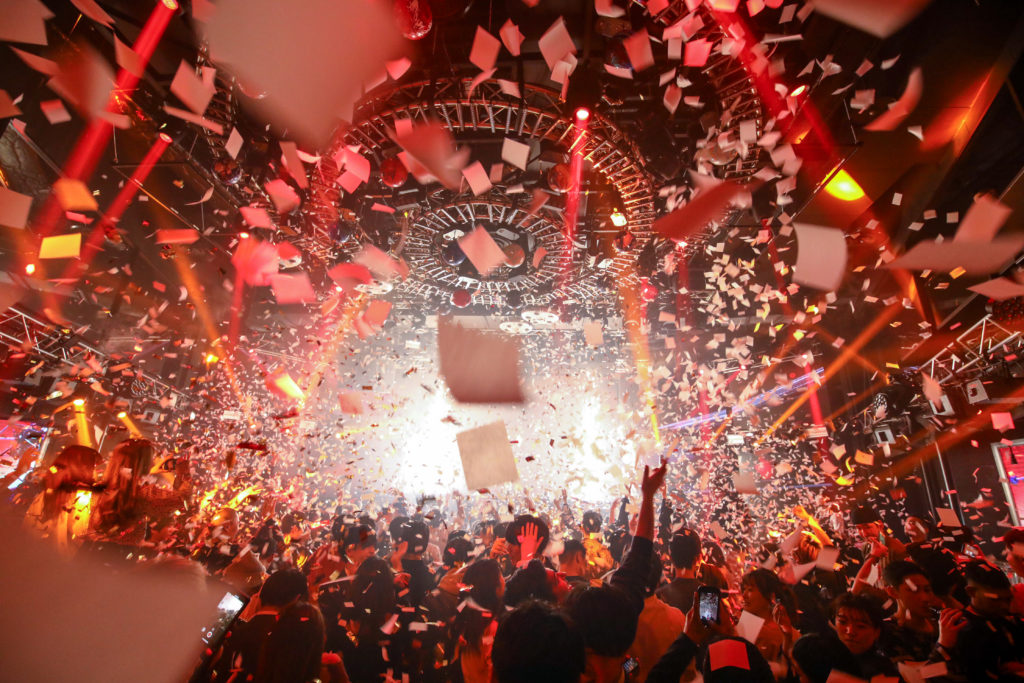 With your resources (tools) and presence (online/physical), you now have three options:
1) Bookings at Venues (One-Offs)
Utilize iFlyer, even more, to scope out who organizes what, and then send these individuals messages over Facebook, Soundcloud, or more boldly: in person. All of my gigs were sealed with this route. While I can't post anything on here that will help you overcome your social anxiety (legally anyway), direct social interaction is undoubtedly the best way to secure your gig in Tokyo.
The truth is, it isn't difficult to get a gig in Tokyo. It just requires that you go out to venues like WOMB, ageHa or Vision and connect with the promoters or DJs involved with the party. Find these people, buy them shots, compliment them, and get their contact information. After a few days, hit them up, and let them know you are a passionate DJ willing to work his/her ass off and promote his party. And before you know it you will have your first gig. Mind you, it may be in the lounge, but its start!

Tokyo's DJ and Producer: VIVID
Responsiveness to online messages is highly uncertain: Facebook routes your messages into an "Others" inbox for people that aren't already "Friends" with you. And for those you do manage to become "Friends" with, they may have "Seen" your message, but it certainly doesn't guarantee a reply. Thick skin is a must.
2) Full-Time Residency at a Club/Lounge/Bar
Outside of event organizers, you can also target venue booking managers or owners of various clubs, bars, or lounges. While you can do this online and via email, it will more than likely need to proceed in Japanese and, as mentioned above, may be met with no response. As such, your best bet is to simply explore the nightlife regions of Shibuya, Roppongi, and Shinjuku:
All I really did was wander into a bar and I noticed they had a booth but no DJ (even though it was peak time). I asked them if they needed a DJ and told them that I could do it, then followed up the next week. Was playing there within the month.


Full-Time DJ; Kabukicho, Shinjuku
And while it may seem like common sense, you'll have to venture around quite a bit before you find that peak time place without a peak time DJ. And if you want to secure a residency at a major venue and are wondering what the pay is like for the various levels of clubs, continue to Part 2: How Much Do Tokyo DJs Get Paid.
3) Apply for TURNED ON's DJ Audition
TURNED ON is one of Tokyo's most prominent foreign-owned Event promoters and marketing specialists. This boutique agency is uniquely aware of the challenge and desire to get gigs DJing in Tokyo. Apply for their audition and if you meet their criteria they will hook you up with a gig at either one of their large scale events or a local nightclub or bar.
---
Ready to learn more? Read part two of our guide here:
DJing in Tokyo. Part 2: How Much Do Tokyo DJs Get Paid