Updated September 2020
So you want to try Uber in Tokyo?
Well, this popular (and often controversial) app has a presence in Tokyo, all right, but keep in mind that it's a very small one. Available now in Tokyo, Osaka, Fukuoka, Nagoya, Kyoto but not Sapporo currently.
Perhaps the first question to ask is, "Is it worth it?"
Uber tends to thrive in cities where taxi operators are found lacking in comparison, what with problems such as rude drivers trying to rip passengers off, poorly maintained cabs, and the difficulty of flagging down a taxi. Tokyo, however, doesn't really have to deal with these issues.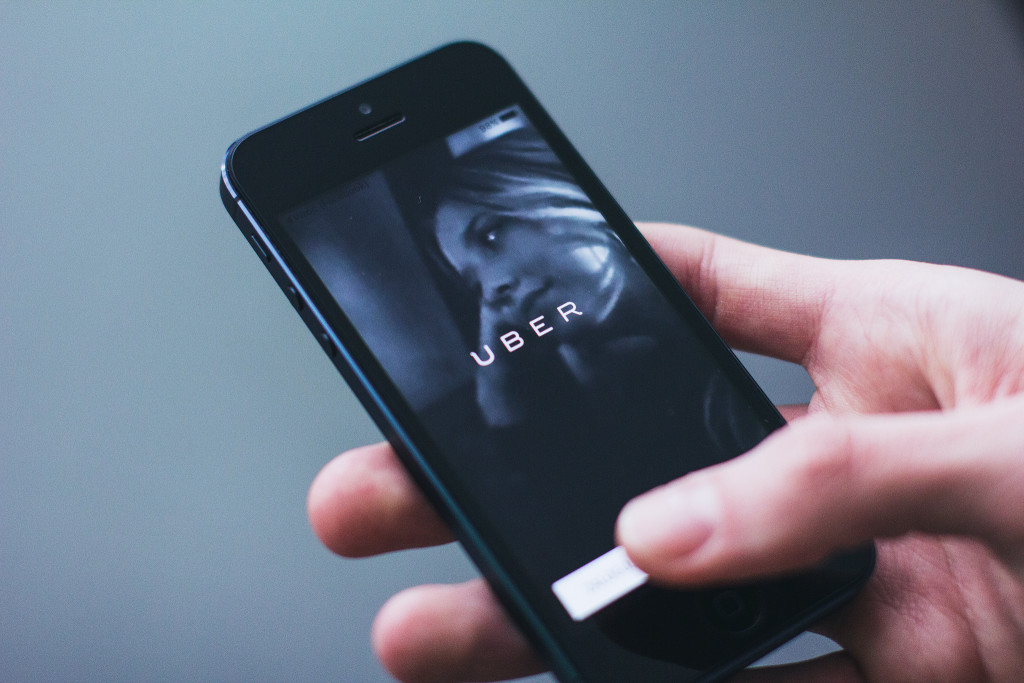 For one, Tokyo has a very efficient railway system, thus making cabs more of a pricey last resort. And for those who do need to use taxis, Tokyo's taxis tend to be clean, comfortable, and well-maintained, with the drivers being affable, polite, and honest. The meters work just fine, too, so there's no need to worry about being ripped off. When Tokyo's cab industry is already doing its job well, it seems to make little sense for Uber to have entered the market.
However, Uber does have some slight edges over its competitors, so here's a rundown of Uber 's pros and cons: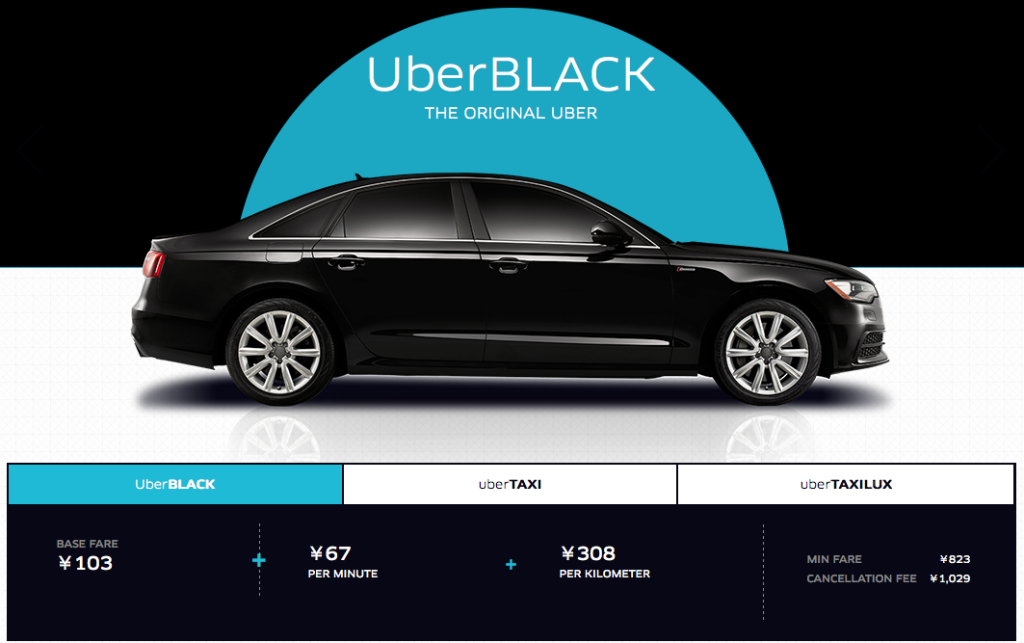 Pros:
Whereas most taxi companies add a late-night/early morning surcharge of 20-30% for rides hailed between 10:00 pm-5:00 am, Uber cars don't. Thus, while Uber cars are often pricier than the competition, that's not necessarily the case at night. That makes it perfect for night owls!
Uber's cars are bigger and offer more legroom.
Transactions are cashless – perfect for those who don't carry too much cash on them.
Most drivers wear white gloves and can speak English – not necessarily fluently, but decently enough.
Cons:
It's pricier than a regular taxi. For comparison purposes, a typical taxi in Tokyo costs 380 – 410 yen for the first kilometer, then 80-90 yen for every additional 270-300 meters. UberBLACK starts with a base fare of 103 yen, followed by 67 yen per minute and 329 yen per kilometer, with the minimum fare being 823 yen.
Uber's small fleet in Tokyo means that there aren't always available cars.
Your mileage may vary, but my verdict is that, lack of night surcharge aside, there is little reason to choose Uber over a regular taxi, as the service that Japanese drivers provide is already quite good (and transactions can be cashless, too, as most drivers accept card payments). Additionally, new apps such as Japan Taxi allow users to book Japanese taxes easily within a fairly easy to use app (Some Japanese required).
Tokyo also has plenty of taxis, so hailing one usually shouldn't be too much of a problem in the first place. However, if you're still on board and willing to give Uber a try, read on for my Uber experience in Tokyo.
After downloading the app, I got a welcome e-mail promising that using Uber would be a breeze, as these were all it would take to get a ride: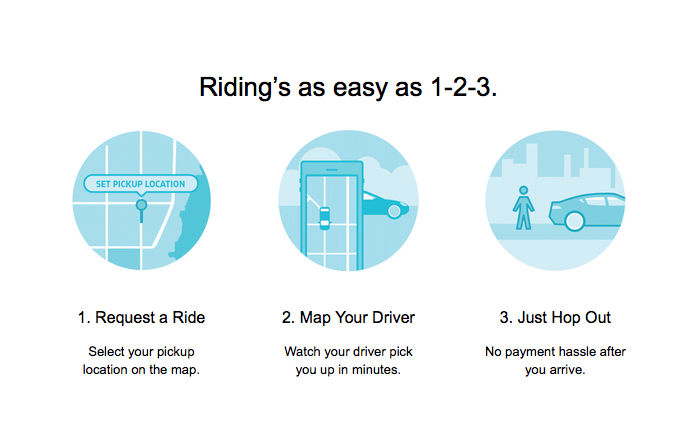 That night, I was in a prime nightlife area, so I had no trouble finding an available car. As mentioned earlier, Uber has a small fleet, so you stand a better chance of finding a ride in swanky expat neighborhoods and/or areas with bustling nightlife, such as Minato-ku (Roppongi and Azabu-Juban) and Shibuya.
Time to pick a car! Uber has four types of cars to choose from:
Uber Black, their standard classy black car, which can accommodate up to 4 people
Uber Black Van, which can accommodate up to 6 people
Uber Taxi, which are taxis from third-party companies that have partnerships with Uber. For Uber Taxi, you just pay a pickup charge (which varies depending on the company) and the price indicated on the meter.
Uber TaxiLux, which cost an additional 500 yen on top of the pickup charge and meter value. This is the premium choice because you get to ride in a Toyota Crown Royal, BMW 7 Series, Toyota Alphard, or Lexus LS.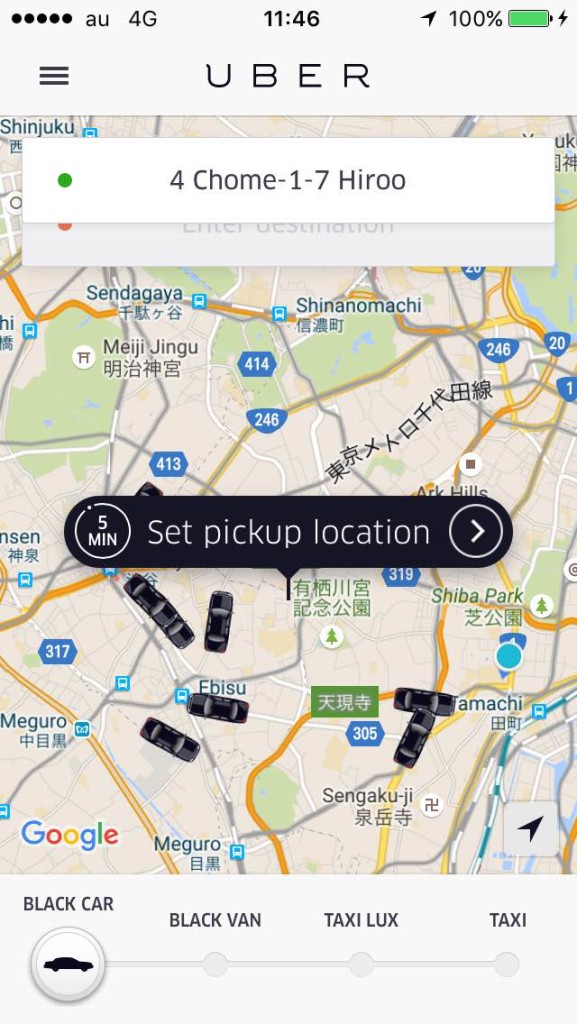 Selecting UberBLACK, I set my pickup location and specified Nagatacho Station as my destination. Zenshin, my driver for the night, then promptly arrived in less than five minutes. Unlike regular Japanese taxis, the black car didn't have doors that opened automatically, so Zenshin opened the door for me. Naturally, I'm perfectly capable of opening the door myself, but this gesture is apparently part of Uber's services. It was a nice personal touch, and it made me feel like I had a personal chauffeur for the night.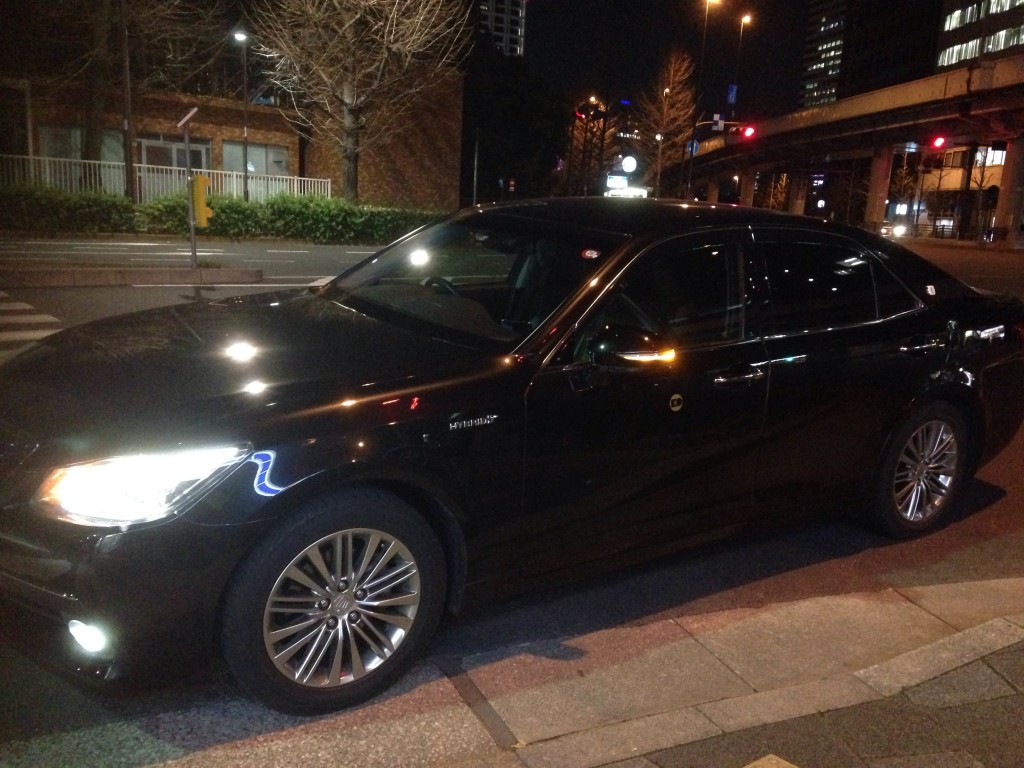 Making small talk with Zenshin, I asked how Uber was faring in Tokyo, to which he said that Uber's presence in Tokyo is still barely felt and that most Japanese aren't aware of Uber.
Regardless of that hurdle, if interviews with Uber Japan's president are any indication, Uber intends to target foreigners in Japan and is preparing for the surge in tourism that the Tokyo Olympics will surely bring about.
Nearly 15 minutes later, we'd arrived at Nagatacho Station. Once again, Zenshin opened the door for me, after which I thanked him for his service. Just a few minutes later, I got an email informing me of the fare breakdown.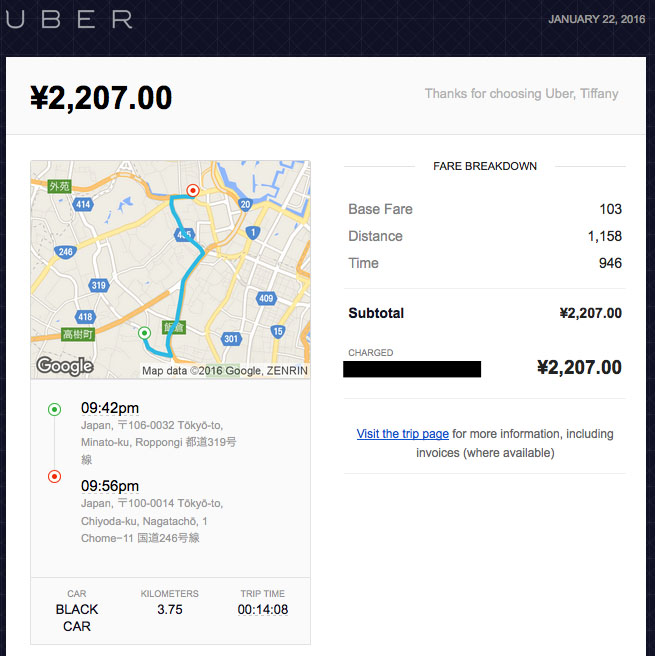 And just like that, my first Uber experience wrapped up.
It was quick and easy, with a polite and affable driver, a clean, spacious, sleek car, and – most importantly – a safe ride.
---
If I ever find myself out late at night, I think I'd consider Uber again. But otherwise, as good as Uber's service is, I think I'd go for a regular taxi, because I'm a cheapo after all.
Tiffany Lim moved to Tokyo from Manila, Philippines in 2013 for grad school. She got her MA in September 2015 and is currently still in Tokyo, working. Tiffany enjoys reading novels, crafts, and taking pictures of interesting things, places, and events (though she is no photographer).