In Tokyo, there is no shortage of spots perfect for Instagram photos. Whether it be nature, cute, architecture, cuisine, or funky photo-worthy spots, Tokyo is full of opportunities. Here are 20+ spots in Tokyo that you need to check out for the perfect Instagram snap!
Instagram Spots In Shibuya
Shibuya crossing
Welcome to the busiest crossing is in the world; the Shibuya crossing is a fascinating sight to behold and a must-visit spot when traveling to Tokyo. Once you crossed it, take a seat at the Starbucks, which is in front of the crossing, sip some matcha, and capture an eagle-eye view of the crossing.
Access: https://goo.gl/maps/DAiNPVSi4eY255Xu7
Hachiko Memorial Statue
Access: https://goo.gl/maps/sxk3nYZe1VvcZLeB8
While you are in Shibuya, don't forget to visit and take a few pictures with the legendary Hachiko statue, a bronze statue of the loyal dog who waited for his master for ten years even after his death. A popular meeting spot, this statue sits just outside the Shibuya station across the Shibuya crossing.
Shibuya Sky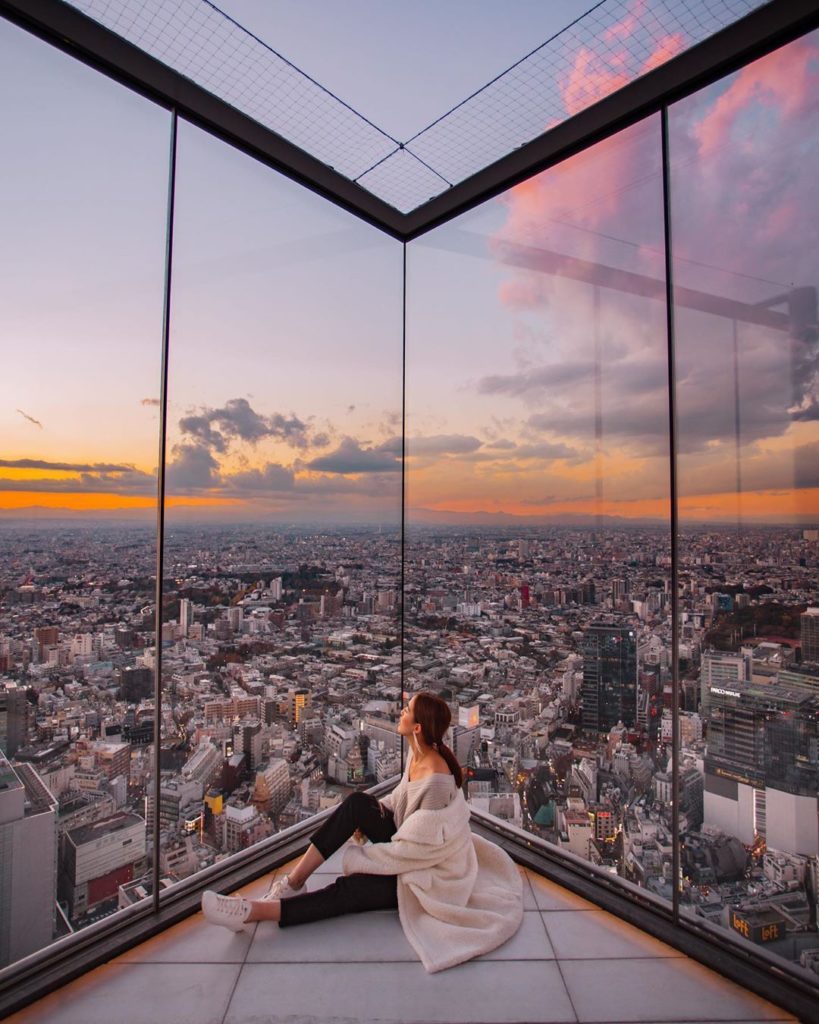 This 360-degree, open-air observatory provides a spectacular view of the city, located at the roof of the highest building in Shibuya, "Shibuya scramble square." It is a paid attraction with an admission fee of 2000 yen for adults.
Access: https://goo.gl/maps/tXF2Tv2QidBxHRnK6
Asakusa
This side of Tokyo retains a calmer vibe and glimpse of the Edo period. Asakusa is the closest one can come to witnessing an older Tokyo where you can ride a traditional rickshaw ride, buy a secondhand Yukata or rent one at Nakamise- Dori and photograph the most quintessential Tokyo photo with yourself wearing it.
Senso-Ji Temple
This ancient Buddhist temple has been a base of numerous festivities and is known to be the oldest temple in Tokyo. No visit to Tokyo is complete without a picture of Senso-ji temple's spiritual site along with its distinctive five-story pagoda. Just a four-minute walk from the Asakusa station.
Access: https://goo.gl/maps/ibFezcuszwwuvrem7
Asahi beer hall
One of Tokyo's more infamous structures is the golden flame known as the "Flamme D' Or" atop the Asahi beer hall. Supposedly, the design is inspired by the head of beer and the heart of Asahi Beer. What makes for an undeniably pretty picture is the sky tree in the background along with the "Flamme D' Or'. The Asahi beer hall is about a 10-minute walk from Asakusa station.
Access: https://goo.gl/maps/szNmWZ8gsadueDkb8
Tokyo Skytree
While you can get a perfectly good view of Tokyo Skytree from almost anywhere in Asakusa, nothing beats the 360-degree view from its observation deck. At 634 meters, Tokyo Skytree is the tallest tower, elevating you to produce compelling drone-like photographs.
Access: https://g.page/TOKYOSKYTREE-official?share
Kappabashi Kitchen town
Kappabashi Street is a must-see area for taking unique photos of Japanese kitchenware. Witness traditional porcelain pieces with "Sometsuke" art – a technique of hand painting designs in cobalt blue and "Kintsugi" – an art of repairing pottery with gold. Most of the Kappabashi street kitchenware items spill out onto the streets for people to glance at while shopping and make it easy to get in a few pictures. A short 12 minutes' walk from the Tawaramachi station.
Access: https://goo.gl/maps/73Tji1D2dSHWsu8SA
Instagram Spots In Harajuku
Meiji Jingu Shrine's Sake Barrel
Meiji Jingu is a Shinto shrine built in 1920, just a five-minute walk from the Harajuku station, situated in a lush forest-like area of Tokyo spanning over 175 acres of land. About ten minutes from the entrance, you come across an expansive display of sake barrel collection called Kazaridaru. These sake barrels are offered to the deities at Meiji Jingu Shrine every year. Apart from the giant Torii Shrine gate and the main shrine buildings, the Meiji Jingu Shrine's sake barrels make for a compelling picture.
Access: https://goo.gl/maps/yAYA6Pz3ZCh6R36k6
Yoyogi Park's Transparent Washroom
This unique washroom is ideally located in the heart of the city, about a 10 minutes' walk from Harajuku station and adjacent to the Meiji Jingu Shrine. Designed by Shigeru Ban, these new additions to the park are unusual but all the more intriguing for your Instagram squares. Oh! And don't forget to try these next-gen washrooms apart from snapping them, as they turn opaque as soon as one occupies the cubicle.
Access: https://goo.gl/maps/eiefwLxKfNjbUSFN6
Tokyu Plaza
Known as the "Kaleidoscope," Tokyo Plaza's mirrored entrance is a popular hub for the millennials who gather to take their selfies. Situated between Omotesando and Harajuku area, the building is an upscale venue for shopping and dining.
Access: https://goo.gl/maps/j3Si6Thw3rS5fuRk6
Takeshita Street
Harajuku's most famous Takeshita street is not just a hotspot for flocking teenagers but the go-to stop for everything #kawaii (cute). Takeshita street is home to colorful snacks which are perfect for dressing your Instagram feed, such as rainbow cotton candy, decadent crepes, or pastel gelato. And don't forget to snap the sign of the street's name.
Access: https://goo.gl/maps/HD4mtLf5ugqtfKqv5
Instagram Spots In Odaiba
Mori Building Digital Art Museum Teamlab borderless
Access: https://goo.gl/maps/28S48yGmt2swHpkj9
Mori's futuristic interactive museum is the world's first digital art museum, making it a given spot for being awestruck. Here fascinating scenes not just capture your imagination but provide for some mesmerizing shots. From being surrounded by a hundred lamps to sipping a medicinal tea at the EN Tea in the dark with visual arts in your cup. This place is nothing short of a dream.
Rainbow bridge
Photo Courtesy jpninfo.com
Explore the coast of Tokyo, with the Rainbow bridge, a suspension bridge connecting the Shibaura pier with the Odaiba waterfront in Minato. The Rainbow bridge is a pretty picture at any time of the day, illuminated by solar energy at night. A walk in the Odaiba Seaside park gives you ample scope to get some unhindered views of the glowing rainbow bridge.
Access: https://goo.gl/maps/jACQLhBR1HZ1ymFNA
Toyosu Market
What can be better than Instagramming fresh seafood from the biggest seafood market in the world? Toyosu market replaced the legendary Tsukiji market in October 2018; this wholesale market divides into fruits, vegetables, and seafood. Visitors are allowed to view from observation windows the prime act of tuna auction and other wholesale areas. Though photography during the auction is not allowed, you can try fresh seafood at the food stalls; anything from shark meat to tuna to sea urchins, and don't forget to snap a shot of your order before you chow down your delights.
Access: https://goo.gl/maps/Hq9bdwNHq9LAStjj9
Instagram Spots In Shinjuku
Kabukicho
Though known to be notorious, Kabukicho remains popular with locals and travelers; this adult- entertainment district enjoys a nightlife like no other in Tokyo. With its host clubs, pubs, a sci-fi Robot restaurant, and dance clubs, Kabuchiko does not fail to entertain and allows visitors to get some wild shots.
Access: https://goo.gl/maps/eQop4FSVwkby6cQv9
Golden Gai
Golden Gai, on the contrary, is a conglomeration of late-night snack bars and tiny drinking jaunts all crammed up under narrow alleys. Right next to Kabukicho, Golden Gai doesn't allow for photos, but it's possible to snap iconic photos here if you are sneaky enough.
Akihabara
Though famous amongst anime lovers and shopping electronics, you need not be a gamer to enjoy Akihabara. The Electric city also offers quirky entertainment for all, such as maid cafes, karaoke parlors, cosplay centers, and manga venues. The brightly colored buildings and anime culture influence all make for captivating images for your Instagram feed.
Access: https://goo.gl/maps/cAzJ6vQdrDbjTeYb7
Hie Shrine
If visiting Kyoto on your visit to Japan seems impossible, you need to head over to the Hie Shrine in the Chiyoda ward, Tokyo. The vermilion Tori gates at Hie Shrine resemble the Fushimi Inari Shrine of Kyoto, giving you a chance to recreate and photograph moments from the film "Memories of Geisha."
Access: https://goo.gl/maps/KeuofdLk8cmaUkhc7
Nakagin Capsule tower
This boxy building designed by Kisho Kurokawa is the true embodiment of a futuristic capsule structure. Located in Cho city, this semi-residential and office tower is a cutting-edge structure for your Instagram feed, beautifully showcasing Tokyo.
Access: https://goo.gl/maps/Pt39zcnGaBYJPmzb8
Shiro-Hige's cream puff
Located in a retro neighborhood of Setagaya, this bakery is an Instagrammer's delight with its incredibly light and delicious Totoro cream puffs filled with chocolate, matcha, strawberry, and classic cream custard. Now whether you are a Ghibli fan fab or not, these cute Totoro make for an adorable snap any day.
Access: https://goo.gl/maps/sn1HRrvJvPv6dATx6
Tokyo Tower
The Tokyo tower's observation deck's panoramic view is undeniably stunning, but we think viewing this structure under the night sky is a must. Angle your shot of the tower from Shiba Koen park at sunset or daytime for a dope photo.
Access: https://goo.gl/maps/i1ftZFdLBBByGx4GA
Tsutaya Ginza-six
Visiting a bookstore should be a must in a country like Japan, where the world's first novel, "The Tale of Genji," was written in the 11th century. A cultural experience guaranteed with over 60,000 domestic and International books that paint a charming picture as you glance through the high-rise book walls.
Access: https://goo.gl/maps/f8ep6yk2RR67BVxa7
Meguro River
Meguro River is one of the best spots for viewing Sakura during spring in Tokyo; the Sakura trees spiraling from both sides frame the Meguro river meandering through Tokyo. The river gathers people daily to view the gorgeous sakura trees in the day and night, both in the spring and during other seasons.
Access: https://goo.gl/maps/TvQmBEzktgKuGhHi9
---
Do you know any other incredible Instagram spots in Tokyo that we missed? Let us know in the comments!