2021 is coming to an end, and for many of us, that is a good thing. Now the big question remains… do we celebrate New Year's Eve in Tokyo?
Normally, this time of year is all about celebrating the end of a prosperous year with colleagues and friends at End of Year drinking parties (bōnenkai 忘年会) or at massive New Year's Eve nightclub events. Similar to Halloween, Tokyo usually offers a wide selection of ways to celebrate the big countdown.
This year's festivities, however, are mostly canceled and moved online. But nightclubs, for better or worse are still planning to be open this New Year's Eve. If you do choose to party this New Year's Eve, please do so carefully.
Here is our guide to celebrating New Year's Eve in Tokyo 2021!
---
TOKYO NEW YEAR'S EVE TIPS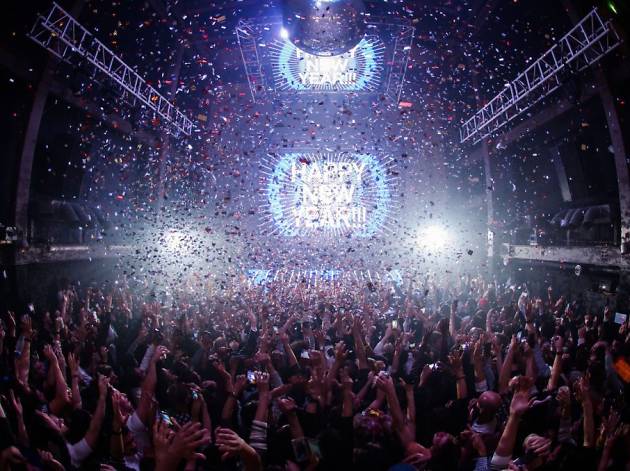 COVID 19
The coronavirus cases in Tokyo have taken a dip since mass vaccinations, but the Japanese government still strongly requests people take precautions. Most nightclubs will require guests to wear a mask, provide contact information, and take a temperature check.
Surprisingly, some clubs are very loose with these regulations, leading to customers and even performers not wearing masks.
Taxis
Because of the end-of-year parties, it is nearly impossible to grab a taxi. Stick to the trains on New Year's Eve. All nightclubs will require this for entry.
Trains
Typically Tokyo's trains stop running at 1 am, but on New Year's Eve, they will operate all night. The time schedules will vary between train lines, but for the most part, you can expect a train every 20 to 30 minutes.
Arrive Early
A majority of the clubs will open at 9 pm, with lines growing almost immediately. Arrive early to avoid waiting in massive lines.
Or Arrive Late
Because trains are operating all night, clubs will start to thin out around 3 am. If you would like to avoid the massive crowds but still want to party, try celebrating the countdown at a bar or the Shibuya streets, and then hit the club later.
Grab your celebration drinks early!
From about 30 minutes before the countdown, the bars will be swamped… and the last thing anyone wants is to celebrate the Countdown into the New Year waiting in line.
Shibuya Scramble
In recent years, the Tokyo police have blocked off large areas of Shibuya to prevent mass crowds. It is unclear how police will handle crowds, if any, but it would be best to avoid doing the countdown at the Shibuya scramble.
---
New Year's Eve Parties in Tokyo
ageHa – The Final Countdown
Without a doubt, ageha's New Year's Eve party is the biggest nightclub countdown celebration in Japan. The production on the main floor during the countdown is on an entirely different level, with an amazing confetti blast, lighting, and co2. In addition to the main floor, five different floors will be packed with Japan's biggest DJs ranging from EDM to hip hop.
They will also have a shrine set up for New Year's wish-making. And stick around till the end because guests can view the first sunrise of the new year over the Tokyo Bay from ageHa park!
Lastly, this is the very LAST countdown at ageHa as they are closing at the end of January, so if you haven't experienced the New Years Eve at ageHa yet… this is your last chance.
Buy Discounted Tickets:
WARP Shinjuku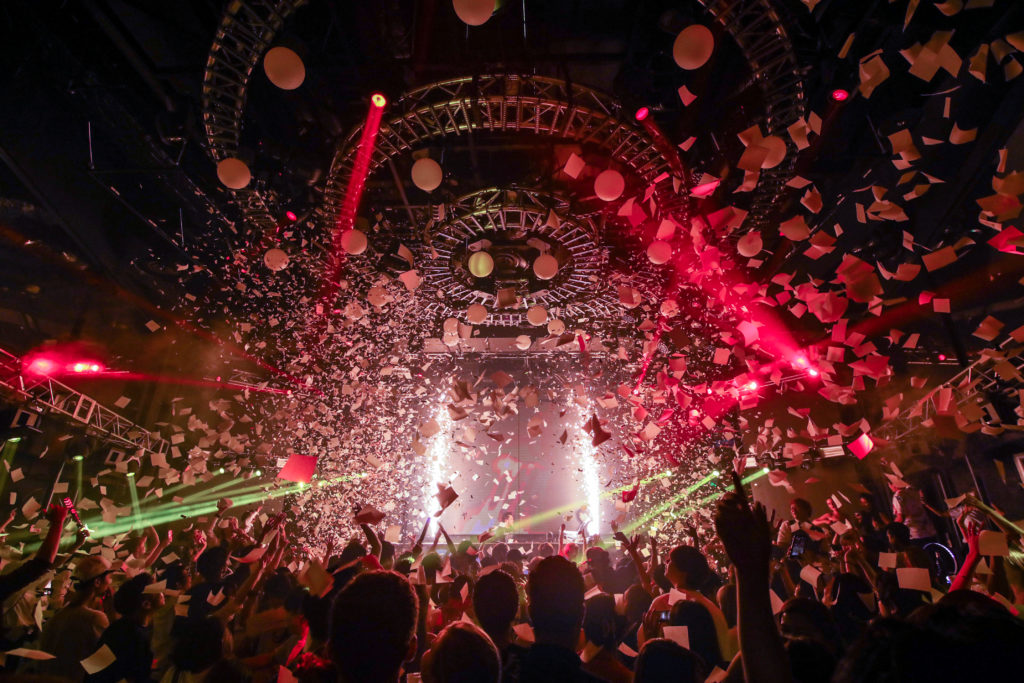 Where: Shinjuku
Doors Open: 9pm
How Much: Women are 1,000 Yen with 2 Drinks. Men are 3,500 Yen with 1 Drink. The door prices may change on the day.
More Information: https://warp-shinjuku.jp/
Tokyo's newest super nightclub and most popular nightclub is located directly in the heart of Shinjuku, just down the street from the infamous Robot Restaurant. The club is massive, contains three different dance floors, and features incredible production on the main floor.
WARP's lines are expected to be massive, so we suggest arriving before 9pm to guarantee entry. PRO TIP: Fast Pass tickets are available.
Read our full breakdown of WARP here: http://tokyonightowl.com/warp-shinjuku-nightclub/
1OAK Tokyo
Where: Roppongi / Azabu Juban
Doors Open: 9 PM
How Much: TBA
The infamous 1OAK Tokyo is throwing an enormous Countdown party with an undisclosed special guest. Expect bottles of champagne to pop, local models, and a young hip-hop crowd celebrating the countdown.
This year they are inviting popular urban artist MC TYSON, for a night of live music for fan of Japanese hip hop!
Ce La Vi Tokyo
Where: Shibuya
Doors Open: 9 PM – 4: 30 AM
How Much: 5,000 Yen For Men and 3,500 Yen for Women. Pre-Sale Tickets with guaranteed entry and discounts are available.
Full Event Details: https://www.instagram.com/p/CXnl-KOlhEn/
The famous lounge and nightclub from Singapore has landed in Shibuya's Tokyu Plaza. Taking over the 17th-floor deck, nightclub, and 18th-floor restaurant area, Ce La Vi Tokyo is promising to offer the most exclusive party in Shibuya with a 360-degree view of Tokyo!
Special guests include JP THE WAVY, the popular Japanese hip-hop artist making waves in the scene.
Buy Discounted Tickets:
WOMB
Where: Shibuya
Doors Open: 10 pm
How Much: Before Midnight 3,500 Yen, After Midnight is 3,000 Yen.
Pre-Sale Tickets are 2,500 Yen (limited to 100 guests)
WOMB is bringing in the new year with the deep house and techno sounds from the Tokyo underground! Guests looking for a night of deep sounds can groove the night away on three different dance floors or take advantage of WOMB's new VIP tables overlooking the main dance floor.
Buy Tickets:
RAISE
Where: Ginza
Doors Open: 7 pm – 4 am
How Much: From 7pm – 5,000 Yen For Men with 2 Drinks, 2,000 Yen for Women with 2 Drinks.
From 9pm – 6,000 Yen for Men with 2 Drinks, 3,000 Yen for Women with 2 Drink Tickets.
More Information: https://raisetokyo.com/
Tokyo's newest nightclub located at the heart of fashion and luxury, RAISE is bringing a real nightlife to Ginza. This is their first Countdown party, and if you are looking to celebrate the end of 2021 with champagne and fashionable people, this will be the spot for you.
We recommend arriving early as the lines into RAISE will be lengthy.
Sel Octagon
Details Soon
Sound Museum Vision
Recently Sound Museum Vision has been continuing its focus on big hip hop nights, and this NYE is no different. With special guests like Bim, Keiju, and kZm, VISION is offering a peek into Japan's underground hip-hop scene. Be sure to bring earplugs as the sound system on the main floor is LOUD.
Buy Tickets:
Camelot
Where: Shibuya
Doors Open: 7 pm
How Much: Men 4,000 Yen with 1 Free Drink, Ladies 3,000 Yen with 1 Free Drink
More Information: https://clubcamelot.jp/en
Shibuya's popular club is a safe bet for bringing in the new year. Camelot's three different floors will cater to all party-goers with Hip Hop, Top 40, EDM, Trap, and much more!
A-LIFE
Where: Roppongi
Doors open: 9 pm
How Much: 21:00~22:00 Gentleman 2,000 Yen 2 Free Drinks Ladies 1,000 Yen 2 Free Drinks
22:00~4:00 Gentleman 4,000 Yen 2 Free Drinks Ladies 2,500 Yen 2 Free Drinks
Fast Pass is available: Men are 8,000 Yen and Ladies 6,000 Yen
Event Details: https://www.instagram.com/nishiazabu_alife_official/
This popular Roppongi nightclub is the place to be for foreign models, ex-pats and your average international partygoers. The main floor has some of the best party vibes in the city, and the VIP table bottle service is some of the best in town. The lines get long here, so be sure to arrive early.
TK SHIBUYA
Shibuya's most conveniently located nightclub is celebrating the New Year's Eve Countdown with a round up of Tokyo's top DJs. The club features some pretty amazing production, with LED robots dancing around the club. This countdown is all about the glittering lights and co2 blasts. Check this party out for an EDM fix with a 95% young Japanese crowd.
---
The Shibuya Crossing Countdown
As noted earlier, typically the Shibuya Crossing Countdown is a free way to celebrate the new year. This year police will be out in full force, blocking certain areas from being accessible. With covid 19 infections on the rise, it is best to avoid this cluster of people.
---
However you decide to celebrate New Year's Eve, we here at Tokyo Night Owl wish our readers a safe and Happy New Year!