Shisha in Tokyo is as popular a pastime as ever, and there is no shortage of shisha bars one can frequent should they be jonesing for some mizu tobacco. With a variety of flavors on offer and some incredibly unique ways to smoke your hookah, Tokyo stands out from the crowd and destroys any preconceived notions you may have of what to expect at a traditional shisha lounge. Here, we cover some of the most popular shisha bars in all of Tokyo that connoisseurs will delight in exploring!
What is Shisha?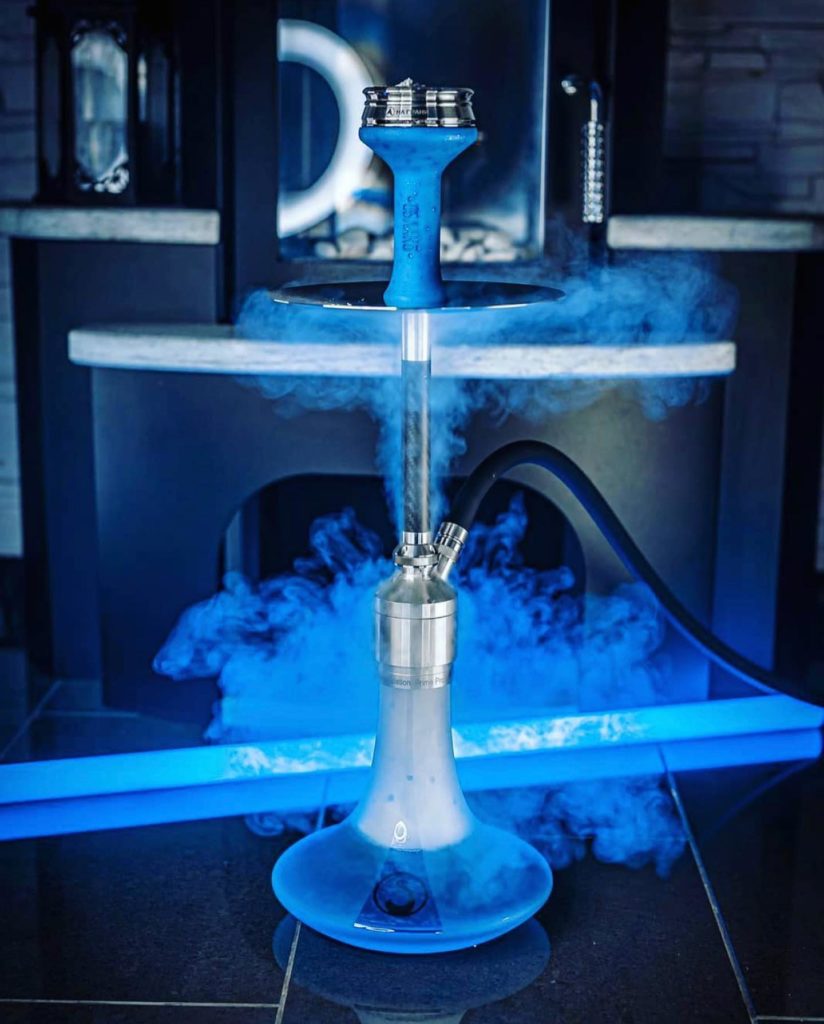 Before we dive in, let's reacclimate ourselves and those not in the know of what exactly shisha is. Smoking shisha involves the burning of various items (usually charcoal) in order to heat flavored tobacco. The tobacco, after being heated, produces smoke that bubbles through a large basin of water at the bottom of a shisha pipe. Finally, said smoke is inhaled through a mouthpiece-fitted tube.
Sounds harmless, right? After all, at the end of the day, you're only smoking water. However, inhaling any kind of smoke into the lungs comes with its own side-effects and those who partake in shisha are just as likely to succumb to the same consequences as those who smoke cigarettes. Oftentimes, traces of tobacco are used in shisha, and so they also carry the same addictive qualities so, if you plan on using a shisha, please heed our warning and partake responsibly.
Right then, now that the morbidity is out of the way, let's get smoking!
SHISHA IN TOKYO
1) Chill Shisha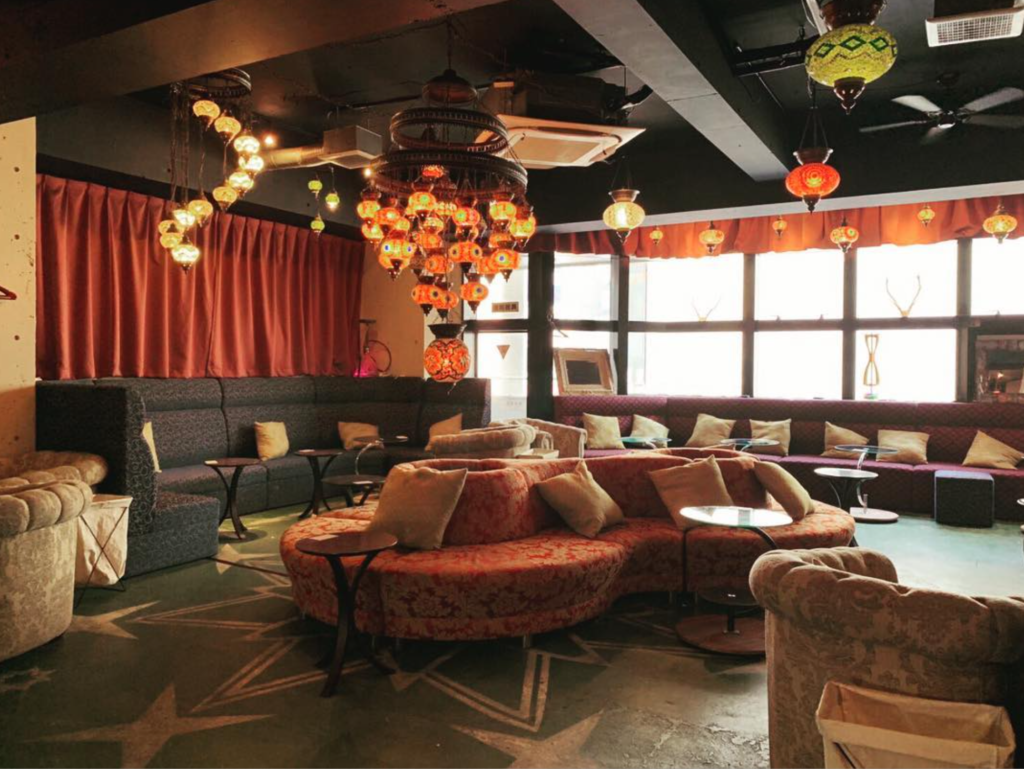 Tucked away amidst the backstreets of Shibuya, Harajuku, and other known late-night locals, it isn't too uncommon to come across a "Chill-up", a "Chill-in" or "Chill-out" (in some rare cases, you might be lucky enough to find the ever-elusive "Chill-shake-it-all-about"). Here, one can comfortably sink into a large sofa and let the calming music played over the speaker's aid in your relaxation.
Allow the once foul smell of vomit, discarded bentos, and regret that once stained the inside of your nostrils, to be replaced by the heavenly smells of pineapple, watermelon, and various other flavors on offer. Admittedly, this place is not for everyone. Most of these joints are open until around 4 AM and even allow you to bring your own drinks and cigarettes as long as the smell isn't too overwhelming. As I mentioned before, "Chill-in" has stores all over Tokyo. Some of the best can be found in Shibuya, but there exists a "Chill-up" in Roppongi, Shinjuku, and Ikebukuro as well. Kick back, relax, and puff away until morning.
Check out some more detailed information on pricing and locations below.
Official Website: https://shisha-chillin.com/english/
Popular Locations: Shibuya, Shinjuku, Roppongi
Opening Hours: From as earlier as 12 PM – Until as late as 4 AM depending on branch
Pricing: Charge= ¥800-¥1000 per person / Shisha = From ¥1800-¥2000 / Drinks: From ¥600
2) Shisha Tokyo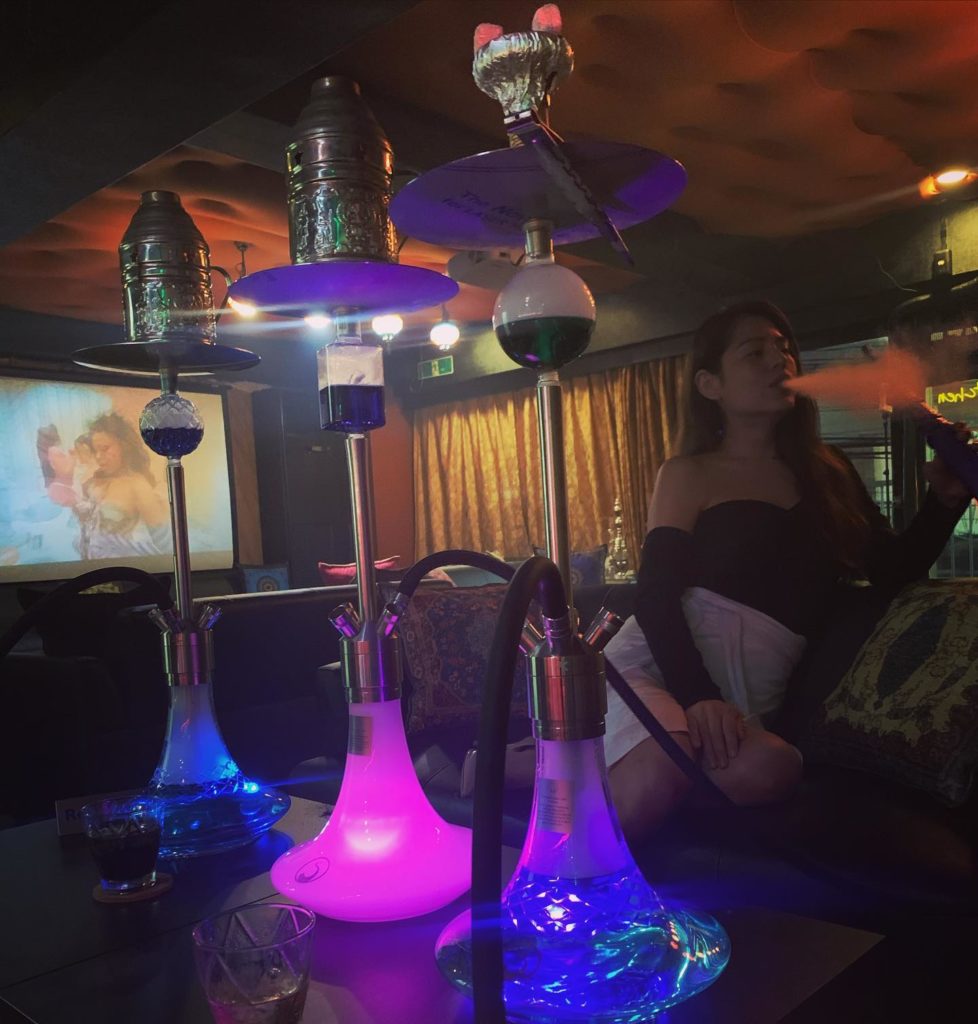 Located in Shin Okubo, a short walk from the station, we have a very nice shisha bar with English-speaking staff! With Shin Okubo being famous for its Korean food, where better to rest your aching stomach after too much BBQ than a relaxing shisha bar. With several comfortable sofas and a great variety of drinks, Shisha Tokyo is a joint that can't be excused from anyone's shisha bar hit list.
At Shisha Tokyo, most if not all the hookah pipes have been fitted with ice to increase the smoothness and enhance the taste of whatever flavor (or combination of flavors) you'd like to smoke on that day.
For more information on Shisha Tokyo, be sure to look up their official website, as well as the information below.
Official Website: https://www.shishatokyo.com/
Location: 1-Chome-23-22 Hyakunin cho Shinjuku-ku, Tokyo-to 169-0073
Opening Hours: Friday, Saturday afternoon from 5 PM to 12 AM / Monday to Thursday and Sunday from 5 PM to 12 AM
Pricing: Charge= ¥800-¥1000 per person / Shisha = From ¥1800-¥2000 / Drinks: From ¥600
3) Holiday
Those on the lookout for a more quaint shisha experience would be right to check out Holiday. Located on one of the backstreets of Harajuku, here we have a very personal and light-hearted shisha joint. The atmosphere here is more akin to chilling in a friend's living room, as opposed to leisurely relaxing in an establishment. Both have their merits but Holiday falls on a different side of the spectrum.
Game consoles are also hooked up, and I'm sure if you asked nicely, you could play a few rounds of GTA whilst smoking your hookah.
Location: 〒150-0001 Tokyo, Shibuya City, Jingumae, 1 Chome−7−10 4F
Opening Hours: 3 PM-12 AM
Pricing: Charge= ¥800-¥1000 per person / Shisha = From ¥1800-¥2000 / Drinks: From ¥600
4) Sheyda Bar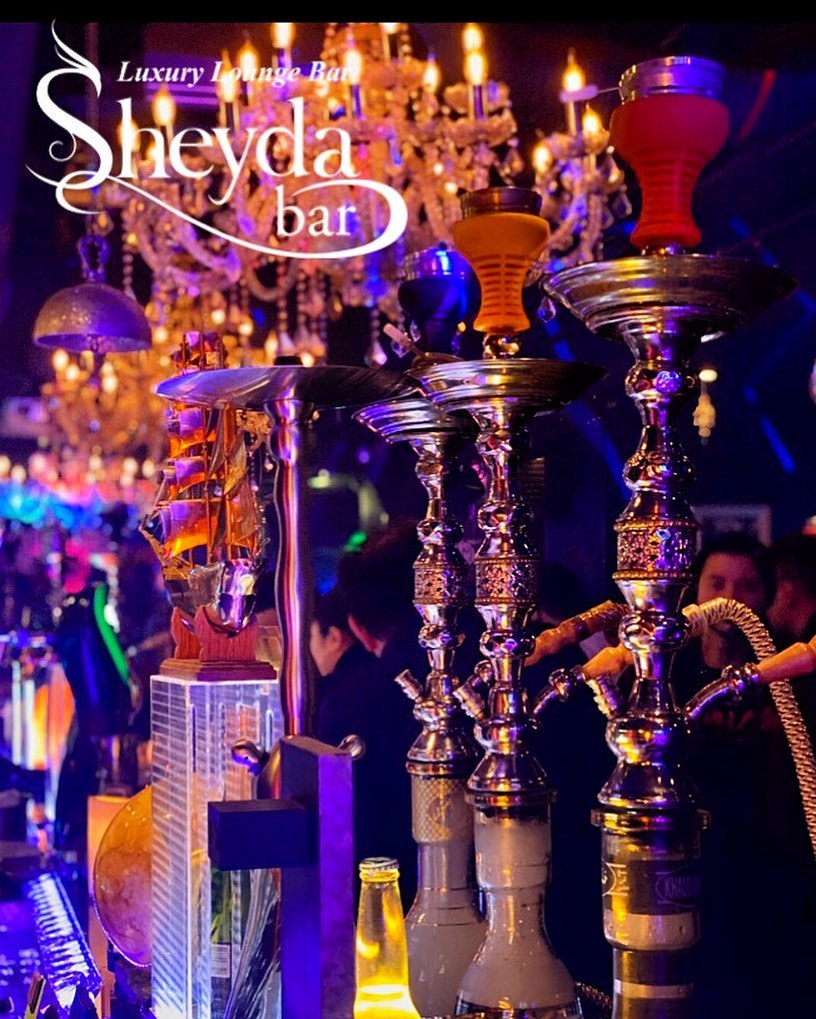 Shisha doesn't always have to be about gently dissolving into a cushion three times your size. It can just as easily be accompanied by lively people, drinking and having a good time! Sheyda Bar is a mix of both a night club-style bar and a shisha lounge. Moreover, the place is often open until 6 AM, so if you happened to miss the final train and don't want to spend the rest of your night waiting outside the station entrance, Sheyda Bar has got you covered! They also allow for customers to reserve private parties and have a separate menu dedicated to champagne options. Should you be planning a large birthday bash with several close friends, why not all put in a small sum to book the place for yourselves!
Official Website: https://www.sheydabar.com/
Location: 3F Taime bldg. 3-11-6, Roppongi, Minato-Ku, Tokyo
Opening Hours: Mon-Sat 9 PM-6 AM
Pricing: Charge= +10% / Shisha = ¥2000
5) Shisha Café Dubai Ueno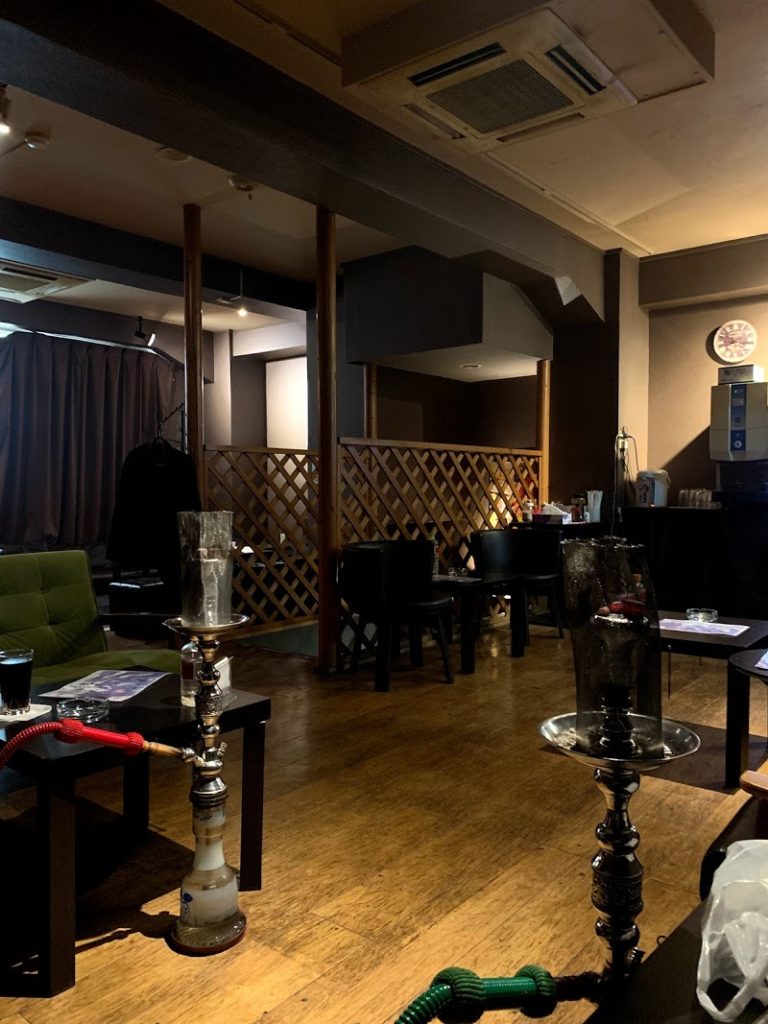 Shisha Café Dubai is a great little haunt that allows patrons to even bring in their own food! Please be courteous however, no one in the history of mankind has ever asked for their shisha to be infused with the flavor of natto!
Official Website: http://www.sheeshabar.net/ueno.html
Location: 2F Uchiyama Build 6-9-1 Ueno Taito-Ku Tokyo
Opening Hours: 2 PM-10 PM (shortened due to covid)
Pricing: Shisha = ¥1300 / Drinks = *1 drink free, subsequent cups ¥300, alcohol not included*
6) North Village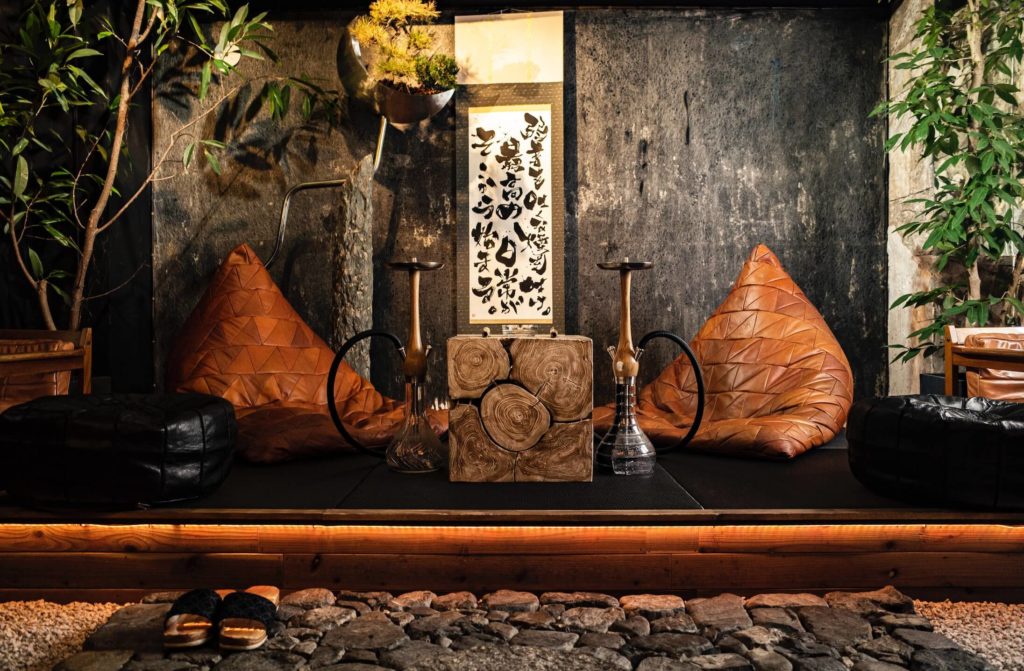 North Village is a multi-chain shisha franchise with locations all over Tokyo. Our recommendation is the joint in Kichijoji. A rare sight and one not mentioned yet is the allowance for patrons to smoke their hookah outside on the premise's terrace. With a wonderful night view, it isn't too hard to become intoxicated with North Village's wide variety of delicious flavors. The site even offers guidance for those who have aspirations of opening their own shisha bar one day, so be sure to check out the links below and perhaps your bar will appear on this list in the future!
Official Website: https://shisha.tokyo/shop/13/
Location (Kichijoji): 1-1-2 Kichijoji Minamicho, Musashino-shi, Tokyo Tokutake South Exit Building 4th floor
Opening Hours (Kichijoji):
16: 00-3: 00 (Monday-Thursday)
16: 00-First train (Friday, the day before public holidays)
14: 00-5: 00 (Saturday)
14: 00-3: 00 (Sunday, public holidays)
Let Us Know Where You're Going Next!
There are countless shisha bars in Tokyo, and we could not hope to feature all the amazing bars dotted around Tokyo. All of these bars have their own social distancing measures, and most will check for your temperature at the door, so rest assured that you are in safe hands. These are some of the most popular places to visit that we have found but feel free to leave your own recommendations for people to find (myself included!).