This article is provided by our friends at NOCTIVE. Check out their website for more insightful write-ups like this.
Head to any major Japanese station area at night and you will most likely find at least one street lined with bars and restaurants. If it is narrow, only accommodates pedestrians and has a high ratio of "hole-in-the-wall" type of establishments, of the kind that can accommodate a maximum of a dozen patrons, chances are high that you've stumbled upon a Yokocho.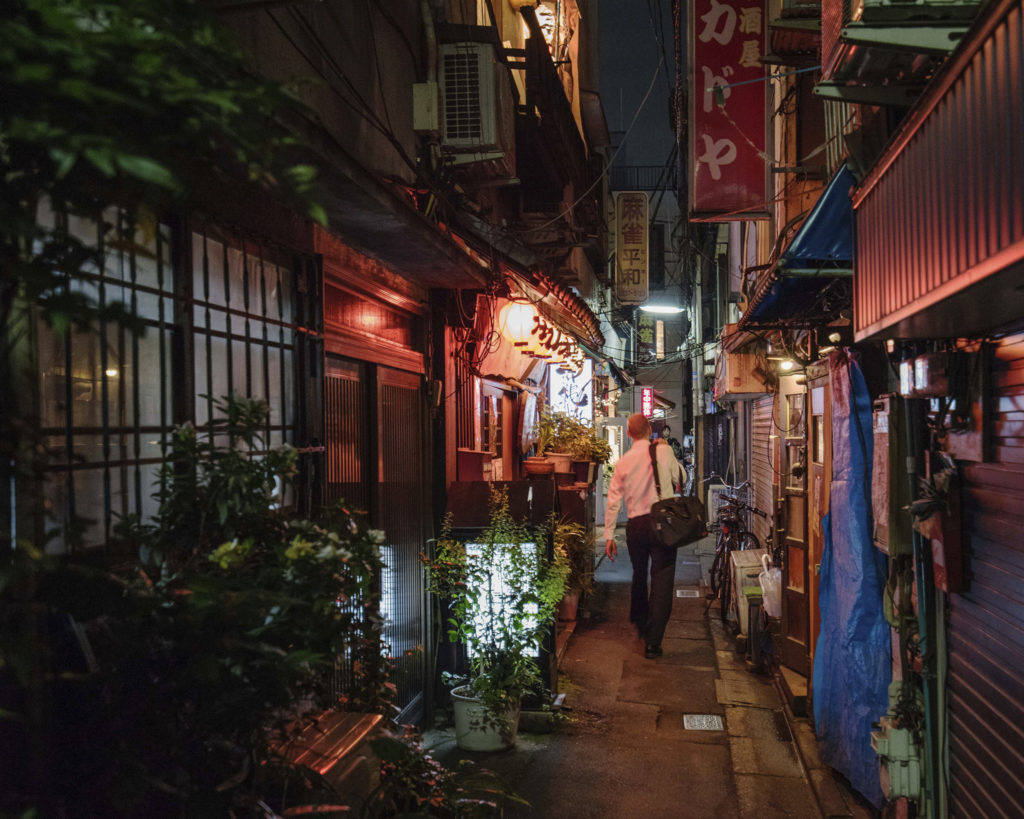 This Japanese word literally means "Side Street", but often refers to these lantern-lit drinking alleys where primarily salarymen go to recharge and unwind after another long day at work.
These streets often date back to the second half of the Showa-era, i.e. the years of rapid growth following world war 2, and in many cases, surprisingly little seems to have changed since then.
Many restaurants still have rudimentary menus, consisting of classical salaryman favorites such as Yakitori (chicken skewers), Motsuyaki (grilled organs like heart and liver, often from a pig) and Kara-age (fried chicken). This is, of course, consumed with a healthy amount of alcoholic beverages –
Beer is often the drink of choice, but if you want to impress the older man sitting next to you, we recommend you try hoppy, a beer-like beverage that became popular back in the era when real beer was in short supply and somewhat considered an expensive luxury.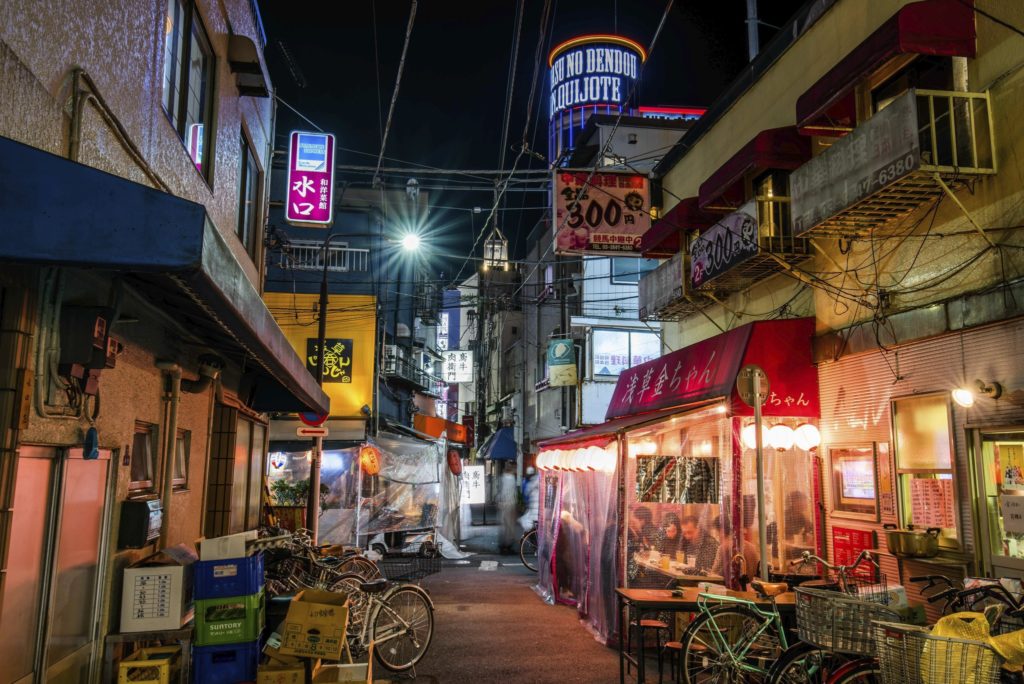 Some of the most well-known Yokocho in Tokyo have increasingly grown into tourist magnets thanks to their frequent appearance in guide-books. Areas such as Omoide "Piss Alley" Yokocho, Golden Gai in Shinjuku and Nonbei Yokocho in Shibuya have seen a drastic increase in visitors from abroad, something that hasn't been entirely without friction.
Some shops tend to have a less than favorable image of non-Japanese visitors these days, especially when it comes to those who just stick a camera lens into their patrons faces without asking for permission beforehand.
No Photos Allowed
With an increased number of "no photography" signs hanging in front of many shops these days. It should go without saying, but please remember to treat people with respect, and that it's generally not okay to photograph someone without their consent here in Japan.
While Yokocho can be found all over Tokyo, we would like to take this chance to introduce three in this area that we think have managed to retain their local charm better than some of the previously mentioned ones.
Higashikoji Inshokugai – Oimachi
On the East Side of Oimachi Station you will find a stretch of back alleys totaling a few 100 meters in length that are lined with a great mix of postwar gyoza and yakitori restaurants, tiny "Snakku"-bars and a handful of more recent establishment serving contemporary fusion cuisine. This is a popular area for local salarymen as well as those who transfer at this station on their way back home to make a stop for a bite and a few too many drinks.
Oimachi Station is located about 2km south of Shinagawa Station and a medium-sized train hub serviced by the JR Keihin Tohoku Line, TWR Rinkai Line and Tokyu Oimachi Line.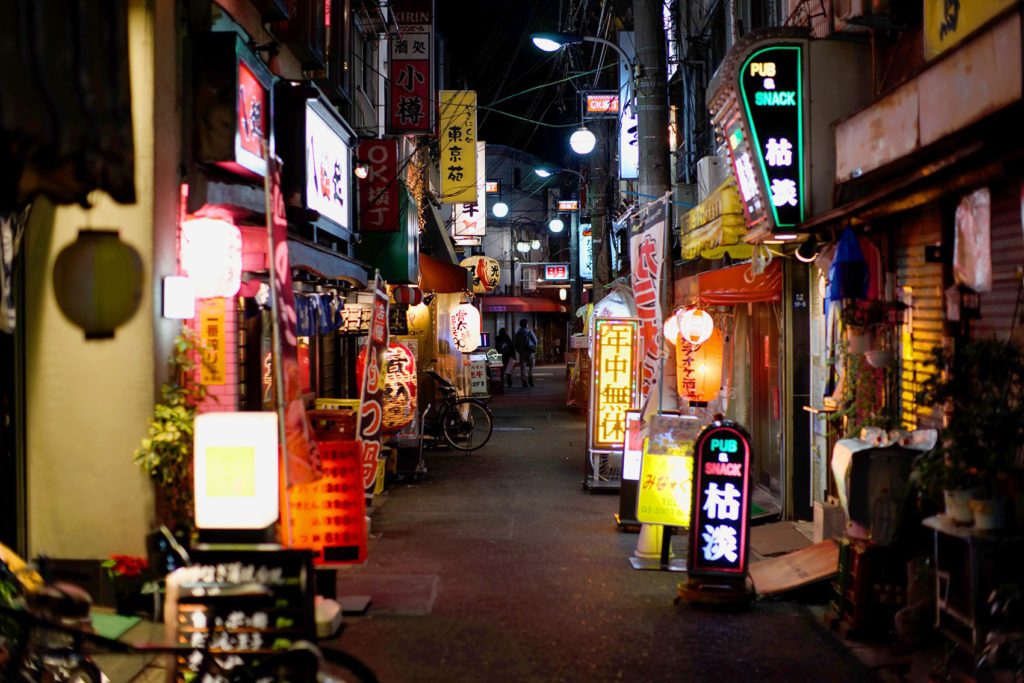 OK Yokocho – Akabane
Akabane is located near the northern border of Tokyo, next to Saitama Prefecture, one of the major commuter towns that houses a significant portion of Tokyo's salarymen workforce. Many of those salarymen seems to enjoy making a pit-stop here before finishing their days, as the area around the east side of the station houses countless alleyways where one can easily get a good dose of postwar "Showa" era energy in the form of skewered food, cheap drinks, grilled meat and fried chicken.
The JR Keihin Tohoku Line and the JR Saiko Line makes getting here from central Tokyo a breeze. Akabane Iwabuchi Station on the Tokyo Metro Nanboku Line is also located within walking distance from the smell of grilled chicken.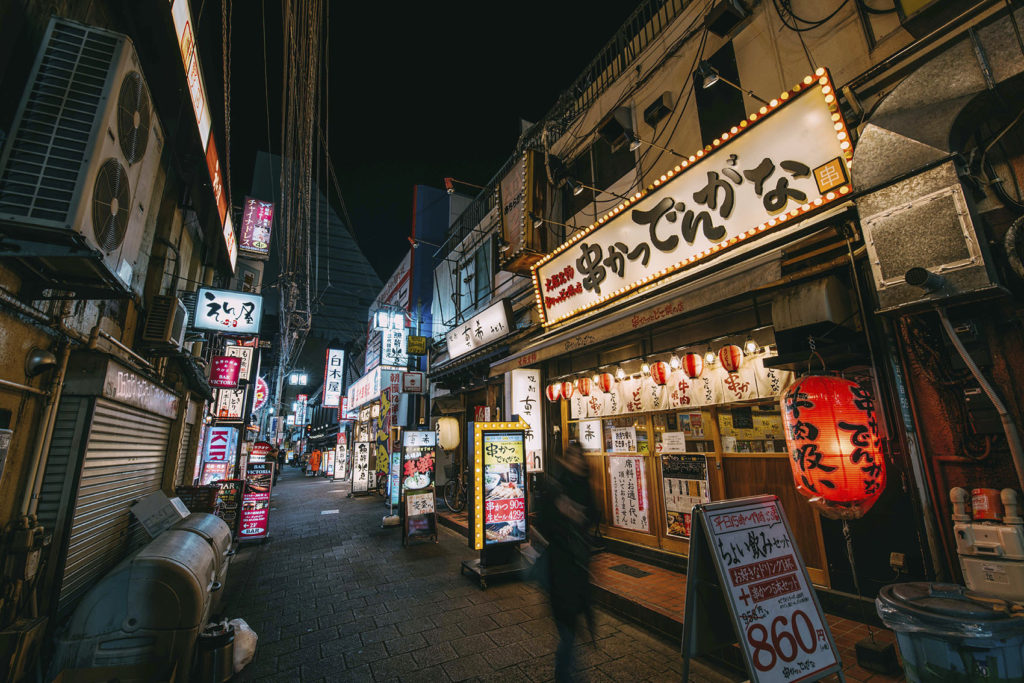 Nakano (North side)
Although Nakano is a popular spot for otaku tourists wanting to stock up on some retro toys or vintage manga, the crowds at the hundreds of tiny bars and restaurants on the back streets of the north side of the station mostly consist of locals.
Around here you will find the usual flavors when it comes to food, but look closely and you might also stumble across a charming craft beer brewery or some excellent Thai- and Vietnamese restaurants.
Once you are full, there are also many bars open all night, from shady "kyabakura" companion bars to some karaoke bars where the mamasans are well beyond their retirement age yet happy to hear you sing.
---
Have you checked out these Yokochos? Know a dope alley-way bar? Let us know in the comments.