Going to Disneyland while visiting Tokyo is part of every traveller's wish list. The first Disney park to open outside of the US, the Tokyo Disneyland features seven themed lands, seasonal attractions, and shows that make for an experience one should definitely look forward to. But if you're thinking what's a romantic date got to do with Disneyland, you've been living in a bubble. Taking your special someone for a Disneyland date would not only assure you some wonderful memories but would also spark joy in your hearts.
If you're still not convinced, read on as we've prepared a thorough Disneyland Tokyo date guide to help prep you up for a day full of fun and romance with your sweetheart.
Tokyo Disneyland Date Tips
1. Use the Tokyo Disneyland App
The Tokyo Disneyland App is an absolute must when visiting the Park. The app allows you apply for a Digital Fastpass, enter into a Show Lottery, book a table, and get updates on show schedules. The app is available on the apple and google app stores and is available in English.
Once you have entered Tokyo Disneyland, scan your park ticket into the app, and you will be allowed to start making reservations.
A pro tip: Book the shows, rides or restaurants as soon as you enter the park. Restaurants and Shows book out quickly.
2. Buy Your tickets online
Purchase your tickets on the Tokyo Disneyland at their official Online Reservations and Tickets website. There are types of Tickets available currently, a 1-Day Passport that costs 8,400 Yen and a Weeknight Passport that costs 4,800 Yen. The Weeknight Passport if a great option if you just want to eat dinner, and experience the night shows.
3. Check out the best rides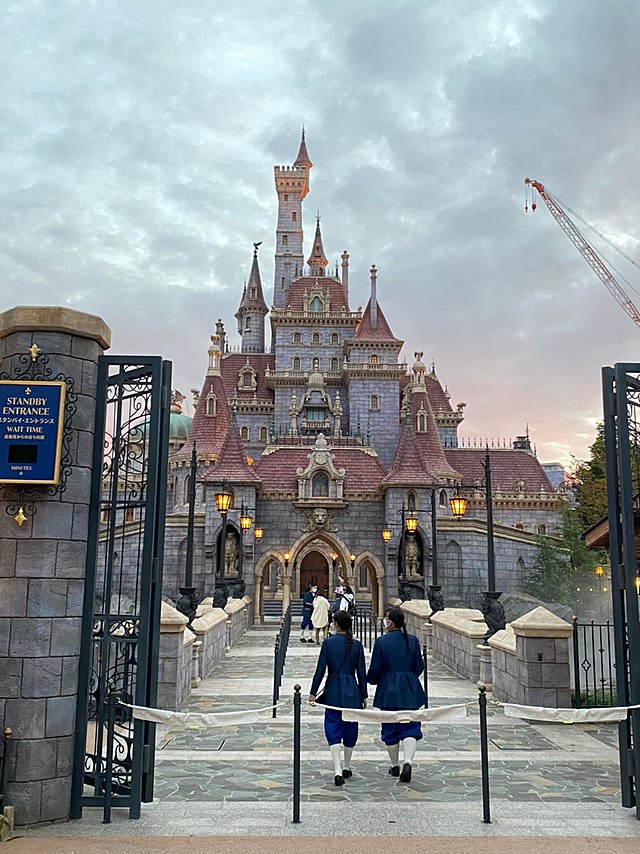 The Tokyo park features seven themed lands – World Bazaar, Tomorrowland, Toontown, Fantasyland, Critter Country, Westernland, Adventureland and a recently added Beauty and The Beast area. However, it wouldn't be possible for you to cover all the attractions in one day. So it's best to make a list of the rides and attractions you would like to cover with your date.
Here's a little information about each themed zone and the attractions they offer, so you know what not to miss:
World Bazaar
Located right at the entrance of the park, World Bazaar is a shopping and food arcade that gives vibes of an early 20th-century American town. We recommend checking it out after you're done enjoying the rides to buy Disney memorabilia and souvenirs.
Tomorrowland
Just like its name, this themed land features futuristic attractions that explore outer space with thrilling rides like Space Mountain, Star Tours, and a fun shooting-game attraction Buzz Lightyear's AstroBlasters.
Toontown
If you or your date are fans of Disney characters that are old but gold, you should add Toontown to your checklist as you would come across fun attractions as well as a magical concert featuring Donald Duck, Minnie & Mickey Mouse, and many other Disney toons.
Fantasyland
Home to the iconic Cinderella's castle, Fantasyland is designed around Disney's popular animation movies like Beauty and Beast, Snow White, and Alice in Wonderland. Peter Pan's Flight, Haunted Mansion and Castle Carousel are some of the rides that you might enjoy with your date.
Critter Country
Styled on the famous movie 'Song of the South' by Disney, this themed land would introduce you to all the characters of the film with fun rides like Splash Mountain that features a thrilling 45-degree drop down a 16-meter-high waterfall.
Westernland
Moving on to the next land, Westernland would make you feel like you're at the US western frontier along the Rivers of America (saves you one less trip to America :D). Here you would come across attractions like the rollercoaster ride Big Thunder Mountain, Mark Twain Riverboat, and many shanty-style restaurants and cafes.
Adventureland
Lastly, you'll come across the land of adventures with some fun rides that you can enjoy while holding hands like the Jungle Cruise: Wildlife Expeditions – a riverboat cruise that takes you through several rivers and sceneries inspired by nature.
Beauty and The Beast
This recent addition to the park in 2020 is stunning. Not only is the "Enchanted tale of Beauty and The Beast" ride and castle an absolute marvel, but the neighboring village has fantastic food at the Gaston Tavern and Restaurant.
4. Take pictures together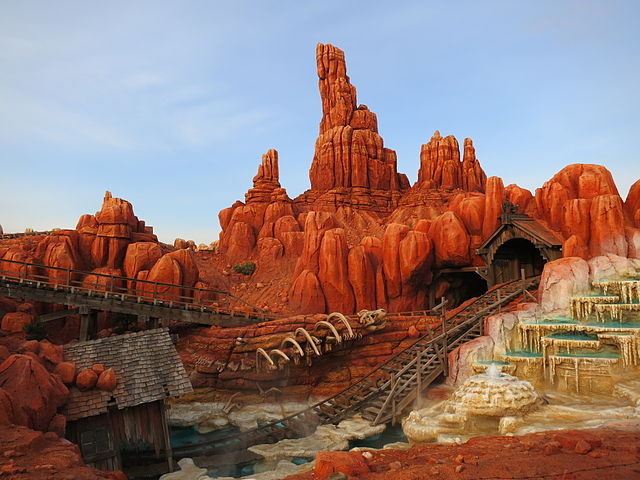 You would definitely want to look back at your romantic day at Disneyland in the times to follow, so make sure you're taking a lot of pictures together. To help you capture memories at the most famous spots of the park, Disneyland has highlighted iconic points as 'Photo Spots' with banners all around the park.

A Disney Photo service is also available on the Tokyo Disney Resort app and website which you can book beforehand to take commemorative photos through Disney-assigned photographers and get their copies at your convenience.
5. Have a romantic meal
You surely wouldn't want to miss out on a romantic lunch or dinner while you spend a day of fun and frolic at Disneyland. The park boasts some of the best dining experiences that are perfect for every budget and mood.

For munching in-between your rides, we recommend checking out the Great American Waffle Company located in World Bazaar that's known for its delicious Mickey-shaped waffles. You can also visit the counter-service restaurant Grandma Sara's Kitchen located in Critter Country for comfort food like Omelette Rice and rice gratin.

If you're looking forward to ending your date over an elegant, fancy meal, make your reservations beforehand at the striking Crystal Palace Restaurant. This charming Victorian-greenhouse-inspired restaurant offers buffet-style dining with an amazing selection of seafood, meats, vegetable dishes, desserts, and drinks.
6. Wait for the Fireworks
To end your date on a sparkling note, wait till evening for the enthralling colorful fireworks that fill the park's skies for five minutes (usually at 8 pm every day but the schedule may change) that are accompanied by Disney songs and music.
This could also be the perfect moment to steal a sweet kiss (there could still be eyes and cameras on you, so keep it sweet you lovebirds) and cherish the moments of your perfect Tokyo Disneyland date.
7. Don't forget to check out DisneySea
While it might not be possible to enjoy both Disneyland and DisneySea on the same day, we recommend booking a 2-day pass or checking out DisneySea on your next visit as it's something that's unique to Japan. Yes, currently there's only one DisneySea in the world and that's located in the heart of Tokyo.
DisneySea not only offers attractions that are aimed at grown-up audiences but also serves alcoholic beverages that are currently not available served at Tokyo Disneyland. The themed ports at Tokyo DisneySea are Mediterranean Harbor, Mysterious Island, Mermaid Lagoon, Arabian Coast, Lost River Delta, Port Discovery, and American Waterfront.
---
We hope this guide would help you plan a perfect Tokyo Disneyland date but don't forget to follow COVID-19 safety guidelines and wear a mask all the time during your visit.