It has to be said that Japan's capital Tokyo is a city of superlatives. For starters, it is the world's largest Metropolitan area, has the world's largest population for an urban area (38 million people!), and is home to no less than 4 of the world's busiest train stations! (namely Ikebukuro, Shibuya, and of course Shinjuku)
With its immense size and population, Japan's capital can certainly be a difficult city to navigate and one where it would be very easy to miss out on some of the best sights and experiences on offer. With this in mind, here is an example of a one day itinerary that would cover the must-do activities to ensure that your time in Tokyo does not go to waste.
The Tokyo One Day Itinerary
The Morning – Tsukiji
We begin at the beginning and, given the packed day ahead, it would be foolish to forgo having a hearty breakfast. For this breakfast, an early start is required, but it is one of the all-time must-do experiences for any visitor to Tokyo.
Tsukiji, Tokyo's traditional fish market, was moved form its original location to Toyosu in 2018. This remains a must-visit spot simply to witness the frenetic early morning energy of the fish auctions, where you will be able to witness prime maguro tuna being sold to the highest bidder (often for eye-wateringly expensive amounts of money!)
For further information: https://www.shijou.metro.tokyo.lg.jp/english/toyosu/
Many of the traditional restaurants that surrounded the old site of the fish market still exist in the new location. After checking out the auctions be sure to grab some sushi in one of the family-owned establishments surrounding the market. These restaurants cater to tourists and the fishermen and market workers who have been working since the early hour of the morning, so you can be sure that you are getting the breakfast of champions!
One of the best options for your traditional sushi breakfast is Sushi Dokoro Okame, a historic establishment that serves an excellent selection of the freshest sushi you will ever have.
Ginza
Moving on from Tsukiji, it is just a short walk to Ginza, where you can witness one of the city's famed shopping and dining neighborhoods waking up. The area is home to several of Japan's most recognizable department stores. These behemoths range from the very recent and contemporary to the historical and manage to incorporate almost anything you could imagine buying (from pet supplies to luxury glassware) beneath their rooves. There are several to explore, but perhaps the most iconic is the Matsuya Department store, a stalwart of Tokyo life since it first opened its doors in 1925.
Asakusa
From the glittering streets of Ginza, it is just a short 15-minute hop on the Asakusa metro line to one of Tokyo's most famous historical sites, the Sensoji Temple. The temple itself offers a fascinating insight into Japanese Shinto culture and is a must-see spot regardless of whether you are a culture vulture or not.
However, the neighborhood of Asakusa itself is just as interesting and offers visitors a warren of alleyways and passages to get lost in and to really soak in the old world Edo-era charm of Tokyo of the past. (one of the few areas where this is still possible in the ever modernizing metropolis!)
Whilst in Asakusa, if hunger starts to strike, make sure you find some time for a quick bit in one of the area's many tempura restaurants.
One of the most popular options for Asakusa tempura is Akashi, but be prepared for a lineup!
From the area, it is also a 20-minute walk over the river to the ever imposing Tokyo Skytree with its surrounding malls and restaurants.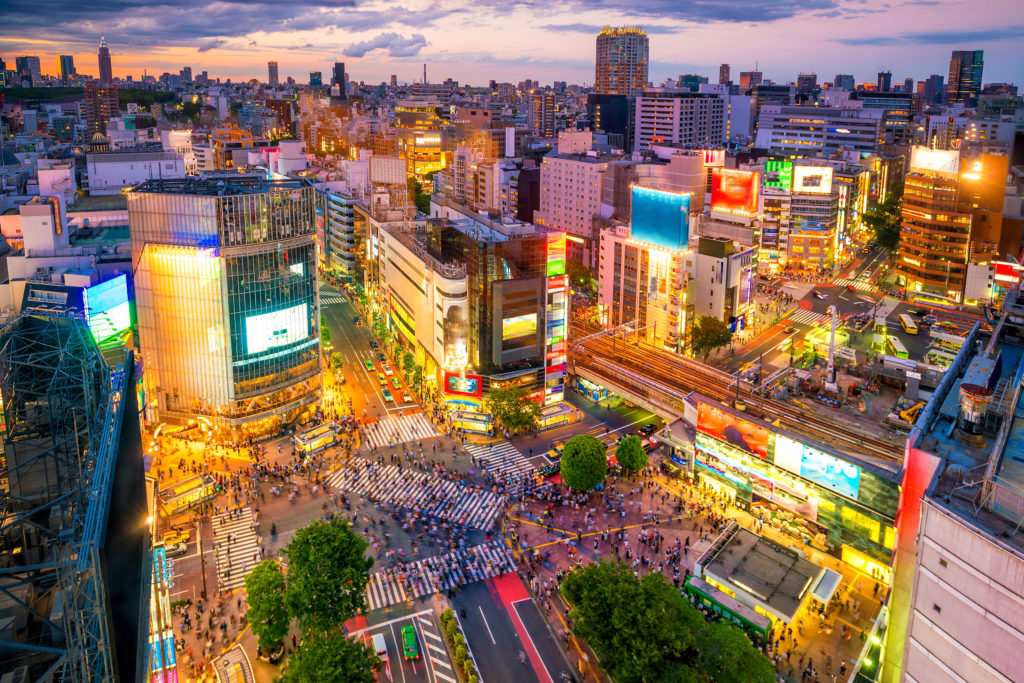 The Afternoon – Shibuya
Moving into the later afternoon, it is time to head back to the south of the city center. A 30-minute ride on the Ginza metro line will bring you to a district that is truly synonymous with all things Tokyo, Shibuya.
Coming out of the station at the Hachiko Exit will give you the epic view of the famed Hachiko crossing, where you will be able to see a mass of people using this crossing as immortalized in countless Tokyo films.
Shibuya also offers a great opportunity to see some of Japan's trendiest fashion and accessories on display. The streets are lined with some of the most unique stores selling moments of Japanese pop culture, all in the shadow of the famed Shibuya 109 mall.
Omotesando
After exploring Shibuya's labyrinthine streets, it's a 20-minute walk to the tree-lined boulevards of Omotesando, a fantastic spot for a matcha latte and people watching Tokyo's well-heeled crowd and take in some of the fanciest boutiques and cafes that the city has to offer.
However, if this does not sound like the Tokyo you signed up for, fear not! Omotesando is simply a midpoint on the walk between Shibuya and the anime Mecca of Harajuku. (The walk between Shibuya and Harajuku can also be done by jumping on the Yamanote line and traveling just one stop if preferred.)
Harajuku
In Harajuku, take your time to enjoy the wacky madness and eccentricity to be found in every shop as you walk along Takeshita Street. You may also have built up a thirst at this point in the journey, so hit Baird Beer Taproom, which offers a fantastic opportunity to quench your thirst with a Japanese craft beer or two before you continue.
Yoyogi
From Harajuku, it is a short hop across the street to Yoyogi Park and the Meiji Jingu shrine. The shrine and park offer a serene and calming glimpse of nature amongst the city center hustle and bustle. A great way to soothe and rejuvenate the weary Tokyo traveler!
The Evening – Shinjuku
As afternoon turns into evening, the city's bright lights truly come into their own, and the neon-drenched Blade Runner-esque scenes of a thousand Tokyo movies come to life. This time of the day is also when visitors are well and truly spoilt for choice with an almost infinite number of dining and drinking options.
Jumping from Harajuku station too Shinjuku is just two stops on the Yamanote line. When it comes to the final stage of this Tokyo One Day Itinerary, Shinjuku has it all when it comes to nightlife. The neon and futuristic ambiance is truly breathtaking as the sun goes down.
For those arriving at sunset, the Tokyo Metropolitan Government building has a free observation deck on the top floor with fantastic views across the city and even as far as Mount Fuji on a clear day.
Shinjuku has a truly breathtaking array of every kind of Japanese cuisine that you could feasibly imagine eating. Given this, visitors are really spoiled for choice when it comes to choosing somewhere for dinner. However, ramen is always a great choice, and Shinjuku has some of the world's best options.
With a Michelin star to its name, Konjiki Hototogisu offers mouth-watering bowls of goodness using soba noodles and a 'triple soup' base that includes truffle and porcini mushrooms!
Golden Gai
Finally, no one day itinerary in Tokyo would be complete without a drink to round off the day's activities. Thankfully Shinjuku again offers some of the best drinking spots, from trendy modern bars to traditional Japanese izakayas. However, the crown of Shinjuku's drinking areas must surely go to the Golden Gai district located behind the Kabukicho area. This tiny warren of small bars offers one of the most varied and interesting places to drink in the world.
Are you interested in a bar specializing in Japanese whiskey? No problem! Would you like a bar that manages to blend gothic decor and chandeliers with the fact that it is in a room that is not much bigger than a phone box? Golden Gai has you covered. Do you enjoy listening to death metal with your gin and tonic… the list could go on forever!
Bonus
For those still standing after Golden Gai and who would like to top off a day in Tokyo in style, the Park Hyatt Tokyo is a 15-minute walk. This hotel was, of course, the setting for Sofia Coppola's 2003 hit film 'Lost in Translation," and the New York Bar on the 52nd floor still has that same magic as when it was brought to life on the big screen. Enjoying live jazz and superb cocktails with a uniquely Japanese twist is an excellent way to finish a Tokyo voyage.
---
It has to be said that you could spend a lifetime exploring this city and still not have uncovered all of its secrets. Indeed many people have tried to do just that but have been deleted by the city's ever-changing, ever-moving pace. However, we hope that this one day Tokyo itinerary will give you an excellent example of the activities that can be (just about!) accomplished in a day in Tokyo, Japan's incredible city of superlatives!