Updated: July 2020
Tokyo is a complete sensory overload. During the day tourists flock to famous temples, shopping streets, and stuff themselves with ramen and sushi. At night the night owls hit local bars, sing karaoke till late at night, and of dance till the break of dawn at one of the famous nightclubs.
But did you know Tokyo has it's own strip clubs?
Although not many, Tokyo does have it's fair share of Strip Clubs with talented dancers. There are western style strip clubs, old-school Japanese strip theaters, and for the more… adventurous, peep shows.
In this article, I'll provide everything you need to know about the different kinds of Strip Clubs in Tokyo also, and which strip clubs are worth a visit during your time in the city.
Western Strip Clubs
These are your traditional strip clubs. They are welcoming to tourists, have English staff on hand and feature a mixture of European, Asian and Japanese dancers. The atmosphere is lively, with a DJ playing clubby music while a stripper performs on a pole at the center of the club.
Just like in other countries, Western Strip Clubs in Tokyo are great for bachelor parties and are not strictly for dudes.
Dancers will rotate through the night with each dancing for 2 – 3 songs.
During the performance, guests can tip the girls starting at 1,000 Yen. At some strip clubs, the dancers will pull the customer onto the stage, lie them down with a dance performance and gently take their tip.
Following a round of performances, the staff will bring the dancers to the guest's tables, where the guests will be encouraged to buy a dancer a drink. Guests are not required to chat or buy a drink for the dancer but in general, expect to purchase a cocktail or two for your favorite dancer.
During this time, you can ask the dancer or the staff for a private dance. This will often occur at your table or in a private booth for a more intimate dance show.
The pricing for a Western Style Strip Club in Tokyo usually includes a door charge, with one or two drinks for a set amount of time.
---
TANTRA TOKYO
Often frequented by celebrities, Tantra has been an establishment in Tokyo for over a decade.
Tantra is an excellent Strip Club that takes pride in its customer service and unique performances. The main stage features two different stages with poles. Unlike other strip clubs, Tantra specializes in stage shows with several girls performing sexy choreographed Japanese dances.
Tantra's quality of girls are high with an emphasis on Japanese girls with a few westerners thrown in, and the vibe is nothing but top class.
Hours
Opens Monday – Saturday 8 PM

Entrance Fee:
Happy Hour 8 PM to 10 PM:
6,800 Yen including 2 Drinks for 90 minutes

Regular hours from 10 PM:
8,800 Yen with 2 Drinks for 90 minutes

Additional Drinks start at 1,500 Yen.
Dancer Drinks Start at 1,500 Yen.

Address
〒106-0032 Tōkyō-to, Minato City, Roppongi, 3-chōme−9−5 ゼックスバウム館 B2F About a 5-minute walk from Roppongi Station Exit #5

Reservations can be made here:
https://tantra-tokyo.com/reservations/
Madam Woo Tokyo
This Shibuya strip club is creating a buzz with its curvy Japanese strippers. And for good reason, this strip club has generated so much hype within the Tokyo urban scene that they are selling their own original merch!
Imagine an American strip club with lots of twerking and yen thrown into the air to the sounds of hip hop and you'll get a good idea of what the vibe is like here. There is a DJ booth, a small dance floor, and lots of seating. We wouldn't be surprised if this style of strip club begins a movement of Japanese American-Style strip clubs.
If you are a fan of the booty, then definitely check out Madam Woo.
Pro Tip: Book a VIP table for a clear view of the performers.
Hours
Opens Tuesday – Saturday 10 PM – 4 AM

Entrance Fee:
Standing Men:
3,000 Yen including 1 Drink
Standing Women:
2,000 Yen including 1 Drink

VIP Tables:
Table Charge of 6,000 Yen per Person, for 90 minutes with 20% service, tax charge.

Bar Count Seats:
3,000 Yen per person for 90 minutes and a 20% service, tax charge.

Address
〒106-0032 Tōkyō-to, Minato City, Roppongi, 3-chōme−9−5 ゼックスバウム館 B2F About a 5-minute walk from Roppongi Station Exit #5

Learn more here:
https://madamwoo.tokyo/
Seventh Heaven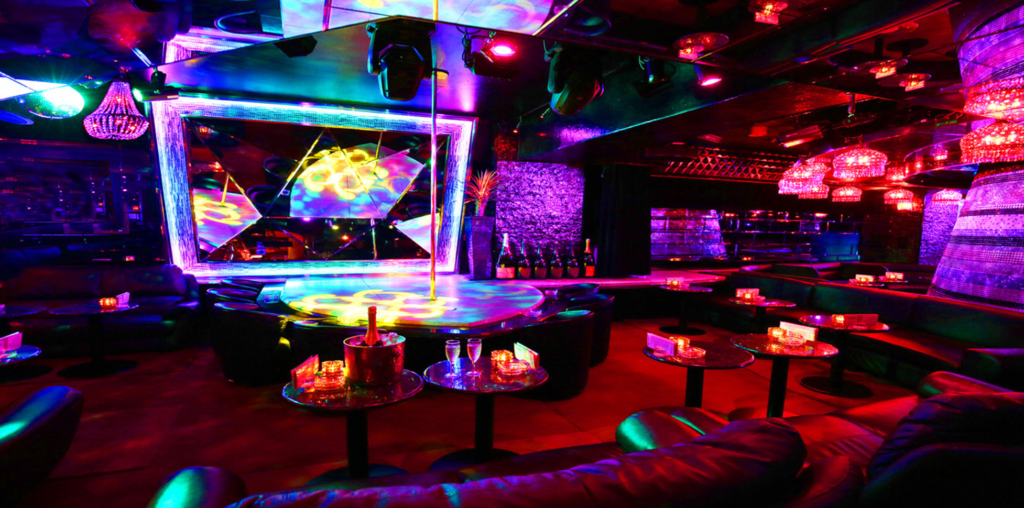 Adjacent from Tokyo Mid Town with a large illuminated sign, Seventh Heaven looks and feels like a traditional American Strip Club. The vibe in this venue is hype and hosts dozens of beautiful western female dancers mostly from Russia or the eastern part of Europe. Also, the pole dance performances at Seventh can be more provocative than Tantra.
Seventh Heaven is decorated with elegant yet dark atmosphere supported by nightclub lighting centering around a single stage. Guests can sit directly at the main stage and give tips to the dancer.
Seventh Heaven is the strip club for you if you are looking for a very western strip club.
Entrance Fee:
Happy Hour 5,500 Yen (7 PM – 9 PM)
All You Can Drink and Eat

After 9 PM:
7,000 Yen includes 2 Drinks

Additional Drinks start at 1,500 Yen.
Dancer Drinks Start at 1,500 Yen.
Note that a service charge will be added to your bill.

Address
Social Blg. 2F 7-14-1 Roppongi, Minato-ku, Tokyo 106-0032
About a 2-minute walk from Roppongi Station Oedo Line

Reservations can be made at Seventh Heaven Website:
http://www.seventh-heaven.com
Show Club Arena Shinjuku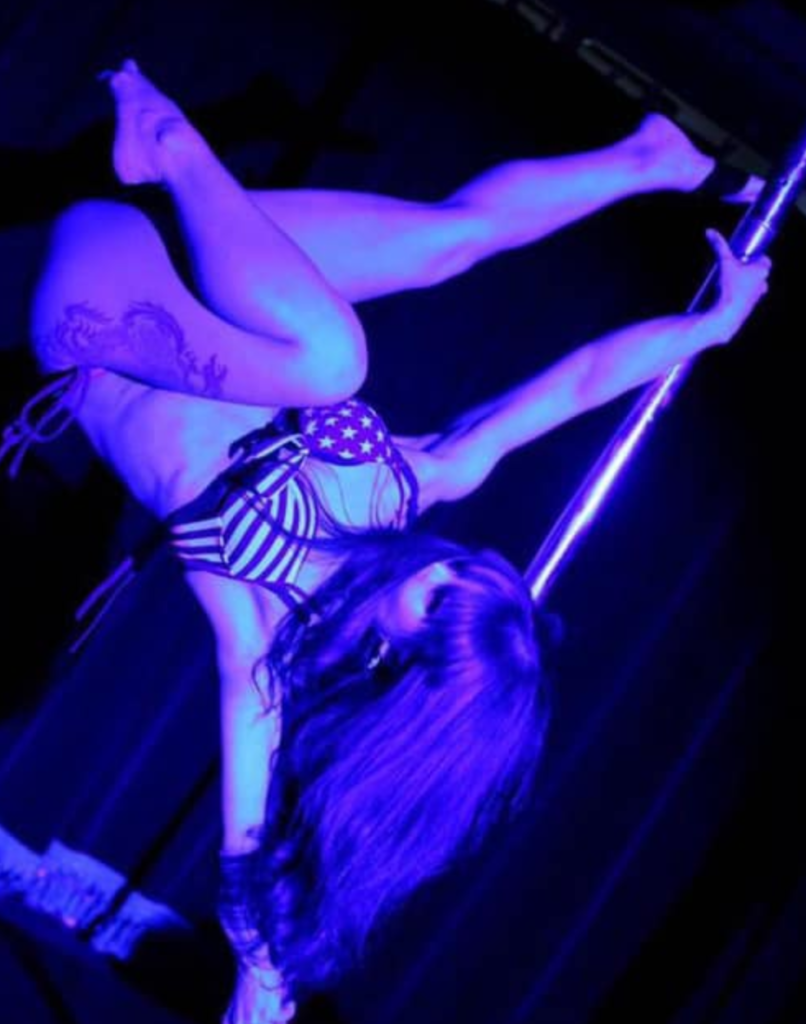 Despite being named "Arena" this strip club is quite small. Arena is Located directly across from the TOHO cinema at the heart of Shinjuku Kabukicho on the 6th floor. This strip club offers predominantly Japanese dancers who perform on a small stage surrounded by mirrors. The quality of the shows are good, with lots of interaction and the atmosphere is friendly towards travelers.
When visiting Arena, do your best to avoid the Nigerian touts on the street offering deals. It is always better to pay the standard door fees when arriving.
Hours
Monday to Saturday from 8 PM
Entrance Fee:
Happy Hour from 8 PM to 9 PM
5,000 Yen for 90 minutes
All You Can Drink
After 9 PM till closing:
7,000 Yen for 90 minutes
All You Can Drink
Private dances run for 8,000 Yen
Note that there will be a service charge included in your bill.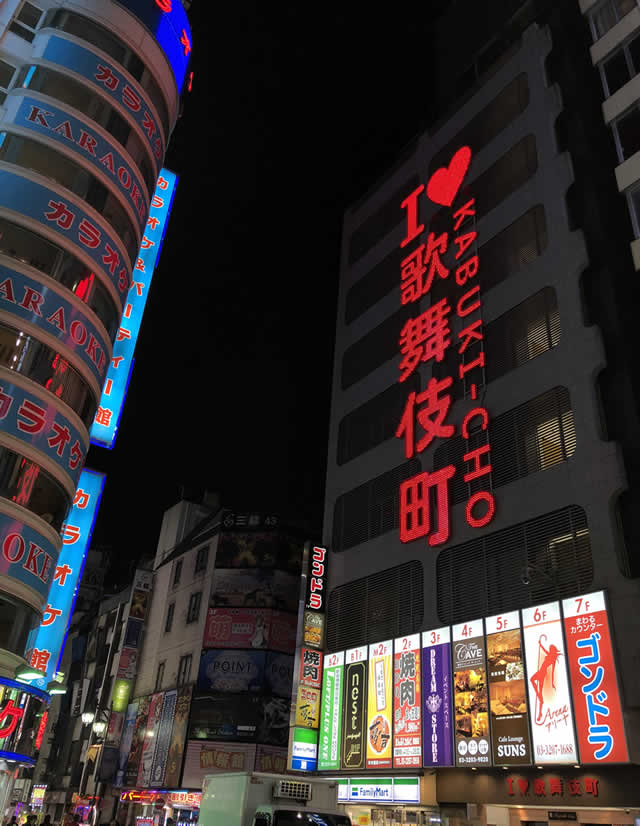 Address:
〒160-0021 Tōkyō-to, Shinjuku City, Kabukichō, 1-chōme−14−7
About a 7-10 minute walk from JR Shinjuku Station, 6th floor of the I love Kabukicho building.
The website appears to be down, but they do have a Facebook page:
https://www.facebook.com/show.club.arena/

---
Japanese Style Strip Clubs

Looking for a more risqué, and unique Japanese experience? Then Japanese Strip Theatre is the way to go.
Unlike Western Style Strip Clubs, Japanese Strip Theatres do not offer lap dances or much interaction with the guests, and the crowd is quiet. And there are set performance times, typically starting early in the afternoon till the evening.
After each show, guests can take photos with the nude dancers for a price of about 500 yen, usually with a digital Polaroid camera.
Japanese Strip Theaters have a uniquely Japanese quality to them in that the dancers are ranked 1 – 6 and perform in that order with 1 being the most senior or popular dancer. This ranking is based on seniority, popularity, and not always looks.
On many occasions, these strip theaters will feature Japanese porno stars which will attract dozens of Adult Video (AV) fans asking for signatures and photos after the show.
The below strip clubs are entirely welcoming to foreigners.
Asakusa Rockza
Rockza is a chain of five strip theaters throughout Japan and is the slickest and most professional of all the Japanese strip theaters in Tokyo.
Each showtime will integrate Japanese cosplay with rock, jazz, ballet, hip-hop, reggae while stripping… its a little bit of everything crammed into an hour and 40 minutes.
Imagine something like a mixture of Japanese idol worship combined with a strip show. It is something worth checking out.
Hours
Open : 12:00
First Show : 13:00
Second Show : 15:00 – 16:40
Third Show : 17:00 – 18:40
Fourth Show : 19:00 – 20:40
Fifth Show : 21:00 -22:40

Entrance Fee:
Men: 6,000 Yen
Women: 3,500 Yen
Couples: 9,000 Yen
And the Fifth Show is 4,000 Yen for Men.

Address:
東京都新宿区歌舞伎町1-14-7 ハヤシビル6F
About a 7-10 minute walk from JR Shinjuku Station

Learn more about Asakusa Rockza (English Available)
http://asakusa-rockza.com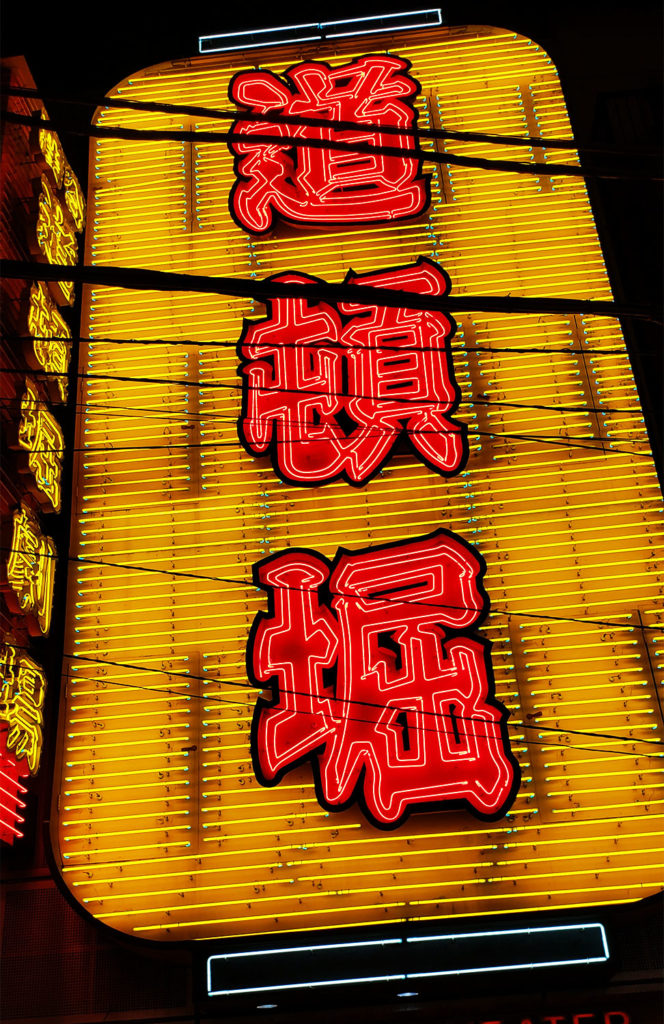 Super Strip Theater

The Super Strip Theater is located about 8 minutes from Shibuya crossing, right off Dogenzaka street. It is hard to miss the venue with its large yellow signage lighting up the alleyway.
Shows start early from noon, with entry beginning at 11 AM. Purchase tickets at the entrance and prepare yourself for a show that lasts about 2 hours with six dancers on rotation. Dancers change monthly with special events held occasionally.
After each dance show, guests will have the opportunity to take photos with the dancers and shake their hand. Despite the performances in total lasting over 2 hours, guests are welcome to come and leave as they please.

HOURS
Open : 11:00 AM
First Show: Noon
Second Show : 2:55 PM
Third Show : 5:50 PM
Fourth Show: 8:45 PM

Entrance Fee:
Men: 5,000 Yen
Women: 2,000 Yen

Address:
渋谷区道玄坂 2-28-7

More Information can be found here (Only Japanese Available):
http://www.dotonbori.co.jp
DS KABUKICHO
DS Kakbukicho is a strip club located in the quiet side of Shinjuku's red light district. Similar to Super Strip theater above, DS Kakbukichi features six rotating dancers with the earliest shows starting from 11:30 AM!
DS Kabukichi can get crowded during the weekdays so if you want to avoid the crowds, weekdays are a safe bet.
Also, this strip club appears to be closing on June 30th, 2019 which means there will be plenty of special events leading up to the closure.
HOURS
Open : 10:30 AM
First Show: 11:30 AM
Second Show: 3:30 PM
Third Show: 7:20 PM

Entrance Fee:
Regular Entrance: 8,000 Yen
Web Discount: 7,000 Yen (Show this website: http://www.dxk.co.jp/discount.html
Early Discount (Arrive Before Noon): 6,000 Ye

Address:
2-chōme-25-10 Kabukichō, Shinjuku City, Tōkyō-to 160-0021

More Information can be found here (Only Japanese Available):
http://www.dxk.co.jp/index2.html
---
Have you been to a Japanese Strip Club? Tell us about your experience in the comments.