No trip to Japan is complete without a night out in Osaka. Despite the name of this website, the Tokyo Night Owl knows everything there is to know when it comes to partying in Osaka.
A night out in Osaka starts much earlier than Tokyo and surprisingly can end much later. Several nightclubs open from 7 pm, while some don't open until 3 am!
Osaka nightclubs are located predominately in 3 different areas, Shinsaibashi/Namba, Amerikamura and Umeda. Umeda nightclubs are predominately filled with businessmen and women, while Shinsaibashi is popular with foreign tourists. Amerikamura is where you will find the underground techno clubs.
Many Osaka nightclubs offer cheap cocktails, and All You Can Drink deals. The local DJs at the big nightclubs spin mostly pop music, but if you go to the underground nightclubs, you'll find a deep hip hop and a small but passionate techno scene.
The Osaka people are known to be more friendly and outgoing than their Tokyo counterparts, which can lead to some wild nights out in the city.
So strap in, and drink a can of Ukon no Chikara, because here is our list of the Top 5 Osaka Nightclubs of 2021.
---
Our Selection Criteria
We are making our selection based on the following criteria:
Entertainment: The club needs to be exciting, and provide thrills that customers can't experience anywhere else. This entertainment could be top tier DJs or incredible stage production.
The quality of sound: It is a nightclub, after all, and we want to dance without having our ears ringing the next morning.
Popularity: A dead club on a Saturday night is awful, but a club full of thirsty men is the worst. The venue should also have a decent ratio of male to female guests.
Safety: Feeling safe in a nightclub is a must. Women must be able to enjoy the club without being harassed. Additionally, the nightclub should not be overcrowded with overly aggressive security guards.
Value: Spending a fortune on a simple gin tonic at the bar is "No Bueno." And no one wants to break their bank at a VIP table with surprise service charges. The club should have a balance between well-priced drinks and reasonable doors prices.
---
The Top 5 Osaka Night Clubs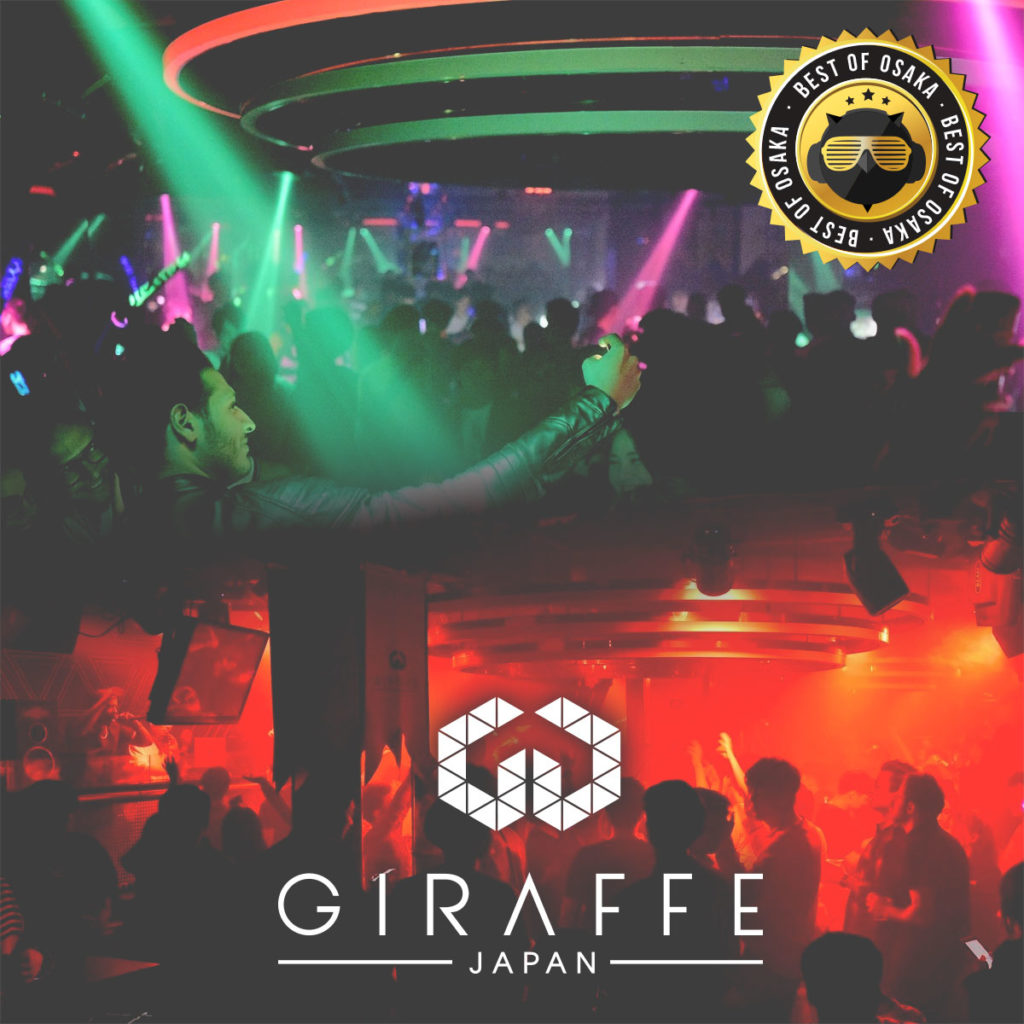 Giraffe
Giraffe is Osaka's most famous nightclub for both Japanese and Foreign travelers. Larger than most nightclubs in Osaka, Giraffe boasts four different floors, with DJs playing music of literally every genre.
On the 4th floor, guests can enjoy several VIP table options, and special guest DJs rocking hard-hitting EDM songs. The recently renovated 3rd-floor features a variety of drinking games, darts, and even Japanese food stalls. The 2nd floor is an open format/hip hop floor, and the 1st floor has DJs spinning techno and house music.
What we especially like about Giraffe is its friendliness to foreigners. Many of the staff speak English, Korean, and Chinese, with the bar menus in English. Drinks are also cheap, with all you can drink options available.
On top of all this, Giraffe has the best location in all the city. Dead center of Dotonbori, on the river, across from Glico's Running Man Signboard.
Think of Giraffe as the best all-around nightclub for casual partygoers traveling in Osaka.
Pro Tip: Giraffe opens its doors early from 8 pm and close 2 am, so its best to make this night club your first stop on your night club tour. Also the drinking games found on the 3rd and 4th floor are a ton of fun.
Average Door Price: 3,000 Yen on the Weekends for Men, and Women are free every day of the week before 10 pm and 1,500 Yen on the weekends after 10 pm.
Address: 〒542-0084 Soemoncho Bld., 7-9, Soemoncho, Chuo-ku Osaka-shi, Osaka
Access: Giraffe is an 5-minute walk from the Namba subway station exit 14 on the Dotonbori river.
Website: https://giraffe-japan.com/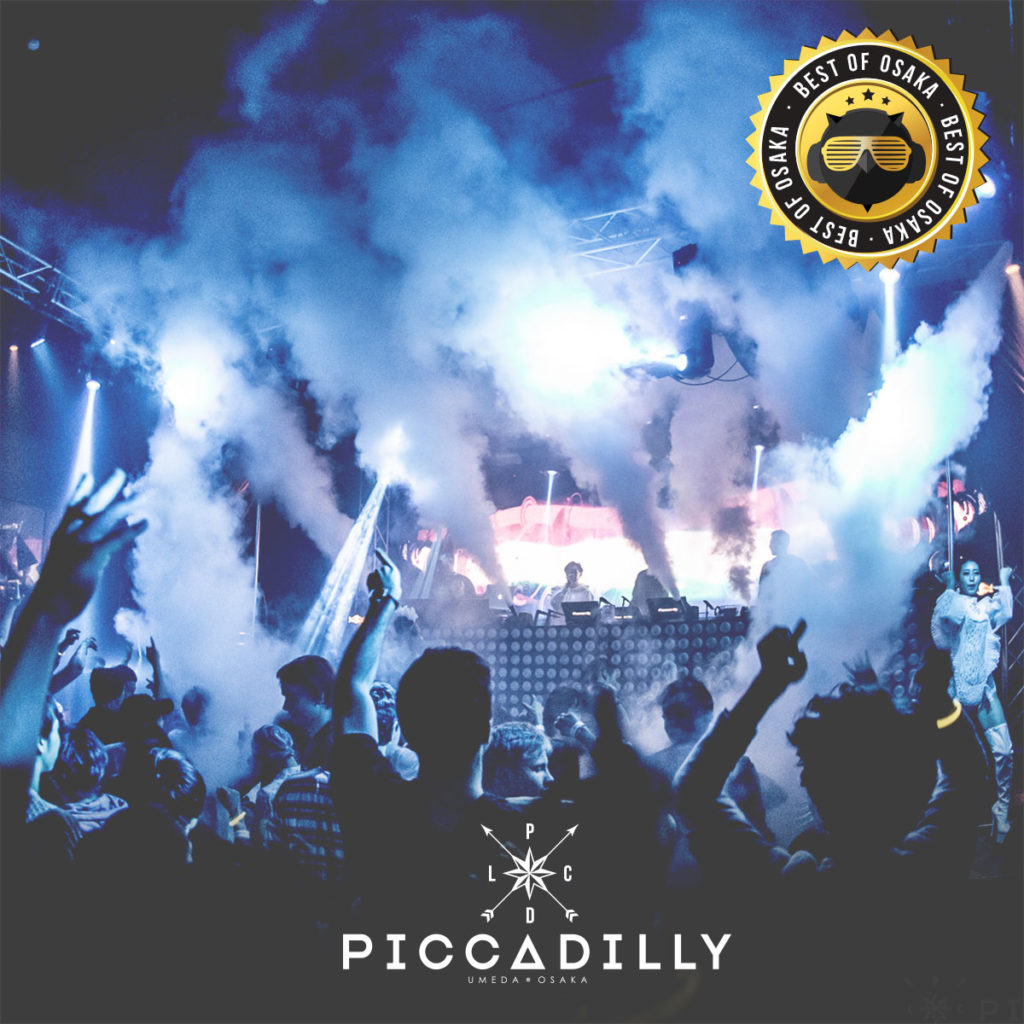 Club Piccadilly
Club Piccadilly, located in the Umeda neighborhood, is Osaka's largest nightclub with the best stage production. The club is two levels with the 2nd level featuring some of the dopest VIP options in the city.
The sound thumps louder than any other club in Osaka, and the dance floor provides plenty of room for you to show off your dance moves.
Piccadilly is also very welcoming to foreign guests, and it is immediately apparent with a large number of international models partying here.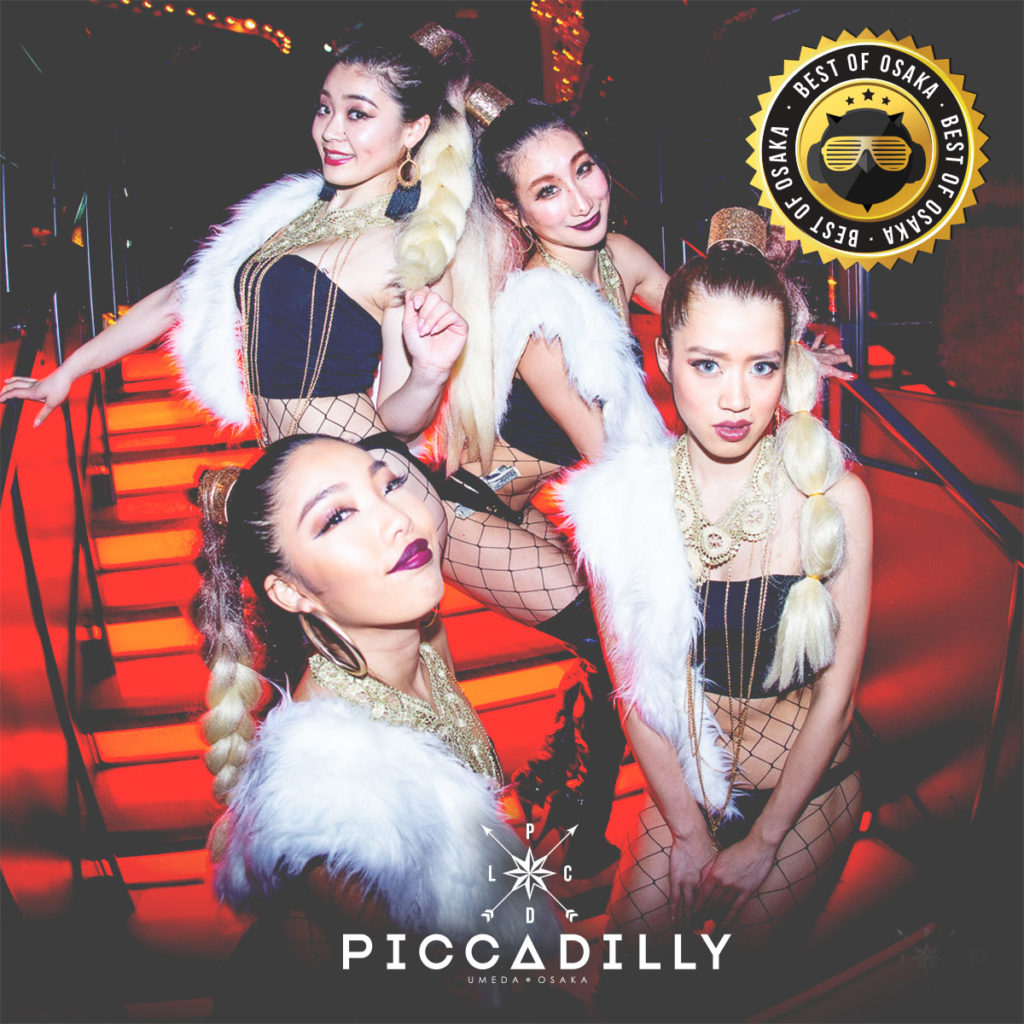 Nearly every weekend, Piccadilly invites some of the biggest DJs in the world. The large stage, aerial go dancers, and CO2 blasts create a truly epic night out.
Club Piccadilly is a must-see nightclub in Osaka.
Pro Tip: Splurge on a VIP table on the second level overlooking the main floor. The Piccadilly bottle service is second to none, with friendly staff, and a great view of the party. Book your table at ENVYME.JP for cheap deals starting from 60,000 yen.
Average Door Price: 3,000 Yen for Men with 1 free drink ticket, 1,500 Yen for Women with 1 free drink ticket. Happy hour starts at 9 pm and runs till 11 pm with Women receiving free entry with All You Can Drink, and Men 1,500 yen with 1 free drink ticket.
Address: 〒530-0051 Ōsaka-fu, Ōsaka-shi, Kita-ku, Taiyūjichō, 8−17
Access: About a ten-minute walk from Umeda station on the 8th floor of the Plaza Umedori Building.
Website: https://clubpiccadilly.jp/
Cheval
Cheval is the most luxurious and atmospheric nightclub in Osaka. The night club features two floors, with one large bar in the center. The club is two floors with VIP options upstairs and downstairs.
Cheval prides itself as the most upscale nightclub in Osaka, and for this reason, foreign travelers will often frequent this club.
And non-smokers rejoice, Cheval's main floor is entirely smoke-free, with a sperate dance floor for smokers.
Pro Tip: When visiting Cheval, stick to the weekends. The parties are much better, with just the right amount of party people. Also, check out the side room where the local DJs spin deep house and techno.
Average Door Price: 3,500 Yen for Men (with 1 Drink Ticket) and 2,000 Yen (with 1 Drink Ticket) on the weekends.
Address: 〒542-0085 Osaka, Chuo Ward, Shinsaibashisuji, 1-5-30
Access: A 8-minute walk Shinsaibashi station, exit number 6.
Website: https://cheval-osaka.com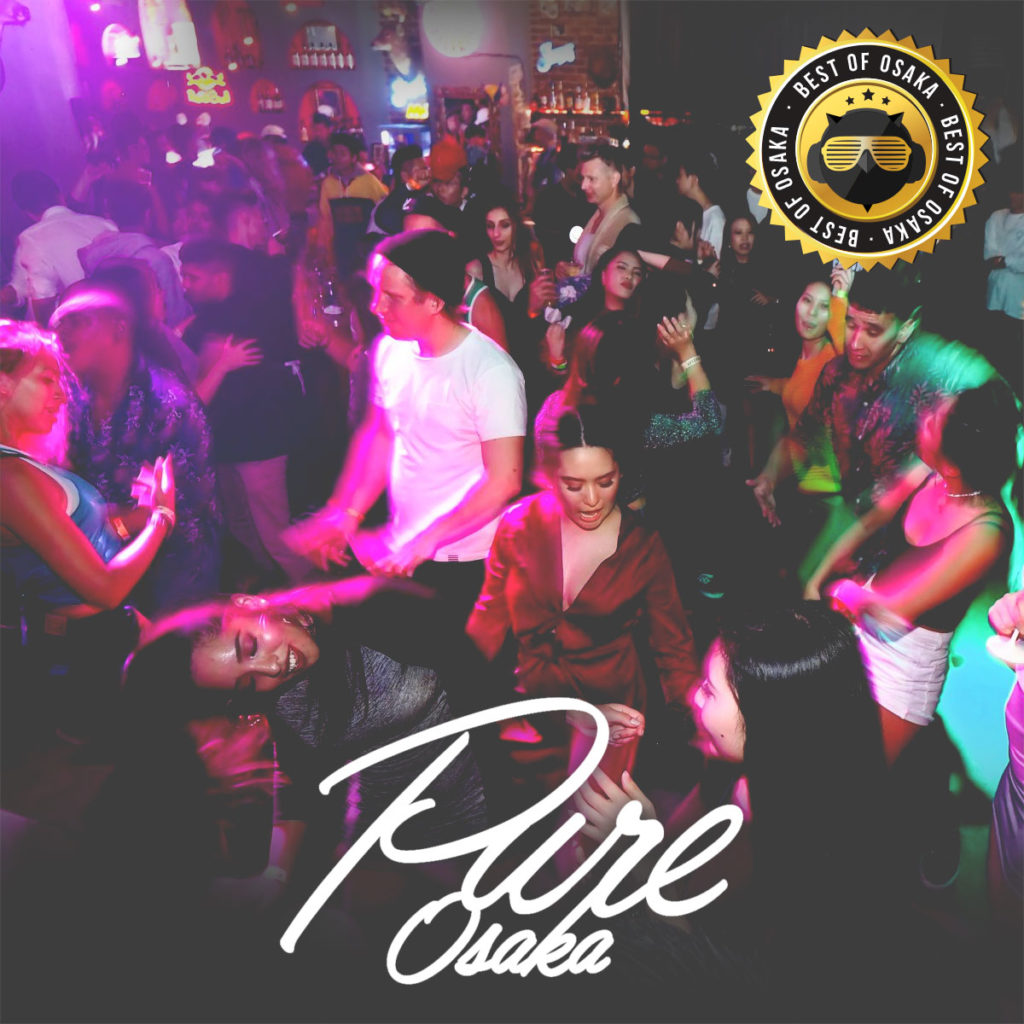 Club Pure
Pure is your go-to nightclub for hip hop and RnB music. Centrally located near the famous Dotonbori bridge, this nightclub is pumping every day of the week with Osaka hip hop fans, and international party people.
Pure is very welcoming to foreign travelers, even offering free entrance with just the purchase one one drink ticket (700 Yen).
The nightclub has a unique interior design, with VIP table options throughout the nightclub.
If you are interested in the local urban music scene in Osaka, then Club Pure is the place to be.
Pro Tip: Pure is just a 2-minute walk away from Giraffe, making it a fantastic round 2 after Giraffe closes it's doors at 2 am.
Average Door Price: 2,500 Yen with 1 Drinks ticket for fellas, 1,500 Yen with 1 Drink ticket for ladies. Non-Japanese guests are free with one drink ticket purchase!
Address: 〒542-0085 Osaka, Chuo Ward, Shinsaibashisuji, 2-3-12
Access: 5 minutes from Namba station, exit 14, near the Glico Running Man Sign.
Website: https://clubpure.com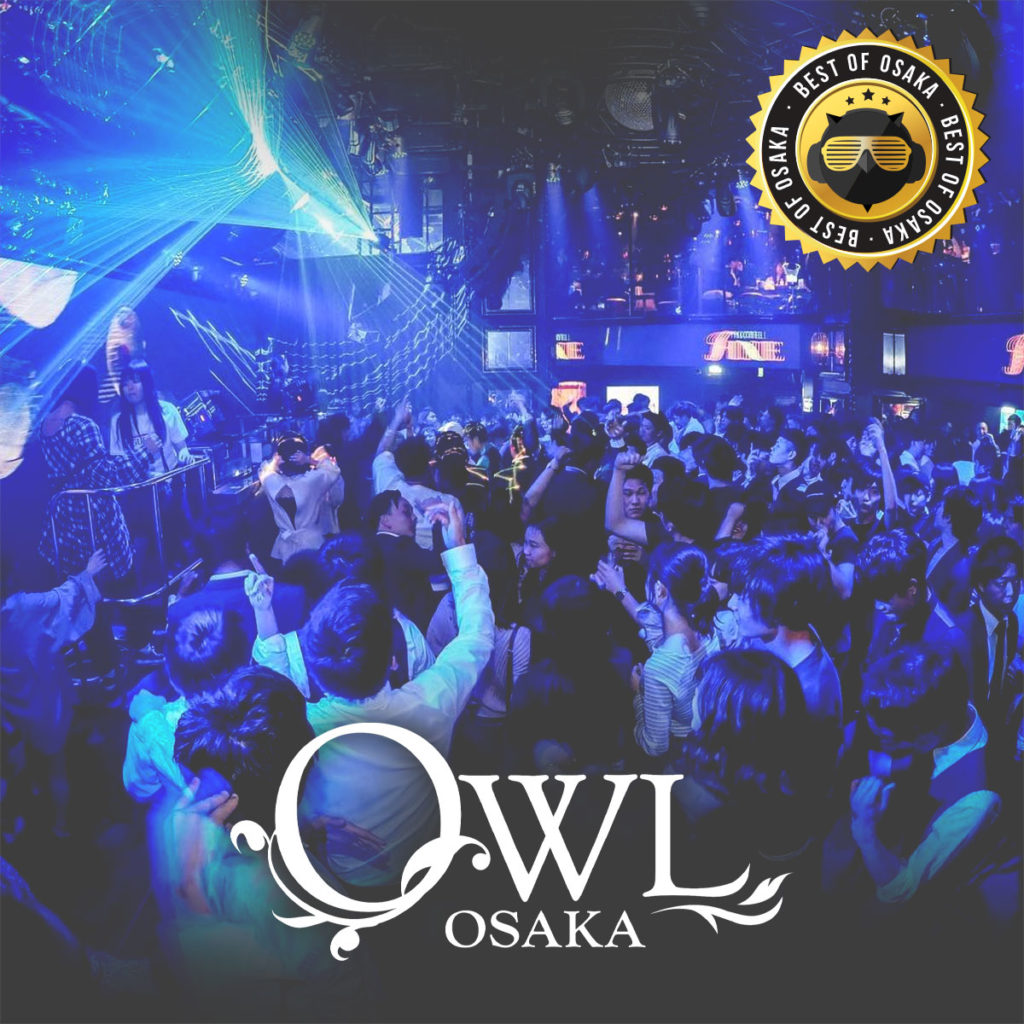 OWL Osaka
OWL is one of the most popular nightclubs in Osaka with the absolute best weekday parties in the city. Despite this, foreign travelers rarely visit OWL.
The crowd is a healthy mix of well-dressed young Japanese partygoers, gorgeous ladies, and fantastic VIP table options that are very affordable. Doors open early from 7 pm till 5 am.
The DJs play mostly pop music and EDM from 3 years ago, but it's hard to deny the party vibes here.
Pro Tip: The weekends at OWL can become overcrowded, but the weekday parties are hands down the best in town.
Average Door Price: Men are 2,000 Yen with 1 Drink ticket, and Women are 3,000 Yen with 1 Drink ticket.
Address: 〒530-0017 Ōsaka-fu, Ōsaka-shi, Kita-ku, Kakudachō, 5-1
Access: OWL is about a 7-minute walk from Umeda Station in the basement of the Umeda Rakutenchi Building.
Website: https://owl-osaka.net/
---
Honorable Mentions:
Adam Lounge
Adam Lounge is Osaka's premium after-hours destination. This fancy lounge hosts events everyday beginning from 2 am, with the party heating up after 3 am and lasting till late into the morning. Adam Lounge offers premium VIP table service and a relatively large dance floor. The music here is also deeper than its Osaka counterparts.
Address: 〒542-0083 Osaka-shi, Chuo-ku, Higashishinsaibashi, 1-18-27
Website: https://adam-lounge.com
Bambi
You can find Bambi in the Shinsaibashi neighborhood, absolutely rammed with young Japanese college students every day of the week. The club is rowdy, but if you have the energy for it, Bambi may be the nightclub for you. Foreigners usual skip this nightclub, but if you want to catch some of Japan's favorite domestic DJs, this is the place to do it.
Address: 〒542-0083 Osaka, Chuo Ward, Higashishinsaibashi, 1−18−27 B1F
Website: https://club-bambi.com/
Joule
Joule is a sizeable rental nightclub where local promoters that host a wide range of events. The nightclub's main floor is relatively big, with an additional second lounge floor. JOULE is similar to Tokyo's WOMB, with a large variety of events focusing on underground electronic music and hip hop. Despite hosting some prominent artist, JOULE is too random to always recommend to travelers. If you do decide to check out JOULE, make sure to have a look at the event schedule posted on their website.
Address: 〒542-0086 Osaka, Chuo Ward, Nishishinsaibashi, 2 Chome-11-7
Website: https://club-joule.com
CIRCUS Osaka
CIRCUS Osaka is the counterpart to Tokyo's CIRCUS nightclub. Every weekend CIRCUS books a European DJ supported by local underground acts. Despite its small size, the speakers in this night club are powerful and thumpy. Osaka party people looking for deeper techno sounds look no further.
Address: 〒542-0086 Osaka, Chuo Ward, Nishishinsaibashi, 1-8-16
Website: http://circus-osaka.com/
---
Looking for a different form of late night entertainment? Then check out our Complete Guide to Tokyo Strip Clubs!