Update on the Top 5 Tokyo Nightclubs of 2021:
Due to the coronavirus, Tokyo nightclubs are requiring limiting entry and requiring guests to wear masks within the venue.
Tokyo is one of Asia's top nightclubbing destinations and for good reason. The city has two of DJ MAG's Top 100 nights clubs, a long and rich history of night clubbing, and the world's biggest DJs performing in Tokyo on a weekly basis.
Unfortunately, with such a wide range of nightclubs available, it can be hard to determine which club to spend your night partying away.
Let us ease your nightlife decision making with our updated list of the Top 5 Tokyo Nightclubs of 2021.
---
Our Selection Criteria
We are making our selection based on the following criteria:
Entertainment: The club needs to be exciting, and provide thrills that customers can't experience anywhere else. This entertainment could be top tier DJs or incredible stage production.
The quality of sound: It is a nightclub, after all, and we want to dance without having our ears ringing the next morning.
Popularity: A dead club on a Saturday night is awful, but a club full of thirsty men is the worst. The venue should also have a decent ratio of male to female guests.
Safety: Feeling safe in a nightclub is a must. Women must be able to enjoy the club without being harassed. Additionally, the nightclub should not be overcrowded with overly aggressive security guards.
Value: Spending a fortune on a simple gin tonic at the bar is "No Bueno." And no one wants to break their bank at a VIP table with surprise service charges. The club should have a balance between well-priced drinks and reasonable doors prices.
---
The Top 5 Tokyo Night Clubs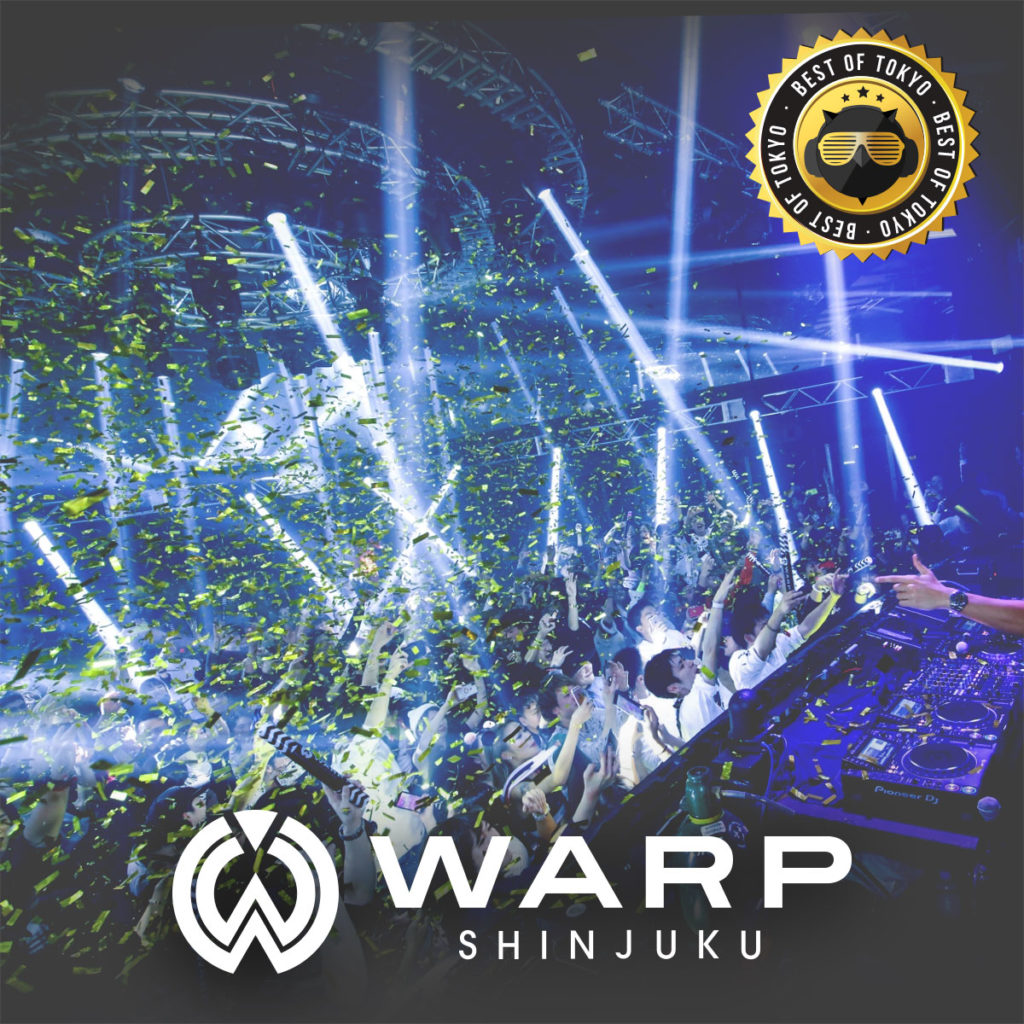 WARP Shinjuku
WARP Shinjuku recently opened its doors in late 2018, but this nightclub has already completely shaken up the Tokyo nightlife scene. Shinjuku's complete lack of any real nightclub has allowed WARP to completely dominate.
The location is dead center in Shinjuku's red light district Kabukichi, only a 5-minute walk from popular tourist sites like Golden Gai and the Robot Restaurant.
Inside the venue, Warp boosts some hard-hitting sound on the main floor, supported by stellar production value and the largest LED screens in Japan. In addition to the main floor, Warp features two additional lounges with a total of 3 bars in the. The VIP tables surround the main floor on two different levels, with ENVY ME offering affordable pricing.
WARP Shinjuku regularly invites top International acts, ranging from Hardstyle EDM DJs, to live Hip Hop performers. A little something for everyone. The crowd is very mixed with Japanese clubbers, international tourists from all over the world, and local hostesses.
If you are exploring Shinjuku, then WARP Shinjuku is an absolute must-see nightclub.
Pro Tip: WARP Shinjuku opens early from 7 pm, so even if you don't want to party late this nightclub can accommodate you. We also suggest ordering drinks from the Cosmo bar as the lines tend to be shorter.
Average Door Price: 3,000 Yen on the Weekends for Men, and Women free everyday of the week (with 1 drink purchase).
Address: 160-0021 Tokyo, Shinjuku City, Kabukicho, 1 Chome−21−1
Access: WARP is a seven-minute walk from JR Shinjuku station. Directly across from the Toho Cinemas.
Website: https://warp-shinjuku.jp/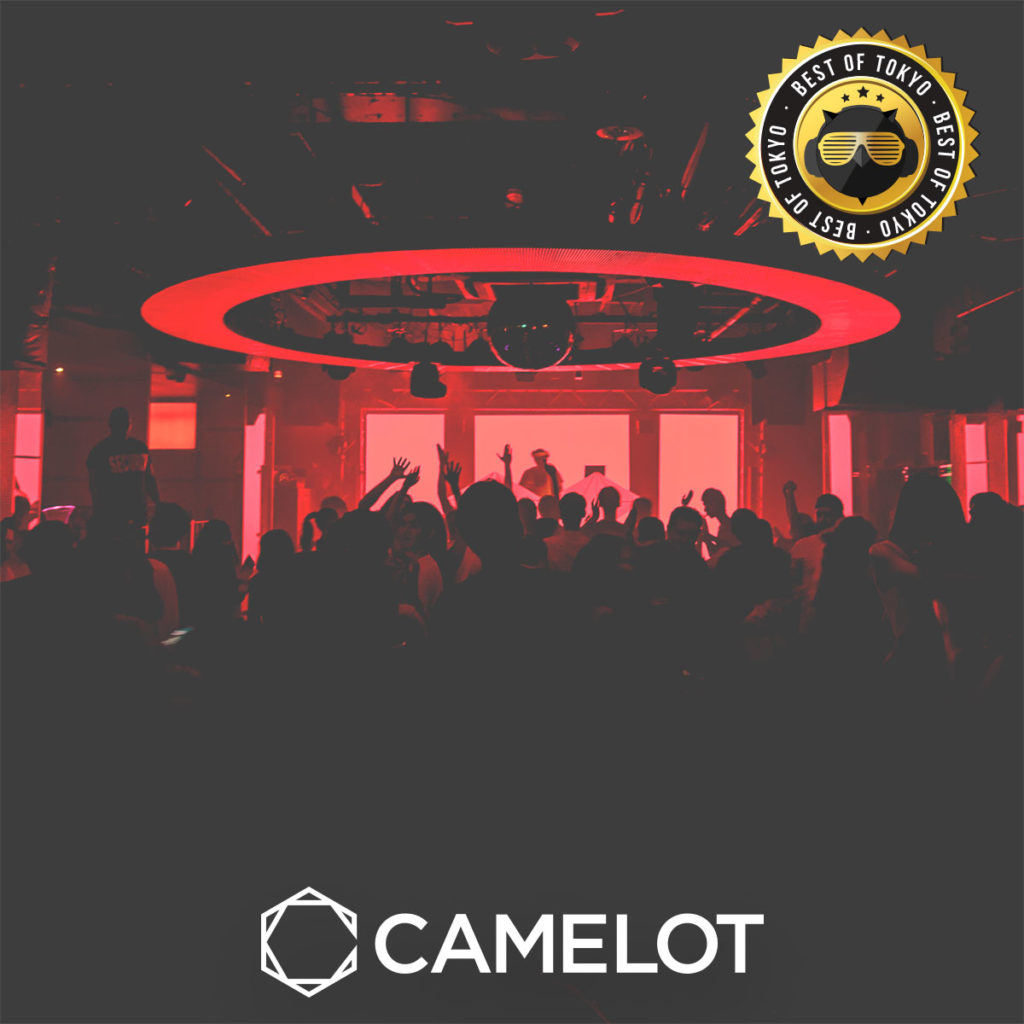 Club Camelot
Club Camelot continues to be Shibuya's most popular and foreign friendly nightclub. This night club recently opened an entirely new floor effectively making it a 4 story nightclub. Now there are two main floors, two lounge floors, five different bars and literally dozens of VIP seating options.
Club Camelot excels at providing several different kinds of parties every night of the week. It never feels too crowded, the staff are friendly and the lines at the bar are always short. We believe Camelot provides the most foreign-friendly nightclub in Shibuya especially on the B2 floor.
Pro Tip: Splurge on a VIP table near the round bar on the B2 floor. The Camelot bottle service is second to none, with friendly staff, and a great view of the party. Book your table at ENVYME.JP for cheap deals starting from 60,000 yen.
Average Door Price: 3,500 Yen for Men, 1,500 Yen for Women
Address: 〒150-0041 1-18-2, Jinnan, Shibuya, Tokyo,
Access: About a seven-minute walk from Shibuya station, located around the corner from TGIF.
Website: http://www.clubcamelot.jp/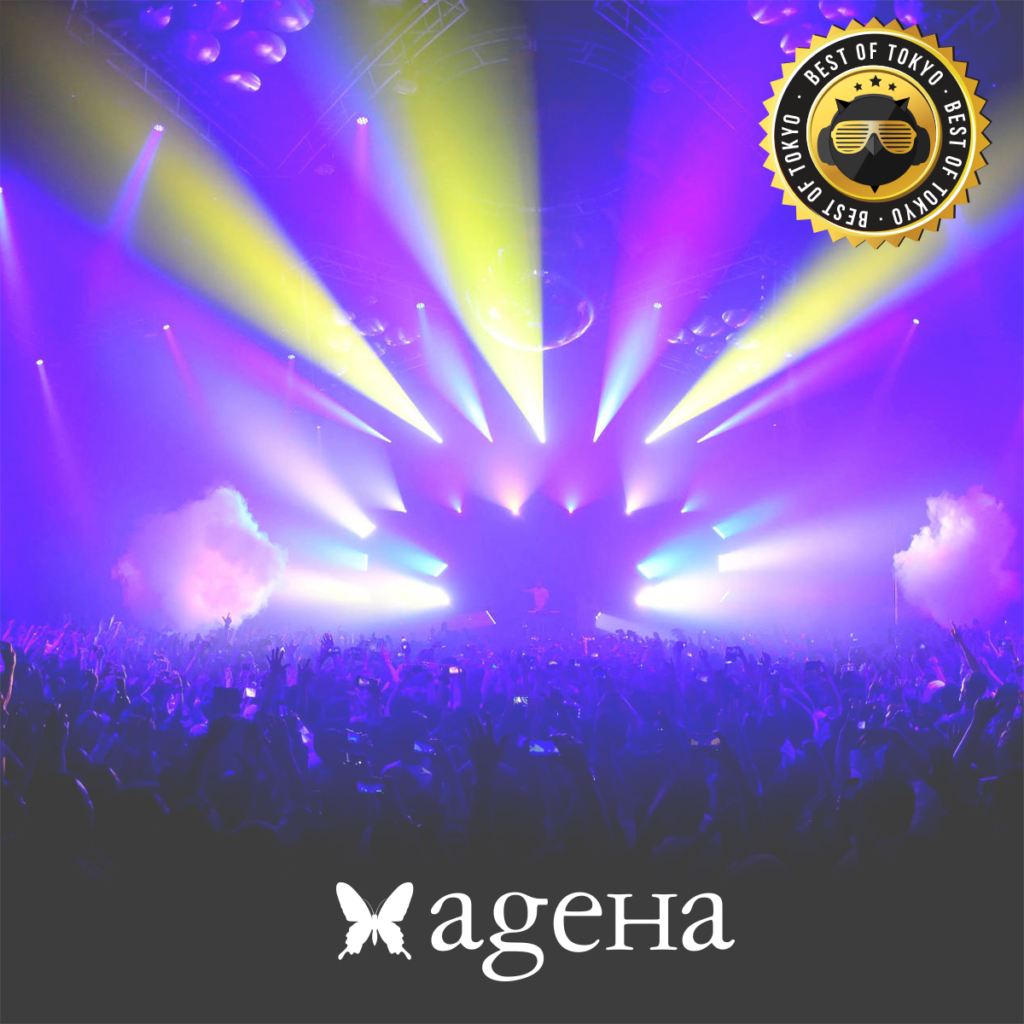 ageHa
AgeHa will close at the end of 2021.
Ranked at #95 on DJ Mag's prestigious Top 100 Clubs list, ageHa is a must-see for anyone looking to have a memorable nightclub experience. The nightclub only has a few events a month, but when there is a big artist playing at ageHa, it is without a doubt the nightclub to visit.
ageHa club boasts four different dance floors, three VIP sections, three large bars, an outdoor pool, a garden area, and a food court. The main floor is a large arena encircled by octagon shaped speakers that pump out an enormous amount of sound. Many of the world's most famous DJs have held concerts here with over 3,000 partygoers in attendance.
The food court itself is amazing with a variety of foods on sale including kebabs, beef bowls, ramen and more. ageHa also offers free shuttle buses from Shibuya station. The party atmosphere on these buses can be a fantastic way to make new friends before arriving at the club.
We recommend checking out ageHa in the summer when they throw foam parties at the pool every weekend. Nothing beats dancing at the pool as the sun rises over the horizon.
Pro Tip: Don't forget your photo ID at this club. Being stuck at ageHa with no trains available can be a nightmare. Remember they do not accept student IDs or photocopied IDs. Also, review the event schedule posted on their website before making the journey out to ageHa.
Average Door Price: 3,500 Yen
Address: 〒136-0082 2-2-10 SHINKIBA, Koto-ku, Tokyo, Japan
Access: ageHa is not centrally located, so guests will need access the club via train or the free shuttle bus available every 30 minutes after midnight from Shibuya station.
Website: http://www.ageha.com/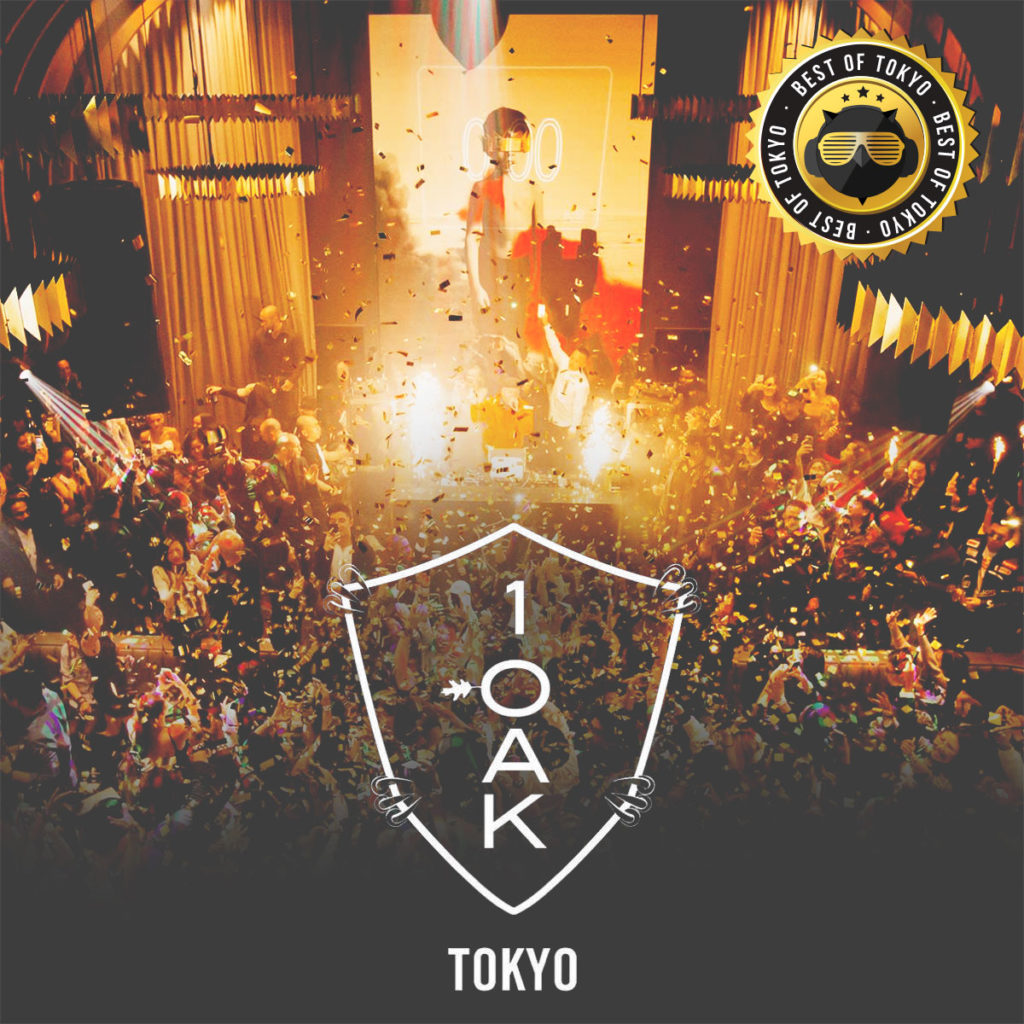 1 OAK Tokyo
Without a doubt, 1 Oak Tokyo is the most hype nightclub in Tokyo right now. On an almost weekly basis, 1 Oak Tokyo books popular hip-hop artists to perform or DJ live. The women are beautiful, the men dress up, and international celebrities often appear in the VIP. The entire experience feels like a New York nightclub. And for that reason, 1 Oak may not be for everyone, but if you are looking for a top class international night clubbing experience… this is the place to be.
Pro Tip: 1 Oak Tokyo has a strict door policy! Groups of guys will need to line up, and on busy nights wait till other men leave the club. Try to arrive at 1 Oak with a few ladies in your group to guarantee entry. Also, the door price is high, so we recommend arriving before midnight for discounted entry. Men are 2,000 yen with 1 drink and ladies are 1,000 yen with 1 drink.
Average Door Price: 4,000 Yen with 2 Drinks for fellas, 2,500 Yen with 2 Drinks for ladies. *These prices may fluctuate during special events.
Address: 1 Chome-4-5 Azabujuban, Minato City, Tokyo 106-0045
Access: Exit from Azabu Juban station #7 and 1 Oak Tokyo is right next to the exit.
Website: http://www.1oaktokyo.com/
Read our full review of 1 Oak Tokyo here: http://tokyonightowl.com/1oak-tokyo-review/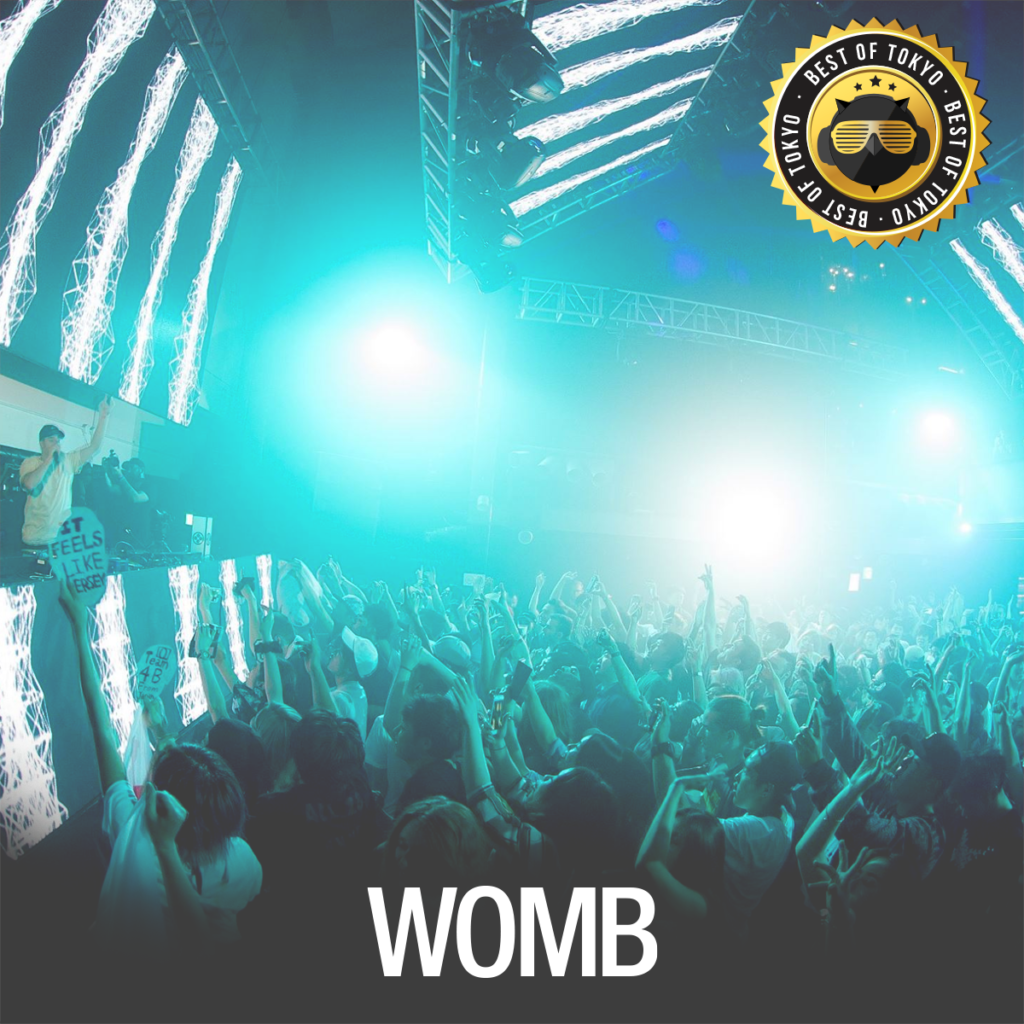 WOMB
WOMB continues to be the go-to nightclub for house, techno, and bass music parties. It was ranked #47 in the DJ MAG Top 100 nightclubs prestigious list which makes WOMB the must-see Shibuya nightclub for most Tokyo travelers. The club's interior recently received a makeover, including new lighting, an upgraded lounge floor and an entirely new VIP balcony that overlooks the main floor. Saturday nights at WOMB can provide some of the purest nightclub experiences available in Tokyo.
Pro Tip: Skip the weekdays. Despite WOMB's status as a top-tier Tokyo nightclub, the weekday events are always slow featuring DJs who play disturbingly cheesy EDM music.
Average Door Price: 3,500 Yen
Address: 〒150-0044 Tokyo, Shibuya, Maruyamacho, 2-16
Access: WOMB is about a ten-minute walk from Shibuya Station. The club is hidden within the Shibuya love hotel district, so we recommend checking google maps.
Website: www.womb.co.jp
Read our full review of Womb Tokyo here: http://tokyonightowl.com/tokyo-club-review-womb/
---
Honorable Mentions:
V2 Tokyo
V2 Tokyo recently moved into the former FERIA building, and with the new location comes much better production and sound. The club is popular with Japanese partygoers, and young girls. There are 3 different floors with the main floor in the basement covering mostly Top 40 sounds. In addition, the team at V2 Tokyo regularly book international EDM acts. The staff at this club can be a bit stuffy, but for those seeking the typical Japanese "disco" experience, you can't go wrong here.
Website: https://www.v2tokyo.com
Alife
ALIFE is now one of the most popular nightclubs in Roppongi. The nightclub is loaded with international party people, the ladies dress up, the VIP tables are full, and the three dance floors are packed. Get your Top 40 fix here with international hits being played loud by local and international DJs. The club is a safe distance away from the seedy massage parlors, and kebab stands that litter the Roppongi street.
Website: http://www.e-alife.net/
ATOM TOKYO
ATOM is another popular nightclub in the Shibuya with a long operating history, 13 years to be exact. Everything about this club screams, Shibuya! Recently the club gave its 1st and 4th floor a much-needed makeover. Friday and Saturday nights can be unbearably crowded, with overly aggressive security. But we are adding this club to our honorable mentions because the weekday parties here are the best in all of Tokyo. Always busy, loads of ladies only seats, three different floors, and cheap 500 yen drinks.
Website: http://atom-tokyo.com/
Harlem
Harlem is the most authentic Hip-Hop Nightclub in Tokyo, if not Japan. You will discover a scene here rich with history and packed with Japanese hip-hop fans. The club has a modest warehouse aesthetic with a large dance floor on the 2nd floor, and a lounge found upstairs. Check out the BX Lounge on the 3rd floor for its chilled R&B vibes, VIP tables, and intimate setting.
Website: http://www.harlem.co.jp/
Contact
Contact is a true techno lovers nightclub. It's dark, underground, and the DJs spin some of the most authentic techno sounds this side of Asia. If you crave berlin style warehouses, then don't skip on this nightclub.
Website: http://www.contacttokyo.com/
Night Owls, what are your favorite Tokyo Nightclubs? Share your thoughts in the comments!
---
Partying in Osaka? Then check out our Top 5 Osaka Nightclubs!