In a city of superlatives, the biggest, the smallest, the busiest, the weirdest, the coolest (and even the craziest!) Tokyo certainly has a nightlife culture that caters to even the most outlandish and niche of tastes. Want to drink in a bar that is themed like a prison where you sit in a cell (with bars) and can order a 'slap shot' from a prison warden 'waitress'? Tokyo has you covered. Want a bar that is designed like a science lab where you can drink wine from a test tube? Worry not.
However, sometimes it is the basics of Tokyo nightlife that make it one of the world's greatest cities to enjoy a late-night drink. In a city that is also second to none when it comes to its fantastic skyscraper and neon-infused views, there are few finer activities than enjoying a drink whilst gazing out onto the sci-fi scenes around you.
This article will explore 5 of Tokyo's best night views with a bar within the city. 
Tokyo's Best Night Views
1. Hacienda Del Cielo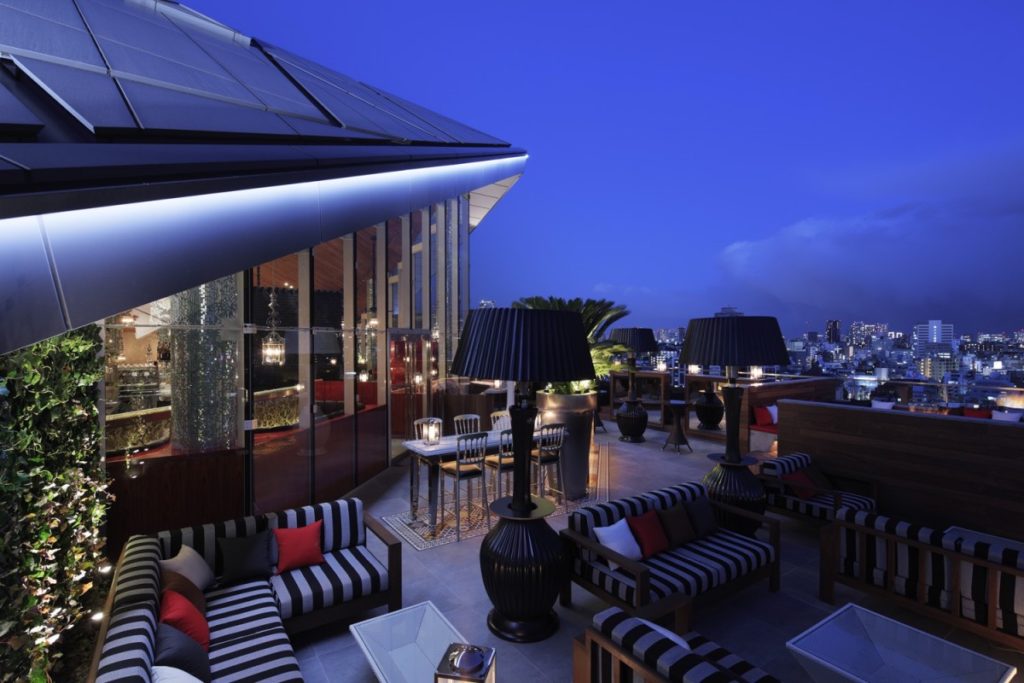 The trendy hipster neighborhood of Daikanyama is certainly a place where people can enjoy a drink at any number of fantastic bars. However, it is not normally thought of a place for a night view, with most of the neighborhood being relatively low rise and surrounded by the skyscrapers of Shibuya. However, on the top floor of the XEX building, Hacienda del Cielo is a Mexican restaurant and bar that offers superb views with outdoor patio seating.
The food is excellent and is the perfect complement to a margarita and maybe a shot of Patron while watching the sun sink over the city.
Learn More: https://www.huge.co.jp/restaurant/modern-mexicano/hacienda
2. Two Rooms Grill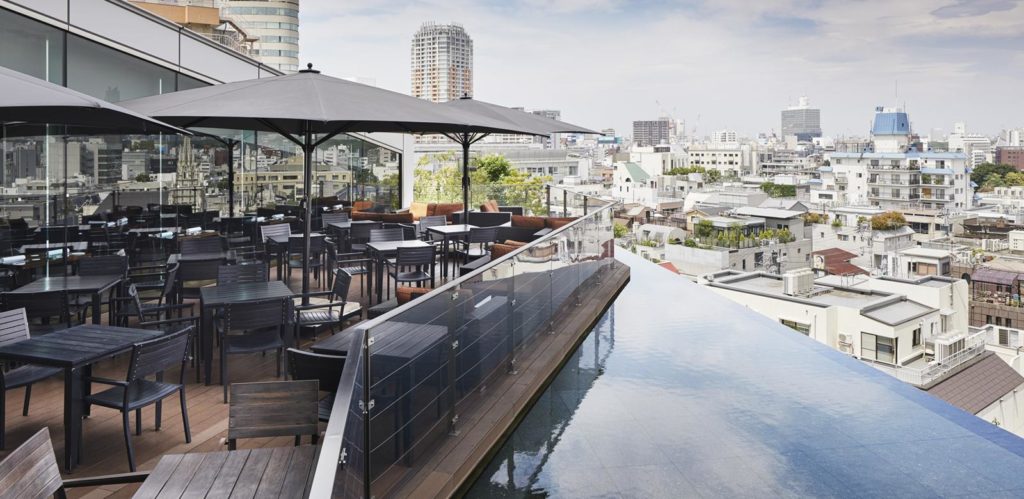 Omotesando is not necessarily considered a nightlife hotspot. With its expensive boutique shops, fashion-conscious visitors, and high-end restaurants, sat between the lively Shibuya and Harajuku areas, you could be forgiven for missing the area altogether. But that, of course, would mean that you would miss the opportunity to sip your drink whilst gazing at one of the most fantastic and unexpected night views of the city.
Situated on the 6th floor of a shopping mall, you could be forgiven for missing the bar altogether. But, after taking the elevator up to the entrance, you are transported into one of the most achingly cool bars in the city. Nightly DJ sets with a cozy indoor and large outdoor patio area ensure that the party is always going, whatever the weather. 
Learn More: https://tworooms.jp/en/
3. Oriental Lounge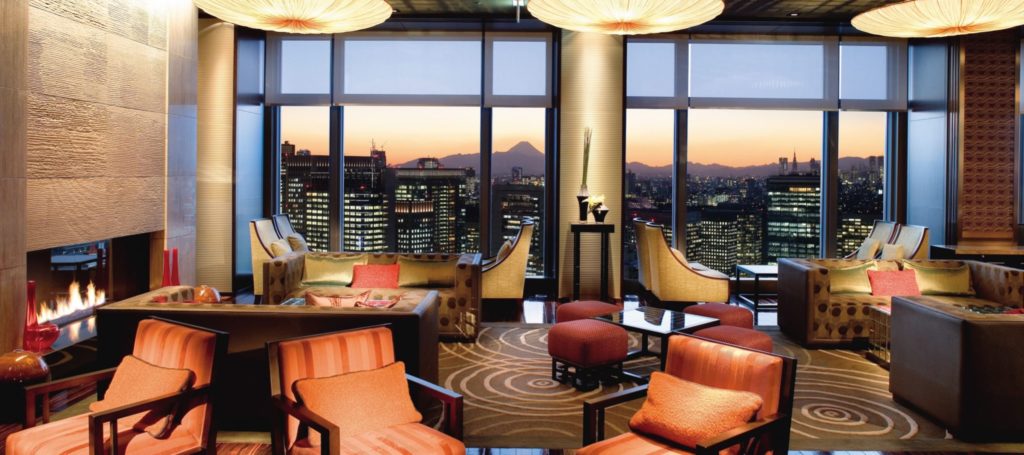 Nestled in the luxurious surrounds of the Mandarin Oriental hotel, the Oriental Lounge offers a superb selection of cocktails and drinks to enjoy in the incredibly opulent surroundings of the Oriental Lounge.
The views are amazing and look down across the city to the horizon (catch a glimpse of the snow-capped peak of Mount Fuji visible on a clear day!). 
Learn More: https://www.mandarinoriental.com/tokyo/nihonbashi/fine-dining/lounges/oriental-lounge
4. Aman Tokyo
There is luxury, and there is Aman. This boutique hotel chain has become a byword for luxury worldwide, and its central Tokyo addition is absolutely no exception. Located in the Marunouchi district, a short walk from Tokyo station, this bar might not be the liveliest place on this list. Still, it is unbeatable for a refined drink in refined company (it is a favorite haunt for Hollywood celebrities visiting Tokyo!).
The floor-to-ceiling windows offer a truly awe-inspiring view of the city. The view is breathtaking at all times of the day but come for a drink at sunset and the following twilight for something extraordinary. This is a place to bring someone you want to impress!
Learn More: https://www.aman.com/hotels/aman-tokyo/dining/lounge-aman
5. New York Bar – Park Hyatt Tokyo
Finally, we come to the bar that perhaps started it all. For anyone who has even a passing knowledge of cinema, Sofia Coppola's 2003 Oscar winner 'Lost in Translation' is the film that really put modern Tokyo into the minds of a generation.
For those outside Japan, this was a first glimpse of the city's magic, and some of the movie's greatest scenes were played out in this bar. Bill Murray and Scarlett Johansson exchanging glances aside the bar is now world-famous for its association with the film, and yes, many fans visit the bar to re-capture some of the magic. But even almost 20 years later, the bar still has it.
With a live jazz band playing nightly sets, a selection of spirits, wines, and cocktails to die for, and a view that makes you feel like you are standing on the roof of the city, it is still a place that truly captures the magic of Tokyo at night!
Learn More: https://restaurants.tokyo.park.hyatt.co.jp/en/nyb.html
---
That was our selection of Tokyo's best night views, but did we miss any? Let us know in the comments.