Tokyo is one of Asia's top nightclubbing destinations and for good reason. The city has two of DJ MAG's Top 100 nights clubs, a long and rich history of night clubbing, and the world's biggest DJs performing in Tokyo on a weekly basis.
Unfortunately, with such a wide range of Tokyo nightclubs available, it can be hard to determine which club to spend your night partying away. In addition, after the covid lockdowns, the Tokyo nightclub scene has changed significantly.
Let us ease your nightlife decision making with our updated list of the Top 5 Tokyo Nightclubs of 2022.
---
Our Selection Criteria
We are making our selection based on the following criteria:
Entertainment: The club needs to be exciting, and provide thrills that customers can't experience anywhere else. This entertainment could be top tier DJs or incredible stage production.
The quality of sound: It is a nightclub, after all, and we want to dance without having our ears ringing the next morning.
Popularity: A dead club on a Saturday night is awful, but a club full of thirsty men is the worst. The venue should also have a decent ratio of male to female guests.
Safety: Feeling safe in a nightclub is a must. Women must be able to enjoy the club without being harassed. Additionally, the nightclub should not be overcrowded with overly aggressive security guards.
Value: Spending a fortune on a simple gin tonic at the bar is "No Bueno." And no one wants to break their bank at a VIP table with surprise service charges. The club should have a balance between well-priced drinks and reasonable doors prices.
---
The Top 5 Tokyo Nightclubs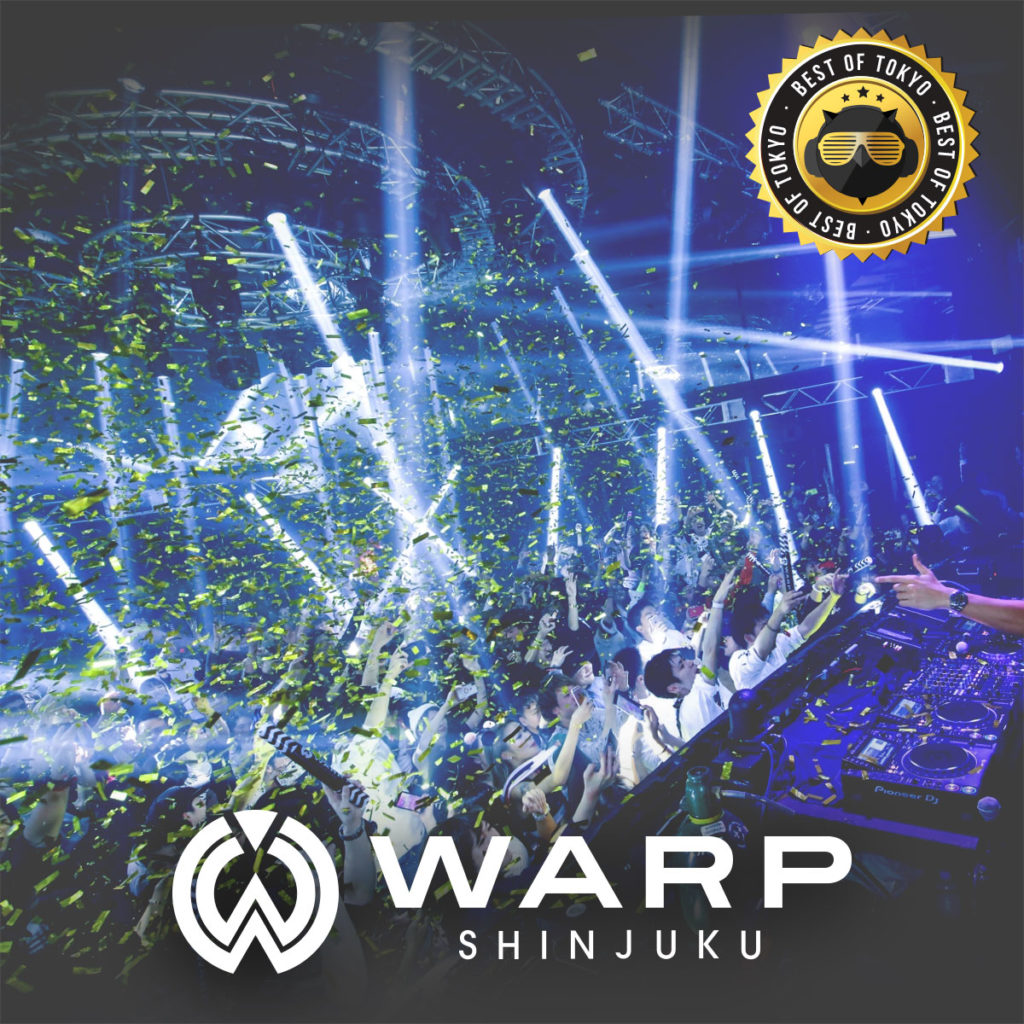 WARP Shinjuku
WARP Shinjuku recently opened its doors in late 2018, but this nightclub has already completely shaken up the Tokyo nightlife scene. Shinjuku's complete lack of any real nightclub has allowed WARP to completely dominate.
The location is dead center in Shinjuku's red light district Kabukichi, only a 5-minute walk from popular tourist sites like Golden Gai and the Robot Restaurant.
Inside the venue, Warp boosts some hard-hitting sound on the main floor, supported by stellar production value and the largest LED screens in Japan. In addition to the main floor, Warp features three additional dance floor with a total of 4 bars. The VIP tables surround the main floor on two different levels, with ENVY ME offering affordable pricing.
WARP Shinjuku regularly invites top International acts, ranging from Hardstyle EDM DJs, to live Hip Hop performers. A little something for everyone. The crowd is very mixed with Japanese clubbers, international tourists from all over the world, and local hostesses.
If you are exploring Shinjuku, then WARP Shinjuku is an absolute must-see nightclub.
Pro Tip: WARP Shinjuku opens early from 7 pm, so even if you don't want to party late this nightclub can accommodate you. We also suggest ordering drinks from the Cosmo bar as the lines tend to be shorter.
Average Door Price: 3,000 Yen on the Weekends for Men, and Women free everyday of the week (with 1 drink purchase).
Address: 160-0021 Tokyo, Shinjuku City, Kabukicho, 1 Chome−21−1
Access: WARP is a seven-minute walk from JR Shinjuku station. Directly across from the Toho Cinemas.
Website: https://warp-shinjuku.jp/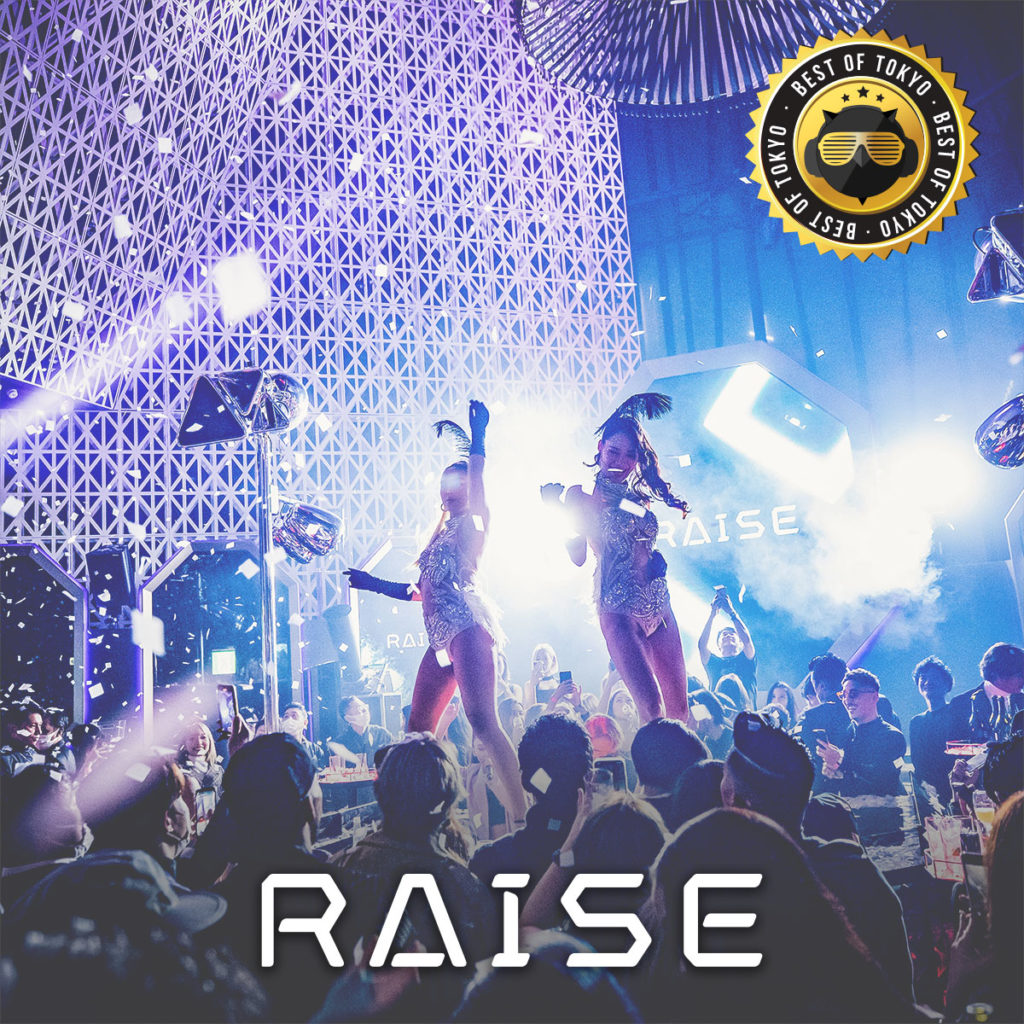 RAISE
RAISE is the newest nightclub to hit Tokyo and is quickly filling a much-needed gap in the scene. The nightclub effectively manages to straddle the line between a Fashion nightclub and a Las Vegas nightclub. It does this by utilizing massive lasers, huge confetti canons, top-quality performers, and the best bottle service in the scene. It also doesn't hurt that the club looks almost like an electric cathedral with enormous windows that allow for amazing views of the Ginza skyline.
Ginza has been craving a proper nightclub and RAISE fulfills that need in spades.
Before heading to RAISE, be sure to dress up as the club adheres to a strict dress code policy.
Pro Tip: The lines for RAISE are massive. Arrive early to avoid waiting.
Average Door Price: 4,000 Yen for Men, 2,500 Yen for Women – 2 Drink Tickets included
Address: 〒104-0061 Tokyo, Chuo City, Ginza, 5 Chome−2−1 東急プラザ銀座 6階
Access: Exit from the Ginza Line/ Marunouchi Line / Hibiya Line at Ginza Station and take the C2/C3 Exit, 1 minute on foot.
Website: https://raisetokyo.com/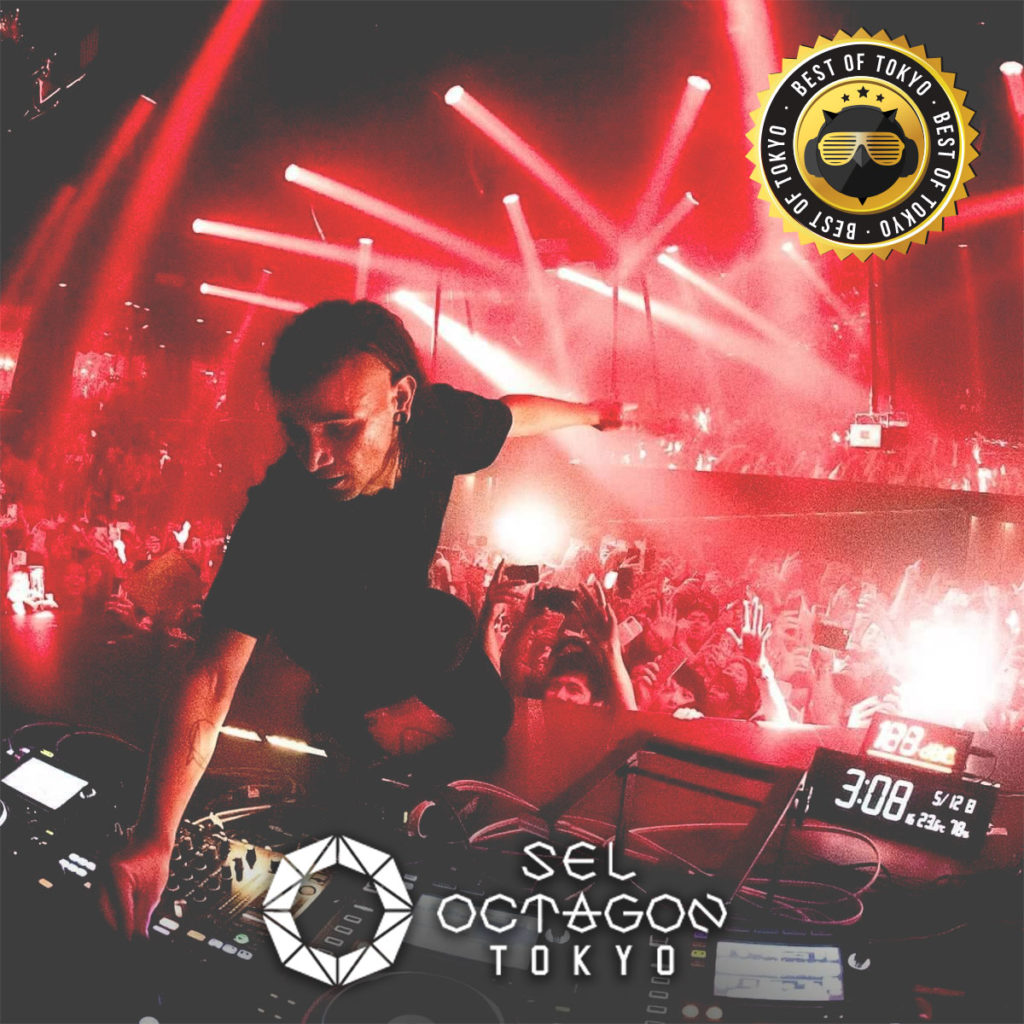 Sel Octagon
After a long closure due to covid, Sel Octagon has finally re-opened it's doors in Roppongi. This nightclub is effectively the only nightclub in Roppongi that is not open format, and focuses more on the big EDM festival sounds with killer production.
Sel Octagon also received a minor upgrade with an additional lounge floor, and a larger more spacious main floor.
The club manages to find the balance between big EDM festival vibes with lasers and production with high-end bottle service VIP tables. The sound system is not too shabby either!
Pro Tip: Sel Octagon is hidden within a building across from Roppongi Midtown. Be sure to check the address details below before heading out.
Average Door Price: 3,500 Yen for Men with 1 Drink Ticket, 1,000 Yen for Women.
Address: 〒106-0032 Tokyo, Minato City, Roppongi, 7 Chome−8−6, Axall Roppongi, B1F
Access: A 4 minute walk from the Oedo Line Roppongi Station.
Website: https://sel-octagon-tokyo.jp/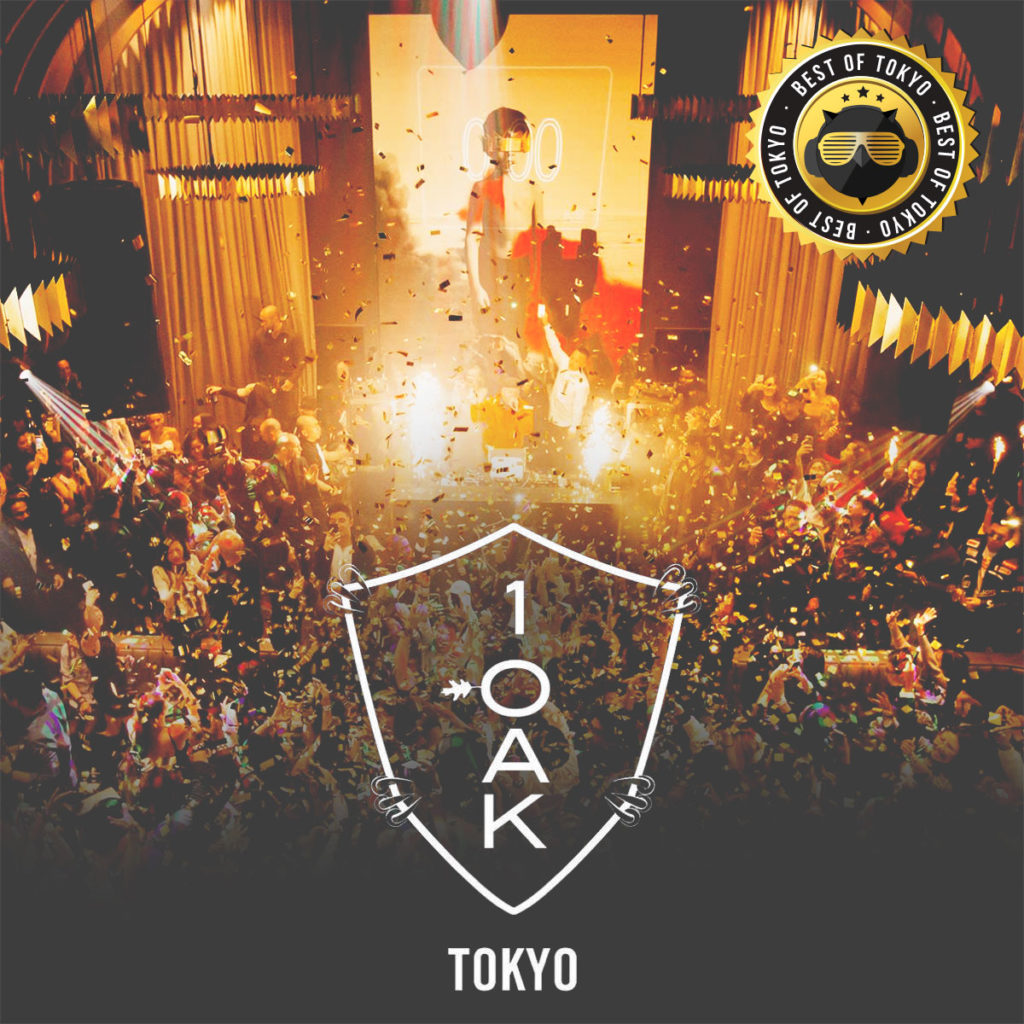 1 OAK Tokyo
Without a doubt, 1 Oak Tokyo is the most influential nightclub in Tokyo right now. A large majority of Tokyo's traditionally disco format nightclubs have shifted to mimic 1OAK's style (including TK, ZEUS, and more)
On an almost weekly basis, 1 Oak Tokyo books popular hip-hop artists to perform or DJ live. The women are beautiful, the men dress up, and international celebrities often appear in the VIP. The entire experience feels like a New York nightclub. And for that reason, 1 Oak may not be for everyone, but if you are looking for a top class international night clubbing experience… this is the place to be.
Pro Tip: 1 Oak Tokyo has a strict door policy! Groups of guys will need to line up, and on busy nights wait till other men leave the club. Try to arrive at 1 Oak with a few ladies in your group to guarantee entry. Also, the door price is high, so we recommend arriving before midnight for discounted entry. Men are 2,000 yen with 1 drink and ladies are 1,000 yen with 1 drink.
Average Door Price: 4,000 Yen with 2 Drinks for fellas, 2,500 Yen with 2 Drinks for ladies. *These prices may fluctuate during special events.
Address: 1 Chome-4-5 Azabujuban, Minato City, Tokyo 106-0045
Access: Exit from Azabu Juban station #7 and 1 Oak Tokyo is right next to the exit.
Website: http://www.1oaktokyo.com/
Read our full review of 1 Oak Tokyo here: http://tokyonightowl.com/1oak-tokyo-review/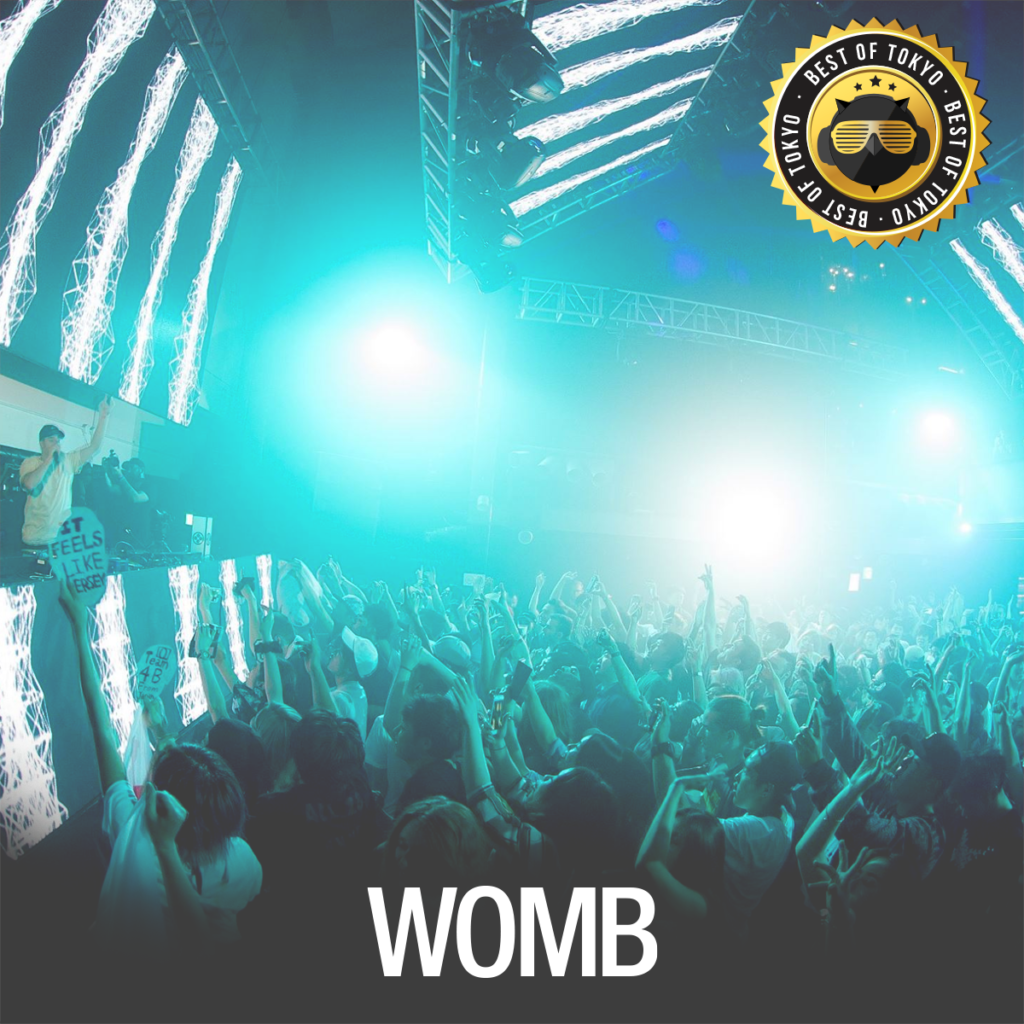 WOMB
WOMB continues to be the go-to nightclub for house, techno, and bass music parties. It was ranked #47 in the DJ MAG Top 100 nightclubs prestigious list which makes WOMB the must-see Shibuya nightclub for most Tokyo travelers. The club's interior recently received a makeover, including new lighting, an upgraded lounge floor and an entirely new VIP balcony that overlooks the main floor. Saturday nights at WOMB can provide some of the purest nightclub experiences available in Tokyo.
Pro Tip: Skip the weekdays. Despite WOMB's status as a top-tier Tokyo nightclub, the weekday events are always slow featuring DJs who play disturbingly cheesy EDM music.
Average Door Price: 3,500 Yen
Address: 〒150-0044 Tokyo, Shibuya, Maruyamacho, 2-16
Access: WOMB is about a ten-minute walk from Shibuya Station. The club is hidden within the Shibuya love hotel district, so we recommend checking google maps.
Website: www.womb.co.jp
Read our full review of Womb Tokyo here: http://tokyonightowl.com/tokyo-club-review-womb/
---
Honorable Mentions:
Ce La Vi Tokyo
Ce La Vi is Shibuya's most high end night club with killer views of the Shibuya skyline. Premium cocktails and international vibes are what you will find here. The clubs main floor is tiny though, so don't expect to do much dancing here. When the outdoor patio opens in the summer, that is when Ce La Vi Tokyo really shines.
Ce La Vi Tokyo does require a dress code, so leave the shorts at home.
Website: https://www.celavi.com/en/tokyo/
Club Camelot
Club Camelot received a renewal on its main floor back in 2020. A larger dance floor with better VIP options. Unfortunately, the club isn't quite as exciting as it was with its previous management. But it is still a solid option for those looking for a standard night out at a Japanese disco nightclub.
Club Camelot host 3 different dance floors each with a different genre, large bars and dozens of VIP tables.
Website: http://www.clubcamelot.jp/
Zeus
ZEUS has affectively become ALIFE's replacement with practically the same DJs and staff. In many ways, this is an upgrade as ALIFE was starting to show its age, and ZEUS is in a better more central location in Roppongi. ZEUS features 2 medium-size dance floors, plenty of ZIP seating, and friendly English-speaking staff, promoters, and VIP service. Visit here if you are looking for international top 40 hits and English-speaking party people.
Website: https://zeus-garden.com
ATOM TOKYO
ATOM is another popular nightclub in the Shibuya with a long operating history, 15 years to be exact. Everything about this club screams, Shibuya! Recently the club gave its 1st and 4th floor a much-needed makeover. Friday and Saturday nights can be unbearably crowded, with overly aggressive security. But we are adding this club to our honorable mentions because the weekday parties here are the best in all of Tokyo. Always busy, loads of ladies only seats, three different floors, and cheap 500 yen drinks.
Website: http://atom-tokyo.com/
Harlem
Despite needing a serious overhaul, Harlem is the most authentic Hip-Hop Nightclub in Tokyo, if not Japan. You will discover a scene here rich with history and packed with Japanese hip-hop fans. The club has a modest warehouse aesthetic with a large dance floor on the 2nd floor, and a lounge found upstairs. Check out the BX Lounge on the 3rd floor for its chilled R&B vibes, VIP tables, and intimate setting.
Website: http://www.harlem.co.jp/
VISION – Closing in 2022
VISION isn't as exciting of a venue as it was a few years ago. The club lacks a proper LED screen, the main floor is excruciatingly loud (bring ear plugs), and the club is quite dirty. BUT, despite this, the club hosts some very good underground Tech House and Hip Hop events. Come here for music and dancing in dark corners. The drinks here are quite good too!
Website: https://www.instagram.com/visiontokyo/
Night Owls, what are your favorite Tokyo Nightclubs? Share your thoughts in the comments!
---
Partying in Osaka? Then check out our Top 5 Osaka Nightclubs!