The bustling metropolis of Tokyo is home to 13 million people, leading to intense pressure on space. With paper-thin walls and crowded apartment blocks, privacy is not a luxury many Japanese people can afford. The innovative solution is a new kind of hotel to allow couples to have an anonymous place to indulge in a fantasy of their choice, Japanese love hotels.
Since its conception, Japanese love hotels have become very popular and proliferated, with many generic options at most stations way up into the countryside. Many love hotels have also started hosting events and activities for parties of friends, even having group rooms to allow you to hang out with friends without upsetting the neighbors.
Aside from the pragmatic uses of these love hotels themed rooms add a further dimension and here there appear to be no creative bounds. Indeed, clients can select the opulence of seventeenth-century Europe, the stark institutionalism of a hospital ward, or the romance of gazing at the night sky to name a few.
Bed surf in style with our list of Japan's quirkiest and most bizarre Japanese love hotels you can experience.
11 Bizarre Japanese Love Hotels
Hotel Blan Chapel Christmas Narita (Love Hotel)
HO-HO-HO, missing Christmas in the middle of summer? Well, this Narita-based Christmas-themed love hotel has got you covered.
Jolly Saint Nicks, candy canes, and Christmas tree angels deck the halls in this most bizarre of holiday attractions. Hotel Chapel Christmas is a hotel that is open all year round, enabling you to jingle all the way straight from the city's most renowned international airport.
Short Stay

Overnight

N/A

¥7,690円
Address:239-1 Yoshikura, Narita-shi, Chiba 286-0133, Japan
---
Book here
Hotel Togenkyo Isehara
With all the public areas shut during the lock-down, it is hard to really see traditional Japanese buildings up close and personal. A creative workaround is the Hotel Togenkyo Isehara. Kitted out with authentic and quintessentially Japanese rooms based on "bushido", "wa-shitsu" (Japanese style rooms) it's a great spot for getting the authentic Japanese experience.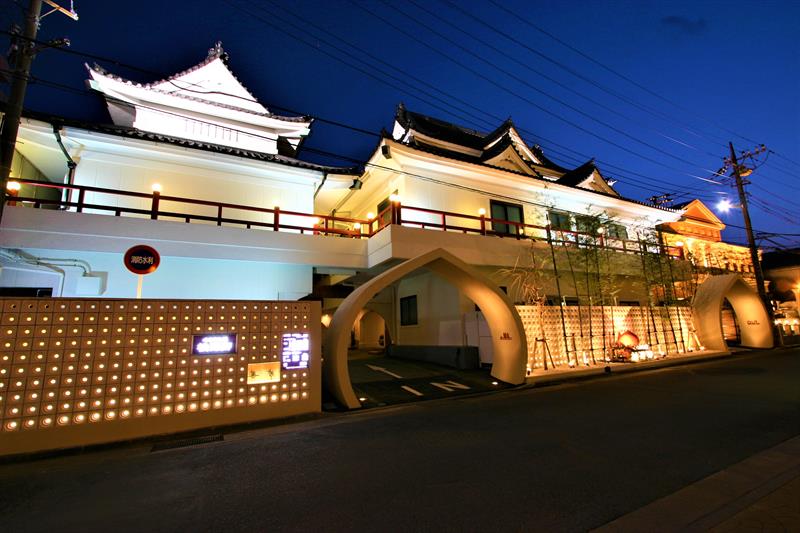 Short Stay


Overnight

3 hours ¥5,580

Mon-Fri: ¥10,180

Weekends: ¥11,180
Address: Address: 3-12-43 Okada, Atsugi City, Kanagawa Prefecture
---
Book at door
HOTEL Us Keibajo
For those who want to delve into some pretty intense medical role-playing, the Hotel Us Keibajo offers an entire hospital wardroom (costume rental also available). This is one of the more niche interests on this list and the attention to detail is forensic! If hospitals don't jive, there are alternatives this love hotel can provide, from Scandinavian log cabins to post-modern grass walls.
Short Stay

Overnight

Short time

6:00 a.m. to 2:00 a.m. (2 persons, 2 hours)

¥6,900

Rest

From 6:00 a.m. to 2:00 a.m. (for 2 persons, 4 hours)

¥7,900

Free time

6:00 AM to 6:00 PM (12 hours)

¥8,800

¥11,000
Address: 2592-1 Kisaki, Kita-ku, Niigata City, Niigata Prefecture 950-3304
---
Book at door
Hotel Charmant
The weather can be very unpredictable in Japan, with typhoons appearing at random times of the year, however, that doesn't have to put a dampener on your terrace-date-under-the-stars dreams. The love hotel Charmant is a love letter to good old-fashioned romance. Enjoy room service with a full food and customer menu whilst you lie in a Jacuzzi under the out-of-this-world planetarium stars. If that wasn't enough, karaoke and video on demand are also available.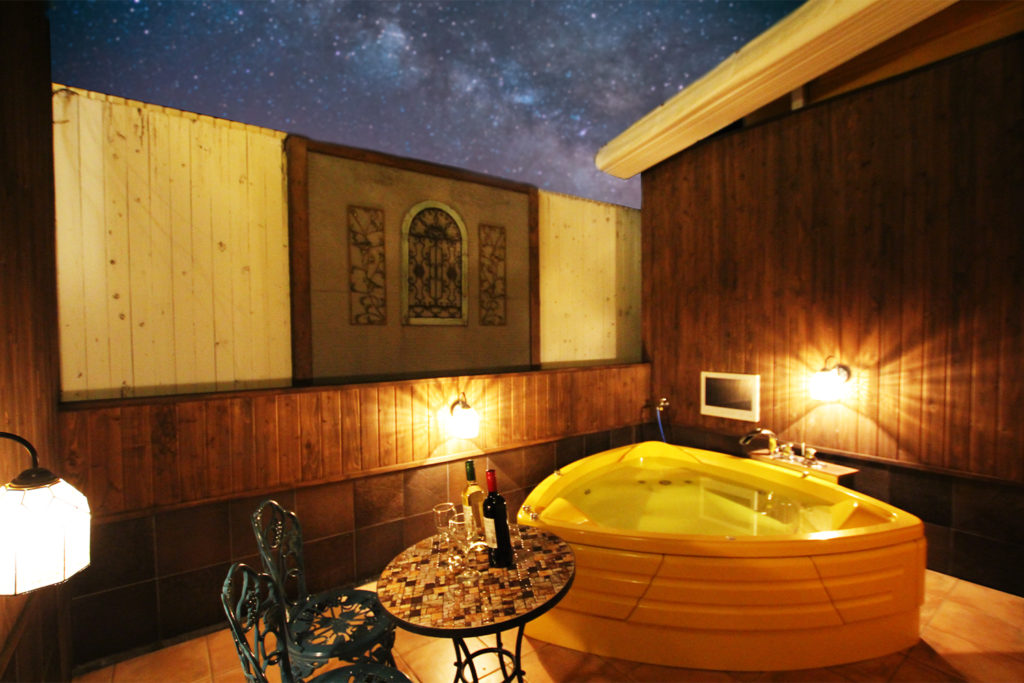 Short stay

Overnight

3 hours ¥5,580

Mon-Fri: ¥10,180

Weekends: ¥11,180
Address: 1191-Aza Azuka, Mibu-cho, Shimotsuga-gun, Tochigi 321-0201
---
Book at door
Hotel Aine
Are you ready for an assault on all senses? This fusion of Japan's best ideas (karaoke and love hotels ) is a pretty wild way to spend the evening in a group, or with just the two of you. Not following one concept like many hotels on this list, the Hotel Aine has anything from highly saturated displays of Americana to backlight aquatic scenes. With the location being surrounded by some of Japan's most holy and serene landmarks, this is certainly a cultural whiplash for any adventurous spirit wanting the best for both worlds.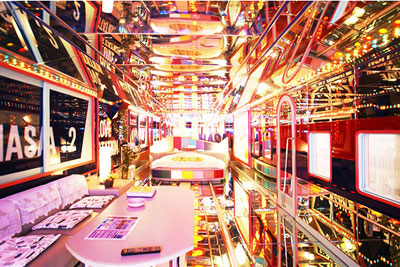 | | |
| --- | --- |
| Short Stay | Overnight |
| ¥2,250~¥4,310 | ¥5,160~¥6,160 |
Address: 678 Aiya-cho, Gojo City, Nara Prefecture
---
Book at door
Hotel Fuki
Anybody who has seen an old samurai movie will appreciate the quaint attention to detail Hotel Fuki has to the traditional, feudal Japan aesthetic. They strive to catch the atmosphere of a Ukiyo-e woodblock piece. This Japanese love hotel often hosts many alternative fashion events, alternative music and small food events on its homepage so be sure to check in every now and again to see if anything tickles your fancy.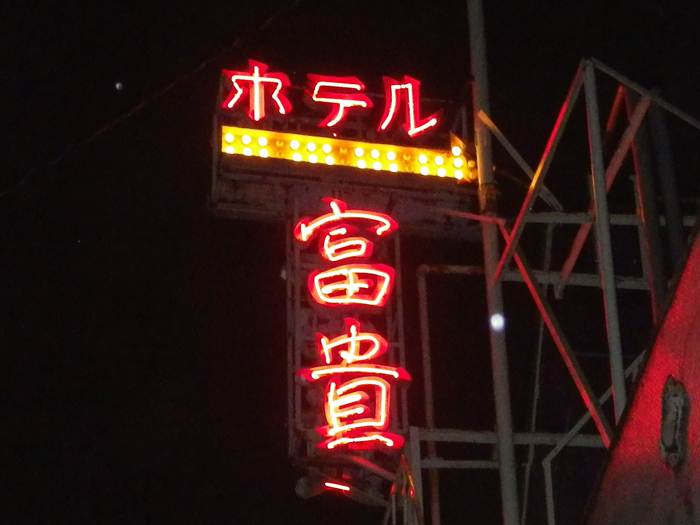 | | |
| --- | --- |
| Short Stay | Overnight |
| 1.5 hours ¥2,800 | ¥6,950 |
Address: Higashinoda-machi 3-7-11,Miyakojima-ku,Osaka
---
Book at door
Hotel Papion
The Hotel Papion has an eclectic mix of themed hotel rooms, ranging from European gardens to Las Vegas casino rooms. Perhaps tame for this list if not for the unique snack and amenities bar available in the lobby of this establishment. For homebodies, the added creature comforts this hotel provides during your stay will be your ideal gateway into the world of love hotels.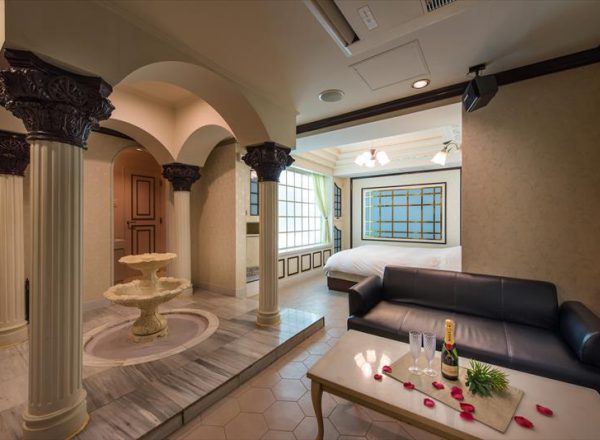 | | |
| --- | --- |
| Short stay | Overnight |
| ¥4,180 ~7,480 | ¥10,560 ~13,860 |
Address: 5-15-5 Nishi Nippori, Arakawa-ku, Tokyo 116-0013
---
Book here
Sky Paradise Rakuen
The most extravagant and my personal favorite, Sky Paradise Rakuen has some distinctly Disney's it's-a-small-world atmosphere. Overlook a detailed model city filled with lights from your private jacuzzi. The real city lights of Oita city can be seen over the fence that makes this love hotel a great, alternative hotspot for interesting photography.
Short stay

Overnight

2 hours

Weekdays

¥3,850 (5:00-1:00)

Sat, Sun, Holidays

¥4,730 (5:00-1:00)

4 hours

Weekdays

¥4,730 (5:00-1:00)

Sat, Sun, Holiday

¥5,610(5:00-1:00

Sunday-Thursday & Holidays

¥7,040

Sunday-Thursday & Holidays

¥5,800

Friday

¥8,140

Saturday and the day before holidays

¥10,780
Address: 2-3-15 Harakawa, Oita City, Oita Prefecture
---
Book at door
Hotel Brugge
This European-inspired love hotel is Japan's answer to the opulent palaces of the aristocracy. This hotel has also been on the silver screen, the new Kagurayama movie uses the hotel's decor in its feature. For those looking for a high-class experience, European style, this hotel is for you.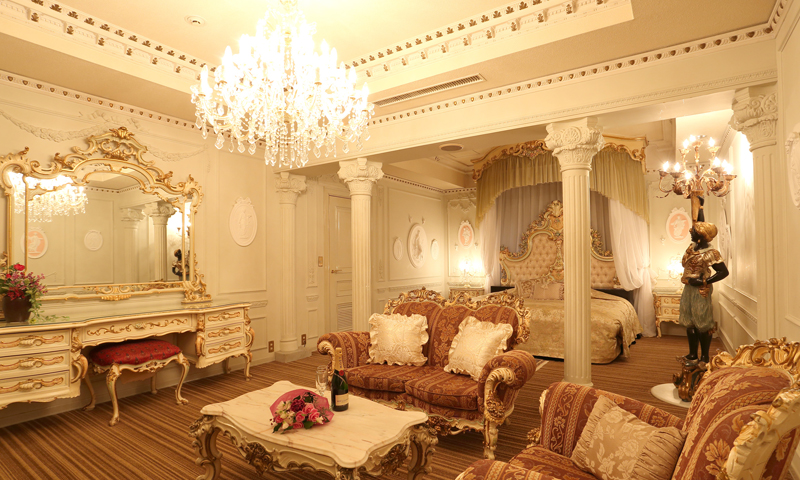 Short stay

Overnight

6 hours: ¥4,600 to ¥10,000

12 hours: ¥6,500 to ¥12,500

16 hours ¥7,500~ ¥14,000 (taxable)

Party

6 hours, 4 persons ¥13,000

12 hours, 4 people ¥18,000

16 hours 4 people ¥26,000

N/A
Address: 1555-1 Oota, Kashiwa-shi, Chiba
---
Book at door
Hotel Winbell
Fans of the Little Mermaid will appreciate the Hotel Winbell's clam bed interior with nautical light projections on the walls and a cozy underwater vibe. Definitely a must-see for any mermaid fans!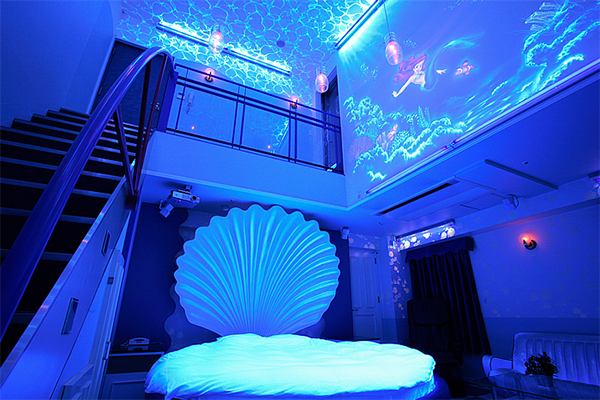 Short Stay

Overnight

3h

¥4,950-¥9,600

6h

¥6,900-¥13,800

¥9,000-¥22,500
Address: 4-2-15, Minatomachi, Hyogo-ku, Kobe 652-0812, Japan
---
Book at door
Hotel AMAN
Anybody who enjoys the black diamond aesthetic of clubs and bars, Hotel AMAN will not feel out of place in this more edgy accommodation. Oozing style and sexiness, a stay here will surely spice up your relationship.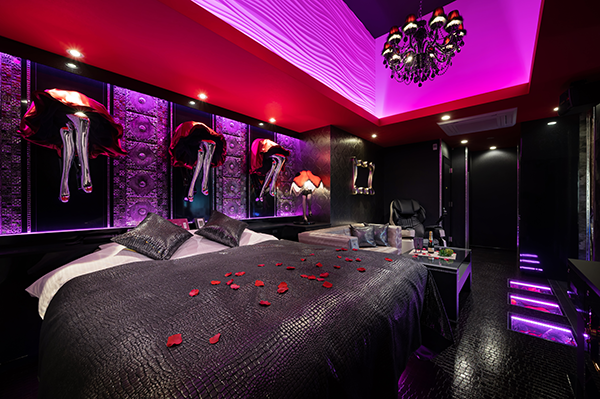 Stay

Overnight

Monday – Friday

¥7,400

Saturday, Sunday, holidays

¥7,900

Sunday – Thursday, Holidays

¥11,100 yen

Friday

¥13,900 yen

Saturday

¥15,400 yen
Address: 810-10 Tokomitsu-cho, Higashi-ku, Hamamatsu-shi, Shizuoka 431-3103
---
Book here or at the door
What every your tastes, Japan has room for just about anyone. Japanese love hotels continue to thrive and transform with new and bizarre concepts popping up all the time so stay tuned for when we cover more in the future.