Like nearby Roppongi, Shibuya is one of Tokyo's most popular spots for shopping, nightlife, and entertainment. While greater Shibuya includes luxurious and trendy districts such as Omotesando, Ebisu, and Harajuku, most people are referring to the intertwined streets and alleys surrounding Shibuya Station.
Landmarks include the busiest pedestrian crossing in the world, the stylish 109 department store, and Dogenzaka, a street lined with cheap izakaya, popular clubs, and a spot known for having one of Tokyo's highest concentration of love hotels—aptly nicknamed "Love Hotel Hill."
Love Hotel Hill is located just behind the 109 department store. While it's not exactly advertised, it's hard to miss all the signs advertising hotel rates. The area is also dotted with a few mainstays of Tokyo's sex industry, such as massage parlors, pink salons (blowjob bars), delivery health, and happening bars. It's something to keep in mind if you can't understand much Japanese and are considering investigating every building you see with an 18-or-up warning on the door.
Love hotels in Shibuya will vary in quality. The love hotels listed below are some of the best you can find based on price, cleanliness, amenities, and type of bath available.
TOKYO NIGHT OWL TIP
Love hotels offer two types of stay options. "Rest" (休憩 / Kyūkei) which lasts for 2-3 hours and "stay" (宿泊 / Shukuhaku) which is for an all-night lodging. Check-in times for most love hotels are much later than a standard hotel but vary between love hotels. Typically rooms are available from 8 pm or 10 pm.
1. Hotel Sulata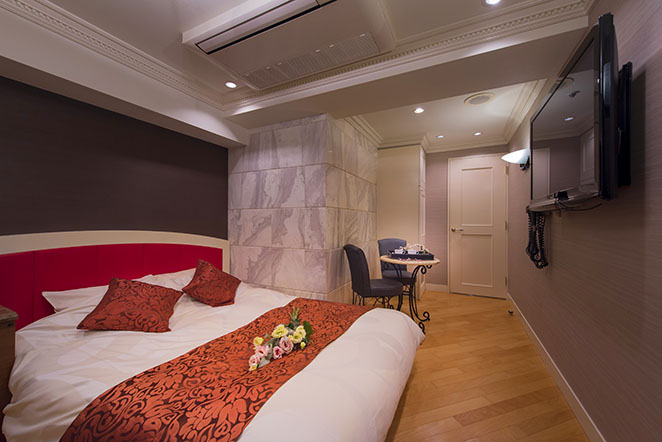 Hotel Sulata almost feels too nice to be on Love Hotel Hill. The modern and chic hotel comes with features you don't usually expect when checking into a love hotel, including a cafe, complimentary breakfast, and the occasional piano player in the lobby to set the atmosphere.
Rooms are contemporary, spacious, and feel luxurious, and even the cheaper rooms come with jacuzzi baths built with mood lighting. Whether you're a traveling couple looking for a step above your average business motel or looking to dazzle your date for a bit of nightcap, you won't be disappointed with Hotel Sulata.
Hotel Sulata even provides services in English, while some love hotels will refuse foreigners who don't understand Japanese. If you have a problem, you can use their translation service via video phone. The hotel is also LGBTQ-friendly and will welcome same-sex couples and guests.
Price
Rest: 3,500 Yen – 8,800 Yen
Stay: 9,800 Yen – 23,700 Yen
Location
Address: 2-2 Maruyamacho, Shibuya City, Tokyo 150-0044
Learn More: http://www.sulata.jp/shibuya/
2. Hotel Coco Bali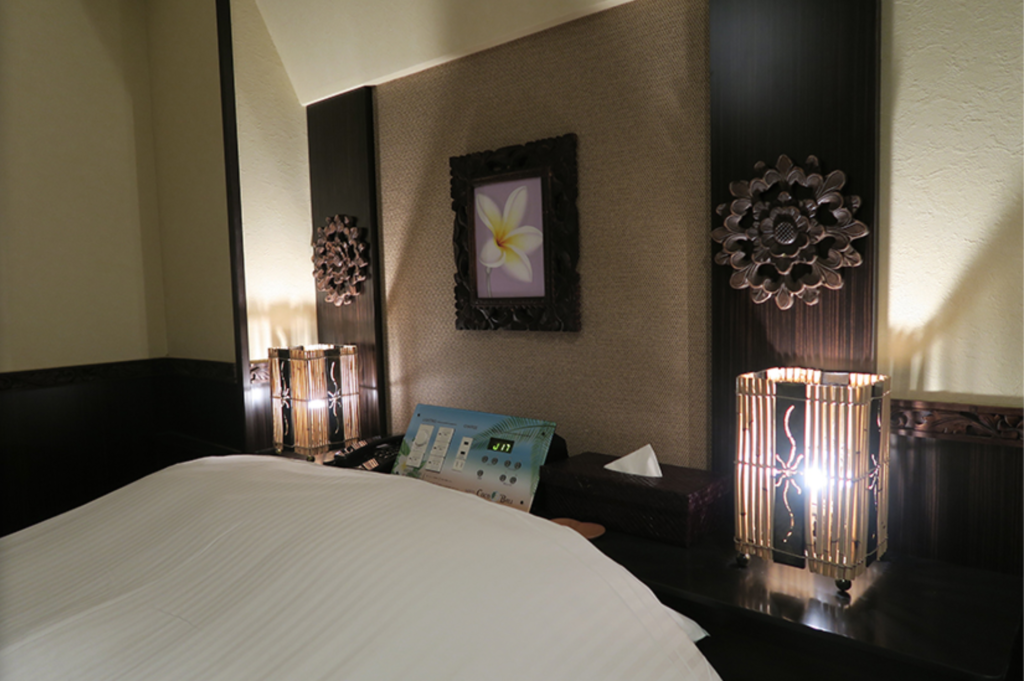 Hotel Coco Bali is a love hotel inspired by a Balinese resort—think jungles, Gamelan music, and animal sculptures. Unique features to this hotel are its "shampoo buffet" and complementary medicine. You can select your favorite shampoos or conditioner to take to your room or Bufferin or hangover medication if you need it.
It's a smaller hotel with only nine rooms, which are not particularly fancy but follow the Bali motif and come with free drinks. Rooms are neat and, most importantly, affordable, especially during the weekday. It's one of the cheaper hotels you can find without too much of a downgrade in quality.
Coco Bali is also LQBTQ friendly. However, one caveat is there is only one entrance. Most love hotels typically have two for visitor's discretion. If Coco Bali is full, you can also try Hotel Asia next door which has close to the same prices and motif.
Price
Rest: 3,000 Yen –4,600 Yen
Stay: 5,800 Yen – 9,800 Yen
Location
Address: 2 Chome-20-15 Dogenzaka, Shibuya City, Tokyo 150-0043
Learn More: http://hotel-cocobali.com/index.html
3. Hotel SK Plaza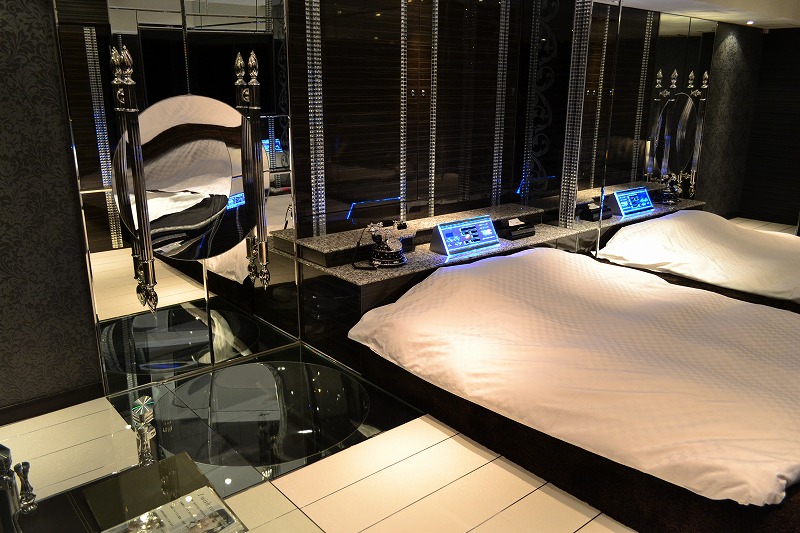 If you want to spend a bit of extra cash, whether to impress your partner or experience the affluent side of love hotels, look no further than the Hotel SK Plaza. This massive love hotel comes with 83 rooms, many with their own unique stylized looks.
The stylish mirror rooms come with comfy round beds and mirrored walls and ceilings (for those who love to see themselves during the action). There's the aquatic room with acrylic walls and large indoor pool with colorful lighting. While the modern gothic rooms have the perfect aesthetic for BDSM fans.
A huge costume rental shop is located in the lobby if you're looking for a bit of kinky fun, and you can even rent the pool room with six people shoots. There is also a ladies-only plan with activities like karaoke if you're looking for a girl's night out.
Price
Rest: 7,970 Yen – 23,630 Yen
Stay: 9,590 Yen – 27,950 Yen
Location
Address: 1 Chome-17-9 Dogenzaka, Shibuya City, Tokyo 150-0043
Learn More: http://www.hotel-guide.jp/shop/sk-plaza1/
4. Villa Giulia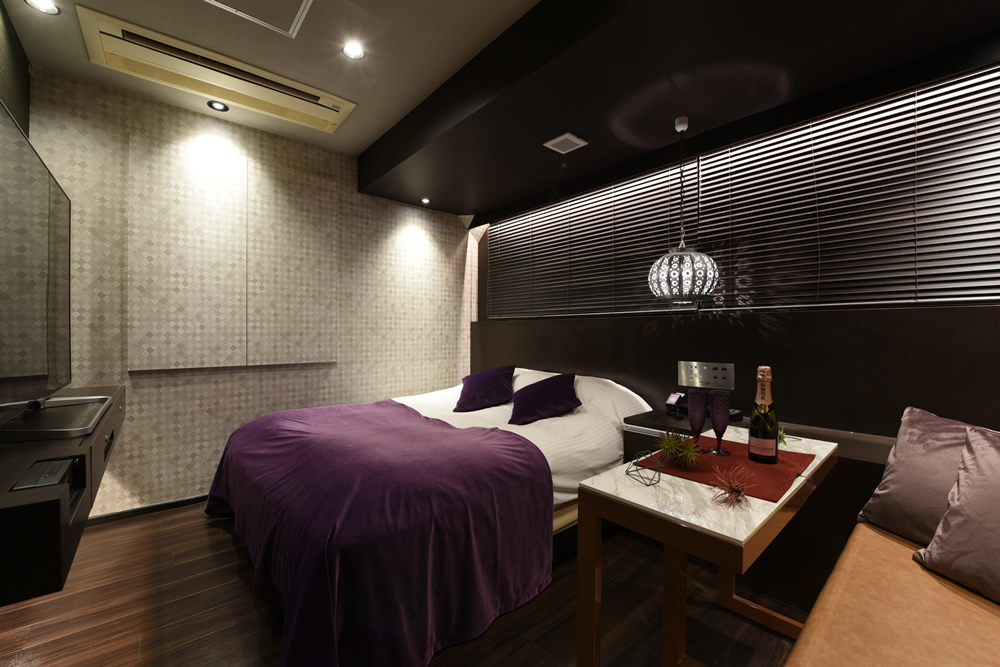 Villa Giulia is another luxury-style love hotel. There are only 18 rooms available, so they fill up quickly. Although the building's exterior might remind you of an Italian restaurant, rooms are ultra-modern, featuring fancy curtains, decorated walls, and warm colors. Each room comes with a whirlpool bath and bath salts, mood lighting, and a sound system.
Price
Rest: 7,700 Yen – 12,100 Yen
Stay: 11,000 Yen – 23,650 Yen
Location
Address: 2 Chome-27-8 Dogenzaka, Shibuya City, Tokyo 150-0043
Learn More: https://lvg.tokyo/v-giulia/
5. Hotel Paris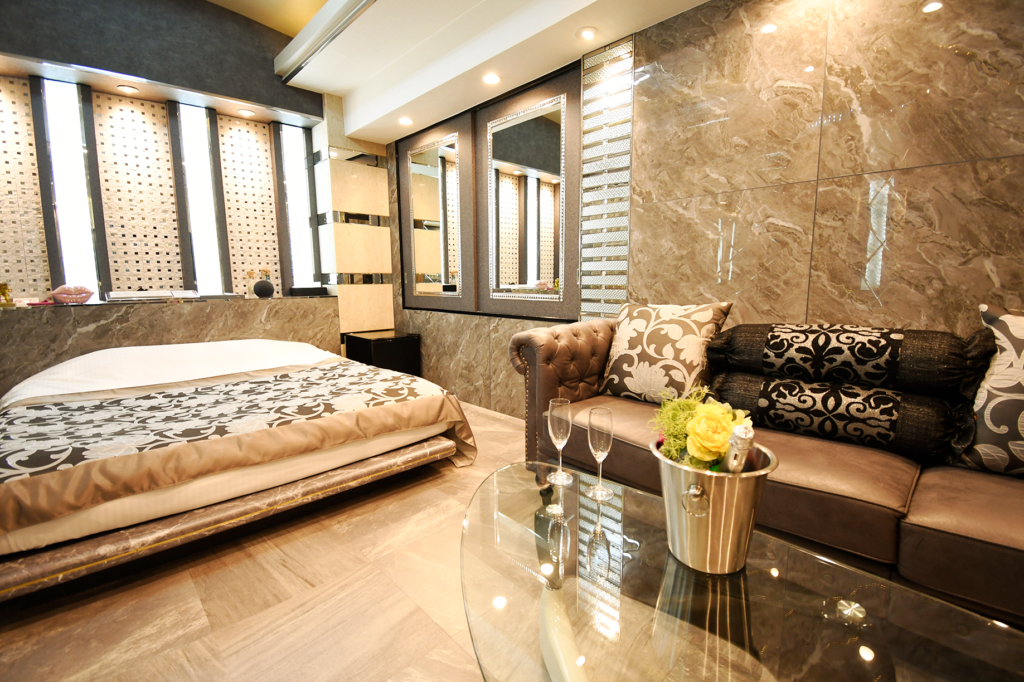 Hotel Paris is one of the more popular "boutique" love hotels in Shibuya. There are 26 rooms. While some are designed to look modern or romantic, others could be described as cute or even bizarre, such as the room featuring phallic mushroom creatures on the wall or the all-blue room featuring a giant moon painted on the wall.
The most popular rooms are equipped with open-air baths. You and your partner can pop open a bottle of champagne and toast the Shibuya night sky. Some rooms are equipped with karaoke.
Price
Rest: 4,300 Yen – 12,700 Yen
Stay: 7,000 Yen – 17,900 Yen
Location
Address: 2 Chome-26-2 Dogenzaka, Shibuya City, Tokyo 150-0043
Learn More: http://paris-h.jp
---
Do you know a better love hotels in Shibuya? Let us know in the comments!