The fall season is here, and if you happen to be in Tokyo this time around – consider yourself lucky, as it's a season that brings out the beautiful colors of Japan's busy capital.
From kōyō (autumn foliage) to delicious cuisines, stunning illuminations to hot springs, autumn in Tokyo is no less than a vibrant festival that will fill your soul with pleasures.
If you are wondering about what are the best things to do in Tokyo this fall, you've landed at the right place, as we've prepared a quick guide to ensure you don't miss out on the best attractions that autumn has in store for you.
1. Fall Foliage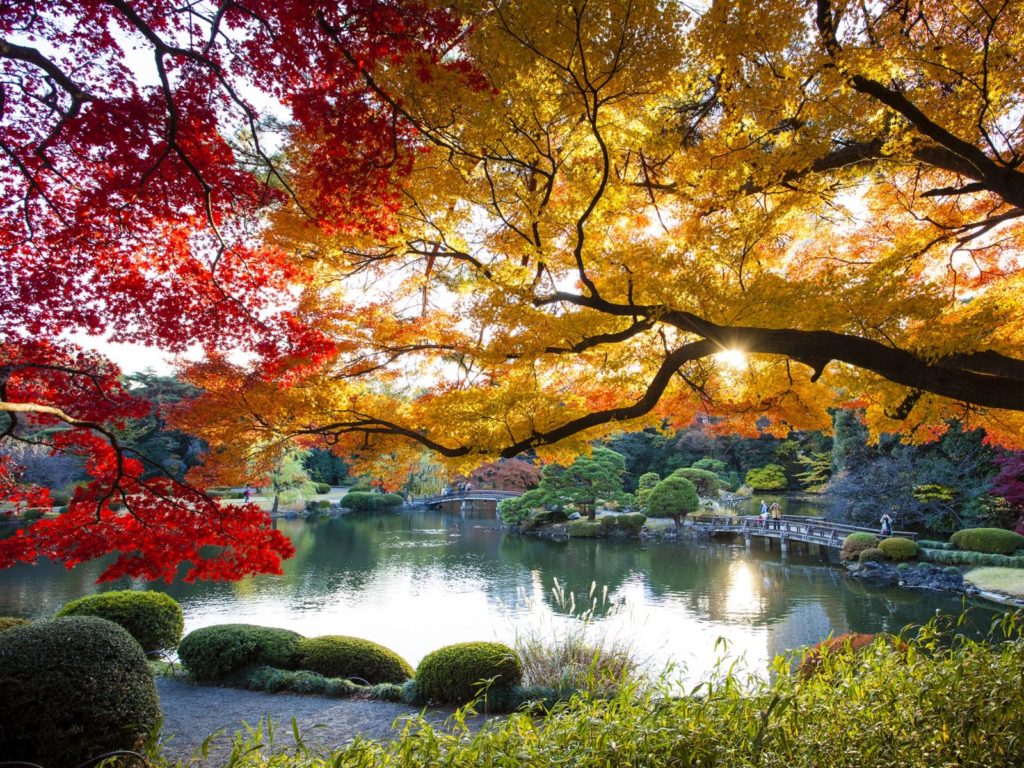 It's the best time of the year to see the colorful autumn leaves that turn into beautiful shades of red, yellow, and orange all around Tokyo. You can visit gardens like Rikugi-en, Icho Namiki Avenue, Koishikawa Korakuen Garden, and Yoyogi Park that not only serve as beautiful spots for admiring the fall foliage but also as a stunning backdrop that will make your Instagram pictures pop.
If you are looking forward to enjoying a quick getaway in the lap of nature, you can head to Mt. Takao or Okutama that can be accessed easily by train and are the perfect hiking spots for nature lovers.
2. Autumn Foods
There's a very popular saying in Japan that goes "shokuyoku no aki" which means 'autumn is the season for eating'. And this is why you will find the best seasonal foods this time of the year in Tokyo that will unleash your inner foodie.
Autumn delicacies that you can enjoy this season include many fruits and foods like Nashi (Asian pear), Kaki (Persimmon), Kuri (chestnuts), Yaki-imo (roasted sweet potato), Kabocha (pumpkin), and Matsutake mushrooms.
For a mouth-watering food experience this fall, go for a hearty meal consisting of Sanma (pacific saury fish) – that's best enjoyed grilled with a little salt, Oden (a soy-flavored dashi soup), and rice at any izakaya near you.
3. Try the Autumn special drinks
Whether you are a sake fan or a coffee lover, you would get endless options of drinks that are filled with flavors of autumn in Tokyo.
Keep your eye out for the seasonal flavors like the Chocolate Marron Latte at Starbucks that's made with real whole chestnuts, Konpeito Kinako Caramel Latte at Tully's Coffee having a rich taste of salty caramel, and Soy caffe latte at Doutor that has a delicious flavor of soybean.
For sake lovers, you must check out hiyaoroshi and akiagari, which is the traditional autumn's sake to enjoy during the cool weather.
4. Chestnut Picking
Fall in Japan is incomplete without going for an ultimate chestnut picking escapade at one of the many farms just outside Tokyo. While you can enjoy many chestnut-flavored delicacies throughout the autumn season, nothing beats the experience of visiting a farm and picking fresh chestnuts with your friends or family.
You can check out Tanaka vineyard which is only 1.5hours away from Tokyo by train and is open till October for grapes and chestnut picking.
5. Tori-no-ichi
Tori-no-ichi (days of the rooster), an annual festival that dates back to the Edo era, has been an important part of the Japanese culture. Observed on set days of November to pray for good fortune and prosperity in business, the festivities for the same are held at many shrines and temples in Tokyo.
You can take part in this late fall event this year at Chokokuji Temple and Otori Shrine in Asakusa on 2nd/14th/28th November and enjoy the vibrant celebrations that include hand-clapping ceremonies, bamboo rakes, and Shinto music.
6. Meiji Jingu Gaien Ginkgo Festival
Meiji Jingu Gaien Ginkgo Festival is celebrated every year from mid-November to early-December at the Meiji Jingu Gaien which is famous for its 150 stunning Ginkgo trees that line up for about 300m in two parallel lanes which is a sight to behold.
After you are done watching the breathtaking yellow foliage, you can visit the festival area where you can enjoy delicious foods and shop for souvenirs and handmade items.
7. Have a moon-viewing party
If you couldn't enjoy hanami (cherry blossom viewing) this year, there's still time to make up for it with tsukimi ie. moon viewing. Tsukimi has been a popular Japanese custom that involves offering gratitude to the gods for freshly harvested rice.
You can enjoy this tradition by having a moon-viewing party with your loved ones and savoring autumn treats like Tsukimi-dango – rice dumplings that represent the full moon or Tsukimi-udon – noodles topped with a bright yellow egg yolk.
Many moon-viewing events are also held at places like Tokyo Skytree, Tokyo Tower, and Mukojima-Hyakkaen Garden.
8. Bike tours
With the weather finally turning pleasant, it's the best time to hit the roads on your bicycle and check out the picturesque locations of Tokyo.
Whether you want to check out the colorful autumn leaves or spend your time ticking off places from your travel bucket list, cycling on the clean and calm roads of Tokyo has its own charm. If you don't own a bicycle, you can easily rent one from any of the popular bike-share systems in Tokyo like the Docomo Cycle or Rin Project.
9. Early Winter Illuminations
Nothing beats the view of Tokyo beautifully-lit like a Christmas tree during winter. While December is the perfect month to see the stunning winter illuminations, many Tokyo attractions kick off the celebrations by mid-November.
Also, it's the perfect time to avoid the crowd and enjoy the sparkling decorations in peace at places like Caretta Shiodome, Marunouchi, Roppongi Hills, and Yebisu Garden Place.
10. Enjoy an onsen bath
There's nothing like a natural hot spring bath to beat the cool weather and rejuvenate yourself. You don't even have to rush to spa towns anymore for a relaxing onsen bath as many hot-spring baths within Tokyo can meet your lifestyle and budget.
Take your pick from a wide range of onsen like Toshimaen Niwa no Yu, Fuku no Yu, Myojin no Yu, and Oedo Onsen Monogatari that offer many facilities and are easily accessible.
---
So, what all would you be checking out this year from this Tokyo fall things-to-do list? Don't forget to follow the social distancing protocols while you enjoy the autumn attractions.