Cheap Tokyo hotels aren't off the grid, even in one of the world's most notoriously expensive cities. What sets the capital city of Japan apart is that you can have it all – art, design, safety, cleanliness, and a great location: a vacation to japan without having to break a bank. Affordable enough to leave ample wriggle room for sightseeing, bar-hopping, shopping, must-do restaurants, and all the one-of-a-kind Tokyo things while staying in any of these budget-friendly accommodations.
Below are 12 fantastically Cheap Tokyo Hotels with discounted booking links for quick and easy bookings.
Cheap Hotels in Shibuya
The Millennials Shibuya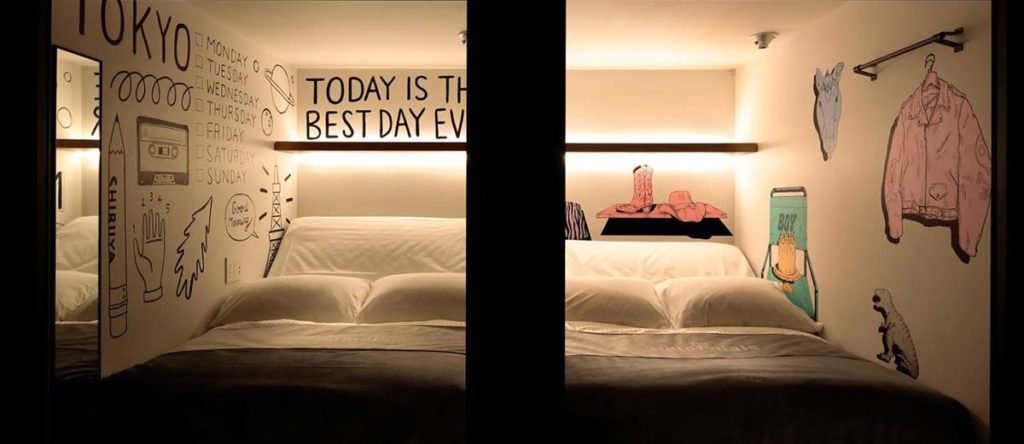 As the name suggests, this swanky cheap Tokyo hotel is right in the middle of the eclectic neighborhood of Shibuya. Check-in and unwind with the 24 hours free coffee while you take in the tasteful wall illustrations. A well-integrated space that offers a coworking lounge, stylish pod-style accommodation, complimentary breakfast, and free beer daily during happy hours – are reasons alone to book this hotel. A flat 5-minute walk to the Shibuya station or Hachiko statue for when you are ready to venture towards the other areas of Tokyo.
Starting from: 4,200 Yen
Address: 1 Chome-20-13 Jinnan, Shibuya City, Tokyo 150-0041
Almond Hostel and Café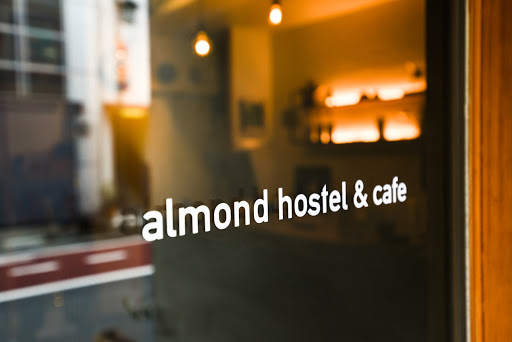 If you are a fan of a no-fuss, value-for-money place to bunk in a central Shibuya location, this is your address in Tokyo. A mixed-gender hostel which even offers all-female dorms for single lady travelers and a laid-back café for a quick bite or a green tea latte. Breakfast isn't available, but that's not a problem; being Shibuya, a high concentration of eateries surround the hostel area. A 2-minute walk from either the Yoyogi-Koen station or Yoyogi-Hachiman station.
Starting Price: 1,380 Yen
Address: 1-7 Motoyoyogichō, Shibuya City, Tokyo 151-0062
Hotel Koe Tokyo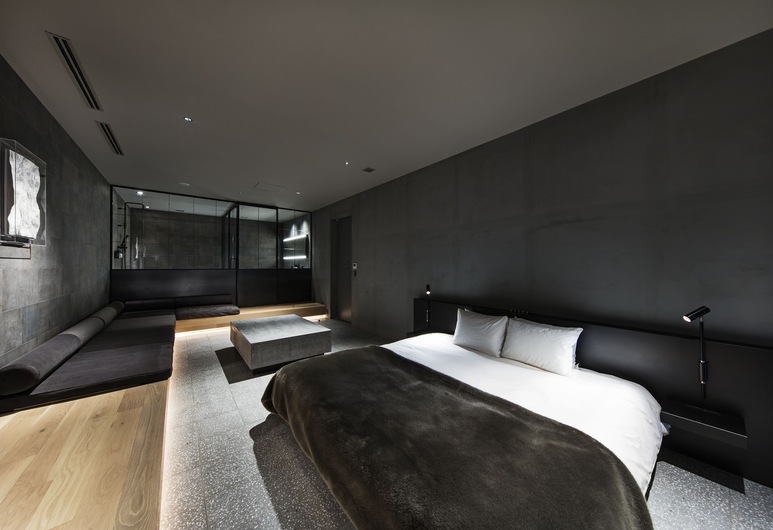 Walk across the Shibuya crossing and check into this industrial design art depot inspired hotel Koe. Thoroughly modern, with a raw wooden appeal, contemporary granite chunks, everything in a cool palette of gray and navy. The first-floor all-day café-cum-restaurant's menu selections are definitely of the moment. In it, you'll find Cherry blossom smoked potato salad, Tasmanian salmon and avocado yukhoe (tartare), a heady mix of whiskey highballs, matcha, fresh drip coffee, and everything from açaí to kale smoothies. These plush rooms come with a breakfast refresh plan for a perfect start to the day. A 5-minute walk from the Shibuya train station; this sleek hotel is at the heart of the Shibuya nightlife.
Starting price: 16,100 Yen
Address: 3F, 3-7 Udagawacho, Shibuya City, Tokyo 150-0042
Cheap Hotels in Shinjuku
The Global Hotel Tokyo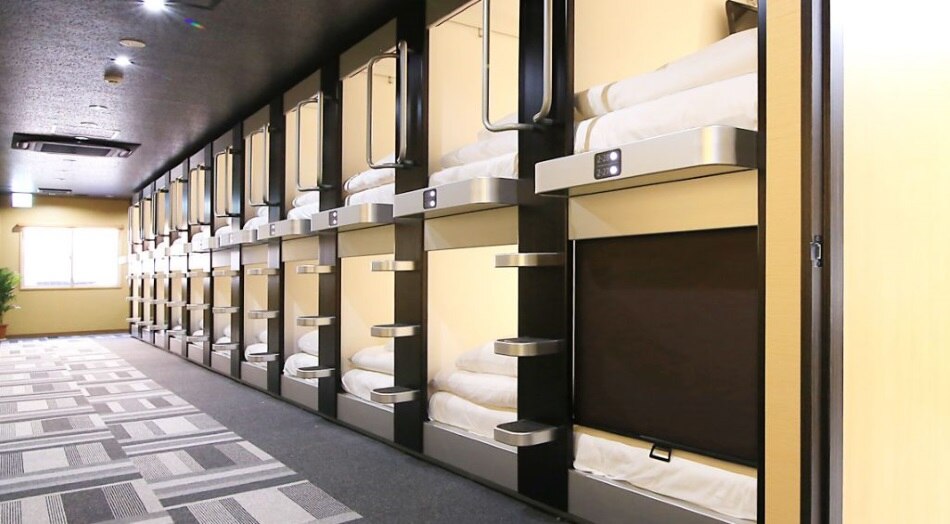 If sleeping for 8 hours straight is your definition of luxury after a busy night in Shinjuku: this bunk style accommodation is a quick fix. The minimalistic single-sex dorms are a neat upgrade to privacy. Comfortable, clean capsules, breakfast not included currently due to COVID-19, a rooftop terrace, a 24 hr front-desk which speaks English, Japanese and Korean. Attempting to impress – the VIP rooms come with personal space and a work desk, a nice touch for a family wanting to bunk. A 5-minute stroll to Korea town or get to the nearest subway Shin-Okubo station in about the same time.
Starting price: 2,146 Yen
Address: 1 Chome-8-17 Hyakunincho, Shinjuku City, Tokyo 169-0073
Books and Bed Tokyo Shinjuku
This Hostel chain coined the word "Accommodation bookstore," an apt way to describe the concept of sleeping amongst thousands of books and dozing-off while reading them – a reader's haven where dreamers come to read, dream and sleep. This enhanced sleeping experience hostels are available in 3 locations around Tokyo: Ikebukuro, Shinjuku, and Asakusa.
They offer single and double-bunking options, a café and a lounge area with a library sized collection of more than 2,500 books alongside plenty of books in English and Japan travel guides. If this seems like too much geek action, always remember that Golden-Gai is barely a 6-minute walk and Shinjuku station about the same distance.
Starting Price: Single Rooms 5,000 Yen
Address: 〒160-0021 Tokyo, Shinjuku City, Kabukicho, 1 Chome−27−5 APM Building 8F
Cheap Hotels in Akihabara
Hotel Mystays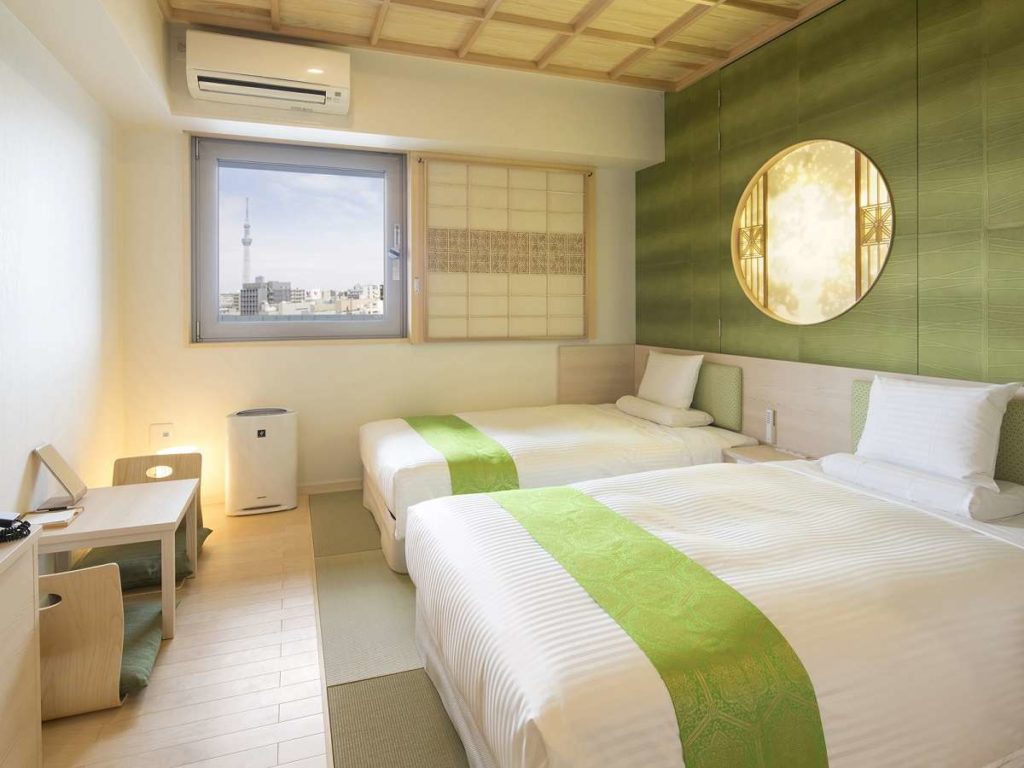 Looking to set up a base closer to the anime kingdom of Tokyo – Akihabara district is definitely where the cool kid's hang. At the bargain price of a capsule, Hotel Mystays offers the comfort of a private room, and for a panoramic view of Tokyo Skytree, treat yourself to a superior room. For when you step out, this diverse area in Tokyo has within walking distance – Old shrines, wholesale stores, traditional culinary delights, Japanese doll shops and an indoor sumo wrestling arena with an attached museum. Ideally located within a 12- minute walk to the Akihabara station or 2-minute walking to Asakusabashi Station.
Starting price: 4,100 Yen
Address: 1 Chome-5-5 Asakusabashi, Taito City, Tokyo 111-0053
Cheap Luxury Hotels
Hotel Monterey Ginza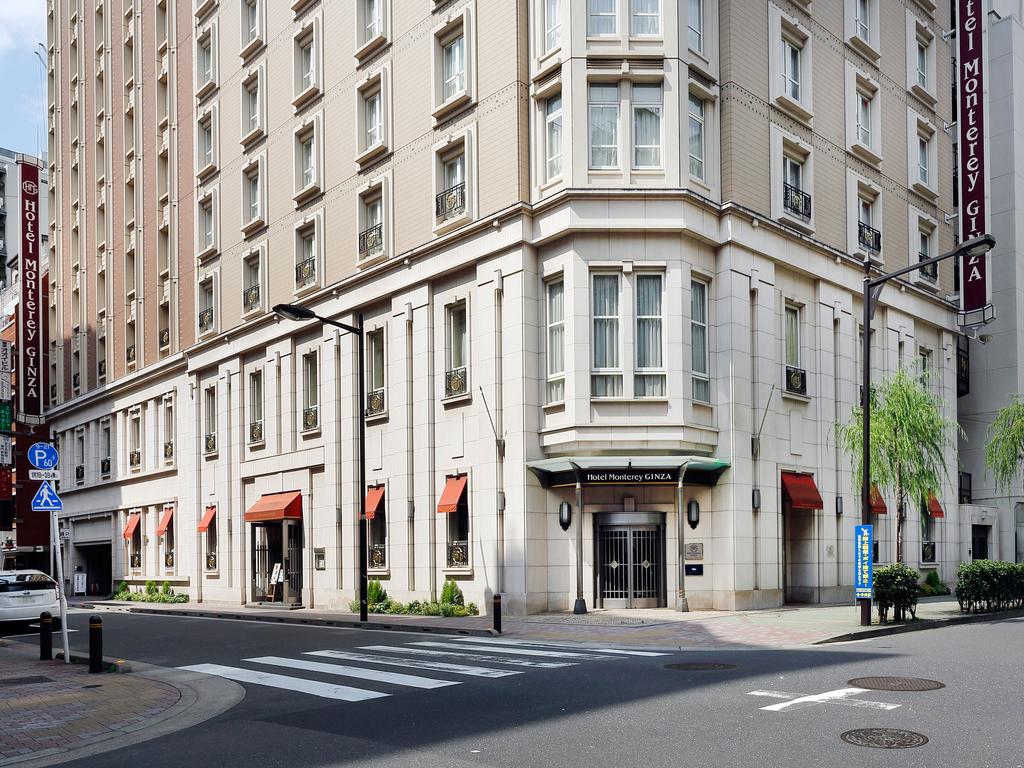 A pocket-friendly hotel in the posh upmarket neighborhood of Ginza is more likely than not to be a prank. Here Hotel Monterey Ginza is a welcome surprise to the list offering sophisticated French panache and grandeur featuring – flat screens TVs, minibar, in-room desk, tea/coffee amenities, a French restaurant, a chapel, and a breakfast buffet spread. Apart from dictating the high-end shopping and prestige wear scene, this elitist area is frequently visited by the artsy history-seekers for its Kabukiza theater and the police museum. A quick 2-minute walk to the Ginza-Itchome metro station from the hotel.
Starting price: 4,959 Yen
Address: 2 Chome-10-2 Ginza, Chuo City, Tokyo 104-0061
Cheap Brand Hotels
Moxy Tokyo Kinshicho (part of Marriott Hotels portfolio)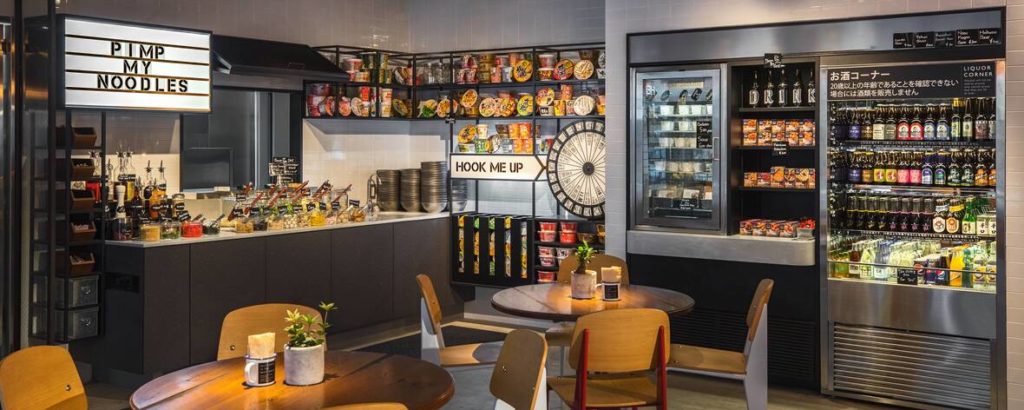 This upscale boutique brand by Marriott comes at a forgiving price with all the frills: 50-inch Tv, walk-in showers, live noodle station, deli, foosball table, a library, gym and plenty of lounging space for when looking to make a conversation and a dance floor. An easy 10-minute walk to get to Kinshicho station and well connected to Asakusa.
Starting Price: 11,500 Yen
Address: Tokyo, 3 Chome-4-2 Kotobashi, Sumida City, Tokyo 130-0022
Love Hotels On A Budget
Love hotels initially intended for couples looking to get some privacy. Still, more recently, they have become a popular lodging option among travelers due to their quirky interiors, spacious format, and cheap rates.
Hotel Atlas
Located in the night-entertainment district of Kabukicho, Hotel Atlas is a foreigner-friendly love hotel. Spacious rooms, reasonably priced equipped with karaoke machines, BluRay/DVD player, but what makes this love hotel stand out is that it does not impose any rules on guest combinations. This LGBTQ pro hotel welcomes same-sex couples, heterosexual couples, groups of 3 or more aren't turned away either. Room service for if you get hungry or thirsty, marbled washrooms, bath and grooming amenities, and bathtub with artificial hot spring water in each room giving the feel of an onsen. An ideal location for a bachelorette party or a girl's night out located about 10-minutes on foot from Shinjuku Station.
Starting price: 13,800 Yen
Address: 160-0021 Tokyo-to, Shinjuku-ku, Kabukicho 2-12-9, Japan
Hotel Balian Resort Kinshicho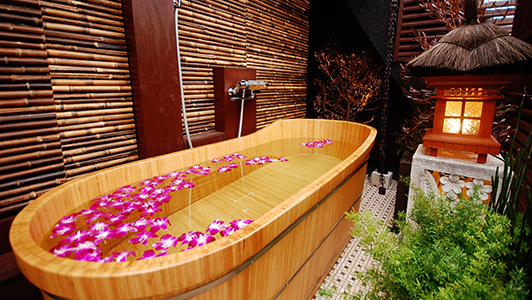 This Bali themed love hotel offers a tropical oasis in the middle of a bustling city. The bed canopies are reminiscent of the sheer white drapes on a chic beach club while the public area with hay thatched roofs draw a striking resemblance to a traditional Balinese village. Extensive use of jute, wooden carvings, and cane all boast of mirroring a room dotted around a quite paddy field in Ubud. Indulge in the room service, play pool, or used one of the massage chairs from the lounge. An affordable option for couples to relax, some rooms offer an outdoor tub and an inside jacuzzi and sauna. The closest station being Kinshicho at a 10 minutes walking distance.
Starting price: 13,600 Yen
Address: 2 Chome-2-12 Kotobashi, Sumida City, Tokyo 130-0022
Website:https://www.balian.jp/shop/kinshicho
Cheap Hotels for Single-Lady Traveller
9h Kanda – Woman Only
This Uber-cool capsule chain has gained a kind of cult status among the travelers for its futuristic design, where the ambiance on entry feels like you're onboarding a spaceship. Each capsule, according to (9h ) hotel, contains a "sleep ambient control system," which supports our daily rhythm and light – the light essentially slowly activates and mimics sunrise within the pod. The promise of a great night's sleep, a yukata (light cotton robe like), slippers, bathroom amenities, private shower cubicles, competitive rates, and under a 5-minute walk to the closest subway (Kanda station) make a compelling case. This minimalistic women-only capsule hotel chain located in Kanda has quite a few branches in Tokyo – Narita airport, Shinjuku-North, Otemachi-Imperial Palace, Akasaka, Kamata, Asakusa, Suidobashi, Hamamatsucho, and Hanzomon.
Starting price: 2,300 Yen
Address: 2 Chome-9-4 Kajicho, Chiyoda City, Tokyo 101-0044
Cheap Ryokans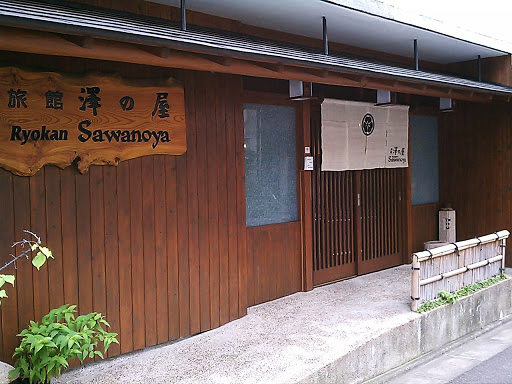 Ryokan Sawanoya
For a trip back in time, stay in this ryokan in Shitamachi, which just celebrated its 70th anniversary, especially if you are an old soul looking to capture the quieter traditional parts of Tokyo. The charm of experiencing life with a local family on vacation is as authentic as it gets. Travel like a pro: sleep on a futon and sip your morning matcha from a chabudai dining table in a family-run preserved Ryokan dating back to 1949. Seven minutes on foot is the closest subway station and about 4 km from the Senso-Ji, the landmark Buddhist temple founded in 628 CE.
Starting Price: 3,630 Yen
Address: 2 Chome-3-番11号 Yanaka, Taito City, Tokyo 110-0001
Website: http://www.sawanoya.com/eigo.html
---
Do you have a suggestion for a cheap hotel or capsule hotel? Let us know in the comments below!