Halloween is right around the corner, and Tokyo's nightclubs are gearing up for one of the biggest nights of the year.
Over the past ten years, Tokyo has seen a dramatic growth in interest for Halloween. Halloween candy is now available at most grocery stores, department buildings decorate with jack-o-lanterns, and families celebrate from home (now commonly referred to now as HaroPa ハロパ). More famous are the wildly huge Halloween street parties that have been receiving international mass media attention year after year (for better or worse).

2019 is gearing up to be even bigger with more Halloween parties, costume contests, and outrageous Shibuya street parties.
To help our fellow Tokyo Night Owls, we have put together a list of the Best Halloween Parties of 2019. Before heading out, here are some useful Tokyo Night Owl tips:
Nightclubs have

ghoulishly

long lines. To avoid this, we recommend arriving at the club no later than 11 pm.
Buy your costume beforehand. You don't want to be stuck wearing a Pikachu snuggie. The Mega Donkey Hotte in Shibuya and Roppongi have a wide selection of Halloween costumes. Also, Amazon.jp has dozens of options with next day shipping. Be warned though, Halloween costumes in Japan are typically overpriced.
Pre-funk. Lines at the bar on Halloween can be hellish. Get the party started with some conbini 9% chu his or a canned hi-ball.
Avoid the Roppongi dumps. There are loads of small bars masquerading as nightclubs in Roppongi. And during Halloween, with the long lines for the hot nightclubs, you may be inclined to hit these places up. Don't! They will be packed, sleazy, and possibly dangerous.
Arrived dressed up and ready to party. It may seem odd to wear a costume on a train, but in Tokyo, its commonplace during Halloween. Nothing worse than having to find a corner or bathroom in Shibuya where you can get into costume.
Be cautious in Shibuya It may seem odd to wear a costume on a train, but in Tokyo, its commonplace during Halloween. Nothing worse than having to find a corner or bathroom in Shibuya where you can get into costume.
Bonus tip for the fellas:
Skip the scary or bloody makeup, and stick to cute costumes. Japanese girls will be more inclined to chat up a handsome Mario than a decomposing zombie.
Bonus Tip: Halloween Discounts
Get 15% off on all your favorite clubs in Tokyo like Womb, Warp Shinjuku, Camelot, and Sel Octagon.
Use the promo code for your party needs during Halloween week, limited time offer, 10/25th ~10/31st, maximum ¥5000 off!
FunNow is Asia's Number 1 ON-DEMAND booking platform, reserve clubs, restaurants, tickets, experiences, transportations throughout Tokyo, Okinawa, Taiwan, Hong Kong, Malaysia, and many more cities to come. Book anything in just fraction of a second, no worries, no fuss!
Join NOW and let's get this crazy Halloween night started!
Learn more about this Halloween promotion at the link: https://event.myfunnow.com/tokyohalloween
---
TOKYO'S BEST HALLOWEEN PARTIES
1. ageHa Halloween 2019: Road to Olympia
When: October 26th, 9 pm – 5:30 am
Where: ageHa, Shinkiba
Tickets: 2,800 Yen (sale ends October 25th)
Door: 4,000 Yen
Event Details: https://www.agehalloween.com/
ageHa's Halloween events are legendary! Because of the nightclub's size, it is easy to enjoy several different dance floors, with plenty of space to move around. This year's Halloween party will feature an Olympics theme encouraging guests to dress up in haunted sports costumes.
Tokyo Night Owl Tip:
Grab pre-sale tickets for guaranteed entry. And don't forget your photo IDs! The security are notoriously strict, and it would be a nightmare being denied entry into ageHa and stuck in Shinkiba after the last trains finish.
Buy Tickets
2. Club Camelot Halloween
When: October 25th – 31st 9pm – 5am
Where: Camelot, Shibuya
How Much: Men 3,500 Yen +1 Drink and Women 1,500 Yen + 1 Drink. Wear a costume for special discounts.
Event Details: http://www.clubcamelot.jp/event_content.php?id=1496
All of Tokyo's disco clubs will hold Halloween parties, but only Camelot is the most welcoming for international travelers! The nightclub will have Halloween decorations, loads of guest DJs, cute girls, and several photo booths.
Tokyo Night Owl Tip:
Book a VIP table, and avoid having to wait in line to order drinks. ENVYME.jp has several tables available for booking at Camelot starting at 60,000 Yen for four guests.
3. WARP Halloween: Ancient to Future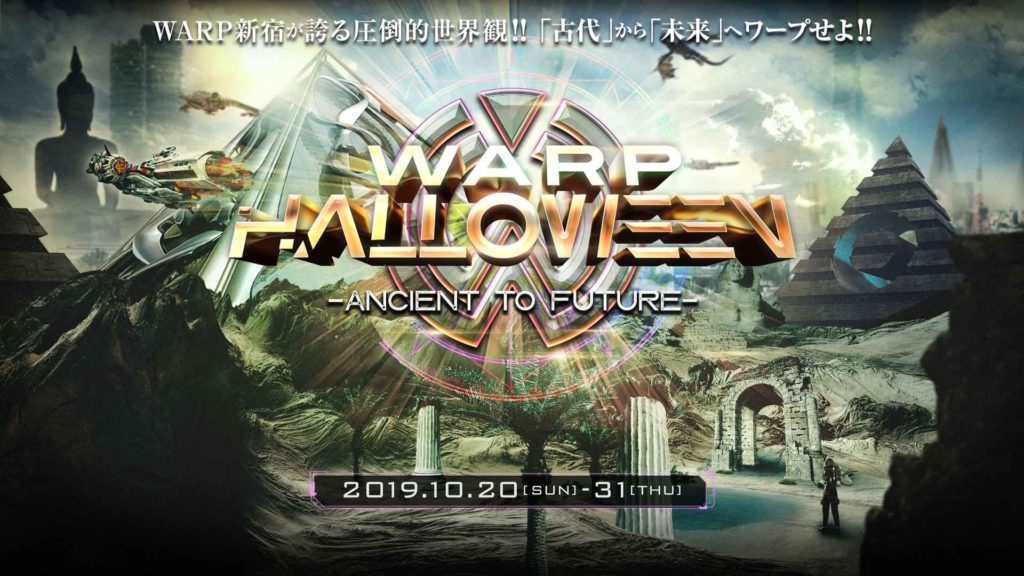 When: October 20th – 31st 7pm – 4:30am
Where: Warp, Shinjuku
How Much: Men: 3000 Yen with 1 free drink and Women: Free with 1 free drink
Event Details: https://warp-shinjuku.jp/warphalloween_20191020_31/
Shinjuku's hottest new nightclub located at the heart of the redlight district will host Halloween party every night from October 20th to 31st. WARP Shinjuku has made an explosive entry to Tokyo's nightclub scene with some of the biggest parties in town, and they are promising to make this year's Halloween special.
Tokyo Night Owl Tip:
Warp is running a Costume Campaign from October 20th to 31st. Ladies who wear a costume will Free Entrance (10/20-24 & 10/27-30) and 700 Yen Entrance with 2 Free drink tickets. For the fellas, wear a costume and receive one free drink ticket.
4. CYBERJAPAN ✕ BIG HALLOWEEN PARTY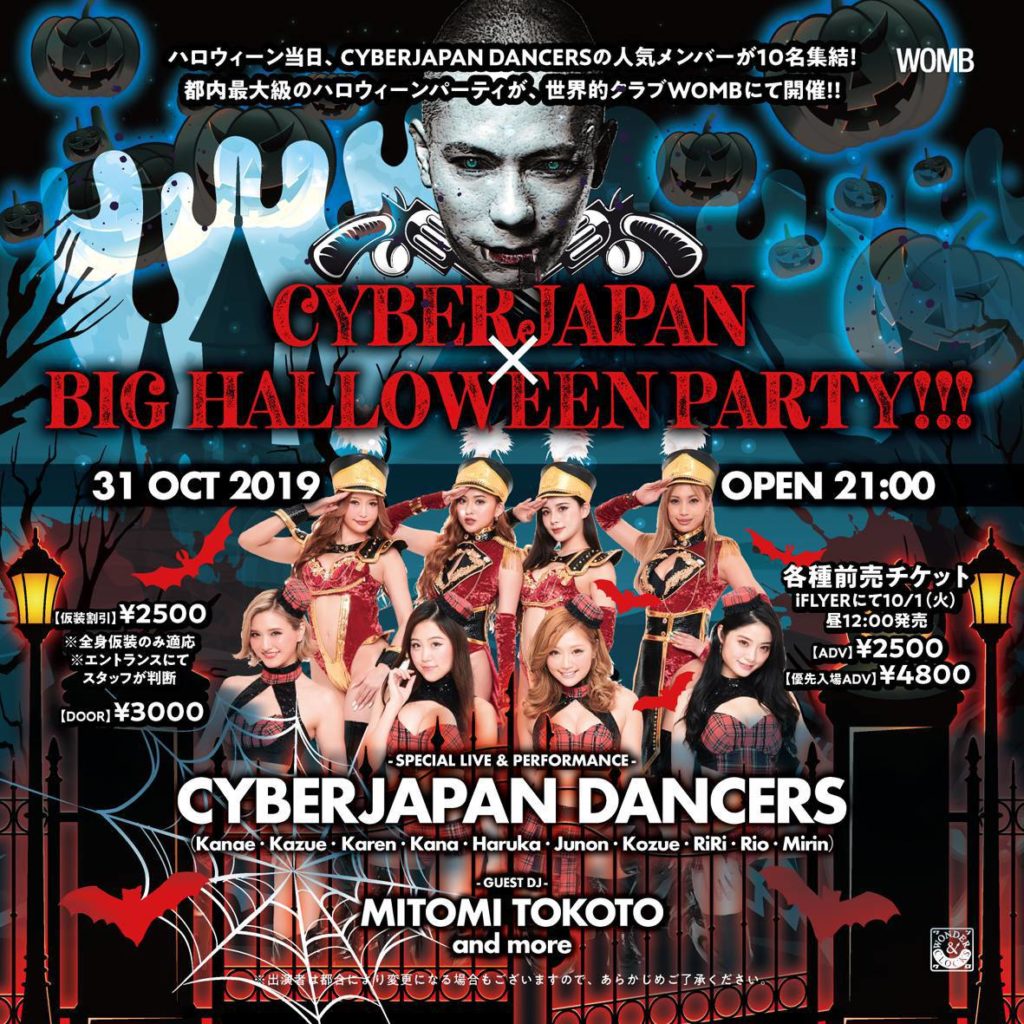 When: October 31st 9 pm – 5 am
Where: WOMB, Shibuya
Tickets: 2,500 Yen and Fast Pass Tickets (Skip the line) 4,800 Yen
Event Details: https://www.facebook.com/events/316355422455623
The Japanese Idol dance group known as the Cyberjapan Dancers are taking over WOMB for a devilishly sexy Halloween fright fest. If you enjoy gazing at gorgeous Japanese women pulsating to the beat in Japan's most famous nightclub, this party is for you!
Tokyo Night Owl Tip:
Cyberjapan parties are popular! Expect loads of fans and potentially lots of men. We suggest arriving early or purchasing a fast pass ticket.
5. Whistlebump Halloween: Secret Disco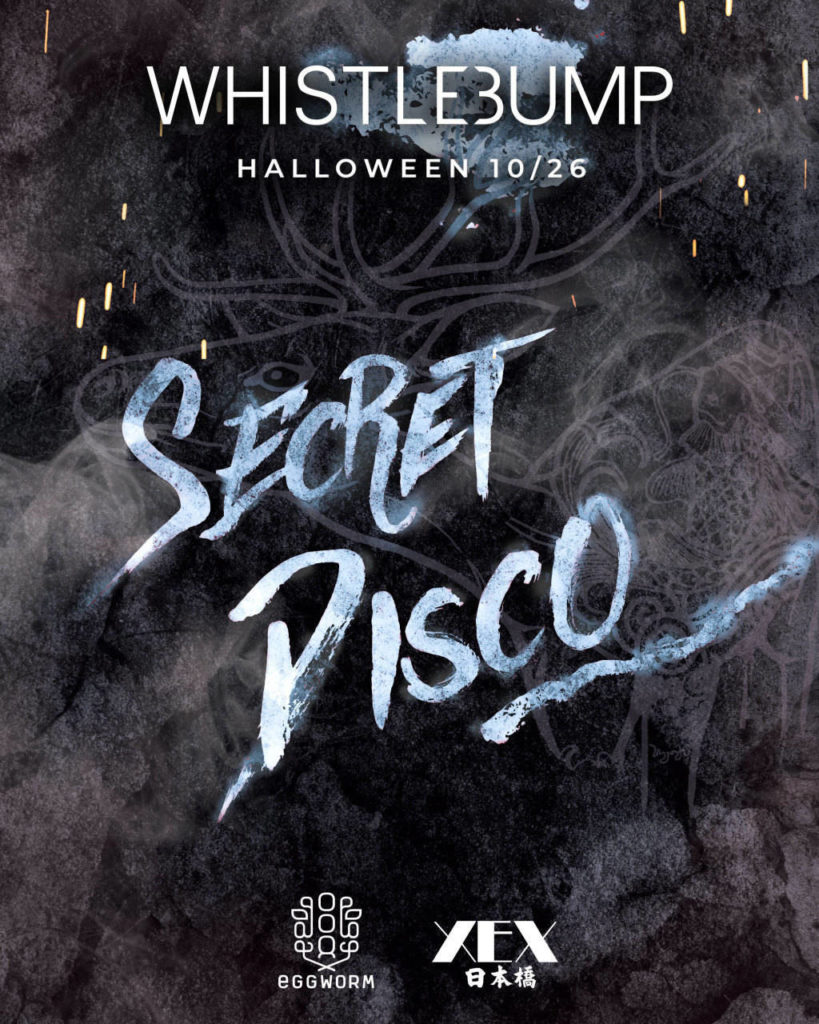 When: October 26th 10 pm – 5 am
Where: XEX, Nihonbashi
Tickets: Free with sign up
Event Details: https://www.facebook.com/events/440553506574159/
The luxurious XEX Nihonbashi is hosting this year's infamous Whistlebump Halloween event. This infamous event promises to bring the weird with spooky decorations, eye-catching dancers and eclectic DJs spinning deep music.
Tokyo Night Owl Tip:
XEX Nihonbashi is far from Shibuya and Roppongi, so plan on spending the night at Whistlebump. If you need to leave after midnight, consider splitting a taxi to save on costs.
6. alife STEAMPUNK RHAPSODY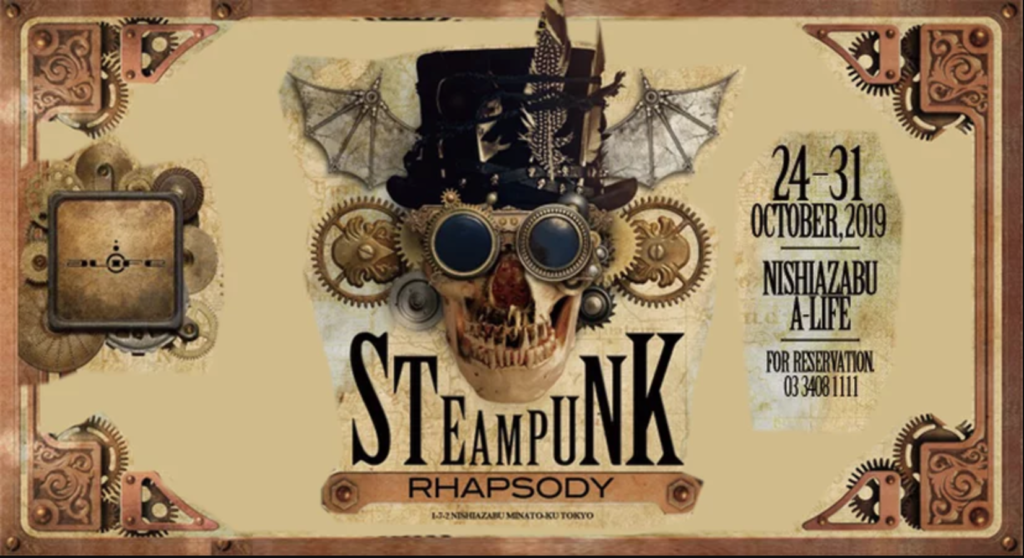 When: October 24th – 31st 9 pm to close
Where: ALIFE, Roppongi
How Much: Average price for Men is ¥5,000 with 3 Drinks and Women ¥2,500 with 2 Drinks. Fast pass entry is available for higher prices.
Event Details: https://www.partyals.com/halloween2019schedule
Roppongi's most popular nightclub with the foreign crowd also has one of the most popular Halloween parties in town. With a unique Steampunk theme, ALIFE decorates all three of its dance floors and is promising a spooky party set to the Halloween soundtrack selected by their resident DJs. This party will be hype, but it will be crowded. Arrive early to avoid the endless lines.
Tokyo Night Owl Tip:
Wanna skip the line? ALIFE is offering fast past tickets, at nearly twice the price. For Men, 8,000 Yen with 2 Drinks and Women 6,000 Yen with 2 Drinks.
7. Metropolis x Black List Tokyo: Mad Masquerade
When: October 26th, 9 pm to late
Where: Plus Tokyo, Ginza
How Much: Men ¥5,000 with 2 Drinks and Women ¥3,500 with 2 Drinks
Event Details: https://metropolisjapan.com/halloween2017/
Once again, the popular English magazine Metropolis is holding it's premier Halloween party this year at the brand new PLUSTOKYO in ever-so-stylish Ginza district.
Expect an electric atmosphere and astounding views (of both Tokyo and the costumed guest list) and enjoy an unforgettable evening of great music, dancing, and wicked costumes.
Tokyo Night Owl Tip:
Metropolis's Halloween events are perfect for party-goers looking for a mature crowd. Go here if you enjoying networking while partying.
8. Party on the Shibuya Streets?
Date: October 25, 26, 27, & 31, typically starting at 10 pm till morning.
Location: Shibuya Streets
How Much: FREE
Let's be honest… the Shibuya street's Halloween chaos was the best party in Tokyo! 300,000 Japanese and non-Japanese crowded around Shibuya's iconic scramble crossing on Halloween last Oct. 31 and the weekend prior.
But a large number of incidents last year, including the overturning of a small truck that led to the arrests and sexual harassment, have led officials to ban drinking on some streets.
The ban on drinking alcohol on the streets will occur on October 25, 26, 27, and 31, starting at 6 p.m. and continuing until 5 am. Below is a full map of zones that will not allow booze.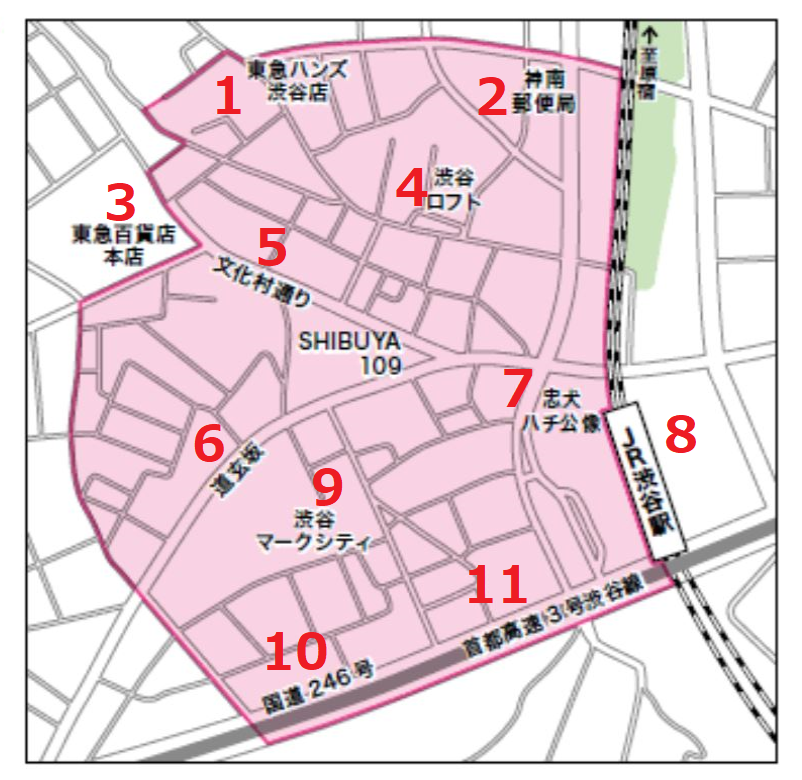 It is hard to predict what will happen this year, but we imagine there will be a strong police presence. If you do intend to celebrate on the streets, please party responsibly and keep an eye on your belongings.
Tokyo Night Owl Tip:
As much fun as it was in the past, the best bet for this year is to stick to the nightclubs for a Halloween party experience.
---
Where are you celebrating Halloween in Tokyo? Let us know in the comments!