Covid is on the decline here in Tokyo, and finally tourists are allowed back into Japan. That only means one thing, the return of large-scale Tokyo Halloween parties in 2022. And we don't know about you, but we have severely missed Tokyo's epic and wild Halloween events.
Despite the pandemic, over the past ten years, Tokyo has seen a dramatic growth in interest for Halloween. Halloween candy is now available at most grocery stores, department buildings decorate with jack-o-lanterns, and families celebrate from home (now commonly referred to now as HaroPa ハロパ). More famous are the wildly huge Halloween street parties that have been receiving international mass media attention year after year (for better or worse).

To help our fellow Tokyo Night Owls, we have put together a list of the Best Halloween Parties of 2022. Before heading out, here are some useful Tokyo Night Owl tips:
Wear A Mask: All nightclubs will require this for entry. Try customizing your mask to fit your costume!
Nightclubs have

ghoulishly

long lines. To avoid this, we recommend arriving at the club no later than 11 pm.
Buy your costume beforehand. You don't want to be stuck wearing a Pikachu snuggie. The Mega Donkey Hotte in Shibuya and Roppongi have a wide selection of Halloween costumes. Also, Amazon.jp has dozens of options with next day shipping. Be warned though, Halloween costumes in Japan are typically overpriced.
Pre-funk. Lines at the bar on Halloween can be hellish. Get the party started with some conbini 9% chu his or a canned hi-ball. Note that Shibuya's convenience stores will not sell alcohol.
Avoid the Roppongi dumps. There are loads of small bars masquerading as nightclubs in Roppongi. And during Halloween, with the long lines for the hot nightclubs, you may be inclined to hit these places up. Don't! They will be packed, sleazy, and possibly dangerous.
Arrived dressed up and ready to party. It may seem odd to wear a costume on a train, but in Tokyo, its commonplace during Halloween. Nothing worse than having to find a corner or bathroom in Shibuya where you can get into costume.
Be Cautious. The coronavirus is mostly behind us, but clubs will still require masks for guests before they can enter the nightclub.
Bonus tip for the fellas: Skip the scary or bloody makeup, and stick to cute costumes. Japanese girls will be more inclined to chat up a handsome Mario than a decomposing zombie.
---
TOKYO'S BEST HALLOWEEN PARTIES
1. WARP Halloween 2022
Shinjuku's hottest nightclub located at the heart of the redlight district will host a space Halloween party from October 28th to 31st. WARP Shinjuku has made an explosive entry to Tokyo's nightclub scene with some of the biggest parties in town, and they are promising to make this year's Halloween special.
Tokyo Night Owl Tip:
WARP is currently Tokyo's most popular nightclub, so be sure to arrive early to avoid waiting in line too long. Also by arriving early, the door price gets cheaper, with ladies being free!
When: October 28th – 31st 9pm – 4:30am
Where: Warp, Shinjuku
How Much: Men: 3500 Yen with 1 free drink and Women: 1,000 Yen with 1 free drink
Event Details: https://warp-shinjuku.jp/vivid_20201031/
2. Sel Octagon: Halloween with WILL SPARKS
Sel Octagon, Roppongi's only proper EDM centric nightclub is pulling out all the stops with a MASSIVE Halloween party with Australian super star DJ WILL SPARKS. Supported by Tokyo's own VIVID, you can expect a massive EDM festival style event that can't be missed.
Tokyo Night Owl Tip:
Sel Octagon is the only club this Halloween booking international DJs… so if you want that big international sound, this is the party to be at.
Buy Tickets
When: October 31st, 10 pm – Late
Where: Sel Octagon, Roppongi
Tickets: Pre Sale tickets 3,500 Yen for Men 1,500 Yen
Buy Tickets and Event Details:  https://t.livepocket.jp/e/1031_willsparks
3. Club Camelot: Halloween
A bit of an institution in Tokyo for nightclubs, Club Camelot continues their horror themed Halloween nights. Perhaps the most fully themed out event happening this year, so be sure to check it out if you want a proper Halloween themed event.
Tokyo Night Owl Tip:
Camelot's brand new B3 floor received a serious upgrade, and combined with the 2 other dance floors you have several places to dance and chill.
When: October 28th – 31st 9pm – 5am
Where: Camelot, Shibuya
How Much: Men 3,500 Yen +1 Drink and Women 1,500 Yen + 1 Drink. Wear a costume for special discounts.
Event Details: https://clubcamelot.jp/en/
4. WOMB Halloween
This Halloween, WOMB isn't booking any international talent, but they do have Shinichi Osawa (a legend) guesting with a stacked line up of local house and techno acts. No particular theme for this one, but expect some of the deepest sounds to be found here on the 29th.
Tokyo Night Owl Tip:
This is the party you want to check if you are looking for sounds outside of open format or main stage EDM.
When: October 29th 11 pm – 5 am
Where: WOMB, Shibuya
Tickets: 2,500 Yen before midnight, After midnight 3,000 Yen
Event Details: https://www.womb.co.jp/event/2022/10/29/halloween-party/
5. Ce La Vi Tokyo: Yelloween
Ce La Vi Tokyo continues their collaboration with Veuve Clicquot to present "Yelloween. Expect Halloween special performances and Tokyo's top all mix DJs rocking the outdoor terrace and dance club.
Tokyo Night Owl Tip:
Ce La Vi Tokyo has a strict dress code, so if you are not coming in a costume, be sure to dress up.
Also, check the weather, the outdoor section can get chilly.
When: October 28th and 29th 9 pm – Late
Where: Ce La Vi Tokyo, Shibuya
Door Price: Men are 5,000 Yen and Ladies are 3,500 Yen
Buy Tickets and Event Details: https://yelloween2022-day2.peatix.com
6. ZEUS: Cosmic Jungle
Roppongi's replacement for the old ALIFE, is popular with english speaking students and travellers. ZEUS plans to decorate all three of its dance floors and is offering a spooky party set to the Halloween soundtrack selected by their resident DJs. This party will be hype, but it will be crowded.
Tokyo Night Owl Tip:
ZEUS is basically ALIFE, which means you can expect a fairly rowdy crowd. Great party vibes, but may not be for everyone.
When: October 28th, 29th, and 31st 10 pm to close
Where: ZEUS, Roppongi
How Much: Men are ¥4,000 with 2 Drinks and Women ¥2,500 with 2 Drinks.
Event Details: e-alife.net
7. RAISE: Black Halloween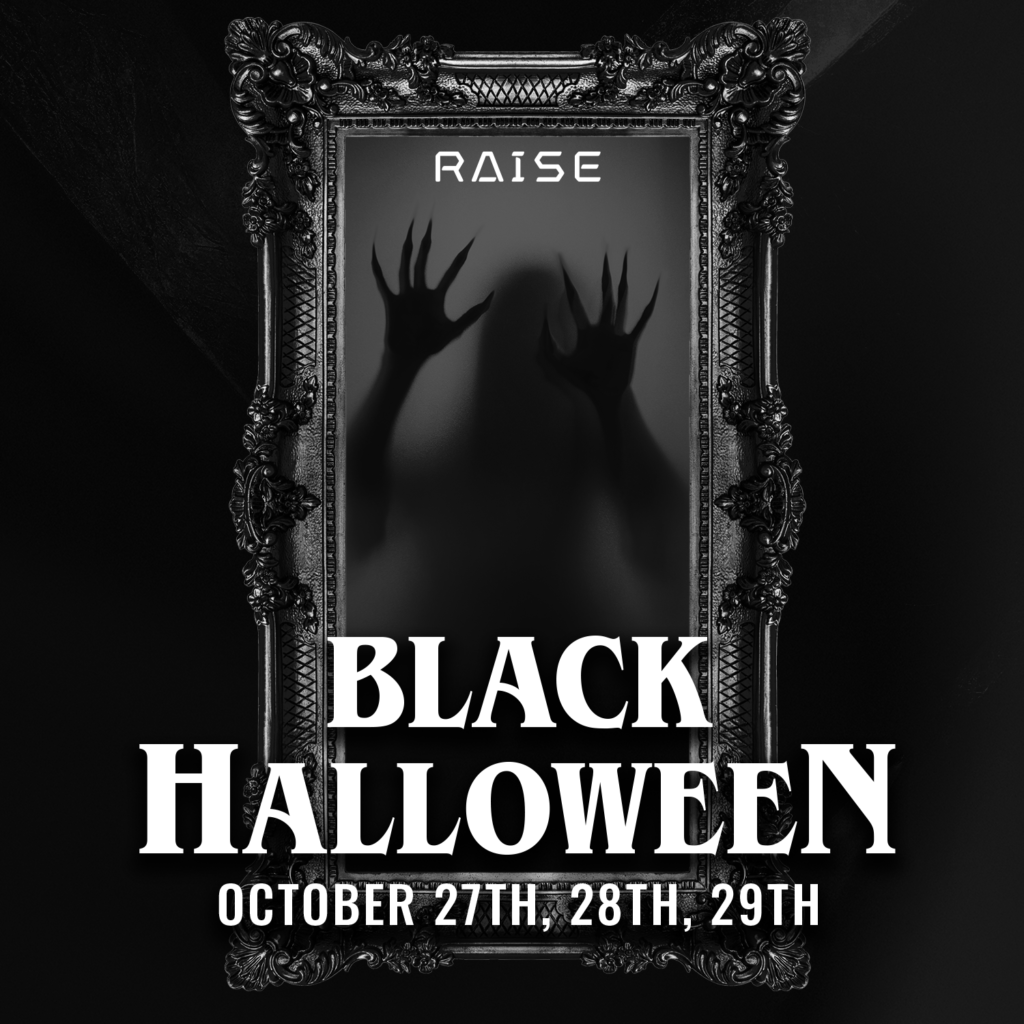 Raise, perhaps Tokyo's most talked about nightclub at the moment, is holding it's first Halloween event entitled "Black Halloween." Expect a night of fashion, spooky DJs, and a high end nightlife experience that you can't experience anywhere else.
Tokyo Night Owl Tip:
Arrive early! RAISE is a hot club right now, and the line will get long.
When: October 27th, 28th, 29th 9 pm till late
Where: Raise, Ginza
How Much: Men 4,000 Yen 2D, Women 2,500 Yen 2D
Event Details: https://sel-octagon-tokyo.jp/
8. TK : The Halloween Of Nightmares
TK, perhaps Shibuya's most conveniently located nightclub, just a 3 minute walk from the Shibuya crossing. This year they are throwing several Halloween parties, and they are promising a freaky line up of dancers and DJs. Expect top EDM and Open Format sounds to be played by the DJs.
Tokyo Night Owl Tip:
TK is a great starting place for those looking for a top nightclub in Tokyo but don't want to walk too far.
When: October 22nd to 31st, 9 pm to late
Where: TK, Shibuya
How Much: 3,000 Yen 2D for Men, 500 Yen 1D for Women
Event Details: https://tk-nightclub.com/