Welcome to our rendition of the Osaka ultimate nightlife guide, we have honed this list to appeal to all kinds of people to ensure a good time, no matter what your tastes, enjoy!
Osaka is a sprawling city in Kansai, highly renowned internationally for its nightlife, foods and exceptional people. Osaka natives are not the kind of people you'll find in Tokyo, they are very proud of their heritage and come with a personable and rugged culture and dialect, very distinctive to other major cities in the region. The majority of the food and drink places with a wide appeal are in Nanba and Umeda's Dotonbori.
Not to be beaten out by Tokyo, Osaka offers its own unique nightlife with some of the country's most bizarre and thematic nightclubs, pubs, and bars, more than any a thrill-seeker could ask for.
From sprawling shopping districts to luxurious skyscrapers, Osaka has it all, and then some. Read on for our complete nightlife guide to Osaka.
The Ultimate Osaka Nightlife Guide
Osaka Eats
Osaka is known for its culinary culture. Dotonbori, in particular, is a kingdom of powdered food and is particularly popular among foreigners visiting Osaka. Incidentally, the "Dotonbori local gourmet ranking (July 2019 edition)" provided by Jaran, a company run by 'Recruit' also shows results that are typical of the floured food specialists. With okonomiyaki, takoyaki and kushiage, you are spoiled for choice wherever you go on your Osaka journey.
Starting a night on the right foot can be essential to a great time, starting your night with a bit of celebratory grub can help with your alcohol endurance and also help meet new people in a safe and positive environment. Check out our recommendations below that will get you in the mood.
The ROOFTOP BBQ
For those who want to start the parties and socials early, there is the Rooftop BBQ. Situated at the top of Namba parks, the 120 seater is a great place to mingle and have a laugh with your friends or with the other clientele. Being an outdoor bar and grill, there is an innate "chilled-out" and friendly vibe that will help you wind down with friends before a night out. Enjoy a wide selection of meats and seafood grilled on the special stove with a few bevvies to get things rolling.
Hours: Weekdays 11am – 3pm, 4pm-11pm
Weekends 11am – 3pm, 6pm-11pm
Website: http://www.opefac.com/store/trb/index.html
Address: Namba Parks 8F, 2 Chome-10-70, Naniwa Ward, Nanbanaka, Osaka, 556-0011 Japan
Salvatore and the Bar, XEX West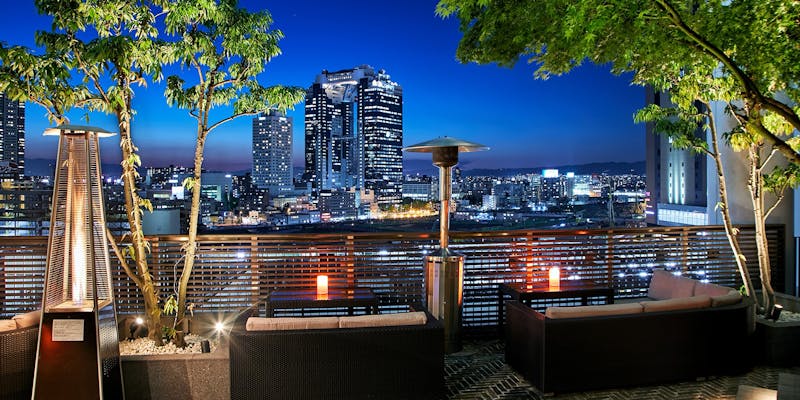 For those looking for a bit more of a high-class scenic meal, there is the XEX west is the Herbis plaza. A truly unbeatable view of the city with some great food to boot. If you have a bit of extra cash, or you're already on a date, I would highly recommend this spot to start off your night. Expect a very classy, sophisticated vibe, perfect for making a special someone feel valued or to make a great first impression.
Hours: Everyday 11:30 am-8 pm
Website: http://www.xexgroup.jp/images/menus/xexwest/salvatore/salvatore_carte.pdf
Address: Herbis Plaza 7F, 2 Chome-2-22, Kita Ward, Umeda, Osaka 530-0001, Japan
Osaka Sights
A night guide is not limited to places with 4 walls. Osaka is a city with a vast array of iconic scenary, at night, the whole city floods with lights and sounds that are just as part of the experience as any watering hole. Not having a look at some of Osaka's iconic
Katsuo-ji
Not everything has to be beats and booze, right? The humbling beauty of the fauna and traditional architecture of the Katsuo-ji temple, Osaka, lights up into a stunning display of the timeless beauty of the area and is a great stop off on your party-off days.
Address: Katsuoji Temple, Minoh-shi, Osaka, 562-8508
Prices: ¥400 entry fee
Hours: Weekdays 8:00 – 17:00
Saturdays 8:00 – 17:30
Sundays 8:00 – 18:00
Website:https://katsuo-ji-temple.or.jp/index.html
Tsutenkaku Tower and the Shinsekai
Surrounded by the hustle and bustle of the intensely lively, historic shopping center of Shinsekai, the iconic Tsunekaku tower stands as the epicenter of Osaka's culture. Depending on the weather and the time of year, the clock-face and color of the tower transforms into a variety of designs, offering some reasons to come back for frequent visitors.
Address: 1 Chome-18-6 Ebisuhigashi, Naniwa Ward, Osaka, 556-0002, Japan
Hours: 8:30 – 21:30 Everyday
Price: ¥400 – ¥1200
Website: tsutenkaku.co.jp
Tobita Shinchi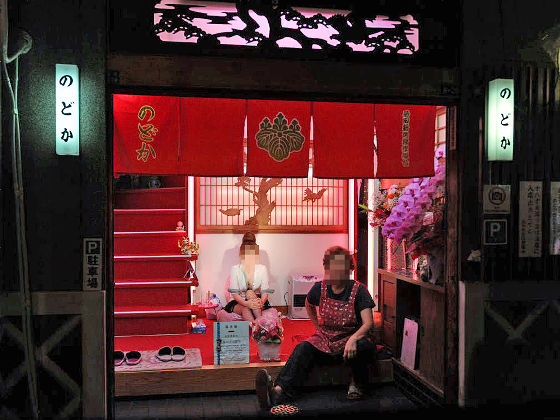 Known as Osaka's high-class redlight district with a distinctive system of business where the older lady at the front of the store will punt and banter with pedestrians in the area. They tend to have performers sit in a traditional shopfront, dressed in an array of costumes. For an in-depth guide on this area check out the guys over at Osaka Bros. Although, as a rule, the custom may not be available to foreigners, it is still a staple of the Osaka nightlife culture and you won't see anything like it elsewhere in the world. Whilst travelling in this area, be respectful of the rules and refrain from taking photos.
American Village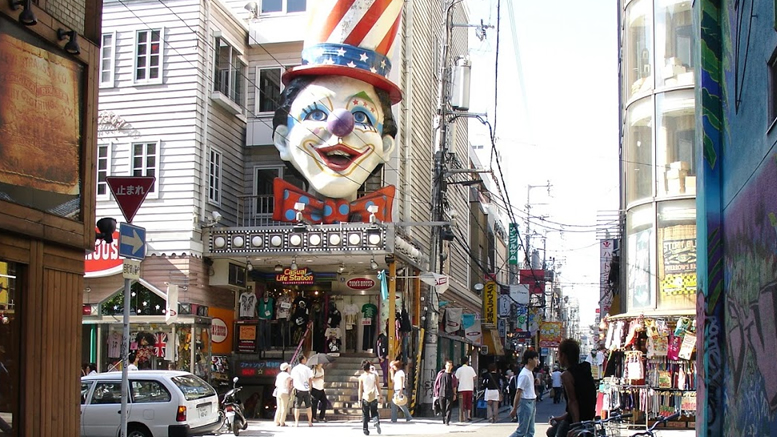 Nicknamed Ame-mura, this area is well-known for its entertainment and retail district. Centered around Triangle park, Ame-mura is a well-known hangout spot for foreigners and Japanese alike as many of the bars and stores are owned and run by Westerners.
Osaka Bars
Osaka has the largest and most varied drinking scene in the region. Here is our list of gaijin-friendly spots which offer an amenable experience for people of any nationality and pick up a few new friends.
Cinquecento Osaka
Cinquecento is a speak-easy foreigner-friendly bar in the Chuo-ku district. Well renowned for its "Big Sexy Burger", the bar offers many creature-comforts you may be missing from home.
If you are in Osaka long-term or over a holiday, you can take part in one of their many events and costume parties they host over the year, bringing the locals and expat community together over drinks and music.
Hours:
Friday: 17:00 – 20:00 (Last Order at 19:00)
Saturday: 12:00 – 20:00 (Last Order at 19:00)
Sunday: 12:00 – 20:00 (Last Order at 19:00)
Website: https://www.osakacinquecento.com/
Address: Matsumiya Building 1F, 2-1-10 Higashi-Shinsaibashi, Chuo-ku, Osaka, Japan 542-0083
Rooftop Bar OO
Rooftop bar OO is an open party and events space that often features Osaka's up-and-coming artists and talents. Join the public events or book one of their rooms for yourself, this one is ideal for anyone looking for a party outdoors.
As you can see from the picture, they also host pool parties on occasion, best to keep up with them on social media to know when to book in for that.
Hours: 8:00~23:00 (Closed on Tuesdays)
Website: https://oo-u.jp/
Address: 7F-NEW JAPAN BLDG.,2-3-28 DOTONBORI CHUO-KU OSAKA 542-0071 JAPAN
Bar Nayuta
If you're looking for something a bit more low-key, Bar Nayuta offers its unique, distinctive cocktails. Bar Bayuta offers a very different vibe for those who care about masterfully crafted alcohol, served in an alternative scene.
Hours: Open 17:00 Last Call 02:30 Close 03:00
Website: https://bar-nayuta.com/
Address: Mario Building 5F, 1-6-17 Nishi-Shinsaibashi, Chuo-ku, Osaka City
Osaka Night Clubs
Club Bambi
Club Bambi is a long-standing staple of the Osaka night scene, popular amongst university students and young people, in particular, this would be an ideal spot for anyone in their 20s. Regardless of your age, his club is a regular haunt for Osaka residents looking to party and make new friends.
Hours: Sun 20:00 – LAST / Weekday 22:00 – LAST /Weekend 22:00 – LAST
Website: https://club-bambi.com/
Address: PARK10 B1, higashi-shinsaibashi 1-18-27, Chuo-ku, Osaka-city, Osaka-pref
CLUB Palette
A brand spanking new club in the Atrium. Multicolored neon interior and beverages that will keep you entertained as you sip on one of Palette's many vibrantly colored signature drinks.
Pricing changes depending on the time, and if you follow them on LINE, you can check this page to save a buck or two.
Hours: 22:00~LATE
Website: https://club-palette.com/
Address: The Atrium B1-B2, 1-5-30 Shinsaibashisuji, Chuo-ku, Osaka 542-0085, Japan
The Pink
For anyone who is really, really into the color "pink", you can waltz into the "the pink club" in Higashi, Shinsaibashi. If it wasn't clear from the header image this club is a homage to all things pink and feels like walking into a psychedelic music video. For the interior alone, it is well worth coming in to see just how much pink your eyes can take. The venue is also well known for its "Pink Dancers" who light up the stage every night alongside the resident DJs.
Hours: 22:00~LATE
Website: http://the-pink.club/
Address: Sazanparesu Blvd. B1F, Higashi-shinsaibashi, Chuo-ku Osaka-shi, Osaka, 542-0083, Japan
Final Recommendations:
Osaka is a very friendly and warm place in comparison to most of the other cities in Japan. Day or night, Osaka has many activities and experiences you can enjoy at any time of the year. If you are coming alone and are looking for friends, I would recommend you join the Osaka pub crawl. It is a fast and convenient way to meet the foreigner-friendly locals and other people in the same position as you, whilst getting acclimated to some of Osaka's best eateries and watering holes.
That concludes our guide for the famous Osaka nightlife scene. This is by no means the definitive life of things to see and do, but is a life of venues and establishment we give our seal of approval and will bolster your nights out in this great city.