Japan's beverage game best describes itself as the medieval shock and awe technique far exceeding many on the map, which one can quickly gather from a brief visit to the skillfully stocked convenience stores or its effortless pick and go vending machines. What is noteworthy to observe is that in spite of Sake being the country's national drink, over the last decade, craft beer in Japan has achieved its status quo with a plethora of microbreweries mushrooming in the country to the Japanese beer brands securing a place in bar menus globally.
While 2020 might feel like a drag, who is to say you can't enjoy yourself with a glass of Japanese craft beer in hand. Without further delay, here is the round-up of all the best Tokyo Craft Beer Bars.
Shibuya
Watering hole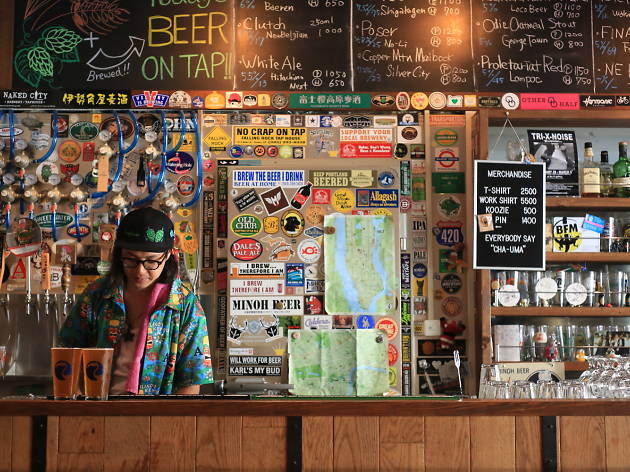 At the helm of Tokyo's emerging craft beer movement, watering hole boasts up to 21 types of barrel draft brews, great music, adequately quirky looks, and a great location. The master brewer of the pub, Ichiri Fujiura, is the 1998 winner of the homebrewer of the year award, making the brews somewhat legendary. An array of craft beers are available on tap: light Ale, IPA, Sour Ale, Dark Ale, Cider, and even some spiced fruit blends. Be sure to check out the snack menu for that much-needed beer crunch: Karaage or the Wagyu gyoza are a few of the must-try items.
Price range: $$
Learn More: Watering Hole Homepage
Mikkeller Bar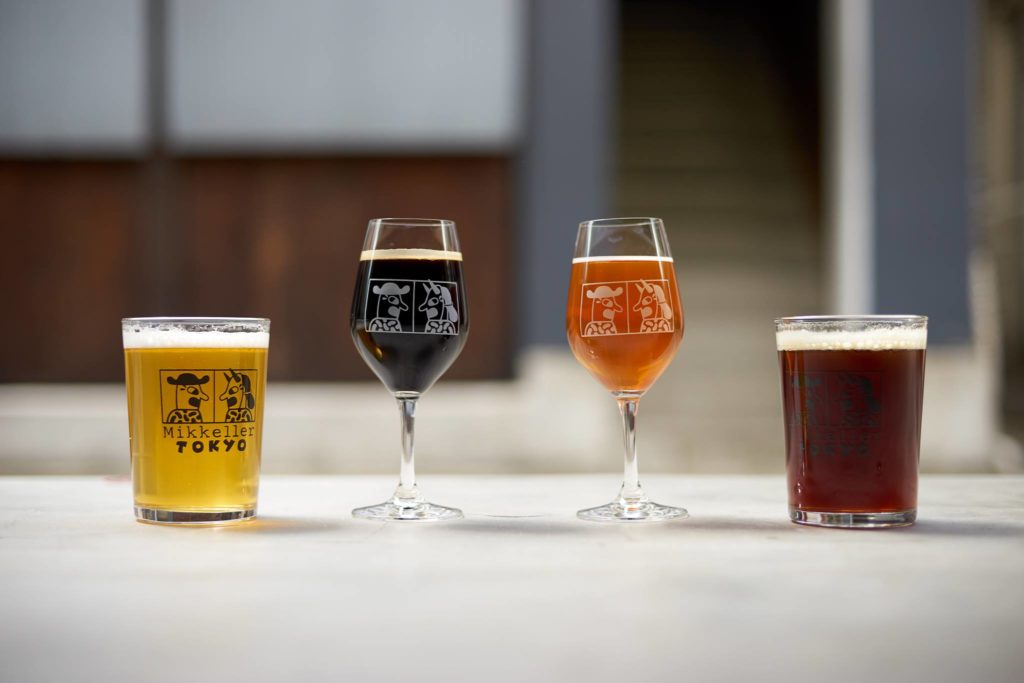 A beer enthusiast's treasure trove, this two-floor Instagram worthy pub is neatly tucked into the backstreets of Shibuya with the coolest unorthodox collection of beers from around the world and japan by Danish craft beer icon Mikkel Borg. Feel unarguably spoilt for choice with 17 taps of the hippest brews from fresh to bitter to sweet to sour they have you covered for all your moods.
Price Range: $$
Learn More: Mikkeller Bar Homepage
The Aldgate British Pub – Shibuya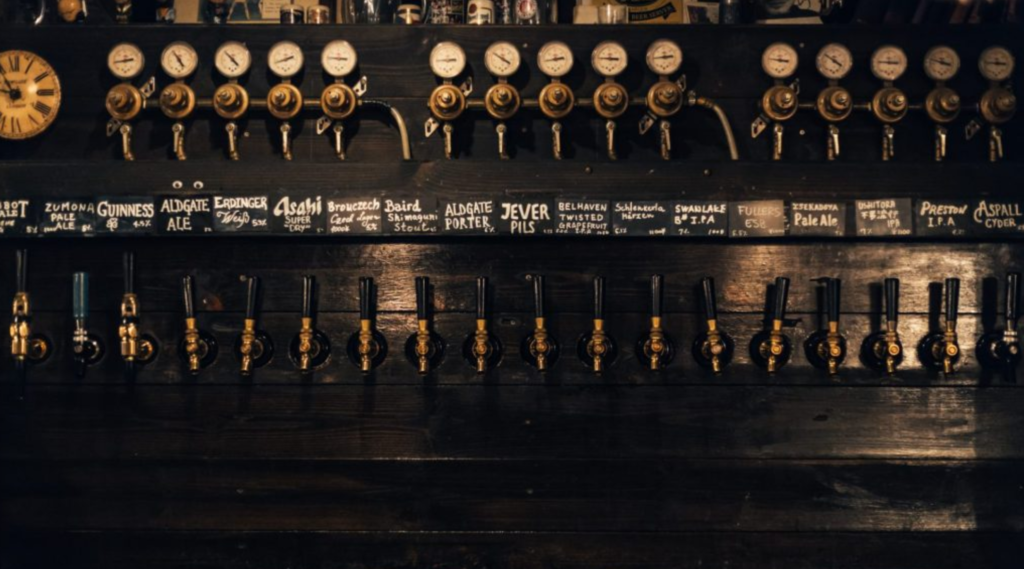 In search of the romance of a British pub- The Algate is your best bet in Tokyo with around 21 beers on tap, house crafts such as special Aldgate Ale and Porter, Abbot Ale and Jever alongside American, British and Japanese Brews. Large screens plastered screening sports; fresco painted windows, dimly lit, creaking floorboards, over 6000 records, while you dig into some of Britain's favorites: baked potato with beans or fish and chips- a guaranteed slice of the Great Britain pubs.
Price Range: $$
Learn More: The Aldgate British Pub Homepage
Goodbeer Faucets – Shibuya
This haunt is a must on your Shibuya itinerary, additional points for the location which demands you to stroll from Shibuya Station across the Scramble Intersection. Nailing the concept that you live only once, this tavern offers an impressive total of 40 plus crafts where the beer lineup changes daily, focusing mainly on Japanese and American brews paired with a seasonal menu. While happy hours pricing is highly motivating, a recommended start would be the house special "Endless Brown Ale."
Price Range: $$
Learn More: Goodbeer Faucets Shibuya
YYG Brewery and Beer Kitchen – Yoyogi
Minimalist gleaming interiors – hop in for a fruity Shinjuku Pale Ale or the malty Yoyogi Amber Ale the house favorites at YYG Brewery and Beer Kitchen. Apart from their multi-floor Shinjuku base YYG also operates a YYG Tap truck with a savvy yet relaxed format-an applauded exhibit at reaching the masses around the city.
Price Range: $$
Learn More: YYG Brewery Home Page
Shinjuku
Tap Stand Craft beer – Shinjuku
Pick this bespoke Craft beer bar and pizzeria with partly bilingual staff, great proximity to JR Shinjuku Station, taps with both imported hoppy, and some fantastic boutique concoctions from Japan. Not a pick for a quick guzzle as the beerhouse requires a cover charge and dictates premium prices.
Price Range: $$$
Learn More: Tap Stand Craft Beer Home Page
Brussels Beer Project – Shinjuku
Swirl into this smash between a Belgian beer pub and a Japanese microbrewery – feel right amongst where the action is at this spacious two-floor swoon-worthy 18th-century reminiscent brick-walled architecture. Ease into sampling anything from a pale to a fruity, reasonably priced, and nibbles come in decent portion sizes.
Price Range: $$
Learn More: Brussels Beer Project – Shinjuku
Vector Beer – Shinjuku
A roaring success story of a craft brewery that started with a single outlet in Shinjuku, over the years, grew to 6 craft beer bars—competitively priced, a terrace bar with a varied flow covering IPAs, stouts, fruit beers, and weissbier.
Price Range: $$
Learn More: Vector Beer Shinjuku
Roppongi
Two Dogs Taproom – Roppongi
Run by a long term resident Mike Verweyst; this Taproom is a beloved spot among expatriates and locals, offering competitive prices in comparison to its competitors, especially if you arrive during happy hours. Furthermore, if you are feeling a hug and missing States, this is the place to embrace with its cozy atmosphere, freshly made wood-fired pizzas and 25 craft beers on tap that keep you cheery.
Price Range: $$
Homepage: Two Dogs Taproom Homepage
Ginza
Craft Beer Ibrew – Ginza
IBREW bar Ibrew makes it to one of the cheapest craft beer hot spots in Tokyo; a quick 5 minutes walk from Ginza station. Rustic walls, brass fixtures, this toasty little pub is charming for being effortless with some rare Japanese brews on tap changing daily — a chain outlet with other branches in Shinbashi, Akihabara, and Ebisu.
Price Range: $
Homepage: Craft Beer Ibrew Homepage
Swan Lake – Igarashi Tei, Higashi-Ginza
It would be a shame to miss the Koshihikari Beer- a lager or the Amber Strong Ale for a full-bodied, bold taste. This 20-year-old Gold medal-winning, Niigata-based Swan lake brewery is known for using the purest water from the Agano river in Echigo.
Price Range: $$
URL: Swan Lake – Igarashi Tei, Homepage
Meguro
Another 8 – Meguro
Stumble upon this Industrial chic garage turned eclectic craft brewery in the south of Meguro, where eight fresh taps keep the ardent fans hydrated in a cool space. Talk about a well-paired menu, the dynamic selection of marinated octopus with celery and Shirasu (whitebait) and daikon omelet bring out the best of the full-bodied complex beers at Another 8.
Price Range: $$
URL: Another 8 Homepage
Sumida
Popeye – Ryogoku, Sumida
This oldest Beerhouse in Tokyo is the poster child for the metropolis' craft beer scene, resonating that well-curated craft beer dominates mass-produced bulk with an impressive 70 odd beers from local breweries around the country on tap under one roof. This Izakaya turned craft brewery, which opened in 1985, is quite the crowd magnet even though it's a bit pricey: nothing particularly stands out from the snack menu as it's the beer here that does all the talking.
Price Range: $$$
URL: http://www.lares.dti.ne.jp/~ppy/
Shinagawa
TY Harbour Brewery Restaurant – Higashi-Shinagawa
Right next to the waterfront unfolds the remarkable story of this 3rd generation warehouse turned brewery, which produces a range of Californian-style porters and ales. You are in for a surprise at TY Harbour as they reduce the distance between the brewing and the drinking with the bar directly overlooking the stainless steel distillers through glass panels. Gaze around at the chic interiors, but If all the intense contemporary living makes you hungry, head over to the massive restaurant, or the floating river lounge, a private room, or the 2nd floor seating the total of an airy 350 seater. Sip on some of the house crafts, dine from the extensive menu or visit the flagship café alongside the brewery with someone special.
Price Range: $$$
URL: TY HARBOR Homepage
Multiple Locations
Yona Yona Beer Works
This popular craft beer chain first launched in 2013 with currently operating eight outlets in Kabukicho, Shinjuku, Ebisu, Shimbashi, Aoyama, Kanda, and Kichijoji. You can drink here by the glass or go for the pub's noted Yona Yona merry go round set, which comes as a ten glass buffet. The independent pub with its brewery: "Yaho brewery" perfectly reflects the ethos of great design, creativity, and a mighty brew. A playful brunch of roast chicken, artisan sausages, and a few chilled pints could be an easy way to roll into the week.
Price Range: $$
URL: Yona Yona Beer Works Homepage
Craft Beer Market
Pumping 30 kinds of craft beer, this Modern Gastropub is a firm favorite of the beer geeks. Moderately priced and easily accessible for a pint with eight stores in Tokyo, it has branches in Toranamon, Jimbocho, Awajicho, Otemachi, Shinbashi, Kanda, Mitsukoshimae, and Kichijoji.
Price Range: $$
URL: Craft Beer Market Homepage
---
While the Craft beer bars being a year-round affair, there are also seasonal beer gardens that host fresh taps every summer- think of their beer list as three-dimensional: deep, extensive, and rotating. A few of the best beer gardens in Tokyo are: Hilton Tokyo Beer garden (Nishi-Shinjuku), Forest Park (Odaiba), Starry Sky Beer Garden Aloha Night (Shibuya), Yoyogi Village beer terrace (Yoyogi) and the Beer Terrace Sekirei (Marunouchi).
Happy Pub Crawling. Cheers!