Welp, the pandemic has sunk its claws into our Tokyo Halloween fun. The Halloween 2019 street party in Shibuya was already reigned in with drinking bans and a larger police presence, and this year it's been completely canceled. But if 2020 has taught us anything, it's that we can still have fun safely. Not entirely 'have our cake and eat it too', but more like 'have our cake and nibble at it a bit'.
Here are a few great and relatively safe ways to celebrate Halloween in Tokyo in 2020.
1. Shibuya Halloween goes Virtual
Instead of the street party, we have the freshly named Shibuya Halloween 5G online party scheduled to take place over several days from October 26th to October 31st 2020. Sponsored by the internet provider au, the online event has secured pop-star performances, the most prominent being the uber-kawaii Kyary Pamyu Pamyu. One caveat is that the whole event is available only on Cluster, a new Japanese social media platform, but on the upside anyone can attend. Just try and forget hearing about 'infection clusters' and '5G towers being burned down' on the news.
To stay up to date with the event follow their Twitter or check their website.
2. Kawasaki Halloween Online
One of the most famous and biggest Tokyo Halloween parades, Kawasaki Halloween reached a new height in 2019 when a group costume by art students won and went globally viral. You've probably seen them, everyone was sharing that one video of walking paintings last year. Kawasaki Halloween is especially revered for its focus on costumes, and it is an actual competition where the winner gets a sizable monetary award of 500,000 yen! This year the whole affair is moved online, so all of its usual 100,000+ visitors and many many new ones can virtually attend it and even compete.
You can take part by posting your costume video anywhere on Facebook, Instagram, Twitter, TikTok, etc with the hashtags #kawahallo2020 and #oneworldhalloween. And you can compete by filling in this application form by October 25th. The presentation of the best costumes and the award ceremony will be announced in an online event on October 31st from 6 pm to 8 pm, Japanese time. 
If you're interested in learning about how to run effective TikTok ads, look no further than these awesome TikTok ad examples that get results.
For more check Kawasaki Halloween's website and SNS accounts:
Website: https://kawasakihalloween.com.e.aan.hp.transer.com/
TikTok: https://www.tiktok.com/@kawasakihalloween
Facebook: https://www.facebook.com/kawasakihalloween
Instagram: https://www.instagram.com/kawahallo/
Twitter: https://twitter.com/k_halloween
3. Try a Halloween themed virtual escape room
Escape rooms were all the rage last year, until our own apartments became inescapable rooms for a while. But I bet you haven't tried a virtual escape room where you try to break out of the game from the comfort of your home. 193Mysteries have created a limited edition Halloween themed virtual escape room that is meant for the whole family. In addition to being child-friendly, it's also educational, and of course, spooky. The game can only be bought before Halloween, so make sure you get is soon.
Website: https://193mysteries.com/get-halloween/
4. Tokyo Ghost Tour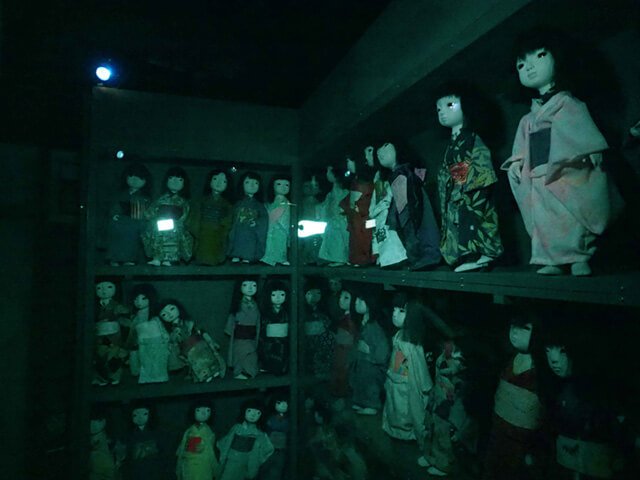 If you want to get out, we have a great suggestion – explore the haunted spots in Tokyo. You can do your own reading and research, or for a shortcut, you can be guided by someone who will tell you ghost stories. Tokiotours offers a Shitamachi Ghost tour that explores ghost stories and legends around Sensoji temple and Asakusa. Yes, that beautiful red temple is much more than a great photo spot, and locals know the old Edo legends of the ghosts of murderers, old hags, and Japanese folk demons lurking around here.
You can book the tour here: https://www.tokiotours.com/product/tokyos-scariest-ghost-tour-i-3-hours/
5. 6% DOKIDOKI Harajuku Online Halloween Party
Harajuku fashion fans rejoice! The cult sugary kawai fashion brand 6% DOKIDOKI will be hosting an online Halloween party on October 24-25th, depending on your time zone. The party will be free and streamed over at Twitch – twitch.tv/6doki_official . The optional costume theme is 'Yummy Halloween', so make sure you incorporate a food element in your get-up.
Facebook Post: https://www.facebook.com/6doki.fan/posts/3784594011573524
6. Halloween themed limited edition food
Even food cosplays for Halloween in Tokyo, so make sure you get your hands on some limited edition Halloween sweets. Convenience stores are already selling pumpkin flavored sweets in jack-o'-lantern packaging and KitKat has a Japan special Halloween pack, among other things.
Krispy Kreme Japan is back with their jack-o'-lantern pumpkin doughnuts and black cat caramel filling doughnuts, which are that ideal combo of adorable and delicious.
For the ultimate Halloween feast, it's worth treating yourself to a Halloween themed afternoon tea. And boy does Tokyo love afternoon tea spreads! Most luxury hotels offer limited edition Halloween afternoon tea until October 31st. Rule of thumb is weekend visits are more expensive than weekdays, and reserving in advance is strongly advised.
Intercontinental Tokyo Bay stands out with a "Villains Twisted Gothic Party" with nods to Disney villains. Then there's The Prince Gallery Kiocho's "Butterfly Dance Halloween" with great presentation, Andaz Tokyo's ghostly spread, and Grand Ginza's Witch Feast, among many others.
If you want to eat all the fall seasonal treats Japan is offering in 2020, check our overview here: Fall Flavors in Japan: 8 Foods You Need To Eat
---
Have you decided on a costume yet? This horrific year is full of scary inspiration. You can add plague doctor or Amabie, the Japanese yokai monster that is supposed to protect from diseases, on the list of potential costumes. Even the skies are on our side – as this Halloween there will be a huge full moon in the sky. All that is left is to have fun!