Yes, we know life is not like in the movies. But, what about anime? OK, not the extreme hairdos and outfits, not the superpowers, not the talking cats… But there is a 'slice of life' genre and parts of other genres that perfectly copy Japanese reality.
It's precisely why 'anime pilgrimage' is a thing, with fans visiting real-life locations in Japan that were prominently featured in various animes. You can learn a lot about Japanese schools, offices, homes, family relations, holidays, and even nightlife.
However, nightlife scenes are a bit harder to find in anime, as many plots involve highschoolers or office workers. Those that do feature nightlife though, paint Tokyo in all its glorious neon.
Here are a few anime series that faithfully depict Japanese nightlife.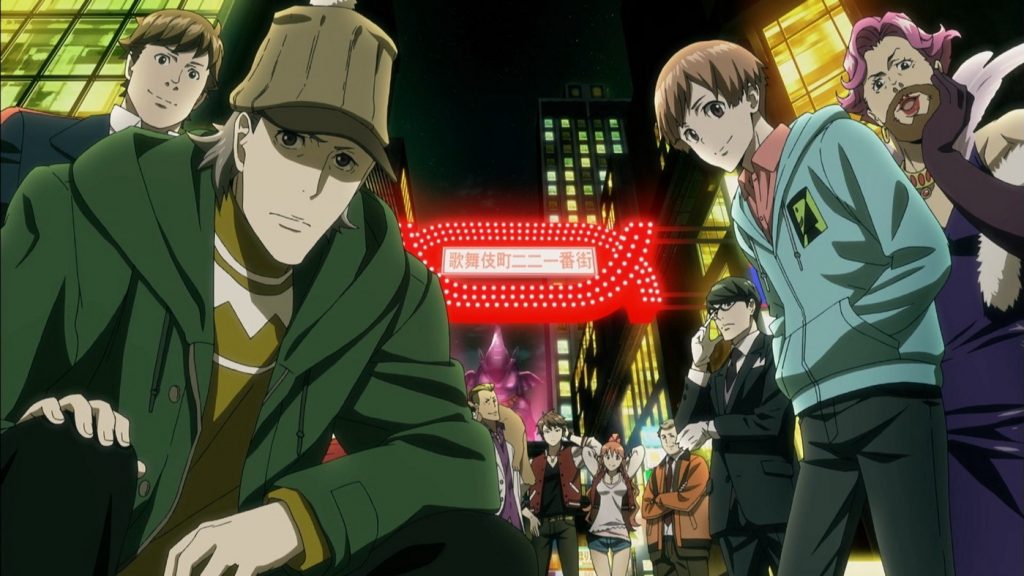 Kabukicho Sherlock (a.k.a. Case File nº221: Kabukicho )
Don't let the name Sherlock distract you, this is set in Shinjuku down to every detail. The characters from the popular Sherlock story have been superimposed over every nook of Kabukicho in blinking neon. Btw, this Sherlock often wears a yukata (cotton kimono) and does rakugo (traditional Japanese comic storytelling).
The anime paints all the glory of East Shinjuku, especially the seedy nightlife, shown honestly and without embarrassment. It takes you to small hole-in-the-wall bars with drag queen hosts and colorful patrons, cabaret clubs with escort girls, all night spas, and the like. Anyone who has been in Kabukicho will agree that this anime is a faithful and accurate representation of Shinjuku's nightlife.
In the anime opening, look out for the famous Toho Cinemas and the roaring Godzilla Pink Elephant. Yes, a 'slight' deviation from the giant animatronic lizard, but delightfully weird! Well, like all Kabukicho.
Learn More:
http://pipecat-kabukicho.jp/
Durarara
Often compared to Shinjuku, Ikebukuro is just as lively, bustling, international, and great for nightlife. It's not far from Shinjuku, and on the Yamanote line, so it's been attracting a lot of young people.
DURARARA is a cult anime for many – an intelligent, action-packed, fast-paced story taking place in Ikebukuro. Most of the cool stuff happens at night on the streets of Ikebukuro, especially at a very memorable small sushi place. A lot of the city's underbelly surfaces, from gangs to mysterious motorbike messengers.
All of their intrigues are driving the plot, while the anime setting shows you how nightlife rolls in this popular part of Tokyo.
Official website: https://www.durarara.com/story/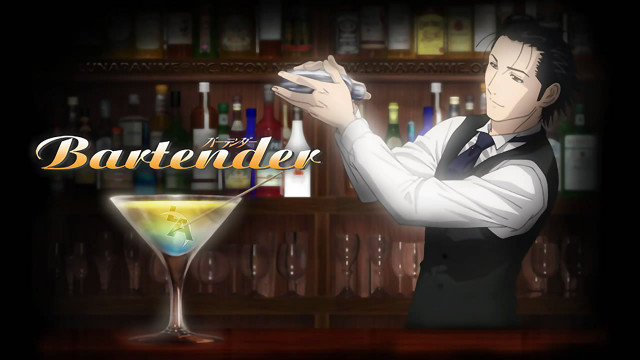 Bartender
If you want to check out Japan's bar scene, the aptly named Bartender anime is a love letter to classic bars in Ginza. The bar will seem retro, but that's on purpose.
To this day, especially Ginza establishments (not only bars but restaurants, hotels, shops, etc.), maintain this old era vibe. A lot of this is owed to the fact that Ginza was where Tokyo and Japan first modernized on the threshold between the 19th and 20th centuries. In many ways, Ginza was Japan's Paris. And to this day, it still is the most expensive plot of land here, with the most luxurious brands setting up flagship stores in Ginza.
Just as the anime shows, Ginza backstreets are where the fun happens, and very often in hidden bars, so you cannot glimpse this just by passing by.
This anime shows the utmost attention to detail that Japanese hospitality is renowned for. The bartender character is the best of the best, the kind that knows exactly what your heart needs. The anime also teaches a lot about the history of alcohol in Japan, like the beginnings of the now award-winning Japanese whiskey.
Some episodes give cocktail recipes, too, so you can recreate them with a heightened knowledge of the subject. Or, make a list for your future Ginza outing.
Learn More:
https://www.crunchyroll.com/library/Bartender

NANA
What better way to check out Tokyo's live music scene than by following the story of a rock band? Of course, apart from going out and experiencing it yourself.
In NANA, the titular character is a rock band singer, and we follow her, her band, and her roommate as they all navigate Tokyo's scene as newcomers. The live gigs of the band give us a glimpse of the music scene, while Jackson Hole, the bar where the characters often go out to drink, is a real-life location in Chofu, west Tokyo. The bar with saloon vibes is one of many American-looking establishments that are popular in Japan, along with European-style bars and pubs, for instance.
Tokyoites love having places to taste other cultures. Both bars like these and live venues are a staple of Japanese nightlife, so it's great to see that world through an anime like NANA.
Also, in Kabukicho's Sherlock (on this list), there is a plotline with a small indie band, showing a dedicated fanbase and live show culture. Of course, there are other anime out there dedicated to music and bands, like K-On! For instance, but that one focuses more on the high school club culture, unlike NANA's focus on the professional music scene in Tokyo.
Learn More:
https://www.animenewsnetwork.com/encyclopedia/anime.php?id=6115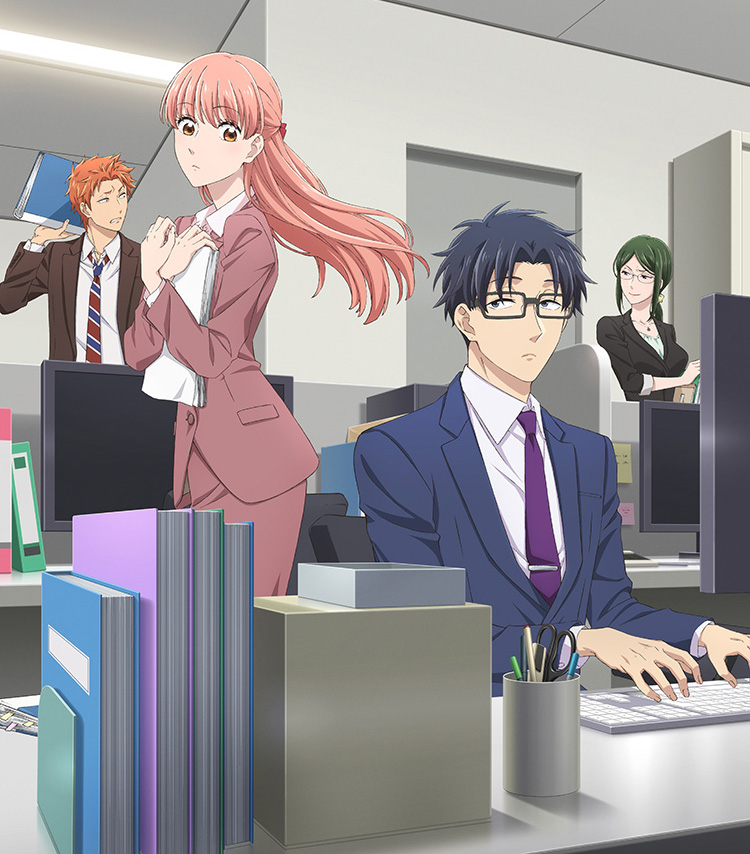 Wotakoi: Love is Hard for Otakus
Admittedly, this anime is not so much about the nightlife, but more about office life versus one's hobbies, and finally love and relationships. However, it's common in Japan for workdays to end in the local izakaya over drinks, and this anime faithfully shows such social after-work drinking.
For many in Tokyo, it's the only nightlife they take part in! So you get a whole package of Japanese life, morning to evening, everything quite faithful to reality.
Learn More:
https://www.animenewsnetwork.com/encyclopedia/manga.php?id=17065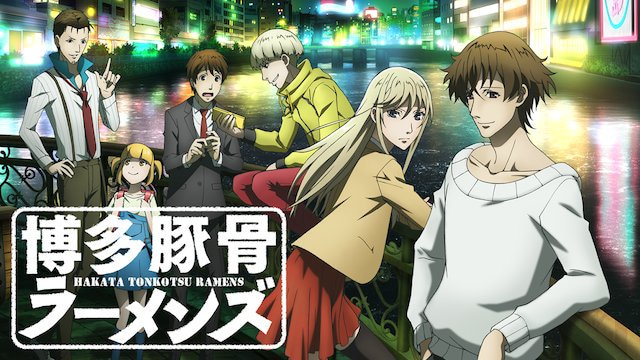 Bonus entry: Fukuoka city nightlife seen in Hakata Tonkotsu Ramens
Let's move away from Tokyo for a bit to the south of Japan. Specifically in Fukuoka, the biggest city on Kyushu island.
Of course, the nightlife consisting of izakaya, karaoke, pubs, live houses, cabaret clubs, and the like is similar in most big cities, Fukuoka included. Then again, every city has its own charm added, its own peculiar traits, and unique spots.
For Fukuoka, the beating heart of nightlife is Hakata, and the city's trademark food is Tonkotsu ramen noodles. That helps a bit in understanding the title, right? This anime is like a blend of Durarara and Kabukicho's Sherlock, the plot being moved by a suspicious underground activity in the city.
What we see is Fukuoka's nightlife – ramen stalls in Nakasu, fun around Tenjin, all kinds of bars, including the saucy ones in the red light district!
Learn More:
https://www.animenewsnetwork.com/encyclopedia/anime.php?id=20014
---
Do you know any other Anime's that feature Tokyo's nightlife? Let us know in the comments!