With the 2020 Olympics just around the corner, Tokyo's nightclubs are scrambling to provide an international nightclubbing experience.
A handful of clubs are set to open in the following months, and one such nightclub is ZEN TOKYO.
Inspired by the Japanese school of Mahayana Buddhism 禅 (Zen), ZEN TOKYO promises to offer a nightclub experience that is one part peaceful and one part exhilarating.
ZEN Tokyo, is opening its doors on September 6th, 2019 in Roppongi. This part of town is no stranger to foreign focused dance floors, but ZEN is promising to offer a nightclub experience unlike any other.
Wide and Spacious
Unlike many of Tokyo's nightclubs, ZEN TOKYO offers upscale and mature atmosphere. The tall ceiling, the spacious dance floor, and intimate lighting allow for a sophisticated party experience rarely found in Tokyo nightclubs.
VIP Tables
Surrounding the dance floor are 12 different VIP tables varying in the price range. ZEN TOKYO will offer unparalleled bottle service for those guests seeking to upgrade their night.
Open Format
It wouldn't be a nightclub without music. ZEN TOKYO plans to feature some of the best local and international open format DJs. You can expect the biggest hip hop acts performing live, or just relaxing at a VIP table.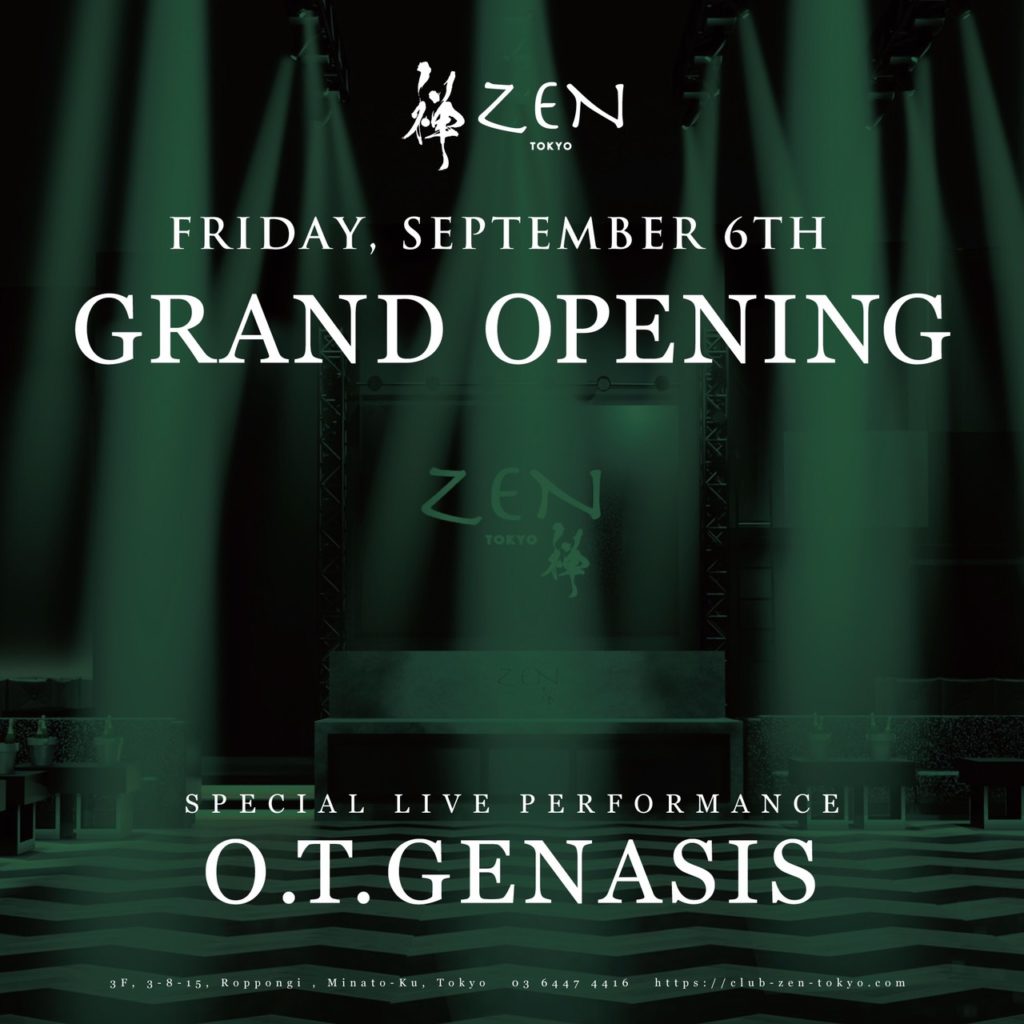 Special Guest: O.T. Genasis
Speaking of popular hip hop acts, O.T. Genasis will be performing LIVE at the grand opening on September 6th. Known for his smash hit "CoCo," this rising Hip Hop star is set and primed to turn up ZEN TOKYO's grand opening party.
Grand Opening Pricing and Location
MEN: 4,000 Yen with 2 Free Drinks
WOMEN: 2,0000 Yen with 2 Free Drinks

Following the grand opening ZEN TOKYO will be open Thursday to Saturday with doors open from 10 pm till 5 am,
ZEN TOKYO is 4 minutes from Roppongi Station exit #4.
Will ZEN TOKYO be the new must-see nightclub in Roppongi? With what we see so far, the answer looks like a roaring yes!
For more info on ZEN TOKYO, check their website at https://club-zen-tokyo.com
---
Tokyo Night Owls, where do you party in Roppongi? Let us know in the comments!