Shibuya is Tokyo's hip and bustling downtown area, matched in excitement and crowds by only Shinjuku (at least in my humble opinion). It's chock-full of boutiques and stores, restaurants, bars, karaoke joints, and other entertainment facilities. Both foreigners and locals flock to Shibuya in hoards for a good time, and as a result, Shibuya station has become the second busiest train station in the world (it's downtown counterpart Shinjuku, takes first place).
There's just so much to do here that it's easy to become overwhelmed by the sheer amount of establishments in the many intersecting streets and alleys of Shibuya. Here, I've narrowed down a few things I think you should check out! For easier navigation, I've categorized the various activities into Food and Drinks, Entertainment, and Sightseeing. I've also included Google Maps links to the locations. Have fun! 
1. Be your own bartender at Marukin
As far as izakayas go, Marukin is one of the most fun and affordable ones out there. You get a free flow of drinks for half an hour, for just 300 yen. If you're going to spend two hours there, that's only 1,200 yen for all you can drink! Food is equally affordable (and good!), ranging anywhere between 60 and 90 yen per plate.
But perhaps the real pull of the place is that you are your own bartender and server. You don't have to worry about waiting for a server to bring you your drinks, taking up minutes of your precious all-you-can-drink time. There's a bar in the middle of the izakaya, with numerous taps of different alcohols and syrups. You can put as much alcohol as you want in your mug, or if you feel like a rebel, mix several alcohols. For an additional fruity and tangy taste, add some fruit-flavored syrup.
If you, like me, prefer beer, there's also a really cool beer machine. All you have to do is put your beer in the machine, and it fills it up for you, right up to the brim, head and all.
It's no surprise that Marukin is popular, and if you get there at dinner time, there'll usually be a line, so you might want to get there a wee bit earlier!
2. Chill with a dog and a drink at Sound Bar Lip
I don't know about you guys, but I love dogs. I've got four of them back home, and I've suffered severe dog withdrawals ever since moving to Tokyo. To get my fix, I head to Sound Bar Lip. They have an adorable and super active French bulldog terrier named Goten, who runs around the bar and plays with the customers.
Goten isn't the only pull of this place. Sound Bar Lip has a number of cozy booths, and each one has got a couple of cushions and a low coffee table, making you feel at home, as though you were in a living room. If you're looking for a hardcore party night out, you might want to pass up on this place; it's more for the relaxed, chill evening out with friends (and a dog).
The drinks here are pricey, even by Tokyo's standards. A beer and a cocktail can cost anywhere between 800 and 1200 yen. On top of that, there's a 500 yen entry charge per person. To ease the financial blow, they give you a free bowl of popcorn (do not share it with Goten no matter how hard he stares at you with his sad puppy dog eyes!). If you have some expense to spare, and if you love dogs, then you can't pass this place up!
Learn More: Sound Bar Lip
Tokyo Night Owl Tip:
Goten usually wears himself out after a few hours, so if you arrive around 10:30 pm or 11 pm, he may not be as energetic as he would be in the evening.
3. Make new friends at Tasuichi
Right across the street from the Outback Steakhouse is a small but fun and boisterous bar, Tasuichi. Among local residents, it's sometimes referred to as the "gaijin bar" or "foreigners bar" as a significant amount of the clientele are foreign. Even the few Japanese patrons usually speak a small amount of English. If you don't speak Japanese very fluently and want to talk with some local residents to learn more about Japan, this will be the place to do it!
Drinks are very affordable here! A regular mug of beer costs only 400 yen, which is cheaper than the usual 5 or 600 yen in other bars. A mega-mug of beer costs 1,000 yen, and for how big the mug is, it's a great bang for the buck.
As I mentioned before, it's small, so it gets pretty cramped later in the night when people start arriving. Sometimes the crowd even spills out the front door. But if you want a fun night of making new friends, give Tasuichi a go! As they say on their official Instagram page, they're a "FXXKIN' KRAZY BAR."
Learn More: Google Maps
4. Get your game on in Ponzo
Less than 10 minutes' walk from Shibuya station is Ponzo, a bar that offers plenty of entertainment options to go with your drink—table tennis, video games, darts, and board games. For 1,680 yen, you'll get a free flow of drinks for two hours, and access to all those games (the darts machine isn't free, but each game costs only 100 yen per player). Beer isn't included in the free flow of drinks but can be for an additional 300 yen.
Be warned that table tennis is particularly popular and there's usually a waiting list, but it goes quickly. The next most popular activity is video games. The bar's got the TV and Nintendo 64 console set up, and four controllers raring to go. All you have to do is go through their small box of cartridges, pick the one you want, and then you're set! There's Mario Kart, Super Smash Bros., Bomberman, and more! If you're going to take it easy, check out their shelf of board games.
Whether you're in a group of friends who wants more than just the regular bar, or if you're on a date and you want something more than just dinner and drinks, then Ponzo's a great place to check out! It's fun, it draws out your competitive side, and you're sure to have a good time.
Learn More: Google Maps
5. Smoke shisha at Chillin'
There are a handful of shisha lounges and bars around Tokyo, but Chillin' (also known as Shisha Salon) might be my favorite, for the simple reason that it allows carry-in food and drinks—no need to spend extra money on bar-priced drinks. Just kick back and relax with cheap convenience-store-bought drinks and a soothing, tasty shisha. They also allow you to smoke your own cigarettes or vapes, so don't worry about whipping yours out if you want to take a break from their shishas.
Only two people can share one shisha, so if you're in a group of three, you'll have to get two shishas. One shisha costs around 1,500 yen and special flavors will cost more. You can mix and match a bunch of different fruity flavors, and stay there for as long as you like!
Learn More: Google Maps
6. Sing and drink at karaoke joints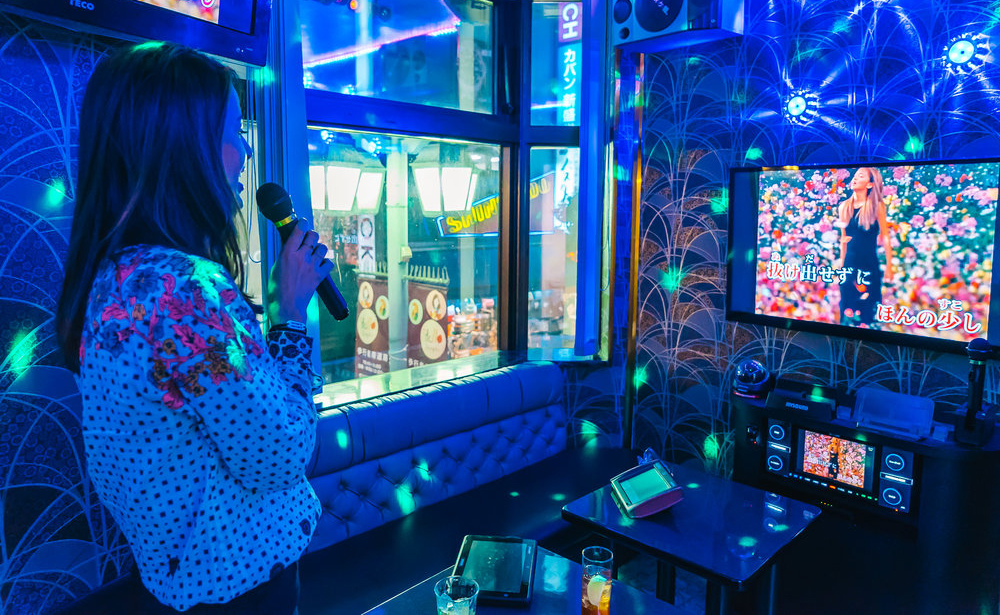 Next to drinking, hitting up a karaoke joint is kind of a go-to activity in Shibuya. Tokyo residents, both foreign and local, just love karaoke, and for good reason: it's fun! You and your friends have the entire room to yourselves, you can belt out your musical favorites into a mic and feel like a rock star, and, most importantly, you can drink while doing it!
I'd recommend the karaoke chain, Manekineko. Unlike other chains, they allow carry-in food and drinks, which helps save a lot of money. Convenience-store-bought alcoholic drinks can be as affordable as 180 yen—a helluva lot cheaper than the typical 6 to 700 yen drinks in karaoke rooms. If it's your first visit, you'll need to create a membership card, but it only takes a couple of minutes and 200 yen, and then you're all set!
A good alternative is Uta Hiroba. They have more affordable rates than other chains, and at no expense to the experience! If you visit after 11 pm, you can sing till 5 am with a free flow of alcoholic drinks for around 2,600 to 3,000 yen.
Lastly, Karaoke Kan. They're a bit pricier, but you can pick from an array of wacky, Japan-esque costumes in the lobby to wear during your visit! They also provide maracas and tambourines to add to the musical experience.
Tokyo Night Owl Tip
Some people sneak in drinks in their backpacks. Be warned that if you do this and get caught, you'll be charged by the can/bottle. If you've successfully evaded capture the entire night, be sure to put your empty cans/bottles away and leave the room clean—staff members sometimes check the room before letting you leave.
7. Go on a VR adventure in Adores
Adores is an arcade. Like most other arcades in Tokyo, they've got crane games on the first floor, and machine games on other floors. What really sets Adores apart from other arcades is its VR arcade on the fourth floor! You could ride a magic carpet, shoot ghosts in a haunted mansion, do a bungee jump, and more! Not sold yet? Check out the short promo of their VR games.
If you visit on their "low season" days (essentially just weekdays), 3,000 yen will get you access to all their games for 110 minutes. On their "peak season" days (weekends and public holidays), it's 3,400 yen more.
If you're on a tight schedule and don't want to spend 110 minutes in an arcade, you could get a 1,000 yen ticket for just one ride!
Learn More: Google Maps
8. Try your luck at gachapon
Gachapon, also known as gashapon, are toy capsule dispensers. There are anime specific toy capsules (such as figurines and keychains) and fun, random toys that make excellent souvenirs (cute sushi keychains, Japanese cat cup decorations, and more.)
Toy capsules cost anywhere between 200 to 500 yen each. The anime- and manga-specific toy capsules are on the pricier end, and the random ones on the more affordable end. Pokemon toy capsules, in particular, are more expensive.
There's a whole bunch of them outside the aforementioned arcade, Adores, so give that a go! Each gachapon machine will have a little flyer in its window that shows you what toys it dispenses. If there's a particular one you have your heart set on, good luck, and I hope you get it on your first try!
9. Meet the famous and beloved Hachiko
The Hachiko statue commemorates the life and death of Hachiko, an Akita dog. Hachiko's owner, a university professor, would alight at Shibuya station after work and be greeted by Hachiko, and they would then walk home together. One day, the professor passed away suddenly at work, and never made his way back to Shibuya station. Unaware of this, Hachiko continued to show up at Shibuya station every evening at the same time to wait for his owner. He did this until he passed away, almost ten whole years later. Hachiko has since become a symbol of unwavering loyalty and fidelity, and his statue, erected in 1948, still stands in Shibuya today.
While there are other statues of Hachiko scattered around Tokyo, the one in Shibuya, where Hachiko lived and died, is undoubtedly the most famous one, so much so that the train exit closest to it is officially named "Hachiko Exit (ハチ公口, Hachiko-guchi)". Stop by and take a photo with this handsome fella! There may be a line, but it usually moves quickly.
Tokyo Night Owl Tip:
If you're riding the Tokyo Metro subway lines instead of the Japan Railway (JR) lines, the exit closest to Hachiko is Exit No. A8!
10. View the city from Shibuya Sky
In anticipation of the inevitable influx of tourists during the Tokyo Olympics, new buildings were designed and built to impress. One of them is Shibuya Scramble Square, a new skyscraper with shops, restaurants, and offices in its 47 floors. It is currently the tallest building in Shibuya. On the very top is Shibuya Sky, an observatory deck (and helicopter landing pad).
Shibuya Sky is 229m up from the ground and has a 360° panoramic view. It's also got a few structures you can climb up and down on, and there's even a net hammock you can relax in, looking up at the sky and the clouds—it's aptly named the Cloud Hammock. Head up there for a good view of the city. It's especially beautiful at night when all of Shibuya is lit up.
If you book your tickets in advance online, it'll be 1,800 yen per person, and you also have to select the date and time you'd like to enter the facility, but you can stay for as long as you like. If you get the tickets on the day-of, it'll be 2,000 yen per person.
This year in 2020, Shibuya Sky has a rooftop bar named simply "The Roof." It's in operation now until October 31st this year. Between 4 pm and 10:30 pm, you can enjoy a nice cold one with a panoramic evening/night view of the city, from a nice comfy seat in a cozy booth. They offer two sets: The Roof Seat and Cheers set for 4,000 yen per person that will get you two drinks and a snack, and The Roof Seat and Champagne set for 5,000 yen per person that will get you a bottle of champagne and a snack.
Learn More: Shibuya Scramble Square Website
11. Watch Shibuya Scramble… from a Starbucks?
The iconic crossing in Shibuya that's even been featured in Hollywood films, Shibuya Scramble, also known as Shibuya Crossing. It's a cluster of pedestrian crossings going in five different directions. When the green man comes on, watch hoards of people cross it together. Head to the Starbucks across the street and head up to their second floor to get a better view. There are other skyscrapers to view it from, such as the aforementioned Shibuya Sky, but the second floor in Starbucks is the one of the few places you can watch the crossing from for free.
Unsurprisingly, the second floor of Starbucks is often full of people, and you'll need to wait for a seat at the counter, or if you don't mind, just take photos of the crossing over the shoulders of other patrons. Just be respectful and don't get "all up" in their personal space.
Tokyo Night Owl Tip:
I've never once watched the crossing and not seen at least one person with a selfie stick. See if you can observe a selfie-stick-free crossing!
12. Stroll through Shibuya's Blue Cave (Winter)
Japan doesn't celebrate Christmas the same way most countries do, but they've got the decorating down for sure. In Tokyo's cold winter between November and January, bright and beautiful illumination displays are set up across the city, and Shibuya is no exception!
Shibuya's illumination exhibit in 2019 made use of two stretches of trees. Over 600,000 LED lights were strung up and hung from the trees, and the overhanging branches created a shelter over visitors, fully enveloping them within the lights. This illumination exhibit is aptly named "Blue Cave (ao no dōkutsu, 青の洞窟)." If you're in Tokyo in winter, take a stroll down through this gorgeous exhibit and take Instagram-worthy photos to commemorate your trip!
Learn More: Google Maps
---
Shibuya is an exciting neighborhood, and you're almost guaranteed to have a good time there, and I hope some of the things on this list will help you do that!